I am one of those people that thinks rice is the perfect side dish for anything. For me, there is nothing like taking a spoonful of steamy, fluffy, freshly made rice. I make it so much that my husband threatens to hide it from me, haha. So I had to change my game plan and make it slightly different so that he would enjoy it as well. I looked around and found a few garlic rice recipes.
This is the one I liked the most. Simple garlic butter rice is so aromatic and full of flavor that even my husband couldn't resist it. Give garlic rice a try, and let me know if you like it!
How To Make Garlic Butter Rice?
In a medium-sized saucepan, melt the butter on medium heat. Add the garlic and saute for about one minute, stirring constantly. Be careful not to let the garlic brown.
Stir in the rice, chicken bouillon powder, and pepper. Saute the rice for about 3 minutes, also stirring constantly.
Pour in the water and bring to a boil. Reduce heat to low, cover, and let the rice cook until all the water has been absorbed.
Take the saucepan off the heat and let it stand, covered, for about 5 minutes.
Fluff rice with a fork and serve while hot.
Garnish with chopped green onion, fresh cilantro, and fried garlic slices. This is optional, but it looks amazing.
What To Serve With Garlic Butter Rice?
As I said, this is the perfect side dish for anything. I love to serve it with Butter Chicken, Chicken Tikka Masala, grilled chicken or meat, pot roast, or even meatloaf. This is the beauty of this amazing side dish. It goes well with anything.
Cooking Tips
Slice three garlic cloves thinly and fry in a small skillet with vegetable oil on low heat to make the fried garlic slices. Be careful not to burn them. You have to keep an eye on them.
Do not skip the sauteeing of the rice step. This makes the rice taste nutty and delicious and helps the grains stay firm.
Cooking the rice on low heat is crucial. After it boils, it reduces the heat and cooks it on very low heat. It is almost like steaming rice. If you cook it on high heat, the water will evaporate too quickly, and the rice will not cook properly.
If you love rice as much as me, here are a few rice recipes you might like: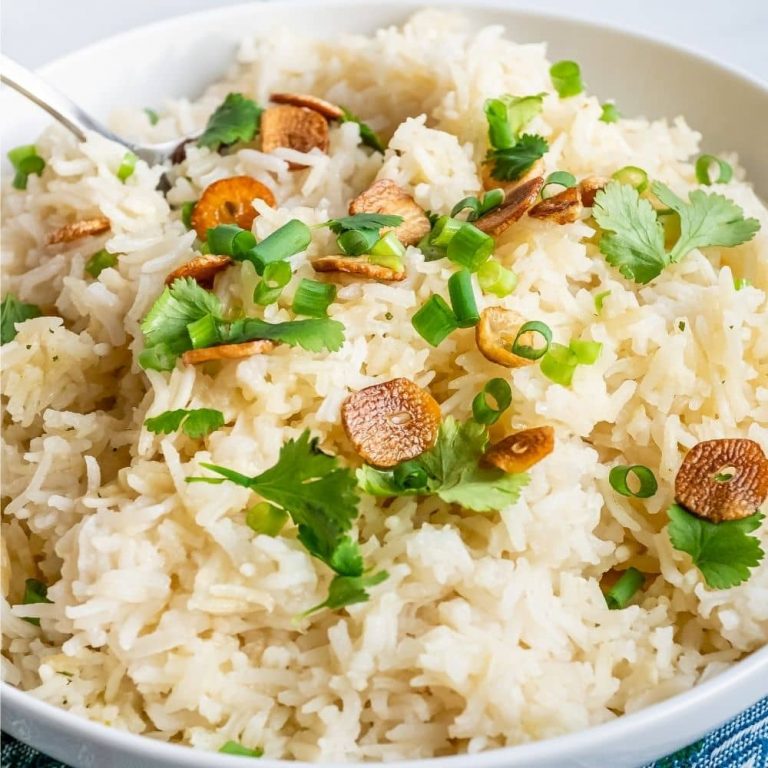 Garlic Butter Rice Recipe
Simple garlic butter rice is very aromatic and full of flavor!
Ingredients
2 tablespoons butter
3 garlic cloves, minced
1 cup basmati rice (white rice is ok)
1 ½ - 2 teaspoons chicken bouillon powder
Freshly ground pepper to taste
1 ¾ cup water
Freshly chopped cilantro, chopped green onions and toasted garlic for garnish
Instructions
In a medium-sized saucepan, melt butter over medium heat and saute garlic for about a minute
Add the rice, bouillon powder, and pepper. Saute the rice for about 3 minutes, stirring constantly.
Pour in the water, bring to a boil and reduce heat to low. Cook with the lid on until all the water has been absorbed. Let stand for about 5 minutes, cover, and then fluff with a fork.
Serve with chopped green onions, fresh cilantro, and fried garlic for garnish (optional)
Nutrition Information:
Amount Per Serving:
Calories:

224.5
Total Fat:

6g
Carbohydrates:

38g
Protein:

3g