Your summertime barbecues and picnics are incomplete without some coleslaw recipes. This is a healthy side dish that suits any occasion and is classically delicious.
You can make different coleslaw recipes at home with simple ingredients you already have. Not to mention it takes at most 10 minutes to have your delicious coleslaw ready.
Coleslaw goes well with cold sandwiches and grilled meats, and you can even prepare it ahead of time. If you know various slaw recipes, your BBQs and picnics will never be the same again.
So, what are the different types of coleslaw? Keep reading to find the best coleslaw recipe for your last-minute side dish.
If you are fun of Kentucky Fried Chicken, you probably have taken their popular coleslaw. You can make your restaurant's favorite from your home with this KFC Coleslaw Recipe.
It is perfect for potlucks, summer BBQs, and picnics. This is my all-time favorite side dish that is creamy, sweet, and a little tangy. It tastes exactly like the one you find at KFC!
The perfect summer dish is easy and quick to make in a few minutes. You can even prepare it ahead for the next day.
If you want to try different types of coleslaw, the Creamy Coleslaw is good, to begin with. It is another favorite recipe with carrots and shredded cabbage, and this means less prep time.
Serve your family the creamy coleslaw on busy weeknights or potlucks. This deliciously creamy coleslaw recipe is also a nice side dish for picnics and barbecues.
Coleslaw is an American staple made with readily available ingredients. it is quick to make, and you will love the amazing balance of flavors.
Do you love coleslaw but the thought of mayonnaise puts you off? If so, try the Vinegar Coleslaw Recipe (No Mayo Coleslaw).
This is a unique coleslaw recipe for people who hate mayonnaise. The combination of green cabbage, carrots, onions, and vinegar gives this coleslaw a characteristic flavor.
It comes out tangy yet not overly sweet. You can pair your homemade coleslaw with BBQ ribs, or BBQ chicken sweet potatoes.
Summertime is here, and this gives you another good reason to eat cabbage. Enjoy the Classic Southern Coleslaw recipe that is easy and quick to prepare.
This coleslaw pairs well with smokey BBQ meats, thanks to its cold and tangy flavors. The classic coleslaw comes out tangy, crisp, and creamy.
The sugar in the coleslaw makes it sweet, and the lemon juice brightens everything up.
You can have it as a side dish for pulled pork or grilled chicken, and everyone in your family will love it.
There are different types of coleslaw recipes you can try at home to have more variations. Try the Asian Coleslaw which complements your BBQ meats, burgers, and other Asian-inspired dishes.
It is also a light and refreshing side dish to shrimp and fish. The bright and crunchy coleslaw is healthy and has nice flavors.
This coleslaw is refreshing and easy to make for weeknight family dinners or summer parties.
Cabbage, toasted sesame oil, and rice vinegar are the ingredients for this Asian coleslaw.
It also has roasted peanuts and peanut butter for the dressing.
Forget about the store-bought slaws and make a healthy coleslaw recipe at home. The Popeye's Cole Slaw is your number one side dish that pairs well with fried chicken, pork, and turkey.
The coleslaw is tasty, sweet, and tangy. Unlike many coleslaw variations, Popeye's Cole Slaw does not contain lemon juice and buttermilk.
The combination of mayonnaise and sugar makes it creamy and sweet. For better mixing, refrigerate it two hours before serving.
Even better, leave it overnight and you will enjoy the best potluck side dish.
If you need to take a break from mayonnaise coleslaws, try the Ramen Coleslaw. You will fall in love with this colorful slaw.
A secret to achieving the best slaw is toasting almonds, Ramen noodles, and sesame seeds.
It comes out crunchier and the dressing doesn't make it soggy.
Alternatively, if you want to skip the toasting, add the dressing to the crunchy ingredients when serving to avoid a soggy coleslaw.
Try this coleslaw recipe for a potluck or your favorite summer main dishes.
Are you tired of soupy and soggy coleslaw? The Sweet Coleslaw is an amazing side dish that compliments any BBQ. It is crunchy and tangy and any coleslaw sceptic will love it.
This recipe for coleslaw is mayo-based, which makes it creamy. It is one of the favorite Sothern BBQ side dishes with vinegar, sugar, and celery seeds.
The Southern slaw is delicious and easy to prepare in less than 5 minutes. The secret ingredient that makes this sweet slaw standout is the celery salt or celery seeds."
Boring coleslaw for who? Why would you eat standard coleslaw while you can enjoy spicy coleslaw that awakens every taste bud?
The spicy coleslaw is easy to make with only a few ingredients. This can be your favorite side dish to suit any occasion. I couldn't stop eating this slaw after making it for the first time.
You can even make it in advance and refrigerate it. Pair the coleslaw with ribs, fried chicken, and any other favorite summer feast.
Summertime barbecues and side dishes go hand in hand. Try the Red Cabbage Coleslaw which is a perfect side dish for different recipes.
With less than 10 ingredients, you can have your coleslaw ready and it comes out better than the store-bought slaws.
Celery salt is the secret ingredient that gives coleslaw a nice flavor.
The creamy red cabbage slaw has the right combination of tangy, sweet, and savory. Make large quantities of the homemade coleslaw and store it in the fridge for later use.
Coleslaw is one of the main side dishes we take for almost any meal. I enjoy making the Simple Healthy Slaw because it is vegan and gluten-free.
The healthy coleslaw has a simple lemon dressing, pumpkin seeds, and toasted sunflower that give it an amazing taste.
This colorful coleslaw is not only full of flavors but also healthy.
It doesn't contain mayonnaise, sugar, or vinegar. The freshly toasted seeds give it a savory flavor and extra texture.
Try this mouthwatering slaw which is an ideal potluck dish.
What makes the Italian-style coleslaw different? This is one of the simplest coleslaw inspired by Italian flavors.
It makes a perfect side dish for a summer cookout.
This coleslaw recipe doesn't have mayonnaise. It is just plain and simple with vinegar, olive oil, and some seasoning. So, if you don't like mayo, this vinegar-based coleslaw will suit you perfectly.
The best thing I love about this coleslaw is it gets better after keeping it in the fridge overnight.
It makes a perfect dish to prepare ahead if you are expecting some guests.
What can I add to coleslaw to make it special? It's simple, add pineapples and enjoy a traditional coleslaw recipe with savory flavors.
This coleslaw will have you thinking about summer all year long. The good thing is you can use canned pineapples and make your delicious side dish regardless of the season.
Pair the side dish with a chicken burger or pulled pork sandwich. This recipe will make a great addition to your backyard BBQ menu if you need a topical inspired coleslaw.
Do you need a perfect coleslaw recipe to suit any occasion? Try the Classic Memphis-Style Coleslaw that is tangy and flavorful.
This coleslaw makes an amazing side dish for BBQ, and it pairs well with grilled or smoked meats. You can as well toss it in your favorite sandwiches.
The combination of vinegar and sugar gives this classic coleslaw balanced tang and sweetness.
This is a coleslaw you would want to have all summer long.
Enjoy a simple homemade coleslaw with the simplest dressing. The Apple coleslaw is great if you want something vegetarian and gluten-free.
This coleslaw recipe combines apple and veggies in a tasty dressing. The yummy mayo-based coleslaw is your ideal side dish for roast pork dinner.
To get the best flavor, refrigerate the coleslaw for at least one hour before serving. Try this recipe at home, and everyone will love it.
Greek yoghurt is a better alternative for people who don't like mayo-based coleslaws. This coleslaw recipe is healthier and it takes about 5 minutes to prepare.
The mayo-free coleslaw is super delicious, lighter, and perfectly creamy.
The crunchy carrots and crisp cabbage combined with the dressing give it a classic flavor.
This homemade Greek yoghurt coleslaw pairs well with burgers, hot dogs, tacos, and your favorite summertime grilling.
Need a classic coleslaw recipe to prepare for weeknight dinners or summer barbeques? The Tangy Horseradish Coleslaw recipe comes in handy.
This coleslaw recipe takes only 15 minutes to prepare and requires stable ingredients.
The delicious coleslaw gets its nice flavor from the herbs and mustard.
This coleslaw pairs well with barbecued chicken, chicken Shwarma, or pork cuts.
The Mango Cilantro Slaw is easy to prepare, delicious, and contains no sugar. The combination of mango and home gives the coleslaw a sweet taste.
You can take this coleslaw on its own because it is so delicious or top it on grilled tilapia to enjoy a mouthwatering fish taco. If you love it thicker, add more mayonnaise.
This will be your favorite coleslaw during summer, especially if you love making fish or chicken tacos for your family.
The Chinese coleslaw is another amazing recipe you can try during summer and your family will enjoy it. Make it as a side dish for barbeques and serve it with chicken and a little bread.
Although this coleslaw is not part of traditional Chinese cuisine, this coleslaw has the perfect combination of ingredients and flavors.
Toss it with Asian sesame dressing and top with salty sesame sticks, and sliced almonds to enjoy an epic crunch.
Summers never end without a backyard barbeque party. Regardless of what you are celebrating, side dishes, desserts, and cocktails are inevitable.
The Vegan Coleslaw makes a perfect side dish for all summer parties, barbecues, and potlucks.
This is a light, healthy and flavorful coleslaw you can make in 10 minutes.
The homemade version tastes way better than store-bought and it is easy to make.
You can make it all year round and be sure to pair it with just anything.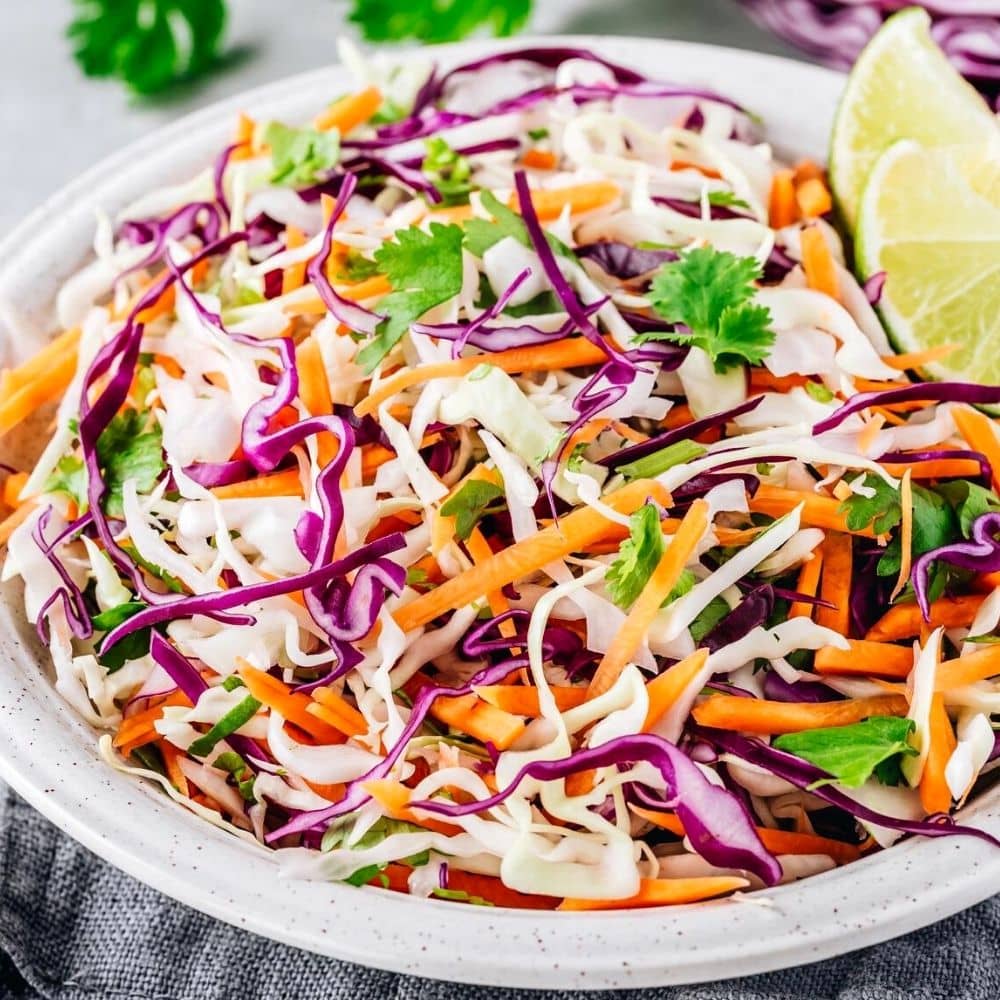 20 Best Coleslaw Recipes
Ingredients
1 package (14 ounces) coleslaw mix
3/4 c mayonnaise
1/3 c sour cream
1/4 c sugar
3/4 tsp seasoned salt
1/2 tsp ground mustard
1/4 tsp celery salt
Instructions
In a large mixing bowl, combine the coleslaw ingredients. Add the remaining ingredients to a small bowl and whisk until well combined.
Toss the coleslaw mix in the dressing to coat. Refrigerate until ready to serve.