In only a few minutes, you can have these fluffy and tasty recipes with couscous on the table. You won't need anything else if you add some vegetables and herbs.
Of course, you could make it an entire dinner by adding fish or chicken to your dish. Fortunately, the best couscous recipe goes nicely with almost every protein.
Numerous Middle Eastern and North African cuisines feature couscous. So you'll find some old faves and some new favorites here.
Even if you're seeking something sweet, this collection of couscous recipes can satisfy your appetite.
Do you need a healthier alternative to rice? The perfect couscous is a good choice for vegetarians. You can also take it with stews or other saucy main dishes.
It contains more proteins, minerals, and vitamins so it is slightly healthier than rice. Additionally, it is one of the best delicious couscous meals you can prepare in 10 minutes.
You can pair perfect couscous with beef stew, roasted vegetables, garlic tofu, chicken peas salad, or Moroccan chicken tagine if you want to prepare a traditional Moroccan feast.
If you are craving a healthy side dish, the Mediterranean Couscous Salad has the right balance of fiber-rich vegetables and phytonutrients.
Not to mention the protein that makes the salad light and filling.
The vegetarian dish is full of flavorful ingredients that all give it a mouthwatering flavor. You can add this salad to your couscous recipe ideas and enjoy a quick side dish in less than 5 minutes.
What gives this colorful couscous salad a nice tang is the combination of herbs, lemon juice, lemon zest, and red wine vinegar.
Looking for ideas on what to make with couscous? The Moroccan Chicken Couscous is a good inspiration for dinner, and I'm sure you will love it.
The combination of traditional Moroccan spices, couscous, vegetables, and chicken makes this a full dinner. You don't even need a side dish at all because this is a complete meal.
Ras el Hanout is the secret ingredient that gives the recipe a Moroccan flavor. This recipe is also good for you if you need to try different chicken recipes for dinner.
Is it summer yet? Take advantage of the fresh summer vegetables in the Roasted Vegetable Couscous. This is a delicious couscous side dish rich in flavor. It contains fluffy couscous and roasted vegetables mixed with savory.
This is my all-time favorite side dish that goes well with any meat. For vegetarian meals, serve with mushroom burgers or sandwiches.
The easy-to-make side dish has vibrant flavors.
You can roast the vegetables in your oven or grill them outdoors to get the sweet, smoky flavor to contrast with your savory couscous.
There is no better way to entertain your guests at dinner parties than serve them Mediterranean stuffed peppers. This is one of the simple couscous recipes you can make in less time.
You can serve the colorful couscous stuffing on its own, and it also makes a good packed lunch.
The vibrant and colorful peppers have a Mediterranean soul and essence.
This recipe is all you need to change your stuffed peppers to an exotic level. Try it today, and I'm sure you will love it.
Need healthy dinner recipes using couscous? If so, the Skillet Chicken with couscous comes in handy. This is one of the best couscous dinner recipes you can prepare any night.
The meal is flavorful and filling, and you don't need a side dish. If you like making your meal in one skillet, this is your go-to recipe.
The skillet recipe contains basic ingredients and flavors anyone can enjoy.
I also like the convenience of sautéing it on the stovetop and finishing the cooking in the oven for crispy chicken.
If you love spicy dishes, you will enjoy the Moroccan Chicken-and-Couscous Soup. I must say this is the best chicken soup you will ever make.
The steamed couscous topped with stew makes the meal mouthwatering. The combination of all the ingredients in the soup gives superb results.
If you like it less spicy, reduce the cayenne to your requirements.
One of the most healthy couscous recipes you can take is the Moroccan Spiced Vegetable Couscous. It is a good side dish or a vegetarian, vegan dinner.
The one-pot recipe is good on its own, and it also makes a nice side dish for a juicy steak or oven-fried chicken.
I love the combination of the fragrant spices that give the meal a nice aroma.
Another thing that packs a punch is browning your vegetables to get an extra depth of flavor instead of just softening them.
Cauliflower couscous? Of course! This is a tasty alternative for people avoiding wheat, and it is vegan. Grounded cauliflower has the same grain texture as couscous, and it is easy to make.
If you also love gluten-free recipes, Cauliflower Couscous comes in handy.
Not only does it look great but it also tastes great. Prepare this recipe for vegetarians or guests who love gluten-free meals.
The combination of steamed ground cauliflower, nuts, apples, and other add-ons make it a complete and satisfying meal.
The Moroccan Couscous is one of the best couscous dishes you need to try. It has a nice flavor and includes protein from almonds and chickpeas.
This is a hit summer meal for lunch or dinner. The meal is filling, healthy, and easy to make.
I love the perfect blend of Moroccan flavors and the texture.
You can take it as a complete meal or pair it with Moroccan grilled chicken. This delicious recipe is addictive, and I can make it over and over.
Don't you love making an easy and quick dish? I know you do! If you need a deliciously easy couscous recipe, try curried couscous.
This is a vibrant and delicious meal you can prepare in 20 minutes. You can take it as a side dish for your proteins or a full meal for vegetarians.
It is light and fluffy with a mild flavor. The curry not only makes the recipe spicy but also gives it character. Curried couscous is also packed with colorful and healthy vegetables.
Mushroom couscous is a staple meal you can serve for dinner or lunch. It also serves as a side dish or a main course. The mushrooms are flavorful and fulfilling because they add some meatiness to the dish.
This delicious savory has bright flavors of fresh herbs and flavorful vegetables. Therefore, it goes perfectly with other dishes.
The recipe is easy to make, and you only require a few ingredients. This can be your go-to recipe for busy nights if you need something flavorful and fulfilling.
Get the right way to start your day with this healthy breakfast couscous. The breakfast recipe is healthy, delicious, and a food alternative to oatmeal.
Not only can you make it at home but also for your kayaking breakfast trips.
It is packed with nutritious ingredients that keep you satisfied all morning.
This is an easy breakfast recipe you can prepare in 10 minutes. You can also make it ahead and refrigerate up to a week.
Consider trying this recipe, and your body will thank you.
Making breakfast bowls is great and healthy. That is why you need to include the super delicious. Roasted Garlic Couscous Breakfast Bowl in your breakfast recipes.
This is a healthy meal packed with delicious fried egg, cooked spinach, and buttery roasted garlic couscous. The balanced bowl makes a good way to start your mornings at home.
It also makes a good breakfast for your camping or kayaking trips. The meal is light, delicious, easy to cook, and loaded with nutrients.
It's everything you would wish to be.
Enjoy a satisfying vegetarian meal by preparing the Butternut-Squash Couscous. Butternut squash is a good substitute for pumpkin in North Africa.
This couscous dish topped with a hearty stew makes a complete dinner or lunch.
The meal can also be a side dish to salmon or chicken, but I love taking it as a main dish.
The combination of the spices takes its taste to another level. If you have any leftovers, you can take them at room temperature or reheat them if you want.
Seafood dinner is a healthy example of a good Mediterranean diet. The seafood couscous paella is a low-cal diet that requires little effort to prepare. It is also high in fibre, protein, and dairy-free.
If you love the traditional paella but don't have enough time to make it during the week, this version takes less time and is mess-free.
You can use any seafood of your choice like shrimp, col, salmon, or mussels. Try this recipe for busy days when you need a perfect quick fix for dinner.
Lemon couscous with broccoli is a healthy meal you can make at any time. While it is too light to be a meal's centerpiece, I love pairing it with bean, legume dish, or as a main dish salad.
I also enjoy the leftovers with sliced tomatoes and shredded lettuce. The splash of lemon gives the recipe a mouthwatering flavor.
You can sprinkle your servings with toasted almonds, but grated Parmesan cheese also makes a great addition.
I'm really into rice pudding but when I run out of rice, I substitute rice with couscous. The creamy couscous pudding comes out great and tasty.
This is one of my breakfasts for lazy mornings, which takes only a few minutes to prepare.
It comes out creamy, fondly, and delicious. Apart from breakfast, you can take it as a dessert or snack anytime.
My daughter hates couscous, but she seemed to like this pudding. She says it tastes like sweet breakfast porridge. Serve it warm or reheat as you wish.
If you are not fond of taking rice, couscous can be a good substitute.
The Quick Parmasean Couscous is a tasty side dish that you can prepare when time is not on your side.
The lemon juice and the Parmesan cheese give this versatile recipe a nice flavor. This recipe makes a good lunch snack, and it comes out delicious.
Try this recipe if you need a tasty way to enjoy your couscous. You can pair the Parmesan couscous side dish with other favorite recipes.
Couscous is my kitchen stable not only because it is easy to make but also highly adaptable to many flavors.
Prepare delicious Egg Fried Cous Cous with Vegetables, which is faster to cook than rice.
This is a complete and colorful meal that your kids will love too. The vegetables hydrate the couscous hence giving your meal vitamins and flavor.
You can choose any vegetables of your choice, and preparing the meal is way faster than cooking rice. The recipe is easy to make and good for midweek dinners.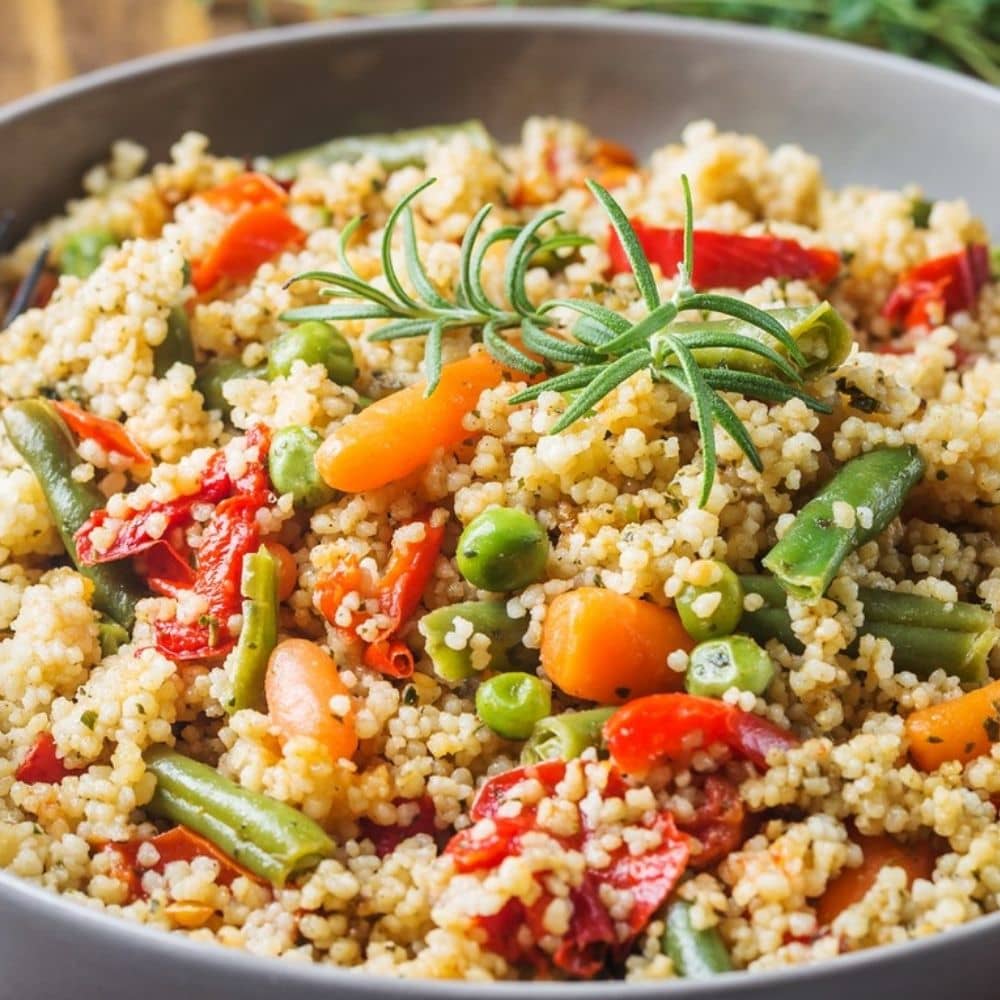 20 Best Couscous Recipes
Ingredients
2 medium carrots
1/2 c diced celery
1 medium onion, finely chopped
1/4 c julienned sweet yellow pepper
1/4 c julienned sweet red pepper
2 tbsps olive oil
1 medium zucchini, diced
4 teaspoons dried basil
1/4 tsp garlic salt
1/8 tsp pepper
Dash hot pepper sauce
1 c uncooked couscous
1-1/2 c chicken broth
Instructions
Cook the carrots, celery, onion, and peppers in oil in a large skillet for 5-6 minutes, or until crisp-tender. Mix in the remaining five ingredients.
Mix in the couscous. Bring the broth to a boil. Cover and set aside for 5-8 minutes after removing from the heat. Serve immediately after fluffing with a fork.