Everyone loves cupcakes. Anyone who says that they don't like cupcakes is pulling your leg. Cupcakes are easy to create, transport, and eat. You can also make smaller batches of cupcakes compared to making a large cake for a gathering.
People of all ages love cupcakes. They are perfect for a child or adult! They fit into everyone's hands. Another cute idea is to try the following recipes in a mini-cupcake tin! Cuteness overload!
Gourmet cupcakes are perfect for any holiday or social gathering. They are super easy to customize or tailor to an individual's preference.
Take a look at 17 of the best gourmet cupcake recipes around. These recipes are bursting with flavor and are a blast to make!
The quality of the ingredients is what sets these cupcakes apart from your box-made cupcakes. Anyone can go to the store and buy a box of cupcake mix. These easy gourmet cupcake recipes are a sure-fire way to be the next hit at your next party!
These cupcakes are as pretty as they are delicious! These cupcakes will be a smash no matter the occasion.
They are perfect for any birthday party! What is incredible about this cupcake is that no special skills are required!
These cupcakes have a vanilla-based batter with a smattering of brightly colored sprinkles topped by oodles of light buttercream frosting. Add a drizzle of chocolate, and these cupcakes look like a beautiful scoop of ice cream from an ice cream parlor!
Do you love the holiday season as much as we do? Then this is the perfect recipe for you!
This recipe is the perfect sweet treat while in that waiting period between Thanksgiving and the Christmas Holidays.
It marries the flavors of orange and cranberry in a delicious handheld confection.
The frosting in this recipe is made from cool and dreamy cream cheese with a bright cranberry garnish.
The topping to these gourmet cupcakes is what sets the flavor in these apart from the rest! Read on to find out how to make these cupcakes shine for your family this holiday season!
These cupcakes have us dreaming about lazy Saturday mornings. The kind of Saturday mornings when you wake up late and have a beautiful brunch around the kitchen table.
These cupcakes take all of the nostalgia of a bustling Saturday brunch and pack it into a neat handheld cupcake.
These cupcakes are made with a vanilla cake batter with some unique secret ingredients. I'll let you in on a hint-it's the nutmeg!
You can use any blueberries in this recipe, frozen or fresh, but using fresh blueberries will get you the best taste for these gourmet cupcakes.
Once baked, they get slathered with warm maple syrup flavored buttercream. It tastes just like brunch! YUM!.
Another great recipe that will remind you of Saturday morning breakfasts. These cupcakes are great as a dessert at the end of the day or as breakfast itself.
These adorable gourmet cupcakes are made with a cup of Hungry Jack buttermilk pancake mix.
It doesn't get more breakfast than that! The fantastic frosting is made with cream cheese and maple syrup.
The unique trick that sets these cupcakes apart from the rest is the stack of cupcakes that sit on top of the cupcakes themselves!
Imagine that! Big fluffy pancake served with a mini portion of pancakes! These are sure to wow at your next breakfast!
Whoever said that more is less sure never had these cupcakes! In this recipe, more is more! This recipe spares no flavor.
The center is made from melted salted caramel and then topped with a beautiful buttercream and a sprinkling of coconut brittle. Don't let all of these ingredients intimidate you!
The cupcakes are a vanilla base, and each of the other parts is a breeze to make. The homemade salted caramel comprises sugar, corn syrup, butter, cream, and sea salt. See? Easy peasy.
The pecan coconut brittle is made from butter, sugar, corn syrup, baking soda, pecan, and sweetened coconut.
You've got this! All of this is topped off with a heavy swirl of buttercream frosting made from sugar, egg whites, butter, salt, and some of the reserved caramel from before. Your family will love you even more after making this delicious dessert.
Fall weather brings so many thoughts to mind. Campfires come to mind when we think of fall around here! And you know what campfires get, right? Yep!
Warm gooey S'mores! Sometimes we can't build a real campfire and schlep all the s'mores materials out to fire, but we certainly can whip up a batch of these s'mores cupcakes!
These cupcakes are made with a chocolate base and have a big fluffy marshmallow plopped on top! Broil or heat in the microwave, and the marshmallow is perfect for serving!
Is there anything better than the combination of chocolate and peanut butter?
These rich chocolate and peanut butter-based gourmet cupcakes are perfect for treating those that you love.
You can feel the love baked into these delectable delights. The cupcake base itself is a blend of both chocolate and peanut butter.
The heavy thick frosting is made from more peanut butter and heavy cream. The ganache gets blended into the peanut butter frosting to create a beautiful swirled effect for a gorgeous cupcake!
These cupcakes make me think of drinking mint hot chocolate while wrapping Christmas presents and singing along to Christmas carols.
Making these before thanksgiving may get you some dirty looks until they try one for themselves!
These cupcakes are a great treat to make for a coffee addict in your life.
The dark chocolate cake batter is enhanced with the use of mint and coffee. Be careful. These are addicting. The frosting is topped off with crunchy candy cane pieces.
Did you know that Nutella is made from ground hazelnuts? It's true! Nutella is peanut butter's more decadent cousin.
It can be used instead of peanut butter, in ice cream, and even in cupcakes! This decadent gourmet cupcake recipe is made with tons of Nutella.
This recipe is one of the easiest ones we have here! It is made from only a few ingredients; Nutella, eggs, flour, and cream cheese.
That makes this recipe a breeze to make in a hurry or if you are away from your home kitchen. Visiting family or friends?
Offer to whip a batch of these in their kitchen! The kitchen will smell like heaven, and they will think you are a baking god!
Add in some sprinkles or edible glitter, and you've got yourself some Instagram-worthy cupcakes! No one has even to know your secrets!
This gourmet cupcake recipe is one of our favorites. Why? Because it is the absolute perfect treat for those who are gluten-free in your life. Yep. You got it. This is a flour-free recipe.
To take it even further, these cupcakes are made with a super special secret recipe—black beans. Shhh, don't tell your kids!
You take your unflavored black beans and mix them with eggs, vanilla, coconut oil, and brown sugar.
That's it! That's the most significant part of the actual cupcake base. No one will ever have to know or guess what your secret ingredient to these delicious gourmet cupcakes is!
If you have been looking for a way to sneak some extra servings of veggies into your kid's diets, look no further!
Banana Cream Pie makes me think of summertime barbecues and ribs. Something about the cool banana flavoring and creamy pastry cream makes our mouths water.
This recipe has a Nilla wafer crust that has vanilla bean banana cupcake recipes baked right on top.
These cupcakes are great for any time of year and will be easily consumed by your little monkeys. You might want to make a double batch of these because they are going to go quickly!
This chocolate-based cupcake and a cup of hot coffee sound like a match made in heaven.
The smooth, creamy caramel that drizzles on top is reminiscent of the caramel topping they put on your morning coffee.
The deep chocolate cupcake base is made with a box of cake mix (shhh, it's our little secret) and then elevated with some more ingredients to take it up a notch.
The buttercream frosting is made from caramel and instant coffee—guaranteed to be an instant hit! Bring this to your monthly book club meetings and watch all your friends go nuts!
Love it or hate it, grapefruit is one of those flavors that let you know warm weather has arrived. The citrus flavor from the grapefruit is further accelerated by the addition of lemon peel as well.
Before you get worried that this cupcake may be too tart for your tastebuds, rest assured that this delicious gourmet cupcake recipe is topped with a hearty cream cheese frosting.
Your taste buds will not be led astray with this recipe. If you have always wanted to try grapefruit (or perhaps want to try again), this is the perfect recipe to make to get you familiar with the taste of grapefruit again!
I used to think bacon on anything besides breakfast foods was a weird concept.
I was so very wrong! I have since learned the error of my ways, and now I love putting bacon on everything, which includes the use in this delicious gourmet cupcake recipe.
Before you think this is too far out of your comfort zone, consider that this bacon is candied.
That means the salty goodness of the bacon is covered in a layer of brown sugar and cocoa powder.
The sweet and salty mix together to combine the forces of ultimate goodness. These chocolate cupcakes are topped with a delicious dulce de leche (which loosely translates to caramelized milk) cream cheese frosting.
I hope you didn't eat all your dinner because you're going to need the room in your tummy for this delicious dessert.
Chocolate-covered strawberries are not just for Valentine's Day!
This smashing recipe is suitable for any time of year or anytime you want to show someone you love them.
This cupcake batter has a beautiful pink color to it! Why? Because it's strawberry flavored!
Do you want the flavor of table-side flambéed bananas fostered without all the work? Then this recipe is for you!
This easy recipe for delicious bananas fosters cupcakes is right up your alley. Don't burn your fingertips making bananas foster at home.
Instead, make this recipe to save yourself the hassle and keep all the flavor!
These cupcakes can be the perfect addition to any function—bring them to work or a friend's baby shower. They will stun everyone!
These chocolate peanut butter cupcakes are a perfect reliable gourmet cupcake recipe.
If you love a rich chocolate base for your cupcakes, you are guaranteed to love these cupcakes. This is another recipe that calls for sprucing up a box of plain cake mix—and that is a-okay with us!
It saves you some work from not making it totally from scratch without sacrificing any of the flavors.
The peanut butter frosting is a heavenly addition to this dense chocolate cupcake!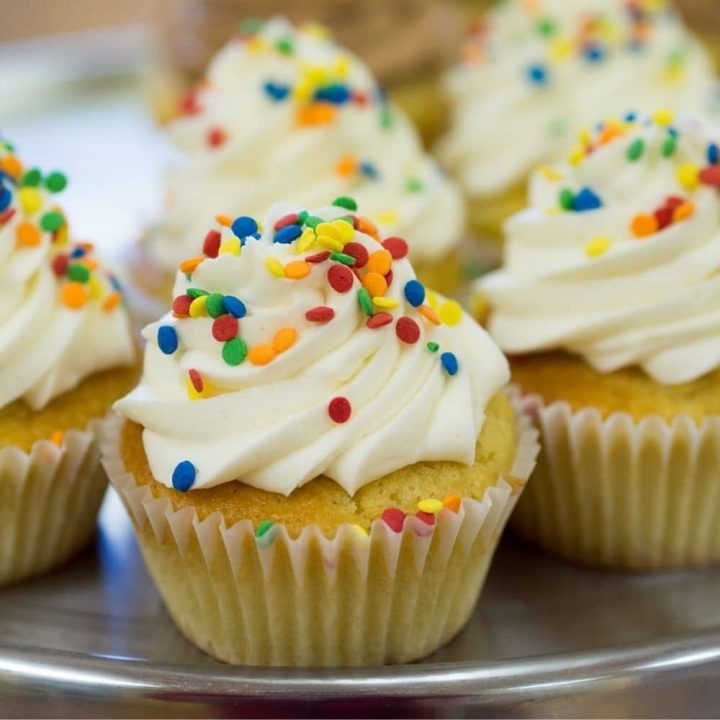 17 Best Gourmet Cupcake Recipes
Ingredients
For the candied bacon:
1/2 c packed light brown sugar
2 tbsp granulated sugar
2 tbsp unsweetened Dutch-process cocoa powder
12 slices bacon (cut in half)
For the cupcakes:
5 tbsps vegetable oil
1/4 c brewed espresso or coffee
1/4 c packed light brown sugar
1/3 c unsweetened Dutch-process cocoa powder
4 ounces milk chocolate, chopped
3/4 c all-purpose flour
1/2 c granulated sugar
1/2 tsp baking soda
1/2 tsp fine salt
1/4 c buttermilk
2 eggs
1 tsp vanilla extract
For the frosting:
1 c jarred dulce de leche
8 oz cream cheese, at room temperature
1 tsp vanilla extract
Flaky sea salt (for topping)
Instructions
Start by making the candied bacon. Before you get all your ingredients out, preheat the oven to 350 degrees F.
Find a baking sheet and line with foil and place an oven-safe baking rack on top. You will use this to set the bacon on while it cooks.
Whisk the brown sugar, white sugar, and cocoa powder in a bowl. Cut the bacon strips in half and then toss in the sugar mixture.
Once coated, place the bacon strips on the baking rack and bake in the oven until dark brown, approximately 15-20 minutes. Remove bacon from the oven. Once cool transfer to a plate and pat dry with a paper towel. Roughly chop 6 pieces of bacon and set aside.
Time to make the cupcake batter. Combine vegetable oil, brown sugar, espresso, cocoa powder, and chocolate in a large microwave-safe bowl.
Microwave chocolate mixture until hot. Whisk until all ingredients are smooth and then set aside to cool. While the ingredients in the large bowl cool, in a separate bowl combine all of your dry ingredients. Whisk flour, granulated sugar, baking soda, and salt in a medium bowl.
Take ingredients from the medium bowl and place them into the large bowl containing your chocolate mixture. Whisk until combined
Line a 12-cup muffin pan with paper liners. Evenly divide the chocolate batter between the 12 cups.
Bake cupcakes in the oven until they have a springy center when lightly touched, approximately 20-25 minutes.
Once cooked, remove from oven and let cool 10 minutes in the muffin pan. Then remove to a cooling rack to finish cooling.
To make the frosting, beat the dulce de leche, cream cheese, and vanilla in a large bowl until combined.
Place cream cheese frosting mix into a pastry bag fitted with a large star-tip and place in refrigerator for 30 minutes.
Pipe chilled frosting onto cooled cupcakes. Top with the candied bacon and sprinkle with a pinch of sea salt.