Are you looking for ways to bring island energy into your home year-round? Jamaican food recipes are a wonderful way to do that! We have compiled a delicious list of Jamaican dinner ideas and some exciting sides, desserts, and even cocktails. You're sure to find something intriguing to try.
The Caribbean offers some of the most warming and comforting flavor profiles. This list will introduce you to seasonings that will certainly become staples in your pantry.
Jamaican recipes are authentically island-inspired and accessible to anyone. You'll learn about some unique ingredients and some versatile techniques to make you even more dynamic in the kitchen.
We're starting this list of Jamaican food off right with a culturally quintessential classic: stewed oxtail.
This will become a new favorite when you want to elevate your slow-cooker meals. It can be done in a crockpot or pressure cooker, so you don't have to worry too much about tools.
This protein is traditionally used in various dishes, but if you aren't able to access it, you could use beef as an alternative.
The rich gravy in this recipe can accompany any hearty dish with a little creativity, and you can control the spice level by choosing your favorite pepper.
Jamaican meals take inspiration from other cultures, as we see here with this curry chicken recipe. With this recipe, you'll learn how to make a classic curry-style dish with a particularly Jamaican profile.
Develop your curry powder for this dish, and take the opportunity to get creative if you like. As with the first dish, this recipe allows you to control your spice level with pepper substitutions.
This dish will be a comforting favorite for your family and a perfect way to get in a balanced meal of protein, vegetables, and grains.
The first two Jamaican meals featured animal proteins as the star, but we haven't forgotten our vegetable friends!
This plant-based option is a simple and satisfying way to bring Jamaican-inspired flavors to your table. Fresh herbs and spices bring depth to this dish that will intrigue your palate.
Time is love in this dish. With two hours and 12 ingredients, you'll serve 6-8.
Want to use it as a side? Pick an entree from this list to pair with it!
Now that we've discussed a couple of savory entrees and a potential side dish let's talk about something sweet!
Serve up this flavorful pudding after dinner or even as breakfast with coffee or tea. Sweet potatoes and coconut bring a tropical profile to this plate.
Jamaican food differs in terms of ingredients because of the environment, but this recipe has been adjusted to use ingredients that are commonly found at your local market.
This dish is traditionally baked buried under hot coals, but you'll be able to create something equally as striking straight from your kitchen.
Did you like the chicken curry recipe? Feeling a little exotic?
Goat is often overlooked in traditional American cuisine, but this protein is an elevated classic throughout various cultures.
You might be surprised to find how common it is! You should be able to find all the ingredients at your local farmers' market, but beef can be a good substitute for this dish if you aren't able to.
This dish has simple prep steps that result in an exceptionally complex, slow-cooked meal.
Looking for a midweek getaway that doesn't break the bank or require vacation time?
This island-inspired chicken stew will transport you and your friends to the Caribbean for dinner.
You'll even learn some simple new technical tricks through this process as well.
Food in Jamaica is meant to be shared, and this stew is perfect for that. You can even follow a step-by-step video for this dish to make it that much easier.
Ready for another sweet tooth satisfier? Jamaican meals are full of powerful spices, and this delicious rum cake will be the perfect way to balance out your meal.
Rum cake is a wonderful treat, and the recipe can be adapted to a variety of creative adaptations once you learn the basics!
This particular flavor profile is tropical magic that will be irresistible at your next dinner party or potluck. You'll be pleasantly surprised by the perfected texture. Can't get enough? Serve it for breakfast!
Are you interested in another vegetarian-friendly side dish? Cabbage is such a versatile ingredient that people often overlook it.
You can generally get it in bulk for a great price at any grocery store, any time of the year. This is a savory and hearty way to highlight Jamaican food.
It is easy, but the elevated option that will impress with its inspired ingredients. Enjoy it as a delicious treat or serve us alongside any of the entries on this list.
Slipping to another sweet, we're here to redeem this dessert's reputation. Jamaican meals have a wicked way of bringing brightness and complexity to some otherwise commonplace recipes.
One of the best examples is this fruit cake! Your family and friends will be pleasantly surprised when they receive this on their plate or in a gift box during the holiday season.
They'll be coming back to you for the recipe!
The next dish on our list circles back to the beginning with an exceptionally unique and intriguing option for those looking to explore an authentic Jamaican recipe.
Callaloo, also known as amaranth, is a cultural staple eaten at any and every meal. It has been consumed on the island for hundreds of years. Although it is sometimes considered a weed, it contains a surprising amount of nutrients!
This leafy green is a great source of iron, making it especially beneficial to a vegetarian diet.
Did you know that Fridays and Saturdays are sometimes considered "soup days" in Jamaica?
Well, now you have the perfect recipe to start this new celebratory tradition with. This is a particularly satisfying and filling chicken soup that will appeal to the whole family.
Hide some amazing vegetables and herbs in this dish, including one that's super unique: chayote. This is a delicious squash that you might find at your local market! Potatoes make a great alternative too!
Top it off with simple and versatile dumplings that are sure to be a crowd-pleaser.
Another protein becomes the star of the show in this Jamaican meal!
Were you wondering when we'd get to some seafood on this island-inspired list? Shrimp is such a succulent option to feature for your family or friends for any occasion.
This dish makes an authentic and exotic option to serve at parties, as an appetizer, or even as an entree alongside some of the other dishes we listed to complete your meal.
Want another party-ready Jamaican recipe? This is the most delicious recipe for sweet, fried plantains.
Plantains are generally sold in your local supermarket throughout the year and are such an intriguing starch to work within the kitchen. You will want to try them in so many other ways too!
These are absolutely delicious, served simply as a sweet treat or dressed up into an exquisite dessert with ice cream.
Dumplings are an international favorite with inspirational options across the globe. Are you ready to learn the island style?
Keep it simple, or serve it up alongside your favorite entree. These are often served with fish! Have you ever seen a dumpling recipe with only two steps?
Beyond that, there are only six ingredients that are sure to be staples in your pantry. This will become a go-to treat for any occasion.
The next Jamaican meal on our list is a fun little pastry you can take to go! These make such an amazing lunch option for going to school or work or even for packing a cute little picnic.
Following these easy steps will teach you how to make the pastry and filling, which you can experiment with to suit your taste once you get the hang of it!
This could be turned into a delicious vegetarian meal with the help of beef substitutes!
Give yourself an adventure with this seafood option! You can follow the recipe or choose a complimentary fish to make the recipe perfect for you and yours.
This particular dish is a twist on ceviche that will teach you a seriously cool new technique for cooking fish. The plate star gets plenty of attention, but the beautiful vegetable garnish shouldn't be neglected.
Altogether this is a bright and exciting dish that will be beautiful to serve in any season.
Interested in more seafood options? The islands aren't scarce in that regard!
This one is Jamaica's national dish! It is a salt cod dish that utilizes a more interesting product that is native to Jamaican food.
Ackee is a Jamaican fruit that perfectly complements the cod when added near the end of cooking.
This dish is deceptively simple and an absolute must-try if you're interested in learning more about Jamaican food or culture.
Looking for an interesting way to spice up a classic and comfortable ingredient? Look no further than this rich option.
Carrots are one of the most dynamic ingredients and can easily be utilized as a sweet or savory.
This dish is a lovely balance of the two with a little bit of heat too! You might be surprised to see orange juice in a carrot recipe, but it gives the perfect tang to this sweet and spicy dish.
Traditional Jamaican spices complete the dish and elevate it to something you'll be excited to share.
Coffee might seem like an outlier for this list, but you'll be surprised by this sweet, little, pick-me-up cocktail.
It's the perfect treat to get you through a lazy island afternoon. Follow the basic outline and get creative!
You can choose your favorite brands of liqueur, coffee, etc. One of the best parts of this recipe is that it's super easy to make it dairy-free with a whipped cream alternative.
It'll be a hit next time you're getting the crew moving for a night out or the morning after.
Have you enjoyed the previous slow-cooker suggestions? This one is another that'll certainly surprise you with its simplicity.
The recipe will guide you through using various ingredients you'll be familiar with now that you're learning about Jamaican food.
Each ingredient plays its part like an instrument in a symphony as you compose a perfectly fulfilling plate. These will be great leftovers and served as lunch the next day too! It's an awesome option for meal prepping.
Here's a twist on an American favorite: fried chicken. Jamaican spices take the natural luxury of this dish to a new level.
This recipe will take you step-by-step through the entire process of creating this amazing entree, but you could also adjust it to your recipe!
Many families are proud of their method, so why not do it your way and spice it up for a special occasion using this inspiration?
This Caribbean classic is served for breakfast, lunch, and dinner! Do you love bread?
These dinner rolls only have 7 ingredients and could easily be made completely plant-based with a butter alternative. The bread is slightly sweet, similar to a Hawaiian roll with a heartier texture.
Bread making often feels intimidating, but this option will have you feeling like a professional baker in no time.
Take your next tropical party straight to the beachfront with this rum punch!
Fresh citrus, pineapple, and orange juices blend beautifully with a little bit of grenadine and a lot of rum! In fact, the recipe calls for three different kinds!
You can choose your favorites from each category to make this hit one-of-a-kind.
Don't feel like getting all three? Pick coconut!! The quality of your fruit is most important.
These codfish fritters are a fantastic and nutritional snack! They can easily be served as an appetizer or finger food at a party too.
The recipe makes two dozen! The ingredients are easy to access, and the steps are simple. This is one you could make with the kids or if a group of your friends wanted to learn how to make something together.
It only takes about 20 minutes to make! Are you ready to try this fun fish snack?
Do you have five minutes to save yourself some money? Make your jerk seasoning!
This traditional Jamaican spice blend can be used in so many different recipes. It's truly something worth making a pantry staple.
You'll be surprised how much you'll pay for it in-store after seeing how simply you can make it yourself!
Soon enough, you'll be adding it to other recipes you try or getting creative with it to develop your island inspirations!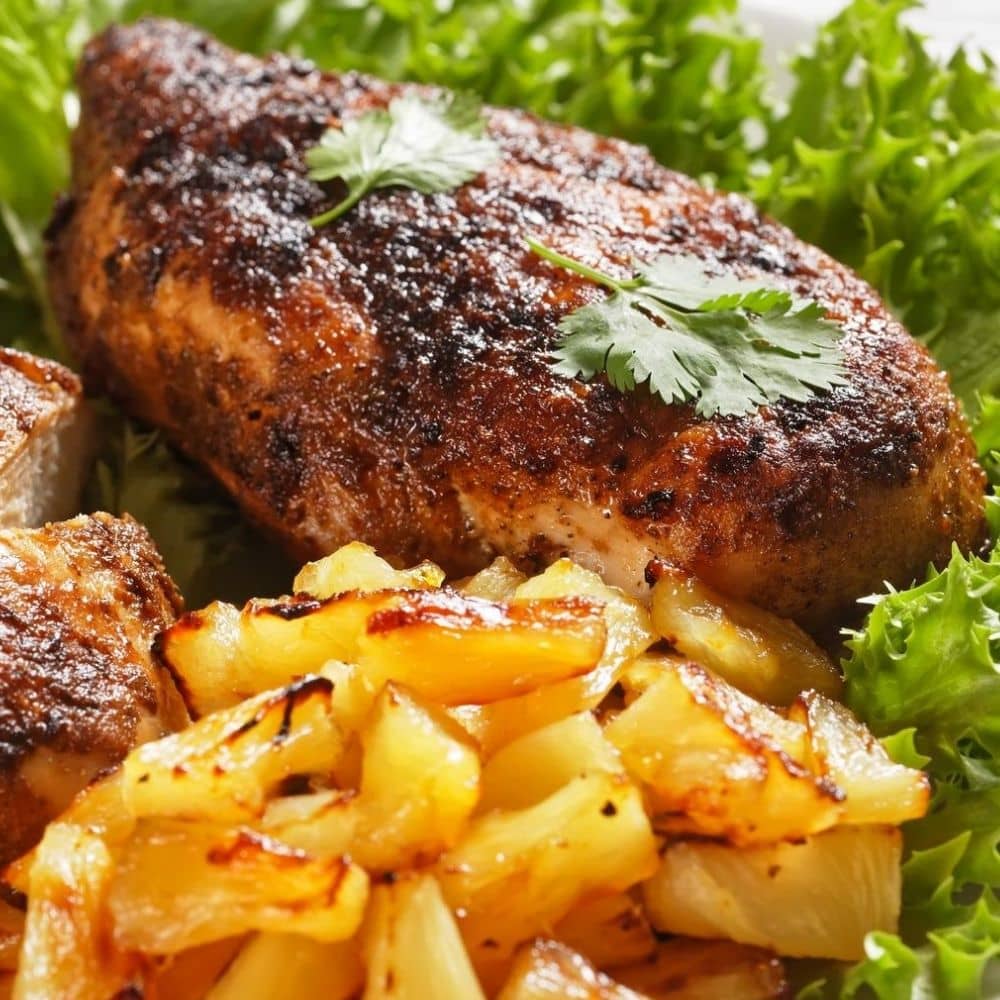 25 Traditional Jamaican Recipes
Ingredients
1 can (20 ounces) unsweetened pineapple tidbits
1 tsp salt, divided
1 c uncooked whole wheat couscous
1/3 c all-purpose flour
2 tbsps minced fresh cilantro
1-1/2 lbs boneless skinless chicken breasts, cut into 1/2-inch-thick strips
2 tsps Caribbean jerk seasoning
3 tbsps olive oil, divided
Instructions
Combine your pineapple pieces (liquid included) with a half teaspoon of salt in a saucepan and bring it to a boil before adding the couscous.
Remove your pan from the heat and leave it standing, covered, for about five minutes until the liquid absorbs and you can fluff it with a fork.
Mix your flour and 2 tablespoons of cilantro together in a shallow dish.
Season your chicken strips with jerk spice blend and the rest of your salt.
Gently toss your chicken strips in the flour mixture and reduce excess.
Heat one tablespoon of oil in a skillet and add some of your chicken.
Cool throriufgly in the pan, browning each side and repeating with added oil until the chicken is finished.
Plate with couscous and serve with cilantro garnish if desired!