Leeks. When you see them on a menu—in a leek and potato soup, on the side of roast meat—you just feel fancy, don't you? Maybe it's because I associate them with French cooking, but for me, there's something about them that just seems classy. Only . . . how many people actually know what leeks are?
I know I didn't for the first couple of decades of my life. They weren't something we ever bought and cooked with at home, so all I knew was that they were somehow related to onions. And I didn't come across that many recipes with leeks.
Well, I am here to tell you, that was a loss and a failure on my part. Leeks are, as it turns out, delicious, along with relatively easy to find and use. Turns out there's a reason chefs keep putting them in soups!
But that's not all they're good for; like their relative the onion, they're an incredibly versatile vegetable that you can use in a whole lot of ways—some of which might surprise you.
Want proof? Then check out below, where I've collected 20 leek recipes from around the Internet that show you just how delicious and versatile leeks really are.
Looking for something hearty and filling, warm and comforting, the sort of thing you'd love to serve your family on a cold night? I love this recipe for chicken and leeks with a hearty creamy sauce.
You start by pan-searing chicken breasts, sautéing leeks, and then cooking them together in the broth.
Toward the end, you stir in sour cream and mustard to make that delicious creamy sauce, and flavor with tarragon.
This would be delicious served with (or, ideally, on top of) mashed potatoes; the potatoes could soak up that creamy sauce.
This would also be great served over pasta.
Ah, the recipe that first introduced me to leeks—the first thing I think of when I wonder what to do with leeks. This is a classic French soup and serves as the base of a lot of other soups; for instance, Vichyssoise is basically just this soup served chilled.
This recipe makes this soup as easy as can be. You sauté the leeks, then add the potatoes, broth, and spices and boil until tender. Use an immersion blender to purée, then add cream. See? Simple!
To bulk this soup up a little, and to add delicious flavor, serve garnished with crumbled bacon and shredded cheese.
While we're talking leeks, we've got to stop and talk about quiche. This is one of those dishes that can be pretty bad when done poorly, but when it's done well, it's a tender, creamy delight.
Many quiches involve meat or other vegetables, but this quiche is content to let leeks be the star, along with some delicious Gruyère cheese.
However, if you wanted, you could definitely use this recipe as a base for a quiche with more ingredients in it. I think some diced ham or bacon could go beautifully with the leeks; just make sure that if you're adding a lot, you'll need to adjust the number of leeks accordingly.
So far our list of leek recipe ideas has all involved cooking the leeks. But like their cousin the onion, leeks can also be eaten uncooked.
Here's a very different approach to using leeks: served fresh in a chilled salad. This salad definitely has a Mediterranean vibe, with its tomatoes, cucumbers, and olives, and its dressing of lemon juice and olive oil. The leeks, in this case, give the salad a nice bit of sharpness.
With salads like these, make sure you make them ahead of time so that you can chill for at least an hour. This lets you get the salad to the right temperature for serving it, and also gives the flavors time to meld.
A lot of recipes using leeks serve them with other vegetables, but leeks also go delightfully with rice, as in this leek risotto recipe.
Any risotto is a rich and delicious delight, but this recipe adds leeks for that delicious, mildly oniony flavor.
As with most risottos, rice is cooked with white wine, butter, and cheese for a really decadent, creamy dish, but this recipe
dials the decadence up even further by finishing the dish with whipping cream.
Not big on cooking with wine? In this recipe, I'd recommend substituting an equal amount of chicken broth.
This is a similar dish to quiche, except that the Italian frittata doesn't have a crush, while the French quiche does.
This makes it a handy, easy recipe that you can whip up fast; you don't have to make a crust or buy one (and let's be honest, I am much more inclined to buy one).
What I love about this dish is that it's such an elegant-looking option for a nice brunch or other meal, but you can make it with ingredients you should already have in your kitchen, plus leeks.
You can also bulk this dish up by adding spinach or other vegetables. Let your imagination run wild!
Here's a great recipe that lets the flavor of the leeks be the star of the show. There's nothing in here to interfere with that sweet, onion goodness.
In this recipe, cutting the leeks small and then sautéing them in butter ensures that they are soft, tender, moist, and delicious.
This would make a delicious side dish for a lot of meals, but it's also a great way to prepare leeks for use elsewhere. Once you've cooked them like this, for instance, they'd make a great topping on a pizza, or as a tasty garnish on top of soup or pasta.
This is a dish that looks nice but really is very easy. Pan-seared chicken is cooked with leeks and farro, then topped with a garnish of tomatoes and more leeks.
This gives it a nice variety of flavors, from the hearty, delicious farro and chicken to the bright, tangy garnish.
Now what, you might be asking, is farro? The term refers to several varieties of hulled wheat that are cooked and served in much the same way as rice or barley. It's full of protein, iron, and fiber, and has a great nutty flavor.
Here's a great, easy pasta dish where spaghetti, chicken stock, and cream cook together with leeks, scallions, and garlic for a hearty, delicious meal.
I love any dish where I don't have to wash so many pots, so this is right up my alley.
This dish calls for an anchovy, but you could make it vegetarian by simply omitting the anchovy and upping the seasonings and cheese as needed for flavor.
Alternatively, you could bulk up the meat of the dish by adding cooked chicken or sausage toward the end of the cooking time.
Got a picky eater at home who won't eat their vegetables? This delicious, creamy cauliflower and leek dish might just change their mind.
Of course, with all the cream and cheese, this isn't the healthiest choice in the world, so use it as an occasional indulgence.
This is just about the tastiest way to get your vegetables that I can think of.
This delicious dish would make a great side dish for a pot roast, but you could also make it a hearty meal on its own by adding some crumbled bacon or cooked chicken.
We've had a lot of vegetarian leek recipes here, but let's talk about something that could really stand on its own as a main dish.
This stew is hearty, and filling, with its steak, carrots, and mushrooms, and rich gravy made with beef stock and red wine.
The recipe has to cook for a long time, but you do much of the cooking time in the oven, which is great because you don't have to worry about pumping a pot handle on the stove or the possibility of the dish boiling over.
Just imagine sitting down to this meal on a brisk autumn day with a loaf of crusty bread on the side. It's enough to make me wish it was autumn now.
So far, this list has been heavily weighted toward European dishes, and no wonder, as leeks are so closely associated with European cooking.
But their mild, sweet, onion flavor could go great in any dish that uses onions, such as stir-fried beef.
What I love about this dish is that it uses up the green parts of the leek. Most recipes tell you to cut off the white part and use it, and to save the tougher green parts for making vegetable stock.
But this dish uses up those green bits; the stir-frying tenderizes them nicely. You do have to cook the green parts a little longer than the white parts, but the final result is delicious.
Here's a hearty, simple pasta bake that's perfect for family dinner night.
Pasta, salmon (you can even use canned salmon—this dish won't mind!), and leeks are combined with cream and cheese and baked for a comforting, delicious meal. These easy ideas really are the best sometimes, when all you want is something tasty and filling.
I do have to admit, that's not the healthiest meal you're ever going to have. If you want to lighten it up a little, you could use a lower fat cream, or even omit the cream altogether.
Of course, no cream would make the dish less, well, creamy, but you'll still get those delicious salmon and leek flavors.
"Okay," you're thinking, "we've talked a lot about side dishes and simple dishes that use leeks. But what can I make with leeks that I can serve as a main course?" I've got you covered with this unique salmon dish.
What I like about this is that it combines flavors and ingredients that I personally never would have thought to combine: salmon, tomatoes, and leeks, dressed with lemon juice.
The end result is so pretty and elegant, but it's actually a surprisingly simple dish: just twenty minutes of prep.
You could serve it at a dinner party, and no one would know how little time you spent on it.
Leeks, as mentioned, have a naturally sweet and mild flavor. This recipe is a great way to enhance that flavor, by pairing them with honey and carrots, two things that are also pretty sweet.
Coating the vegetables in the honey and thyme really brings out that sweetness while roasting them makes them tender but also gives you those nice charred edges.
You'll notice that this recipe calls for white wine, something that you might, for a variety of reasons, prefer not to use. In that case, there are lots of substitutes for white wine, but for this dish, I'd recommend subbing an equal amount of apple cider vinegar. The sweetness of the vinegar will pair well with the glaze, and it has a nice depth to it.
Let's travel to Greece for another delicious rice-based leek dish.
Prasorizo is a traditional Greek dish that's delicious and simple; in fact, the name translates to "rice with leeks."
In this recipe, the leeks join forces with red onion, spring onion, and garlic to add flavor to the rice.
At the end of cooking, dill, lemon juice, and pepper are added to give the whole dish a Greek flavor profile.
You can eat this dish as a main course, or serve it alongside meat; I'd recommend chicken, in that case.
We've talked a lot about leeks dishes that involve baking and sautéing, but there are other ways to prepare them. Want to try something different? Take inspiration from the French and give these creamed leeks a try.
This is another dish that's simple and lets the leeks themselves shine, but the addition of the cream and cheese at the end takes it to another level. The cream pairs nicely with the sweetness of the leeks, and the saltiness of the cheese gives a nice contrast.
This is such a simple dish, but it feels so elegant and would be great at a dinner party. It would make a great side on its own, but would also be delicious served under your meat dish.
A lot of vegetables go well in recipes for leeks. To bring out the freshness of the leeks, what about asparagus? To me, fresh, delicious asparagus always tastes like the outdoors in the best way, and pairing that with leeks is a match made in heaven.
This recipe calls for the expected oil, salt, and pepper, with a few little surprises: red pepper flakes for a gentle bit of heat, plus dill weed.
If you've never cooked with dill, you might think of pickles when you hear the word. Let me assure you, dill on its own does not taste anything like pickles.
It has a unique, grassy, slightly sweet flavor that will bring out the leek and asparagus flavors beautifully.
I'll be honest with you: I'll eat mushrooms in anything. Pizza? Check. Omelets? Obviously. Tacos? Sure, why not? So I started salivating when saw this recipe.
Take the earthy goodness of sautéed mushrooms and add the onion sweetness of sautéed leeks. Could it get any better than this?
Tarragon gives this recipe a nice little kick of flavor, but you could really substitute it with all sorts of spices and it would be delicious. Garlic would be great, and I'm also intrigued by the idea of trying basil or rosemary with this recipe.
The point is, with a recipe that's so simple, designed to showcase the veggie flavors, you could experiment a lot and figure out exactly which spices you like best with leeks.
The best leek recipes really let the leeks' flavor shine. So let's finish with something very simple: roasted leeks, which make a delicious side dish for any meal.
Leeks have an onion-like flavor, but it's milder and sweeter than an onion. So while most of us wouldn't serve an onion as a dish—the flavor is too strong—roasted leeks make the perfect side.
Roasting them with olive oil makes the flavor even better, because it caramelizes the vegetable, making them sweeter. And topping anything with parmesan cheese makes it ten times better, right?
If you want a simple dish to enhance the natural flavors of leeks, this is a great place to start.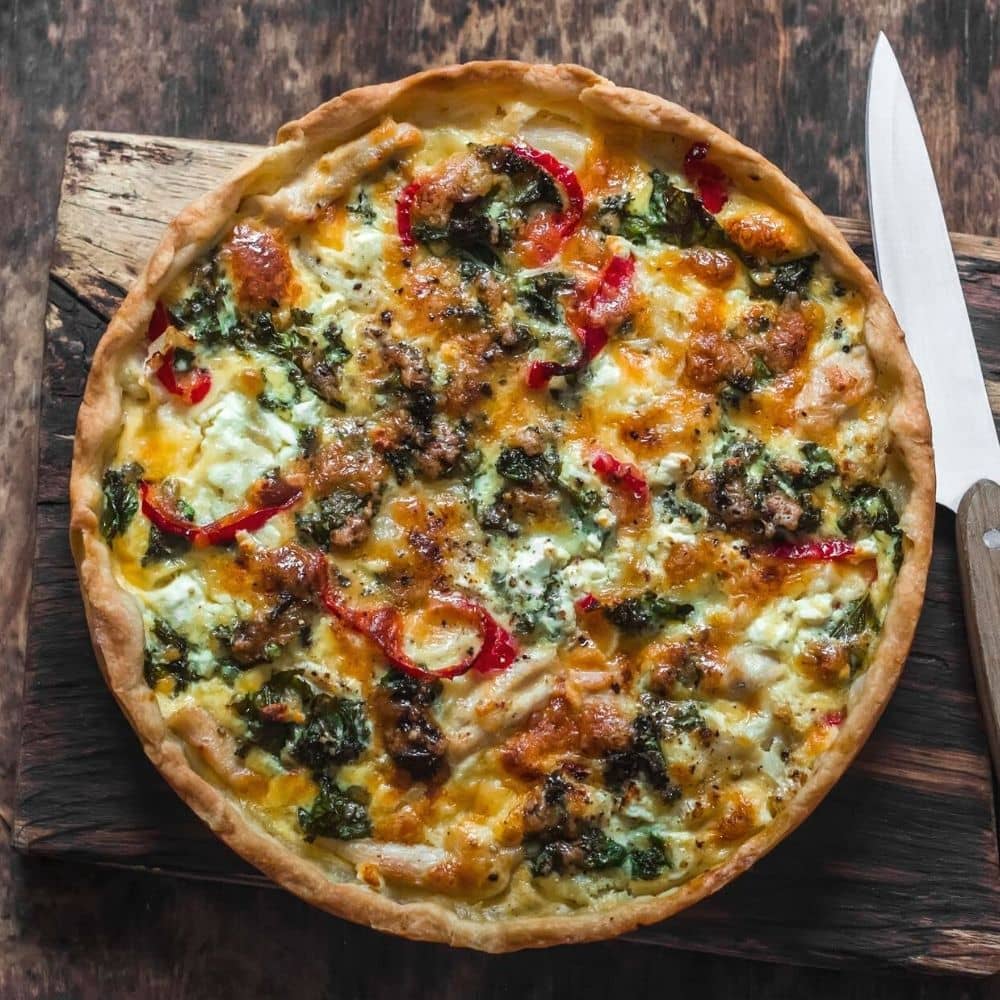 20 Best Leeks Recipes the Family Will Love
Ingredients
1/2 c all-purpose flour
1/8 tsp paprika
1/8 tsp pepper
4 boneless skinless chicken breast halves
2 tbsps canola oil
3 tbsps leek soup mix
1 c water, add more if needed
1/2 c sour cream
1-1/2 tsp minced chives
Instructions
Mix the flour, pepper, and paprika in a large container or a zip-top plastic bag. Put the chicken into the container, just two or three pieces at a time, and shake until the chicken is coated.
Add oil to a large skillet and heat over medium heat. Place the flour-coated chicken into the oil and cook for 6-7 minutes on each side. Remove when an inserted thermometer reaches 170 degrees Fahrenheit.
While the chicken is cooking, mix the soup mix and water in a saucepan. Bring to a boil, stirring often. Once the pot is boiling, reduce the heat and bring to a simmer. Let it simmer for five minutes and stir occasionally.
After five minutes, remove the pot from the heat and mix in the chives and sour cream.
Serve the chicken with the sauce spooned over the top.