Introduction: From hearty shepherd's pie to vibrant beef curry, these 20 leftover beef roast recipes will make sure nothing ever goes to waste in your kitchen. With a little creativity and inspiration, leftover beef can be transformed into hundreds of delicious dishes perfect for quick and simple meals throughout the week.
The beauty of leftover beef is its versatility and how it can be flavored and transformed into pretty much anything. Using leftover beef not only conserves food waste but pushes our creativity in the kitchen.
Make the week a breeze with these simple leftover beef recipes. Guaranteed to save you time in the kitchen and make sure nothing goes to waste!
What to make with leftover beef?
Feeling stuck or uninspired? Don't worry, we have collected the best recipes for revamping your leftover beef. These 20 Simple Leftover Beef recipes are simple, quick, and delicious!
What to do with leftover roast beef?
Feeling stuck or uninspired? Don't worry, we have collected the best recipes for revamping your leftover beef. These 20 simple recipes for roast beef are simple, quick, and delicious!
How long can beef leftovers be stored?
Leftover beef can be stored in the refrigerator 3-4 days after cooking. Alternatively, leftover beef can be frozen and used upon fully defrosting.
If you freeze beef, make sure to keep it in a sealed bag or container and fully defrosted it before reheating. For best results, let beef thaw overnight.
20 Simple Leftover Beef Recipes
The ultimate comfort meal is a creamy bowl of Beef Stroganoff with a big bowl of rice or fresh bread. Rich, tangy and creamy, this quick and easy leftover roast beef stroganoff will satisfy all the cravings. The mustard and mushrooms give this dish a tangy yet rich hearty flavor.
You will be surprised by how simple the sauce is to make just consisting of a few key ingredients such as chestnut mushrooms, mustard, beef stock, and Creme Fraiche.
The mustard and mushrooms give this dish a tangy yet rich hearty flavor. My favorite thing to pair this dish with is egg noodles as they perfectly take on the creamy sauce and offer a nice texture for the leftover beef.
Who doesn't love pot pie? This dish is sure to use your beef leftovers in the best way possible. The result is a warm comforting pie perfect for a rainy or cold day. Don't be intimidated by making the pie crust and give this "cheater" pie crust recipe a try.
Feel free to throw in other leftover vegetables or any frozen veggies you have on hand. Use your leftover drippings from the roast beef for the gravy or try this simple gravy recipe made from scratch with beef bouillon.
Leftover beef can basically be used in any and every recipe imaginable! The options are truly limitless and will help cut down your hours in the kitchen when prepared in advance. This leftover beef casserole is quick and simple using either fresh or frozen vegetables and gravy.
The best thing to serve with a casserole is a big bowl of buttery garlic mashed potatoes topped with more gravy. Perfect for a big family meal or a quick meal during the week.
You can never go wrong with a casserole… It's simple, rich in flavor, and feed a lot of hungry mouths. What more can you ask for? Top with your favorite cheddar cheese to give this dish an extra layer of creaminess and flavor.
Add some spice and flavors of India to your leftover roast beef with this vibrant beef curry recipe.
Transform your leftovers with flavorful Indian spices like coriander, Garam marsala, ginger, garlic, and cumin. It is worth investing in staple Indian spices, as they can elevate a dish or ingredient and offer a unique flavor.
The secret to making flavorful curries lies in toasting the spices beforehand in coconut oil. The heat opens the spice's complex flavor and completely transforms them.
Curry is one of the best dishes to whip up with leftovers as you can create a completely different and unique dish. This dish is best served with basmati rice or Garlic naan bread.
Long week? Don't feel like cooking much but want to eat something deliciously creamy and satisfying?
Look no further, this cheesy baked rigatoni will give you and your family something to look forward to.
The key to this recipe is sourcing good-quality parmesan cheese and sharp cheddar. In addition, cook rigatoni al dente and make sure the pasta is well sauced before baking (to avoid dry or overcooked pasta).
Shepherd's Pie is a great way to use your leftover roast beef. Try experimenting with different spices like Thyme, oregano, or rosemary to create a multi-flavor profile.
This recipe is perfect for batch cooking and to ensure you have at least 3-5 meals during the week.
Try serving with a fresh spring salad with balsamic vinaigrette to balance the heartiness of the mashed potatoes and meat pie. It is always best to pair hearty dishes with some freshness such as lettuce or vegetables. Enjoy this meal during a busy week.
Shredded Beef Enchiladas are one of the easiest dishes you can recreate with leftover roast beef. These enchiladas can also be made ahead of time and reheated whenever you are on the go or in need of a quick meal.
Shredded beef is a popular staple in Mexican cuisine and can be used in a variety of dishes like tacos, burritos, and of course enchiladas.
The secret ingredient of this recipe is cream of mushroom soup which makes the enchilada sauce heartier and creamier. If you are not a fan of cream of mushroom, try substituting with cream cheese if you prefer a different flavor.
Craving a little taste of Italy from the comfort of your own home? Leftover beef pairs amazingly with Italian herbs and spices like thyme, oregano, and chile flakes.
This dish is nicely balanced with Worcestershire, tomato sauce, and red wine. Surprise your mouth with all the Italian flavors.
Why Worcestershire? Typically used in English cuisine, Worcestershire sauce adds a rich savory kick to the leftover beef which adds yet another layer of flavor.
And of course, no pasta would be complete without its best friend Parmigiano Reggiano. Use the leftover cheese rind in the sauce to make the richest and creamiest tomato sauce. Serve this pasta with fresh garlic bread and a Caesar salad for the ultimate Italian meal at home.
Try this colorful 20-minute stir-fry recipe boasting fresh vegetables, a garlicky soy sauce, and thin egg noodles. A healthy and quick dish to whip up in the kitchen when you are craving Asian-inspired flavors.
Stir-frys are an excellent and quick way to add more vegetables to your diet. Additionally, vegetables are perfect to pair with leftover ingredients such as beef or chicken.
Try adding various Asian spices and sauces like ginger, sesame oil, or Shoyu for a little twist. There are thousands of variations for stir-frys and they are bound to impress everyone at the table.
Life is too short to eat boring sandwiches. Try beefing up your next sandwich with this quick and delicious leftover roast beef sandwich recipe.
Ready in just 5 minutes, just layer fresh sourdough with roast beef, sun-dried tomatoes, creamy brie, spinach, and horseradish sauce. Try adding a thin layer of mayonnaise for a softer horseradish taste.
This is the simplest way to use your leftover beef and can be made with condiments and pantry staples. Just make sure to find delicious sourdough bread to accompany this spread. It's the little things that count.
Level up your roast beef sandwich with a french dipping sauce. Let your sandwich drip with sauce and ooze with melted cheese.
Experience a whole new way to enjoy your leftovers by simply adding a delicious sauce consisting of just two ingredients; beef broth and soy sauce. Check off preparing French classics in less than 10 minutes. The origin of this is
Did you know the origin of this sandwich derived from when a French chef dropped a baguette into beef stock? And walla, history was made.
Chilli is one of the easiest batch meals to cook for a week of guaranteed deliciousness.
Typically chili uses ground beef, but chunky beef pieces serve nicely in this recipe and offer a different way to enjoy this classic dish. Feel free to chop the beef beforehand if you like a less chunky chili.
The magic of chili comes from its fresh tomato sauce, onions, carrots, lots of garlic, and aromatic spices. If your beef is already tender, feel free to throw it in after the sauce is done. Serve with a bed of rice or with fresh cornbread.
What could be better than a no-cook fresh and light salad featuring your favorite leftover?
Try this healthy and simple cold roast beef salad with a tangy sundried tomato dressing, fresh arugula, shaved brussels sprouts, and more. Bound to pack your mouth full of flavor and freshness, this recipe is a no-brainer.
Top your crispy greens with fresh mozzarella balls and Parmigiano Reggiano and you are ready to go! It tastes just as beautiful as it looks. Try serving with a dry Rose or crisp Sauvignon Blanc for an even greater gastronomic experience.
Turn last night's dinner into today's breakfast with this leftover roast beef hash.
Start the day right with this filling protein-rich dish with potatoes, mushrooms, and green peppers. Hashes are a great one-pot meal to use up leftover ingredients.
This dish takes about 30 minutes and can be enjoyed throughout the week. Try adding a fried egg on top or serving inside a corn tortilla for a different flavor profile.
There is no doubt that everyone loves pasta bakes. Transform your leftover beef into a rich flavorful noodle sauce with caramelized onions, mushrooms, and beef stock. By simmering the beef in stock, the meat becomes soft and fall-apart succulent, melting in your mouth with each bite.
The egg noodles soak up the sauce divinely and offer a wonderfully balanced texture between the beef, cheese mushrooms, and onions.
Try adding additional seasonings to the sauce like rosemary, thyme, chile flakes, or basil. Enjoy this pasta bake with a fresh gem salad or anything you would like and you're craving.
Warm up the week with some roast beef stew boasting hearty vegetables, chunky potatoes, and delicious stock.
This dish is best paired with rice or garlic bread. For an Asian rendition of this dish, try adding ginger, ginger, and chile pepper to your list of seasonings. For a creamy take try adding 1 cup of coconut milk to this dish.
Leftover roast beef stew can also be frozen and served at a later date. Frozen soups when reheated are just as tasty and a good idea for those nights where you are craving a homecooked hearty soup. Better than canned soup!
What first comes to my mind when you hear "Philly cheesesteak? Cheesy caramelized onions intertwined with shredded beef that melts in your mouth with every bite. Now imagine Philly cheesesteak as sliders but replaced with juicy roasted beef.
A trick for this recipe is to grill the bread on a grill pan to get that perfect crunch. Or try cooking in a panini maker.
Alternatively, you can use a make-shift panini press by using the pressure from another pan on top of the buns. See here for instructions.
A straightforward classic recipe using all your leftover pot roast ingredients.
To make a spicy version of beef and vegetable soup try using spices like red chile flakes and jalapenos, This soup is best topped with lemon juice, sour creme, and fresh chives.
Try adding spinach before serving for another boost of veggies and nutrients.
If you have never tried wild rice then you are in for a treat. Wild rice is an excellent accompaniment to any dish, especially soups and stews.
It packs a hearty yet nutritious earthy flavor that pairs nicely with roast beef and various meats and vegetables.
A bonus is that wild rice contains three times contains about three times more fiber and twice as much protein as white rice.
Use two leftover ingredients in one meal with this double whammy beef fried rice. Fried rice is typically made from day-old rice as it contains less moisture. Paired with the leftover roast beef, fried egg, and fresh vegetables, you really cannot go wrong here.
For an extra boost of freshness, top with fresh green onion, scallions, or chives. Lime or lemon juice is also a great accompaniment with additional health benefits.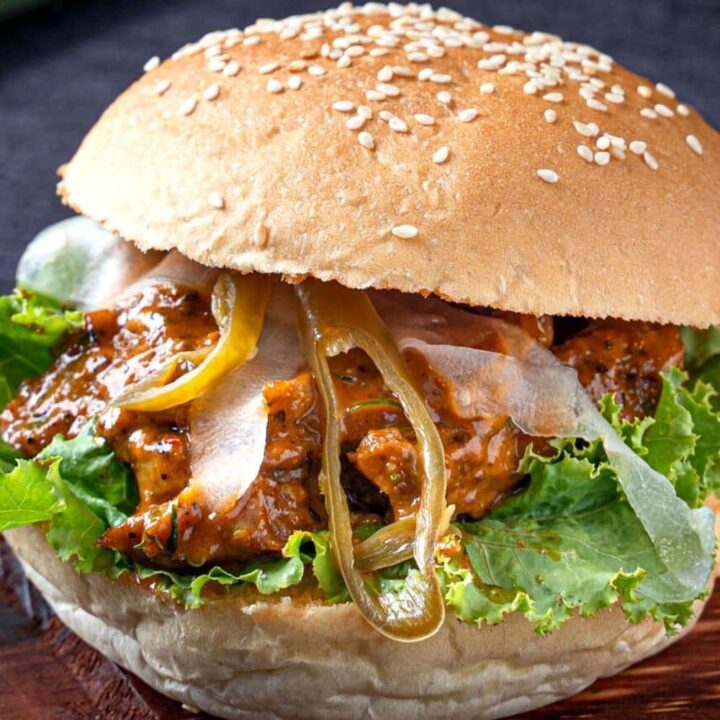 20 Best Leftover Roast Beef Recipes
Ingredients
2 tbsps vegetable oil
2 c leftover cubed cooked roast beef
1 garlic clove, minced
1/3 c chopped onion
2 tbsps all-purpose flour
1 tsp salt
1/2 tsp paprika
1 c sour cream
1 can (10 oz) mushroom stems and pieces, drained
1 can (10-3/4 oz) condensed cream of chicken soup
Cooked wide egg noodles
1/2 c water
Chopped fresh parsley
Instructions
Sauté onions in a skillet over medium-high heat. When onions are translucent add
garlic and beef.
Reduce heat to low and stir in flour, salt, and paprika. Cook for 5 minutes and then
add mushrooms. Sauté mushrooms for 5 minutes then add soup and water.
Simmer for 10 minutes then add sour cream and make sure not to boil. Serve sauce over noodles.