Pineapple upside-down bundt cake is a classic recipe that everyone loves and it is super easy to make. Just Imagine, Pineapple and cherry combined with a soft sponge cake that creates an explosion of flavor on the palate.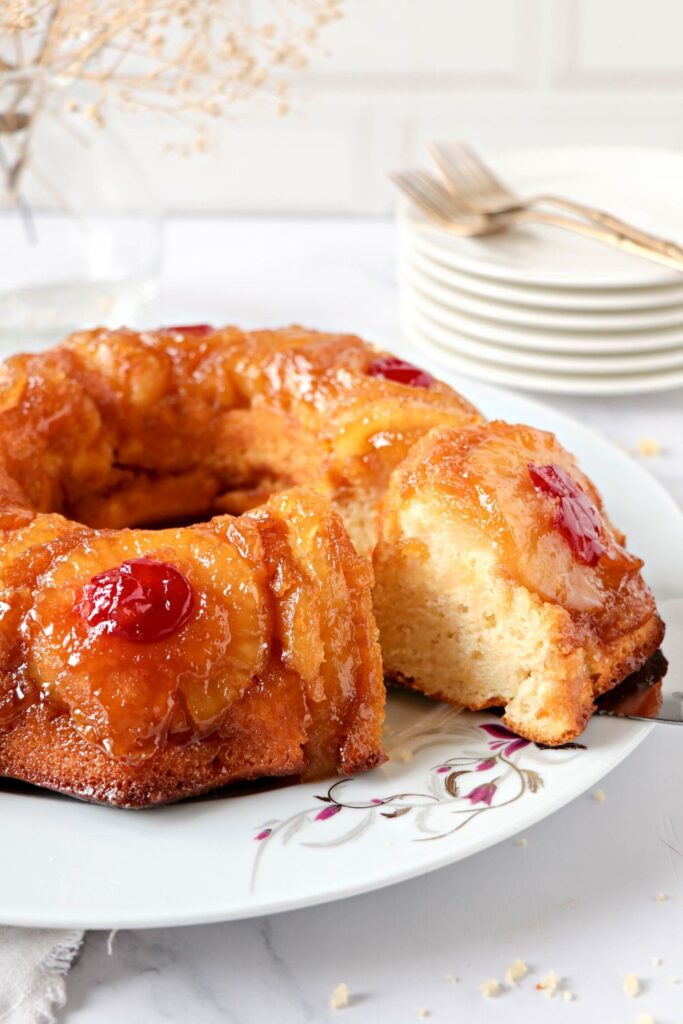 If you have guests coming over, or just want to surprise your family with a delicious treat for dessert, this classic will never disappoint!
Pineapple Bundt Cake Ingredients:
Pineapple upside-down bundt cake is very easy to make. You can make this amazing recipe with just a few ingredients listed below:
For the Cake You Will Need:
Cake Mix: I chose to use plain cake mix in this recipe.
Egg: Make sure to use large eggs. In this recipe, 3 eggs are used.
Pineapple Juice & Milk: Liquid is important in cakes. They help to make it softer and spongier. I used the juice from canned pineapple for the cake.
Vegetable Oil: It will prevent the cake from drying out, by helping it retain moisture.
Pineapple: Every pineapple bundt cake needs pineapple. I used canned pineapple. You can use fresh pineapple if you wish.
Maraschino cherries: The jewels of the crown! They make the cake look beautiful, and who doesn't like them, right?
For the Glaze You Will Need:
Butter: It has to be melted. It will make the top of the pineapples caramelize along with the sugar.
Light Brown Sugar: I used light brown sugar. If you use dark brown sugar, the pineapples may darken too much.

How to Make a Pineapple Upside-Down Bundt Cake?
Here are the steps for the best and easy pineapple upside-down bundt cake;
Preheat the oven to 350° (180°C) and grease the bundt pan with cooking spray. Then add the melted butter and light brown sugar into a mixing bowl and mix them together.
Pour the sugar mixture onto the bottom of the bundt cake pan and spread with a spoon.
Place the pineapple slices on the bottom with one cherry in the middle of each slice. Also, place half slices (arch side down) between each whole slice.
In a large mixing bowl, mix together the cake mix, vegetable oil, pineapple juice, water, and eggs until well combined
Pour the batter evenly over the pineapples and cherries. Bake for 35-40 minutes until a toothpick comes out clean.
let the cake cool down for 10 minutes. To unmold, place a plate on top of the pan and carefully flip it over.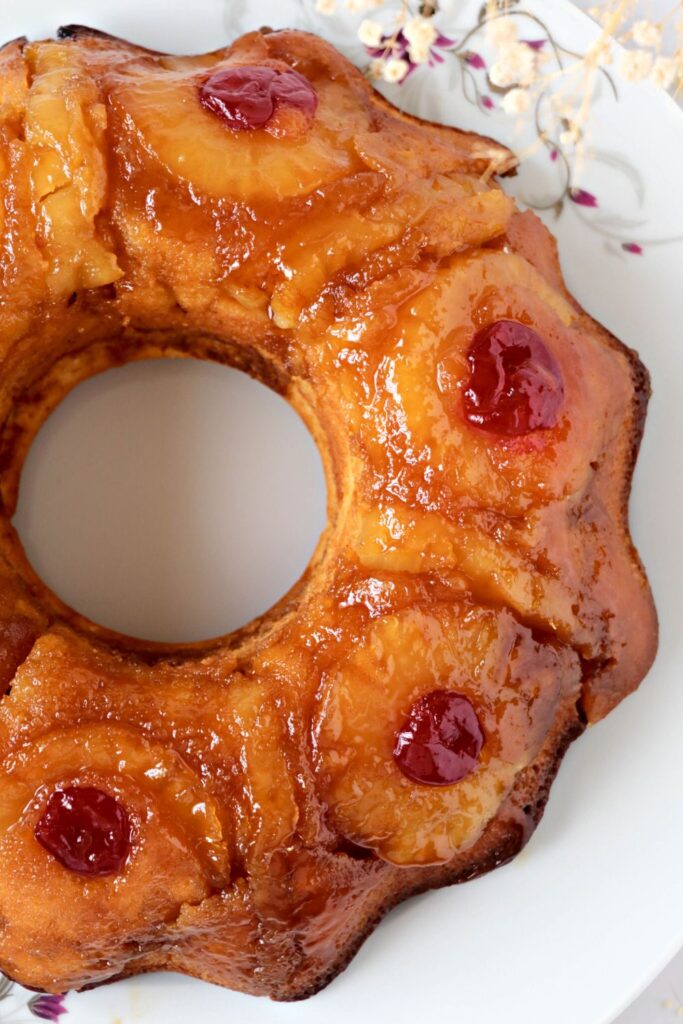 Tips For the BEST Pineapple Bundt Cake:
Your Pineapple bundt cake will turn out great if you follow these tips:
Ingredients at room temperature: Make sure that the ingredients are at room temperature. This way, the ingredients mix together better and this helps the cake to rise properly.
Absorption of excess water: Since pineapple and cherries are juicy, remove the excess liquid with the help of a napkin.
Arrange the pineapples properly: Be careful when placing the pineapple slices on the bottom of the pan. Help yourself by sticking them in the sugar at the bottom because they can slide. Pour the batter slowly on top of them so they don't move around.
Make Ahead and Storage Instructions:
Pineapple Bundt cake is slightly more delicate than other cakes. Since it contains pineapple, it is better when served immediately after baking. It is not recommended to bake and keep in the fridge.
You can place leftovers in an airtight container and store them on the counter for a couple of days.
Pineapple Upside-Down Bundt Cake Recipe
Pineapple upside-down bundt cake is a classic recipe that everyone loves and it is super easy to make.
Ingredients
1 box yellow cake mix
1/2 cup packed light brown sugar
1/4 cup butter, melted
1/3 cup vegetable oil
1/2 cup pineapple juice pineapple juice
1/2 cup water
3 large eggs
9 slices pineapple, 3 of them halved
6 maraschino cherries, stems removed
Cooking spray, for pan
Instructions
Preheat the oven to 350° (180°C) and grease the bundt pan with cooking spray.



In a bowl, mix together the melted butter and light brown sugar until well combined.



Pour the mixture onto the bottom of the bundt cake pan and spread it evenly with a spoon.



Place the 6 whole pineapple slices on the bottom of the pan, with half a slice between them (arch side down) and one maraschino cherry in the center of each whole slice



In a large mixing bowl, mix together the cake mix, eggs, water, vegetable oil, and pineapple juice until well combined



Pour the batter over the pineapples and cherries carefully and evenly. Bake for 35-40 minutes until a toothpick comes out clean.



Remove from the oven, and let it cool down for 10 minutes. Place a plate on top of the pan and flip it to remove the cake.



ENJOY

Nutrition Information:
Amount Per Serving:
Calories:

486
Total Fat:

24.3g
Saturated Fat:

7.1g
Cholesterol:

86mg
Sodium:

501mg
Carbohydrates:

62.7g
Fiber:

0.8g
Sugar:

39.3g
Protein:

5.4g