Have you ever bought a pot of ricotta cheese but just weren't sure how to use it? Or, are you just looking for some creative new recipes? Well, you've come to the right place, as we have compiled a whole variety of ways to use ricotta cheese that are guaranteed to get your taste buds tingling!
Originating from Italy, the creaminess of ricotta blends perfectly in both sweet and savory dishes alike.
Light in texture, ricotta can create rich pasta dishes packed with flavor, as well as perfectly delicious sweet treats to appease a full crowd!
Whether you're typically a cheese lover or hater, these recipes prove just how versatile ricotta can be.
Homemade ricotta cheese recipes
Are you struggling to find ricotta in the store? With this 4-ingredient homemade ricotta cheese, it's never been easier to make your own!
For this recipe, all you need is milk, cream, salt, and either white wine vinegar or lemon juice. Not only is this cheese super simple to make, but it's also super fun and a great way to wow your friends and family!
Ricotta is delicious when served with crusty bread, and it makes the perfect cheese to blend with rich tomato sauces and basil pesto.
Are you looking for a simple way to add heaps of flavor to your dish without breaking the bank?
This homemade instant pot ricotta is far cheaper than your usual store-bought cheese and will go much further!
If you have an Instant Pot at home, making this recipe is as simple as heating up the milk, adding the vinegar, and straining until you get your beautiful, creamy cheese!
Have you ever wondered how to make your own ricotta? With this simple recipe, it couldn't be easier! All you need is whole milk, salt, lemon juice, and just about an hour of your time to spare.
The secret to making your own perfect ricotta is to use a cheesecloth and a ricotta basket to make sure that you keep in all of that delicious flavor.
Struggling to find fresh lemons? Another great tip is to use white wine vinegar, a staple item in most household cupboards, to maintain acidity!
Ricotta cheese dessert recipes
Are you looking for a quick midweek recipe for a cheesecake-like dish that doesn't require the same prep time?
These ricotta crumb bars are the answer. With just a few ingredients, these bars will take you just under an hour and are the perfect post-dinner sweet treat!
You will need to combine your delicious creamy ricotta with sugar, eggs, and vanilla extract to create that perfect cheesecake texture. Then, layer it onto your crunchy biscuit base to create these delightful oven-baked bars!
Not only is this vanilla ricotta dessert one of the easiest, best ideas to use up ricotta, but it's also keto and low carb too!
The only ingredients you will need for this dessert are your ricotta cheese, vanilla extract, and sweetener of your choice. We prefer to use honey for extra flavor, but you can also use powdered sugar-free sweetener to keep this super low carb!
Want to know the secret ingredient to make this dessert extra special? Simply top it off with a few berries to add a sharp, tangy flavor that cuts through the sweetness, and you will have yourself the perfect combination!
Are you looking for the perfect cake to take to a dinner party? This Italian-inspired lemon ricotta cake is a great option!
The ricotta makes the cake perfectly moist and fluffy. Combined with the zingy flavor of the lemon, it creates an irresistible cake that no one will be able to turn down a slice of!
Though not traditionally Italian, using all-purpose flour for this cake will give it that wonderfully springy texture.
Simply combine the flour with your other ingredients and bake in the oven until golden. To go the extra step, top the cake with fresh strawberries and whipped cream.
If you're looking for another way to use up ricotta and lemons, this classic ricotta pound cake is super simple and can be made in a loaf tin!
This cake is perfectly buttery and rich from the texture of the ricotta. Combined with the juice of the lemon, it yields a delicious tangy flavor with each bite!
With just a few other simple ingredients, all you need to do is mix everything together, pour into the loaf pan, and bake until you get dark crumbs on top of the cake.
Just make sure to add the loaf tin to another baking tray to catch any overspill!
If you're more of a pie fan, then this lemon ricotta pie is a great alternative to your classic cakes!
All you need is your ricotta (store-bought works well, but homemade works even better), lemons, and a few other simple ingredients to create this perfect Italian-inspired dessert.
Though it may be slightly more technical, it will not disappoint, and it's certainly worth the wait!
Looking for a rich, chocolatey dessert to satisfy your cravings? This chocolate ricotta mousse is fantastic.
Light in texture but perfectly rich and creamy, this mousse will take you just 5 minutes to make!
To make the mousse, you only need ricotta cheese, cocoa powder, powdered sugar, and vanilla extract.
Simply blend everything in a food processor, add to individual cups, and chill for an hour!
If you want to make this mousse extra special, you can add a few berries and chocolate shavings on top.
Lasagna recipes with ricotta cheese
One of the best ways to cook with ricotta is in lasagna, and with this homemade recipe, it's literally never been easier!
To make your delicious cheese mixture, you will need to combine ricotta, parmesan, mozzarella, and one egg. Then, layer this perfect cheesy sauce with your rich meaty sauce and lasagna noodles! Once assembled, top with extra cheese and bake in the oven until golden brown.
Want to know the best part about making lasagna? It freezes really well, so you can make it in bulk and enjoy it over and over again!
Coming in at just over an hour, this is one of the easiest and fastest lasagnas you will ever make—and no doubt one of the tastiest too!
Simply cook your minced beef with the tomatoes until you get that gorgeous meaty sauce, and while that is cooking, combine ricotta cheese, shredded mozzarella, and one egg to create your spectacular cheese sauce.
The best part of making lasagna is building it; to build to the perfect texture, add a layer of your meat sauce, top with your lasagna noodles, smother with the cheese mixture, and repeat!
Don't know what to make with your extra ricotta cheese and short on time? With this extra easy lasagna, it's never been simpler to throw a tasty meal together!
When we say simple, we really mean it. With just 5 ingredients, you can pull together this delicious dinner in no time.
All you need to do is cook your beef in the tomato sauce, and then layer up using the sauce, lasagna noodles, cheese method until you have assembled the perfect 5-ingredient lasagna!
Want to make this recipe go even further? Make a double batch so that you can enjoy it any night of the week!
Want a lasagna recipe that is bound to wow your guests? Look no further than this recipe for the world's best lasagna.
While it may take more time than your easier alternatives, it's certainly worth the wait!
The key to getting this perfect is to use sweet Italian turkey or pork sausage to create that incredible flavor in the meat sauce.
For your gluten-free friends? No problem! Simply swap the lasagna noodles for a gluten-free option, and you're good to go.
Healthy Ricotta cheese recipes
Looking for some inspiration for new midweek dinner recipes that are still super healthy? This 20-minute ricotta pasta is the perfect option for you!
This dish is a true Mediterranean delight. Using frozen artichoke hearts, red bell peppers, and capers, this dinner is packed with flavors that complement the creamy ricotta!
To make this dish even further, add fresh basil and parsley to really make those flavors stand out.
Are you a big zucchini fan? Why not give this zucchini ricotta ravioli a go? It's healthy, low carb, and keto, so how can you say no? These may take a bit of time to perfect, but we promise you they will be worth it.
The delicious tomato sauce combined with fresh zucchini ricotta ravioli is too good to miss! Once you have your ravioli parcels, layer them on the sauce, sprinkle with cheese, and bake in the oven until golden.
The best part of making this recipe is that you can add whatever filling you prefer. We recommend beef mince for extra flavor!
If you're looking for a comforting winter warmer that is still super healthy, this sausage and cauliflower casserole really is it!
One of the best recipes to use up your leftover ricotta cheese, it combines perfectly with sausage, cauliflower, and your preferred greens to create a simple yet flavorsome supper.
To make this even better, you can cook the entire meal using just your instant pot.
All you have to do is steam your head of cauliflower and mix in your ricotta and sausage to create your creamy sauce!
Are you a gnocchi lover looking for a keto-friendly option? This is the best recipe you will find!
You won't need to add any flour. Simply mix together cooked spinach, ricotta cheese, egg yolks, and seasoning until you can form your gnocchi!
Once you have your gnocchi, all you have to do is bake it, and you're good to go!
We recommend serving this with a tomato sauce and topping it with mozzarella to create a gooey bake. Add in extra veg to make it even healthier!
If you're a hearty Italian food lover looking for some lighter alternatives, this creamy ricotta spaghetti squash is a truly fantastic and incredibly versatile option!
You can steam or bake your squash, but roasting will maintain the squash's rich nutty flavor. Want to know the best part about this recipe?
Once you have your spaghetti, all you have to do is combine it with your ricotta and other ingredients and bake in the oven until you have a gorgeous creamy dish so good that you won't even miss the pasta!
If you're making this for guests, serve with a green salad and crusty bread to turn it into a true dinner party delight!
Ricotta cheese pasta recipes
Ready in less than 15 minutes, this might just be the easiest, zestiest pasta dish you will ever make! Using a few basic ingredients such as olive oil, spinach, lemons, and your multipurpose ricotta cheese, this dish is a great option if you're looking for a quick, simple, and refreshing midweek dinner.
All you will need to do for this is mix all of your ingredients to create that silky sauce, cook your spaghetti, and combine to create this deliciously easy pasta.
To make this even better, drizzle over some olive oil and add a lemon wedge to get that added zest!
Are you looking for a simple and super-affordable meal to feed your family or large group of friends? Look no further than this lemon broccoli and ricotta pasta!
This quick 20-minute recipe does exactly what it says. You only need 5 ingredients, so make sure that you have them all!
To create the sauce that brings this dish to life, combine your ricotta cheese and lemon juice in a food processor to create a delightfully creamy citrus sauce. Once you have your base, you can add any veg you like. It really is that simple!
Are you more of a tomato-based pasta fan? This pasta with fresh tomato sauce is still a perfect mix for your ricotta, and it couldn't be easier to make!
Simply mix your cooked pasta with your seasoning, add a bit of butter, and coat in your tomato sauce before transferring to a baking dish and adding your ricotta.
Want to know the best way to elevate the flavor of this dish? Make sure that your ricotta is at room temperature to get it extra creamy!
If you're looking for a new, versatile way to use up fettuccine, this easy spinach ricotta pasta is simply delightful! Perfectly light yet rich in flavor, this can be a light summer meal or can be paired with chicken to make it a main dish.
The sky really is the limit! The key ingredient that really lifts the flavor in this dish is lots of minced garlic.
After cooking it in your pan, add in your ricotta to create the creamy sauce, ready to be paired perfectly with your spinach. Once your pasta is ready, pair it with some griddled greens to create this delicious veggie-packed dish!
One of the absolute best ways to use your ricotta cheese is to create these stuffed shells.
The three-cheese mixture baked in a tomato sauce is an absolute comfort food classic! This dish is incredibly simple yet versatile. Use a classic marinara sauce (make your own or use store-bought if you're short on time).
However, it's the cheese that's the real star of the show here. To make the cheesy filling, combine your ricotta, mozzarella, parmesan, egg, and seasoning, and sprinkle your stuffed shells with extra mozzarella to lock in all that flavor!
If you're after a super easy recipe to batch cook for your weekly lunches, or even if you're just someone who loves a big bowl of pasta, you really can't go wrong with these ricotta-stuffed pasta shells!
Cook your pasta shells until their al dente to ensure that they don't go soggy with the filling.
For the best filling, mix ricotta, mozzarella, and the seasoning of your choice fill your shells, and bake to perfection!
Fancy a bowl of pasta but keen to keep it light and healthy? Not only is this a great healthy option, but it's also ready to serve in just 15 minutes!
The fresh tomato sauce couldn't be easier to make. Just add a handful of fresh tomatoes to a bowl with some olive oil and garlic and then mix in with your warm pasta until combined!
The real star of the show in this dish is the ricotta and the creamy texture it provides without adding too much saturated fat to the dish.
If you're trying to expand your recipe list or you just fancy a really comforting meal, this classic baked ricotta penne is the absolute best!
This is essentially a three-tiered hug in a baking dish. Spoon in your cooked pasta mixed with your tomato sauce and cheese sauce, top with extra cheese and parsley, and bake until it's golden and oozing that gorgeous ricotta flavor!
keto ricotta cheese recipes
If you're looking for a different way to use up your ricotta that doesn't involve adding carbs, then you need to try these spinach and ricotta pockets!
Deliciously light, these pockets are made using mozzarella slices- simply add your ricotta and spinach mixture, and using a spatula shape your pockets on your baking tray until crisp and golden.
Need to dip the pockets? Why not try a portion of marinara sauce!
Do you have a massive sweet tooth, but trying to go keto? You need not compromise, as we have found some of the best dessert options available!
This recipe really shows how versatile ricotta can really be, by transforming cheese into the perfect sweet treat! Not only does this recipe require minimal effort, but it is also low carb and refined sugar-free.
To create the dessert mixture, you will need to combine ricotta, heavy cream, lemon zest, powdered sugar, and vanilla and blend until smooth – once this is done, spoon into your cups, top with berries and you're good to go!
Need a gluten-free cake? Got some ricotta cheese to use up? This is the only recipe you need – this Italian lemon ricotta cake is the ultimate blend of cake and dessert.
The key ingredients to this are the ricotta and ground almonds to give the cake that light, springy texture. To serve the cake, sift over powdered sweetener and a raspberry sauce.
Looking for the perfect fritter recipe without the density of potatoes? Give these low-carb ricotta cheese fritters a try!
The secret ingredient here is to use good quality ricotta, so don't be afraid to make these using your homemade batch!
There are so many topping variations you can add to these, but sour cream, smoked salmon, and a squeeze of lemon is a real winner.
One of the best recipes you can make with ricotta cheese has to be a cheesecake, and if you've never tried it before then stop what you're doing and go and make it now!
To keep this cheesecake low carb, use almond flour for your biscuit base. Use your ricotta to keep the cheesecake light in texture, and match with the flavor of your choice – we recommend vanilla, lemon, or your classic New York with fresh berries.
Do you love cake without density? Then this keto almond ricotta cake is the best one to try!
Ricotta and almond really do go hand in hand to create this masterpiece, but the key ingredient that you can't skip with this is the protein powder – without it, the cake will be dry and crumbly rather than light and springy. Once the cake is ready, let it sit until it levels to room temperature, serve up and enjoy!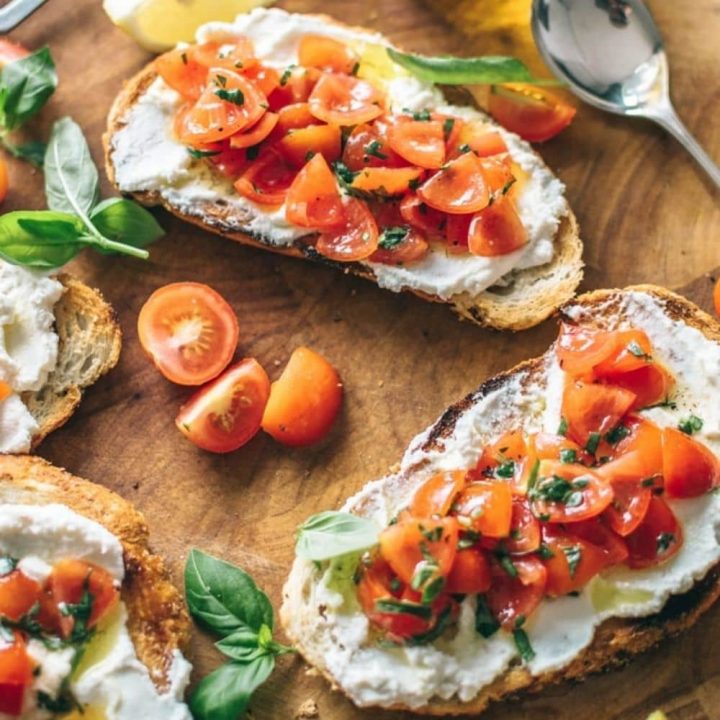 32 Easy Ricotta Cheese Recipes to Try
Instructions
Choose your favorite dish!
Prepare ingredients according to the recipe.
Be ready in 30 minutes or less!