Rockfish are found in the northern pacific ocean. There are several varieties of rockfish and they all taste slightly different.
They are also known as Rock Cod or Pacific Snapper. All varieties are firm and lean with a mild flavor.
Rockfish offer many health benefits. In addition to being low in calories and high in protein, they are packed full of brain-boosting nutrients such as vitamin D and omega-3 fatty acids.
Rockfish are pretty much a blank canvas that you can put your own culinary twist on.
They are easy to cook and lend themselves well to a variety of flavors and cooking methods. Their versatility makes them one of the best choices for a seafood dinner.
While the list of possible rockfish dishes is endless, some of the best ideas have been put together for you in this list. You are sure to find something to inspire you.
Baked rockfish recipes
Are you looking for a new twist for Taco Tuesday?
Well, look no further, your search is over! With its blend of Mexican-inspired seasonings and sauce, this easy dish comes together in minutes, making it a healthy choice for any taco lover.
Top it with a creamy avocado and cilantro sauce for an extra pop of flavor.
If you like things hot, try adding an extra bit of cayenne pepper.
With minimal effort, this rockfish dish can be in the oven, making it a perfect and delicious choice for a busy weeknight dinner.
The secret to this easy dish is its crust; it is a combination of garlic, breadcrumbs, and parmesan cheese.
It creates just the right amount of crunch, that all kids will love. Who parent could resist that?
The freshness and flavor of the rockfish will be showcased with this recipe.
A simple butter sauce with almonds, lemon juice, and parsley is drizzled over the top of the rockfish, and into the oven, it goes.
In no time at all, you will have an elegant dish that looks like you spent hours preparing it.
It is easy enough for a weeknight but impressive enough for a date night!
All that is required for this recipe are a few fresh herbs and some lemons.
Dinner preparation could not get any easier than this. Looking for ideas to customize this dish?
Try experimenting with different types of fresh herbs or try scoring the fish before baking. Either is easy to do and will provide delicious results!
Pan-seared rockfish recipes
The simple combination of herbs and seasoning comes together in this dish to create a low-calorie and light rockfish dish.
For best results and maximum flavor, do not forget to occasionally spoon some of the melted butter over the fish, while searing it.
Pair this with a batch of orzo and a green salad for a healthy and complete meal.
Pan-Seared Halibut With Butter Herb Sauce
Have you ever wondered how to get that perfect crust on your fish? Regardless of your expertise, this rockfish dish makes it easy.
Simply place the fish in the pan once the oil is hot, brush it with marinade, and let it sear for a couple of minutes, then turn it over to do the same on the other side.
With that, you are done! Quinoa, potatoes, or steamed vegetables are great ideas to serve alongside this recipe.
This restaurant-quality dish has a creamy sauce with just a hint of lemon.
If you are looking to customize it to your own palate, the sauce is a wonderful base to add your own preferred flavors too.
Rosemary, thyme, mushrooms, or anything else are all great ideas to experiment with to make this dish your own.
A hot cast iron pan is the secret ingredient for this rockfish dish.
Combine that with high-quality, fresh ingredients, and the result will be one of the best pieces of fish you have had in a long time.
This pairs well with a salad and a nice piece of bread to soak up any remaining sauce.
Grilled rockfish recipes
Need a dish that is sure to impress? This spicy grilled rockfish recipe will do the trick!
The rockfish is marinated and then grilled to perfection. It is then topped with a butter sauce that is made with garlic, basil, and cayenne pepper and will have everyone wanting more.
Do you have a family that loves a crunch on the outside, with tenderness on the inside?
If you do, this easy dish is the best choice for you. A variety of seasonings are combined to make a savory crust.
The fish is then placed on the grill for minutes and served alongside wilted spinach that is topped with a brown butter lemon sauce.
The best part about this meal, besides the taste, is that the butter sauce is so versatile it can be used for many other meals.
This is a sophisticated dish both in appearance and taste.
The rockfish just needs a bit of time to soak in a lemon marinade and then it is ready to be grilled.
In the time it takes you to make a salad, your fish will be done, and dinner will be ready. How easy is that?
Rockfish recipes with sauce
Do you have an abundance of tomatoes on hand, that you are looking to use up?
This simple fish and sauce dish will give you some ideas. Tomatoes are blended with fresh basil and lemon juice to create a creamy sauce that is served warm over the baked rockfish.
Turn this into an Italian feast by serving it over your favorite pasta.
This rockfish dish is incredibly easy to make and a pure delicacy.
The fish turns out buttery and flakey, while the sauce is rich and creamy.
The addition of crab meat to the sauce takes it to the next level. It will fool everyone into thinking that you spent all day making it and only you will know how simple it really was.
The sauce is the star of this easy dish. The combination of crab meat, Old Bay Seasoning, wine, and Dijon mustard form a deliciously seasoned sauce.
This makes it only of the best options to serve when you are looking to make an impression on your guests.
The simple sauce in this recipe, allows the flavor to stand out. Not a huge fan of the fish taste?
The sauce also works great with a chicken cutlet! One of the best pro tips for this recipe is to prep all your veggies before starting the sauce.
It comes together very quickly, and you do not want to risk burning it, by being distracted chopping your veggies.
Alaskan rockfish recipes
With this simple sheet pan rockfish dish, you will have a company-worthy dinner on the table in the time it takes to steam the rice.
This recipe's brown butter sauce with lemons, parsley, and almonds, puts a unique twist on the traditional Sole Almondine.
You can take it a step further and incorporate other veggies, like broccoli or green beans or even try experimenting with some different spices.
These fish tacos are so delicious and flavorful, and the best part is that they are light and filling.
They are a great idea for your next Taco night. There are so many ways you can make this dish your own.
Rockfish was used in this recipe, but any white fish would work well, and shrimp would be especially tasty.
You could also grill, rather than bake the rockfish.
Whatever you do, make sure to be generous with your serving, as everyone will be wanting more!
One of the best tips for this easy dish is to use high-quality balsamic vinegar for your reduction.
As it is cooked, the consistency will thicken, and the balsamic vinegar flavor will intensify.
The addition of the butter and herbs to the reduction results in a mouth-watering sauce to top your rockfish with.
It would be a great idea to try this sauce over other types of proteins.
Do not forget the bread, as you will want to soak up every last bit of this sauce.
This Asian-inspired rockfish dish packs a flavorful punch with its marinade.
It combines sweet, with salty and offers the opportunity to experiment with different flavors, cooking methods, and even different fish.
The addition of the shrimp makes it even better and a great idea when you are looking to stand out!
Spicy rockfish recipes
Who doesn't love a tasty meal, that requires no prep and uses only one pan?
The spice blend of this dish kicks things up a notch and makes for an easy meal.
Take a stroll down the Hispanic/Mexican aisle of your local grocery store, where all the required spices will be found, and be inspired to take your culinary adventures in a bold direction.
Want to feel like you are in a restaurant, without leaving your kitchen? Then this recipe is for you.
Rockfish is coated in a vodka-infused batter and fried until it is golden and crispy.
It is then topped with a Thai-inspired sauce and served best alongside sticky rice. You really will feel like you are dining out!
Pickled jalapeno peppers bring the heat in this Mexican-Style-Grilled Rockfish dish.
A spicy tomato sauce is poured over pan-seared rockfish, resulting in one of the best dishes you will taste.
It comes together in minutes uses only a pan, which makes for an easy clean-up. What could be better?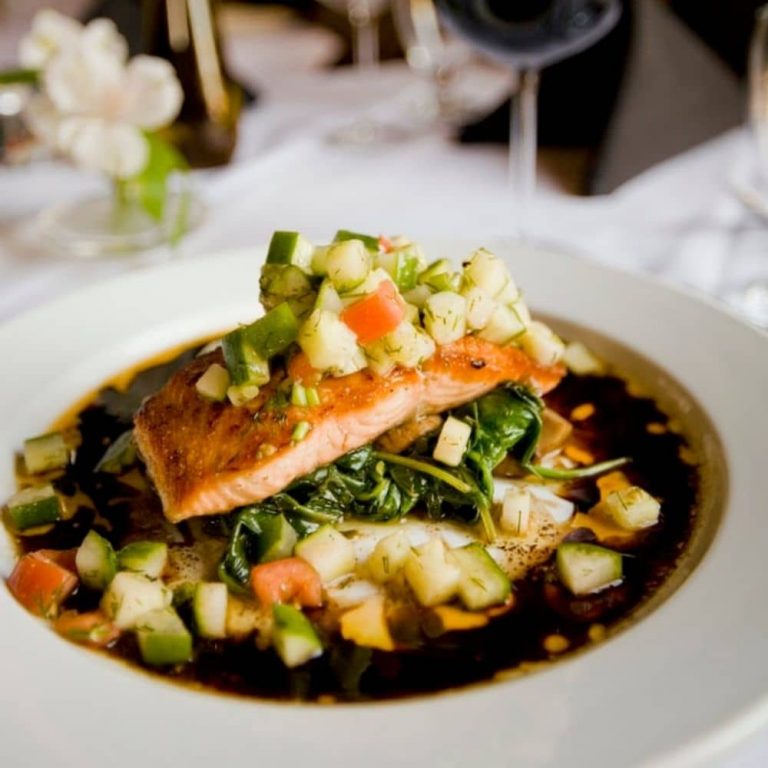 23 Popular Rockfish Recipes
Ingredients
Pan-Seared Halibut With Butter Herb Sauce
Instructions
Choose your favorite dish!
Prepare ingredients according to the recipe.
Be ready in 30 minutes or less!