Salmon is an undeniably succulent fish that has the added benefit of being healthy too! A source of omega 3 fatty acids, salmon has a rich and delicate flavor and is a favorite choice when craving a bit of seafood.
It is also simple to cook and can be baked, grilled, or pan-fried into a nutritious and delicious meal. But as yummy as salmon is solo, you can also add an array of fabulous flavors to accompany it too. You can then find yourself wondering- what to serve with salmon? Don't worry, the answer awaits!
If you want to keep your salmon meals interesting and enticing, side dishes are a great way to add a bit of excitement and variety. Vegetables, pasta, salad, and pulses can all be used to create tasty side dishes that act as a perfect supplement to your fatty fish dish.
So in that case, what goes well with salmon? These side dishes for salmon will give you some of the best ideas on how to upgrade an already appetizing star ingredient. Enjoy!
A potato is a versatile vegetable and makes some of the best salmon sides. And roasting said potatoes can only improve things. Who doesn't want a soft center surrounded by crispy, golden deliciousness?
The deliciousness in this recipe comes with the addition of minced garlic and parsley. If not a parsley fan, a substitute of rosemary or thyme can be made and if you want to add an extra dose of decadence, serve with a topping of sour cream and chives.
This side goes great with baked or grilled salmon. A perfect pairing that will soon become a family favorite.
Roasting vegetables as salmon side dishes is not restricted to just potatoes. This recipe features roasted broccoli along with garlic rice and a piccata sauce to create a riot of flavors to enjoy.
The fluffy rice is boiled with garlic so it absorbs the fragrant taste. Small florets of broccoli are roasted with a coating of olive oil and salt and pepper to create an al dente delight.
The sauce only requires garlic, butter, capers, and lemon juice. That's all! and if you like the idea of an extra saucy salmon, just add more lemon juice.
Tangy and nutritious, these sides along with the piccata sauce will keep you happy and healthy.
This garlic green beans side is an appetizing answer to the question- what kind of vegetable goes well with salmon?
All you need to do is saute the beans, garlic, and seasoning in a skillet with butter or olive oil. So simple but so tasty!
Shallots can be used in place of garlic if you want to change things up and why not add a sprinkle of parmesan or a squeeze of lemon for a fancy finish? Yum.
Use the freshest ingredients to create this side dish, and you'll soon have a sweet and sassy side for a perfect pan-fried salmon dinner.
Are you a fan of pasta? If so, then this creamy lemon pasta side is an ideal and irresistible partner for a pan-seared salmon.
White wine and cream are combined with a liberal dose of lemon juice for the luscious and zesty pasta sauce but if you want a tee-total version then the vegetable stock can be used instead of wine.
Adding oil to the salmon instead of the pan when searing results in a nice, crisp main for this creamy, sumptuous salmon side recipe. A bit of luxury never hurt anyone, so go on and treat yourself.
As a one-pan bake, this recipe technically incorporates its side into the main dish. Want a low-calorie meal with a great taste? Seriously, who doesn't?
The flourish of flavor in this roasted broccoli bake actually comes from the salmon coating. The mixture of soy sauce, shallot, ginger, garlic, chili, honey, and sesame oil is also drizzled into the pan.
Now that's a mouthwatering marinade! You can also sprinkle on some extra chili for an added kick or substitute for parsley if preferred.
Best served with steamed rice, this is a healthy and hearty meal that is sure to satisfy your appetite. Plus, only one pan to clear up. Even better!
When deciding on good sides for salmon, rice is always a popular choice. It does need a little something extra though to make it more enticing. For this recipe, that little something extra is cilantro and lime.
The salmon is seasoned simply while the rice, unsurprisingly, features fresh chopped cilantro and lime juice. Basmati rice is the best kind to use and is fried in oil and lime juice before being boiled. When cooked, stir cilantro into the rice, and job is done!
Flavorful rice for a simple and enjoyable salmon side that is appetizingly addictive. You'll be going in for a second helping!
When pairing a side dish with salmon, sometimes a lighter option is needed. Does a refreshing side salad sound good? Because as its name suggests, this side salad is a quick and easy addition to a light lunch.
Romaine lettuce and cucumber are mixed with cranberries for a burst of juice and pecan halves for a light crunch. It's the combination of two dressings though, which is the inspired key to this recipe. Caser dressing and balsamic vinaigrette whisked together. Genius!
You can play with the ingredients too by adding iceberg lettuce or using raisins instead of cranberries. Any variation of this salad will be delicious, so feel free to experiment.
This recipe is another example of a side cooked in with a one-pan dish. It's asparagus that is the tasty vegetable addition here.
It takes on the lemon and garlic flavors as it is pan-fried along with the salmon. The trick in this recipe is adding in ingredients only after butter has been melted into a searing hot pan. Then the asparagus, garlic, and salmon become nicely caramelized.
It's as delicious as it is easy to make, so no excuse not to give this flavorsome treat a try.
When it comes to potato sides for salmon, roasting is not the only path you can take. How about the humble mashed potato? This recipe is an example of the very best kind of mash.
It's the scrumptious ingredients added to the boiled potato that do the trick. Make sure the potatoes still hold a bit of firmness before adding the butter, garlic, parmesan cheese, and cream cheese. It's the smoothest, most delectable you've ever tasted.
This is a great choice for a grilled salmon side but can go with just about any other salmon meal. It's just too good, you'll be having this mash with everything.
Brussel sprouts are a polarizing vegetable. People either love them or hate them. Ready to risk it? Let's go!.
Brussel sprouts have the tendency to be overcooked, so make sure you avoid this error. These sprouts are crispy on the outside, with a tender, tasty caramelized center.
All you need to achieve this is oil, salt, pepper, and a splash of balsamic vinegar. Sautee the sprouts in these until golden brown and you have a moreish salmon side dish.
For an extra bit of flavor, you can even finish them off with a topping of nuts or parmesan cheese. Come on! It's time to turn the tide and spread the love of sprouts.
Coleslaws make good sides for salmon. This recipe is a simple and speedy way to add a light and creamy taste and texture to your meal.
To make this quick and easy coleslaw even easier, pre-shredded cabbage can be used. The dressing is a mix of things you likely have in your cupboard already such as mayonnaise, white vinegar, lemon juice, and seasoning.
Coat the cabbage in this mix and leave it to sit for a few hours. This is an important step so the cabbage can soften so don't skip it!
A bit of mixing and chilling and you're pretty much done. You have a scrummy, moist complement to a salmon meal.
The word gourmet in this recipe title is well earned. Risotto may not be the quickest side to make but this rich and creamy mushroom dish is a decadent delight. Worth it, right?
You have to make sure you use the right type of rice like Arborio, so you get the proper risotto texture. Chicken broth, white wine, parmesan cheese, butter, and chives join the mushrooms in this recipe to give the rice its glorious taste.
This is a beautiful side dish to have with salmon. You'll impress family and guests alike if you serve this side up with the fabulous fish.
As far as vegetable sides go, carrots are a sweet and popular choice for many a meal. They also pair wonderfully with salmon. Want to know how you can make carrots even yummier? You guessed it! Glaze them.
All you need to create these glazed carrots is a mixture of butter and brown sugar. Just add these to a pan of cooked carrots and stir. It's so easy, in only 15 minutes you could have your delicious side dish ready to go. A sprinkle of parsley can also add a nice final touch if it suits your tastes.
Glazed carrots are a perfect sweet and savory addition to a salmon meal. Serve these at a family dinner and amaze with the glaze!
This Korean take on a refreshing side salad is simple to make and contains a wonderful balance of flavors ideal for complementing other dishes. So if you're ever wondering what to eat with salmon, you can't go wrong with this bean sprout salad.
The trick to perfecting bean sprouts is in the parboiling. Care must be taken not to overdo them or they'll lose their delightful crispness. Then just toss in the ingredients.
The sesame, garlic, and scallion sauce is a light and luscious dressing for the sprouted mung beans, although soybeans can be substituted if necessary.
You'll soon see this delicious and healthy recipe is a delightful salad to serve with salmon. Never doubt the bean sprouts!
Want a side dish of healthy greens but bored with broccoli? Bok Choy is the answer! This Chinese cabbage is crisp, fresh, and full of nutrients.
With this recipe, your bok choy will also be bursting with flavor. Baby bok choy is recommended for its sweeter taste and quicker prep time. Heat it in a skillet along with garlic, shallots, sesame oil, and soy sauce, and enjoy the tasty results in just 10 minutes. Crushed red pepper can be included if too you want to add a bit of spice to your salad.
This simple, side dish for salmon is both easy to make and super tasty. So enjoy the bok choy!
Pasta is a great way to bulk up a simple salad. Likewise, peanut dressing is a great way to liven up broccoli and other fresh vegetables.
Broccoli is the titled salad ingredient with shredded carrot and red bell pepper included too. You can also choose different vegetables to try as substitutes if you want to play with the recipe. As for the delectable salad dressing, you just have to mix ingredients like peanut butter, soy sauce, and rice vinegar. Simple!
Once everything has been tossed together you will have a bowl of pasta salad that will act as a delicious side dish to any salmon meal.
Couscous is a light and fluffy alternative to pasta or rice and an inspired choice for a salmon side dish. It takes on the flavors of the ingredients beautifully and is quick and easy to make.
Lemon juice is the defining ingredient of this particular recipe and is combined with garlic and chicken broth for a flavorful liquid in which to heat the couscous.
You can also add to the ingredient list to boost the taste and include things like feta cheese, paprika spice, or even roasted vegetables.
This easy and versatile side dish will make you crazy for couscous. Serve it up with some salmon and see for yourself!
So you've tried roasting and mashing potatoes to make side dishes. What about baking them? If crispy moreish mouthfuls of baked potato wedges sound good, then this is the recipe for you.
The combination of the flavors in the seasoning with the fresh parmesan cheese is irresistible. Simple ingredients like garlic powder, onion powder, and paprika are mixed and used with oil to coat the wedges before baking.
Make sure you flip the wedges when baking too to ensure an even crispness. Then just sprinkle parmesan on top. Easy enough, right?
Any grated cheese can be used as a substitute but whatever choice you make you are sure to end up with a tantalizingly tasty potato side dish for salmon.
Do you like a bit of broccoli with your salmon meal but wish it could be a bit more exciting? This healthy side dish has a generous coating of parmesan to achieve just that.
Just because it's simple, doesn't mean it's not full of flavor. The parmesan is mixed with garlic, lemon juice, and olive oil for a tasty coating to crisp the roasted broccoli. A final sprinkling of cheese as a topping is a must also because, well, why wouldn't you?
This side is appetizingly addictive as well as full of nutrients. What's not to love?
Baked potatoes make a healthy and hearty side dish but how about adding a sweet twist to your salmon side? This sweet potato recipe provides the twist, along with other savory seasonings for a delicious culinary contrast.
The sweet potatoes are cubed and coated with parmesan, garlic butter, oil, and Italian seasoning mix. Then just throw them in the oven, taking care to turn them for an even bake. Nothing to it! For more flavors, you can even try adding extras like chives or green onions.
A sweet, savory, scrummy, and simple side dish for salmon. Yikes, try saying that 10 times fast!
To make a tender carrot side dish this recipe couldn't be much easier. Baby carrots are tossed in oil, salt, and pepper, then roasted in the oven. See? So straightforward.
If this salt and pepper seasoning is a little too simple for you, don't worry. You can try different additions to boost and vary flavors. Lemon juice and harissa paste, fresh herbs, or a tablespoon of pesto are just 3 ways to perk up the roasted carrots.
Healthy, tasty side dishes are a great way to incorporate vegetables into a family meal. These carrots will go perfectly with baked or grilled salmon. Give them a go!
As wonderful as pasta dishes are they do contain quite a lot of calories. These zucchini noodles remove that problem and make a healthy and delicious alternative for a salmon side dish.
Pre-made zucchini noodles can now be purchased which makes this recipe even easier. Cook them in butter and minced garlic, then add seasoning and parmesan.
The noodles are best consumed a little al-dente so be careful not to overcook them. Red pepper flakes can also be used if you want a little kick.
Otherwise, it's just a case of enjoying their rich, buttery goodness. Moist and cheesy, this is a mouthwatering side that will add extra enjoyment to any salmon meal.
If you fancy a refreshing salad to have alongside your salmon, cucumbers are the way to go. Naturally full of moisture, they also have a crisp coat that adds a little bit of a crunch to your salad.
The cucumber in this recipe is given a tangy white vinegar dressing and mixed with sliced red onion and dill.
English cucumbers are the best type to use here and should be sweated before use to remove their excess moisture. Then toss the ingredients together and chill in the fridge. Voila!
This is an easy, light side dish and an ideal pairing for a salmon lunch. You'll be throwing this salad together all the time to freshen you up on a summer's day.
Are you a fan of guacamole? Then you will adore this salad which uses avocado to add some substance to crunchy cucumbers.
The lime dressing used in this recipe gives it a light and zesty taste and complements the avocado perfectly.
If you want your dressing with a more distinctive flavor you could also include garlic or jalapeno. Seedless cucumbers are recommended for this salad and make sure those avocados are ripe!
Whether you serve it solo or with herbs or hot sauce, this satisfying salad side dish is a quick and tasty choice to sample with your salmon.
This superbly simple salad uses grilled corn as its star ingredient. Nothing is better than the flavor of tender corn slightly blackened from the grill.
The corn is mixed with oil and other salad favorites like plum tomatoes, green pepper, and red onion.
All sliced and mixed and bursting with refreshing flavors. Let the ingredients sit to allow the flavors to blend and season with salt, pepper, or maybe some chopped cilantro.
This is another great, fresh salad to have on a summer's day. Pair it with a salmon fillet, perhaps grilled on the barbecue, and you have a fabulous lunch combination.
When trying to find what goes good with salmon the fresh crunch of sugar snap peas comes to mind. Intrigued? Read on.
These snap peas are sauteed with butter, oil, and salt for a quick and scrumptiously seasoned side dish.
The simple recipe can be adjusted to suit your tastes and also include a spicy kick of sriracha sauce or a smooth sprinkle of parmesan.
Whatever your additions, this salty, buttery side dish provides a crispy accompaniment for a serving of soft and sumptuous salmon. Just try it!
Mushrooms add a rich, delicious flavor to any meal, including any meals featuring salmon. This particular recipe involves sauteeing mushrooms with garlic for that extra fragrant taste.
Butter is used with minced garlic and also soy sauce to help brown and caramelize the mushrooms. Additional seasoning like thyme can be added too or even white wine for a dash of decadence.
It's easy and goes wonderfully with everything. You won't only be using these mouthwatering mushrooms for your salmon meals! Now, where did you put that wine?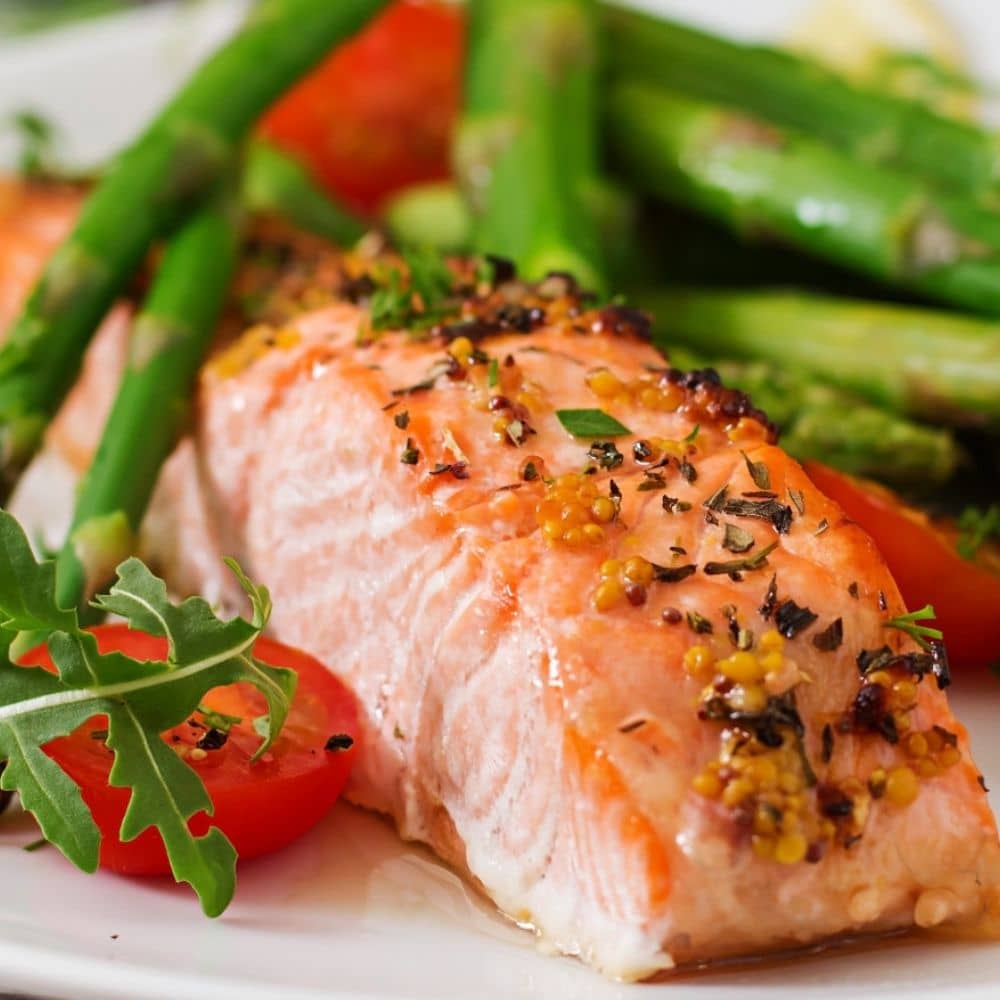 27 Best Side Dishes For Salmon
Ingredients
3 tbsps butter
3 cloves garlic, minced
⅛ tsp lemon-pepper seasoning, or more to taste
1 lb fresh green beans, trimmed and snapped in half
salt to taste
Instructions
Prepare one pound of green beans by trimming their ends and snapping/cutting them in half.
After putting the green beans in a large pan or skillet, cover them with water before bringing them to a boil.
Reduce the heat and allow the beans to simmer for 3 to 5 minutes or until the beans begin to soften. Once cooked, remove the green beans and drain them.
Place 3 tablespoons of butter in the skillet and heat for 1 to 2 minutes until it is melted.
When the butter is melted, add garlic and cook for a minute before returning the green beans to the skillet as well. Stir and saute further until the garlic is tender
Before serving, sprinkle the cooked ingredients with salt and lemon-pepper seasoning.