If you've ever wondered how to make Starbucks drinks at home, then this roundup post is for you! These recipes are perfect for the days when you don't want to venture out to the well-known cafe but still want to enjoy your favorites.
From lattes to hot chocolate and lemonades, you'll be making and enjoying these copycat infusions in no time. Not only have we included Starbucks drink recipes, but there are also a few famous recipes like lemon cake and gingerbread loaf too!
So get ready to become a pro with these 27 Starbuck recipes that you can make at home!
Just about everyone who frequents Starbucks knows about their egg bites.
These mini, fluffy quiche-like breakfast items are so tasty you'll want to make extra to keep in the fridge or freezer for those mornings on the go!
The swiss cheese adds that gourmet savory flavor, and cottage cheese helps to fluff them up. Bacon finishes the ensemble in the eggy delights!
If you're looking to make refreshing Starbucks drinks at home, this one is a top pick for Springtime flavors!
With 5 simple ingredients, you'll have the dreamy, creamy iced strawberry concoction to enjoy any time you want. The hibiscus and sliced strawberries with coconut milk make this beverage a favorite for kids and adults alike.
Keep in mind that there is a little bit of caffeine in this drink, so use caution when serving to kids.
This copycat drink also serves up beautifully for summer tea times and ladies' gatherings.
This Medicine Ball Tea used to be one of the secret Starbucks recipes, but it became so popular that they moved it to their regular menu.
This cold-fighting tea is perfect for when you are feeling under the weather, and now, you can make it at home! Jade Citrus Mint Green Tea, Peach Tranquility Herbal Tea, steamed lemonade, and a bit of honey make a soothing tea blend for sore throats and sniffles.
Some people also add peppermint syrup to it for a medicinal benefit and a slice or two of lemons for extra vitamin C.
Is there anything more divine than a slice of spiced pumpkin bread? Cinnamon, cloves, and nutmeg are baked with pumpkin into a scrumptious loaf to enjoy with your morning cup of coffee.
It's hearty enough for breakfast but also good for an afternoon tea break. This copycat recipe freezes well, so you can easily double the recipe and freeze a loaf to enjoy at a later date.
You can also freeze individual slices by wrapping them in plastic wrap, placing them in a freezer bag, and freezing them for up to 3 months.
Another favorite among Starbucks copycat recipes is this Banana Bread recipe.
The key to making a good loaf of banana bread is to use very ripe bananas. You want them to be slightly brown for the best result. It's delicious for breakfast or as a snack, freezes well, and kids love it!
While Starbucks adds nuts to the batter and the top of their loaf, you don't have to with yours.
The recipe is easily adaptable for other variations like adding chocolate chips or a simple frosting drizzled on top.
Most people are surprised at how easy it is to make Starbucks recipes at home, and they love saving on those Starbucks prices! This lemon loaf bursts with the lemon flavor you love from the coffeehouse chain and is so simple to make.
Lemon extract is the secret ingredient to get that concentrated flavor, and the lemon glaze tops it off perfectly. Loaves without the glaze freeze well for up to 6 months, so you can double the recipe for upcoming events and get-togethers.
When you are ready to use, simply thaw and glaze before serving.
These petite celebratory treats are tasty and perfect for your next birthday celebration. They are also wonderful for when you want a small sweet that's big on flavor.
Cake pops have become all the rage in recent years, and they are so easy to make! They are a bit time-consuming to make but worth it for their fun and festive look.
If you have a special event approaching, you can make them in advance and freeze them.
Then, you simply thaw them to room temperature the night before your event.
This copycat Chai Tea Latte from Snacks and Sips will become one of your favorite homemade Starbucks drinks!
Chai Tea is a black tea that is infused with aromatic spices like cinnamon, cardamom, ginger, star anise, and cloves. This combination is then blended with milk for a warming, creamy brew.
Other spices like fennel, nutmeg, and black peppercorns are often used to make it spicier, but it depends on your preference.
Throughout history, families have created their unique blends for this famous drink, but this base recipe will get you started!
If you like your iced coffee drinks on the sweet side, this Starbucks Caramel Frappuccino Copycat recipe is for you!
This is a great beverage for hot days when you still need a caffeine kick but don't want to drink hot beverages to get it. Strong coffee, caramel sauce, and sugar get blended with sugar and milk to make this refreshing drink.
To make it in true Starbucks flair, put a drizzle of caramel inside the glass before pouring and top it with whipped cream. Yum!
Have you ever tried the sweet vanilla cream at Starbucks and wished you could have it at home? Well, now you can!
The secret ingredient for this sweet cream recipe is using sweetened condensed milk to get that velvety texture just right. While this cream is used in cold brew recipes most of the time, it also tastes great in warm beverages like chai tea and your regular hot cup of morning coffee.
However you choose to use it, you'll love having it on hand in your fridge to elevate your brews at home.
Don't let the long list of ingredients in this copycat recipe scare you off- it is quite simple to make!
This gingerbread loaf is the perfect sweet bread to enjoy on a cool Autumn day and even during the winter holidays. Ginger, clove, cinnamon, and nutmeg bake up to make a delicious side for your coffee or tea.
What sets this loaf apart though, is its dreamy cream cheese frosting topped with chopped walnuts. Make extra because this will disappear fast!
Looking for a special coffee blend to enjoy on Christmas Morning? Leave the cookies for the kids because you won't feel like you're missing out at all with this copycat Starbucks gingerbread latte!
The gingerbread syrup and vanilla are blended with milk and espresso to create a spicy morning brew that even Santa will approve of. The gingerbread syrup is so good that you'll be looking for other ways to use it! (Pancakes, anyone?
Don't forget to top your drink with whipped cream and nutmeg for a truly decadent flavor experience.
An excellent recipe for serving at brunch, this copycat Starbucks coffee cake is the perfect accompaniment at your next gathering.
It's also great for when you are short on time because it uses a simple, store-bought cake mix to make it! You can also use any homemade cake recipe too. The topping is easy to make with just flour, sugar, cinnamon, butter, and vanilla.
Pro tip: The key to perfecting the topping is to use cold butter and to bake the cake before putting the crumble on top, so it doesn't sink into the batter. Enjoy!
This unique drink is a must to add to your Starbucks coffee recipes. Instead of using regular espresso, you use blond espresso for the base.
2% milk and vanilla syrup are blended with the blond espresso brew and then poured over ice for a perfectly light and sweet concoction. This is great for people who don't like darker brews and prefer a smoother taste.
While you can use store-bought vanilla syrup, the homemade version is easy to make and just as good!
This one is for all the matcha fans out there! The Iced Matcha Latte at Starbucks is a popular go-to for consumers who want caffeine without the jitters.
Some people even drink matcha regularly to suppress their appetite. At only 206 calories per drink, this copycat brew is often the choice for those who don't want a heavier sugar-laden beverage.
Matcha powder is blended with your milk of choice and simple vanilla syrup and then poured over ice for a refreshing treat!
Another holiday favorite, the famous Starbucks Eggnog Latte, is a rich, spiced brew that brings a little nostalgia to your morning cup of joe.
Eggnog, milk, and espresso are combined to make this creamy, spiced drink. It's topped with fluffy whipped cream and freshly grated nutmeg to add a festive side. This would be great served with your next holiday movie night with friends and family!
For a more grown-up version, try adding brandy, rum, or whiskey to your blend!
With three simple ingredients, you can easily make vanilla lattes at home.
Espresso, vanilla syrup, and milk are all you need to enjoy this classic beverage. While the recipe is for a warm version, you can also serve this brew over ice for a cold version in hot weather!
The key to great lattes is to make sure you froth the milk till it doubles in size. If you don't have an espresso machine, no worries! Just simply brew a stronger coffee in place of espresso.
This copycat Starbucks passion tea lemonade will quench every thirst with its fruity blend! Using a passion tea blend from Tazo in the base, this will be a favorite summer drink, so make extra to keep in the fridge for when a craving strikes!
Hibiscus, orange peel, rosehip, and passion fruit combine in this tropically flavored iced tea. Vanilla, sugar, and lemonade are added for a refreshing summer beverage that the whole family will love.
Because it's herbal and completely caffeine-free, kids can enjoy it as well!
You don't have to venture out to the cafe to enjoy your favorite hot cocoa. This copycat recipe will set you up to enjoy Starbucks hot chocolate anytime you want!
Powdered cocoa, sugar, and water are microwaved to make a quick chocolate syrup base, and then you add milk and vanilla to the syrup for a surprisingly decadent cup of hot cocoa.
Dress it up with whipped cream and toppings of your choice like chocolate chips, crushed candy canes, and more for a drink that rivals any coffeehouse version.
Want something a little more substantial with your morning coffee? We've got you covered with this copycat Starbucks Bacon Gouda Sandwich!
This breakfast sandwich is popular with morning crowds and can easily be made at home. Served on a ciabatta roll, bacon, eggs, and gouda cheese are a delicious combination in this buttery, satisfying meal.
Set aside some time to make a week's worth of sandwiches that you can freeze and enjoy whenever you want! Simply thaw and reheat in the microwave or air fryer for a yummy breakfast on the go.
Ah, the famous Starbucks Mocha Frappuccino!
This favorite ice-blended coffee drink has a serious fan base for a reason. It's sweet and creamy and refreshing, but still gives you a jolt with the espresso shots!
Great for the hot days of summer when you need caffeine without the heat, you can now make it at home any time you want.
This recipe makes two servings, one for you and one to share!
Beware- the chocolate syrup and whipped cream that top it off makes you feel like you're having dessert with your coffee!
Double chocolate brownies at Starbucks have an almost cult-like following. They are decadent, full of chocolate, and the ultimate in indulgent cravings.
Luckily, you can make them at home with very few ingredients that are commonly kept in the home kitchen. The chocolate chunks are probably the only special ingredient you'll need to buy!
To make these for a crowd, simply double the recipe and bake in a 9×13 pan.
This copycat recipe will become a favorite for the cravings when nothing but chocolate will do!
This Starbucks White Chocolate Mocha copycat recipe is for those who prefer white chocolate over normal chocolate.
Its velvety smooth vanilla flavor is delicious and very easy to make at home with only four ingredients. Instant espresso and white chocolate chips blend with milk to make this dreamy beverage in minutes.
Top with whipped cream to finish it off! Some people enjoy this drink iced, and you can add more espresso shots for a stronger flavor.
You can also vary the taste by adding peppermint extract and sprinkling with crushed candy canes for a Christmas treat!
This Caramel Apple Spice copycat Starbucks drink will have you daydreaming of Autumn! A seasonal beverage like this is fun, and this one will make your tastebuds dance with its cinnamon and apple-flavored goodness.
The caramel complements the apple flavor well, and of course, there's whipped cream! While you can buy cinnamon syrup at the store and online, you can also easily make it at home for a fraction of the cost.
You can also swap out regular apple juice for authentic apple cider for a stronger taste, and make sure to make enough to share!
This seasonal sweet treat usually makes its appearance around the holidays in Starbucks stores around the world.
Cranberry Bliss Bar Cookies are like sugar cookies with hints of orange and ginger. White chocolate chips lend the perfect bite of sweetness, and the tart cranberries balance it out.
The original bliss bars from Starbucks had cream cheese frosting, but these lighter versions taste just as good, we promise!
These cookies are great for Christmas parties, cookie swaps, or even included in gift baskets for your neighbors. They are sure to brighten anyone's day with their holiday cheer!
This Starbucks drink classic requires a french press to make, but it's really easy, and you'll be glad you learned how!
The key to good cold brew coffee is to use good quality ground coffee. Some people say it turns out best when you use freshly ground coffee to brew it.
After the coffee is brewed, you pour it over a big glass of ice and then add your creamer and syrup to taste.
Double or triple the batch to store in a pitcher in the fridge so you can enjoy iced coffee all week long!
To enjoy your iced coffee, how do a roasted tomato and mozzarella panini sandwich sound?
This copycat panini recipe is served on focaccia bread with tomatoes, basil pesto, spinach leaves, and olive oil for a traditional but flavor-packed meal.
If you haven't had oven-roasted tomatoes before, you'll love the concentrated, caramelized flavor they bring.
You also have the option of including garlic and vinegar for even more flavor on this popular rustic sandwich. This also pairs well with a cup of soup on the side if you need a more hearty meal.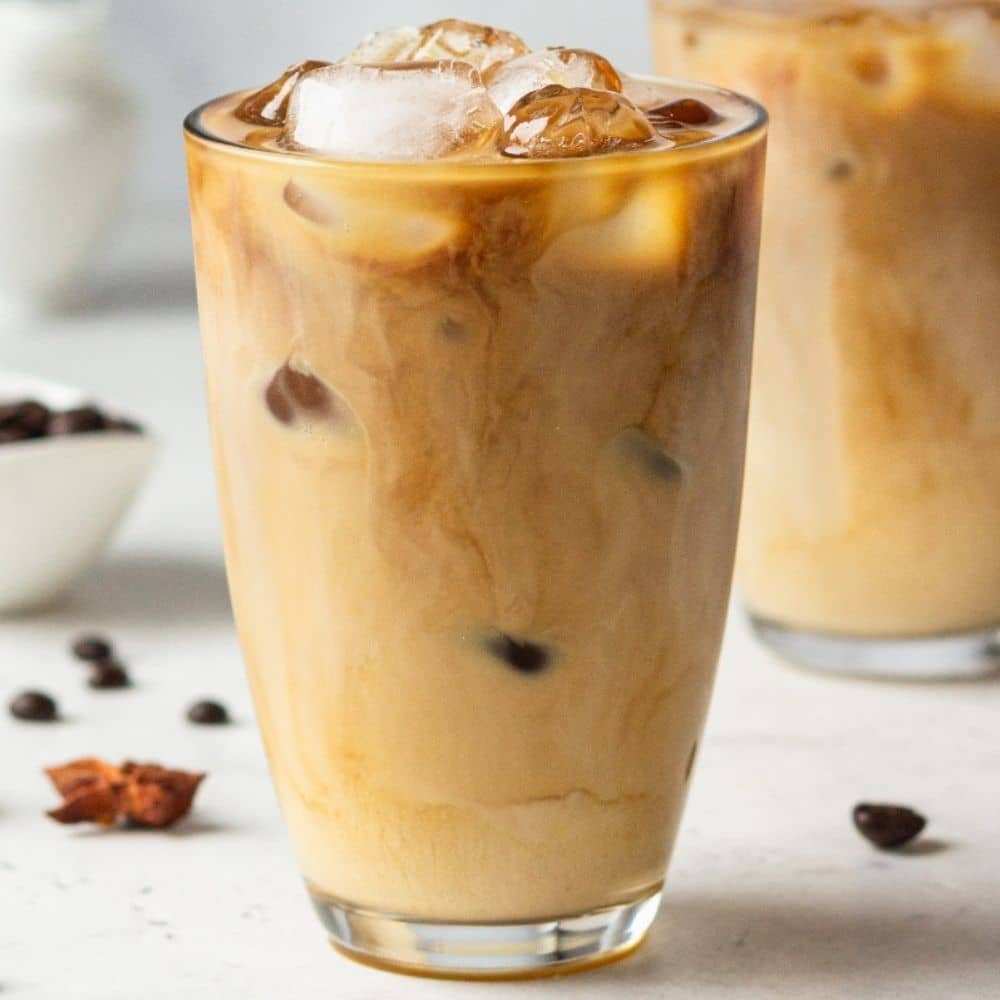 27 Easy Starbucks Recipes You Can Make at Home
Ingredients
6 c hot brewed coffee
3/4 c half-and-half cream
6 tbsps chocolate syrup
7 tsps sugar
6 cinnamon sticks (3 inches)
optional: Whipped cream in a can
Instructions
Brew 6 cups of coffee.
Add the freshly brewed coffee to a large saucepan.
Add cream, sugar, and chocolate syrup to the pan and cook on medium heat, stirring constantly until the sugar has dissolved completely.
Turn off heat and ladle into mugs.
Place a cinnamon stick in each mug and stir.
Top with whipped cream, and enjoy!