Casseroles are one of my favorite ways of cooking. They are typically easy and quick to throw together, and they require very few cooking vessels, which means a fast kitchen cleanup!
This list is for those who follow a vegan diet or are just looking for a fun vegan meal to add to the dinner rotation. I've gathered a list of different vegan casseroles with other flavor profiles to choose from. With everything from southwestern dishes to teriyaki, there's something here everyone will enjoy.
All these vegan casserole recipes are filled with nutrient-rich vegetables that pack a lot of fiber, perfect for a healthy addition to your day.
These recipes include great fun tips for incorporating things like sauces into vegan dishes that you may assume you have to skip eating plant-based.
Enjoy these fun vegan recipes; they're easy, flavorful, and sure to make it into your recipe collection at home.
I used to get so excited when my mom would make scalloped potatoes, which wasn't too often. It was a special treat!
This version of scalloped potatoes uses potatoes, squash, and mushrooms, which ups the nutrient value of this recipe.
A creamy sauce is made from cashews instead of dairy, and nutritional yeast provides that cheesy flavor you must have for potatoes au gratin. This dish ends up being healthier and just as delicious as the original!
I love a pasta casserole. It's the best of both worlds; you get pasta texture with the ease of a casserole-style dinner.
This recipe uses a vegan soyrizo as the "meaty" base and flavor and sautés with a mix of peppers and onion.
Using pre-mixed taco seasoning and jarred chunky salsa saves you time and dishes.
Don't skip the toppings like lime, cilantro, avocado, and hot sauce. They give this dish those wonderful finishing flavors!
This is a vegan casserole that reminds me of cheesy broccoli soup. But, unlike cheesy broccoli soup, it packs a big punch of nutritional value!
There is quinoa and chickpeas in this recipe for a great source of protein and fiber. Broccoli provides your serving of veggies.
The whole casserole is smothered in a vegan cheese sauce and topped with homemade breadcrumbs seasoned with nutritional yeast, onion powder, and paprika.
This is a great recipe for kiddos that don't want to eat their broccoli!
One of the most classic southwestern casseroles is a delicious pan of enchiladas! This version is layered with peppers, black beans, and vegan cheese.
What makes this recipe so special is the homemade enchilada sauce; I recommend making a large batch and freezing some to pull out and thaw for an easy dinner later.
The enchilada sauce uses a great blend of seasonings and tomato products to give you a flavorful, spicy, acidic punch. You won't regret taking the time to make it!
Unlike the last enchilada recipe, these enchiladas are rolled instead of layered and use tofu in the enchilada fillings.
Tofu is great in these recipes, thanks to its neutral flavor; it soaks up all the flavors around it.
Black beans, spinach, and peppers provide your vegetables and fiber. Use your favorite enchilada sauce here; I love a Hatch red enchilada sauce when buying canned. Top with avocado, diced onion, and lime wedges!
This is the perfect recipe for those fall and winter months. It's warm and comforting. Sweet potato casserole is one of those dishes that leans sweet but is served along with a savory dinner, and it balances perfectly.
Sweet potatoes are mashed with maple syrup, vanilla, and cinnamon for a toasty flavor. It's topped with a pecan crumble to give a nice crunch to combat the smooth and creamy sweet potatoes.
Add this to your list for family gatherings in the winter, and everyone will love it!
Tater tot casserole is a classic mid-western hot dish that I've had countless times now.
It seems unassuming and too simple to be anything special, but I fall in love every time I eat it. Mixed vegetables like corn, carrot, and peas are combined with vegan "chicken" and tossed in a cashew-based sauce.
What makes this dish so magical, though, is the crispy tater tots on top! They add the most amazing crunch and that salty flavor that makes you keep going back for more.
This is a great take on green bean casserole! I like to use French-cut frozen green beans in this recipe. Oat cream is the base for the creamy sauce, and all of it is flavored with thyme, nutmeg, and white wine.
This recipe is straight forward, which is what makes it so delicious. The crispy fried onions on top provide the perfect crunch and will take you back to eating your grandma's green bean casserole!
Serve this next to a vegan lentil loaf and mashed potatoes for a filling meal.
More Casserole Recipes You'll Love
Artichokes are one of my favorite ingredients to incorporate into my weekly diet. They're high in antioxidants and nutrients.
This casserole reminds me of a spinach and artichoke dip, but it's far healthier and an actual filling meal.
With rice and great northern beans, this dish gets ramped up in protein, fiber, and carbohydrates for energy.
Nutritional yeast provides an umami flavor, and lemon juice and garlic give this dish a freshness. This is great to serve with a piece of warm sourdough. It's the best!
This recipe is a simple one, but oh so tasty. With only seven ingredients, it's like a cross between cheesy cauliflower and green bean casserole.
It's incredible how much creaminess and cheesiness just coconut cream and nutritional yeast can add!
You can use the cauliflower and sauce as a base and add any vegetable you prefer, nut just green beans.
I've made this with broccoli, chopped asparagus, and even butternut squash. You can serve this as a side dish or add some plant-based protein like chickpeas.
This cauliflower casserole is quite different from the last. Instead of cheesy and creamy, this one is tomato-based.
This dish has a fresh taste that compliments cauliflower with lemon juice, chile powder, and garlic.
In addition to the tomato paste, I also like to add a spicy paste-like Harissa or gochujang for a fun twist of flavor.
Top this with some breadcrumbs or a mix of fresh chopped herbs like parsley, chives, and cilantro
I love mac and cheese. It's probably my favorite food. I could eat for every meal if I had the choice! But I think we all know mac and cheese isn't the healthiest option for a meal.
This version of mac and cheese ramps up the nutrition by adding a southwestern twist on traditional mac.
Adding a mix of black and kidney beans adds some protein, and making your vegan cheese sauce out of cashews makes it entirely vegan.
You can't be the spice blend here, a mix of cumin, chili powder, and nutritional yeast.
I grew up eating hash brown casserole on the weekends because it was an easy and delicious breakfast casserole for my mom.
This version takes the classic and adds a healthy twist. By adding in kale, it adds nutrient-dense leafy greens and a healthy serving of vegetables.
Instead of adding heavy cream and cheese like in the original version, you make a non-dairy sauce with cashews and seasonings that bring that rich, savory flavor.
Serve this alongside some pancakes or waffles, and you have a breakfast spread!
This butternut squash casserole is a delicious combination of sweet and savory! The sweetness comes with sweet potatoes, dried cranberries, and raisins.
The brown and wild rice adds an earthy, savory flavor that provides the perfect backdrop for the sweet butternut squash.
Warming spices like nutmeg and cinnamon are a wonderful addition here and play off the sweet ingredients.
The secret ingredient here is balsamic vinegar; it adds a necessary acidic taste that brightens the dish.
Of all the vegan vegetable casseroles on this list, this one is the easiest and tastiest.
It's very straightforward and simple, but on top of that, it has a diverse mixture of vegetables making for a very healthy and nutrient-filled dish.
The pecan topping mixed with the cranberries, rosemary, and thyme gives this casserole a fall flare that is hard to beat!
You can't help but think of the leaves changing colors and fall holidays while eating this dish, and it's one of my favorites to make when I have friends or family coming over.
This butternut squash casserole screams fall season! The herby fresh sage and shallots accentuate the butternut squash, and by mixing in quinoa, there's a solid source of protein.
If you want to make things easier and quicker, try using pre-diced or even frozen butternut squash.
This is a healthy recipe filled with fiber and nutrient-dense plant-based ingredients and is great served as a main dish. Try making this for your next potluck or family gathering!
Who doesn't love potatoes? Potatoes are one of my favorite ingredients to use because no matter who I'm cooking for, they love potatoes!
This dish focuses on potatoes and sneaks some other delicious and nutritious veggies into the mix like bell pepper, corn, zucchini, and eggplant.
Everything is baked in a rich sauce that uses tahini to give it a nutty, savory flavor. There's a crunchy macadamia nut topping that adds a satisfying crunch to every bite.
If you haven't had a moussaka before, give this recipe a try! It's a delicious Greek staple that includes layers of protein and eggplant, and it's all topped with a deliciously rich béchamel.
This version uses lentils for protein, and they are cooked down with herbs and tomatoes to make umami filled legume layer.
Sliced eggplant and potatoes are layered like a sandwich at the top and bottom of the lentils.
The béchamel layer finishes the casserole off with a luscious cheesy layer that makes this dish special.
This is a beautiful vegan casserole! It uses seasonal summer squash layered with an herby cream sauce and crushed buttery crackers.
The beauty of this recipe is the herby sauce, which uses a roux base. Don't know how to make a roux? Don't worry!
This recipe walks you through the process of making a roux (with pictures), and you'll feel like a pro in no time.
If you want to ramp up the vegetable content, try mixing in some spinach, chopped asparagus, or green beans, they fit into this dish well.
This is the perfect dish to make for weekly meal prep! You won't have any problem eating this every day, thanks to the sweetness from the potatoes and the perfectly seasoned beans, quinoa, and corn.
If you don't have quinoa, you can swap it out for brown rice. I love to top this with a chipotle agile and sliced avocado.
If you want to get some additional nutrients, you can serve these overtop salad greens as well.
This teriyaki casserole is a great and easy way to incorporate a lot of flavors into a dinner. It's filled with fiber-rich vegetables like carrots, snap peas, and broccoli.
With both tofu and tempeh, it's rich in protein, and long grain rice provides the starch. This dish stands out in the teriyaki sauce, which relies on tamari, maple syrup, ginger, and garlic.
This recipe will become a go-to in your home for those busy nights you need a good, balanced meal on the table.
This cheesy vegan cauliflower casserole is the solution if you have picky eaters in your household who don't want to eat their vegetables!
This dish is loaded with nutrient-dense cauliflower, but you can hardly tell. It's baked with a delicious cheese sauce that is the secret to this tasty dish. Raw cashews, soy milk, lemon juice, and nutritional yeast base a vegan sauce that tastes just as cheesy as any dairy cheese sauce.
Top this with some breadcrumbs and fresh parsley, and you have an amazing casserole!
Butternut squash is a great fall ingredient that can be used in both sweet and savory recipes.
This recipe leans more savory with the addition of quinoa, corn, black beans, and tomatoes.
These delicious plant-based ingredients are cooked down with cumin and lime juice for a southwestern flair and then topped with cheddar cheese and avocado.
I love to serve this with a side of tortilla chips to scoop with and top with hot sauce for some heat!
Green bean casserole has always been one of my favorite dishes at a family gathering on holidays like Easter or Thanksgiving, and this vegan version is just as amazing.
Mushrooms are mixed, and everything is tossed in a thyme and coconut cream sauce that is just as creamy as the dairy version.
You can also add in herbs like sage or rosemary for more herby flavors. What makes this recipe great is the homemade fried onion topping, don't skip this part. It's magical!
If you've never heard of cowboy casserole, you're in for a treat because it's one of the best ideas to be passed down in family cookbooks!
Cowboy casserole is made with pantry staples that you're likely to have on hand anytime.
Everything is layered together and topped with frozen hash browns, and baked until crispy and bubbling.
This recipe calls for canned corn but feels free to use any canned or frozen vegetables you have around, like green beans, peas, or carrots.
Potatoes, leeks, and mushrooms are an amazing combination that is classically prepared together for a reason.
This recipe combines them into a casserole with a creamy sauce made from chickpeas and vegan feta for a kick of flavor.
If you want a creamier sauce, you can swap out the chickpeas for navy white beans. I love to top this casserole with pine nuts, pumpkin seeds, chives, or pesto.
These are a great main dish with a salad or a side dish to a meal.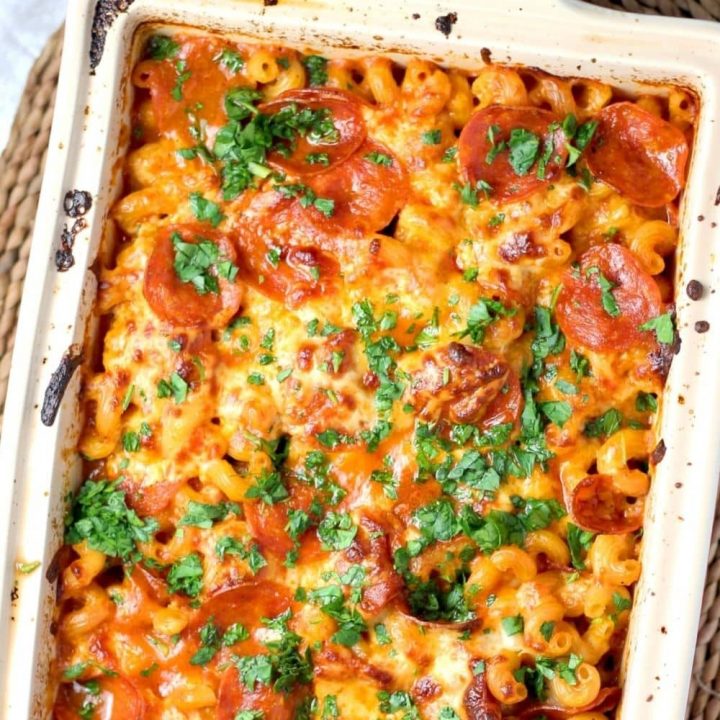 26 Best Vegan Casserole Recipes
Ingredients
olive oil
yellow onion, diced
clove garlic, chopped
ground cumin
cans beans
roasted diced butternut squash
tomatoes with their juices
tomato paste
kale
Kosher salt and freshly ground black pepper
vegan shredded cheese
Chopped cilantro, for serving
Vegan sour cream, for serving
• Cashew Cheese Sauce:
raw cashews
unsweetened almond milk
nutritional yeast
fresh lemon juice
clove garlic
smoked paprika
kosher salt
Instructions
Preheat your oven to 400 degrees F.
Add oil to a large skillet and heat over medium heat until oil shimmers. Add onions, garlic, and cumin and sauté while stirring until onions are translucent and soft about 3 to 4 minutes. Mix in the beans, squash, tomatoes with the juices, tomato paste, and kale. Add salt and pepper to taste. Sauté while stirring until the kale is wilted down, about 3 to 5 minutes. Remove vegetable filling from the pan and set it to the side in a bowl.
Spray a 9x13 baking dish with cooking spray or oil. Lay 2 tortillas down in the bottom of the dish, top with 1/4 of the sautéed vegetable filling, and top with 1/4 of the cashew cheese sauce. Follow this same order for 3 more layers, with the cashew cheese sauce being the final topping.
Bake in a preheated oven with no cover until casserole is heated thoroughly and the cheese starts to bubble on top, about 20 minutes. Serve with cilantro and any other favorite enchilada toppings.

Cashew Cheese Sauce:

Place cashews in a bowl and cover with cold water. Soak for 8 to 12 hours. Drain the cashews and move to a food processor (a blender will work here also). Pour in the remaining ingredients and blend until completely smooth and creamy.