It's chili night—which let's be honest—it's the best night when it comes to dinners, and we all look forward to it! That delicious, tomato-y goodness just waiting to be eaten up. You're looking online trying to put together a grocery list and you're wondering what to serve with chili? What goes with chili? What are the best chili side dishes?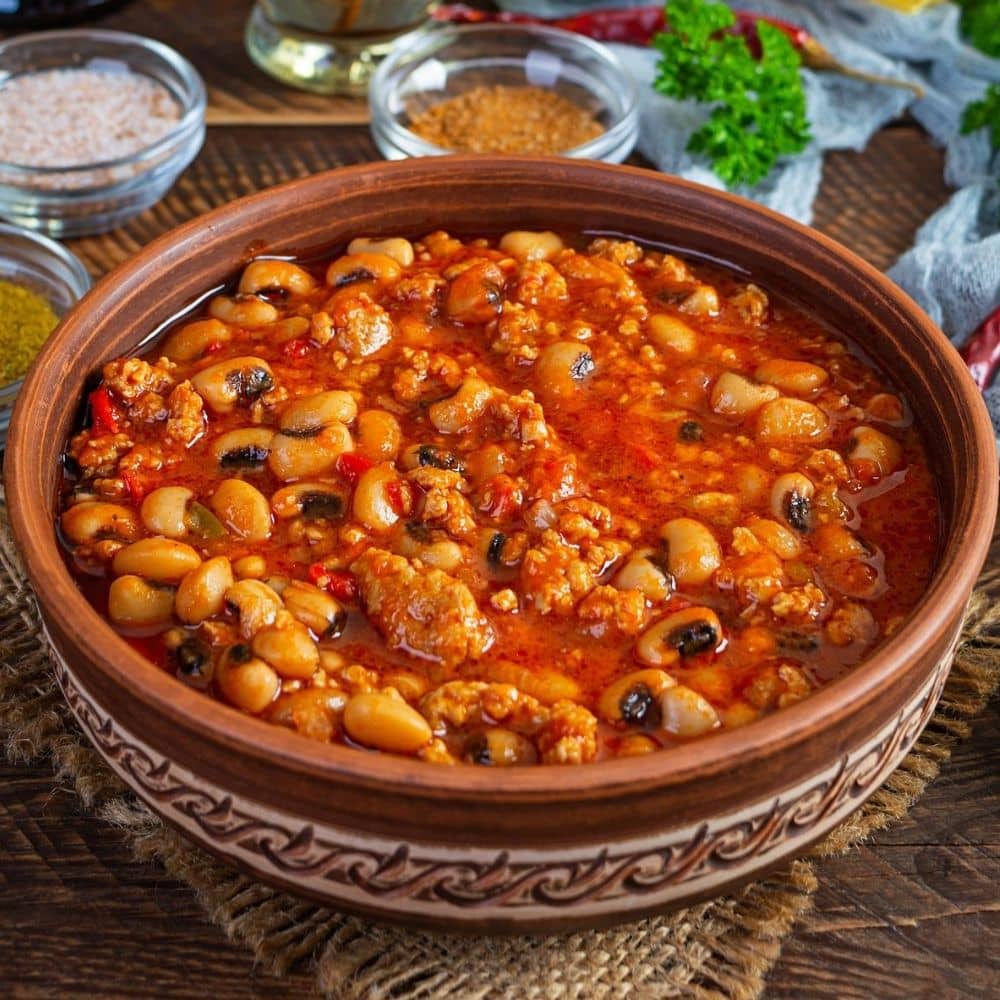 If you've ever asked yourself these questions while you are meal prepping (or looking up recipes so you can hit up the store when you leave work) you've come to the right place. We've got your back.
Maybe it's not chili night. Maybe you are hosting a party or having friends over for dinner.
Chili is a great main dish that does not require a lot of prep work, but the question of what to serve with chili at a party still plagues your mind! Well—here you go! We've gathered the best recipes out there to spice up that excellent chili dish!
Baked potatoes are a perfect side dish that compliments chili excellently. You can throw them in the oven while the chili is simmering in the crockpot. However, if you make chili on the stove—start your potatoes about an hour before you start cooking.
This will make sure that your potatoes and chili get done around the same time and you'll be able to eat your food all while it's hot.
Don't forget to try and use fresh chives, when possible, it really elevates the potato and all the flavors it can bring to the table.
This recipe is perfectly crafted to be vegan/vegetarian friendly. If that's not your style, that's okay.
Where is stays Tempah, substitute with your favorite cut of bacon and use your regular sour cream and butter? To add a little zing to your potato, you can also spring with some Cajun seasoning before putting it in the oven (when you season with salt and pepper) to give it a little flare!
Cornbread is another staple and is great to eat with chili. I know what you're thinking, you're thinking that you don't want to make something out of a box.
Well, here is the perfect recipe. Easy, quick, and a great side to go with chili.
This dish is fluffy and will melt in your mouth! Plus, if you want to keep people talking about your cornbread and if you like your cornbread to be a little sweeter, you can add ½ cup white sugar and it will make it absolutely delectable!
Maybe cornbread isn't your thing, but you love bread, if that is the case, these homemade breadsticks are a must-try!
While the prep time and bake time (from start to finish) for these buttery breadsticks take about an hour and a half, it's definitely worth it. Plus, instead of using a marinara dipping sauce, you can dip it right into your chili.
Be sure to do crockpot chili if you decide to go with this one-of-a-kind side because you'll definitely want to eat everything while it's steamy hot!
Sweet Potatoes are a great substitute for, and a healthier option, for baked potatoes. They pack a punch with flavor and vitamins. Be sure if you buy larger sweet potatoes to set aside extra time.
If your potatoes are larger—an hour will not be enough time to cook them. Sweet potatoes will typically take longer to cook than their white potato peers, so factor that in to avoid frustration at dinner time.
So, what secret ingredient would we recommend that makes this a perfect side dish for chili? Ditch the salt and pepper, add in some cinnamon with the butter and you have your perfect sweet to match your savory chili. Just trust us, you'll thank us later!
These extra crispy homemade onion rings are a huge fan favorite. Onion rings can throw in some veggies with a typically veggie-less meal. This makes a wonderful addition to a chili dinner.
While onion rings can be a little heavy, you can try substituting almond flour or coconut flour and using pork rinds versus bread crumbs to make this dish a little healthier.
If you choose to use a flour substitute, cook fewer at a time, as flour substitutes tend to burn easier.
We've already established that sweet potatoes are a great substitute for white potatoes. If you'd rather not deal with the longer cook time of a baked sweet potato, try cutting them into fries and using the air fryer for some deliciously, crispy fries.
For a bolder taste, try adding more paprika—something about this delicate spice just brings the flavor to life in this excellent side dish for chili.
Pro-Tip: Anytime you air fry you will typically want the sizing to be pretty equal, however, it's not always possible to get each potato cut into exactly equal parts. We recommend that you group closely sized cuts with each other.
You will likely have to do 2-3 batches depending on how much you cut up. DO NOT overcrowd your air fryer—you don't get the crispy goodness.
This side to go with chili is less common, but you will absolutely want to try this.
This chili lime rice is a wonderful Mexican addition to some spicy chili. Plus, you can turn the spice up in this dish (add more chili powder) or turn it down (add less chili powder) based on your preference.
The plus side: it's only four ingredients. Can you say easy dinner? Yes, please!
Add On: If you want to spice up your spice up, add some fresh chopped cilantro to this dish, you won't regret it, and you'll be reaching for this dish for many nights to come.
So, you want a salad to go with your chili? Adding a salad will pack a punch to any meal and will pack some greens in so that you don't feel as guilty if you want to indulge in a second bowl of that chili you worked so hard to make!
This recipe calls for you to grab a bag of mixed greens, and you can do that, but if you really want to add some extra green to this dish, throw in some spinach and kale!
Another not-so-common side dish, but now that you've read it, you know you want to try it.
When you think of soft pretzels, you might think of grabbing them from a cart with a cheese dipping sauce. Well, you can totally do that, even as a side dish.
Better yet, dip it in cheese and chili at the same time for a burst of flavor in your mouth that will keep you running back for more!
Another interesting choice if you're looking for some non-traditional side dishes to go with chili! This is another way to add some greens to your diet—and in the most delicious way.
Another easy, four-ingredient recipe, to make that after-work cooking stand a little easier. Not to mention, this recipe only takes 5 minutes. Look, we all know how precious that after-work time is.
We want to use that time to spend with family, read a book, or just sit down. Using this side dish for your chili is the best way to do that.
Substitution: Use miracle whip instead of mayonnaise if you want a sweeter flavor.
Who doesn't love a good nacho dish? We can't say we can say we don't to this question.
Nachos are a favorite—this recipe calls for vegetables and cheese laid over a bed of warm tortilla chips—and you can totally do that! Because literally, who does not love a good nacho!
However, don't be afraid to just take that chili you just made and pour it right over your nachos. Taking your main dish and your side dish and making one huge nacho pile you can't keep your hands off of!
Taco Tuesday + Chili Night. Could there be a better, incredible combination?
While it may seem like an unlikely combination or you may be thinking, isn't these just two main dishes—consider using street taco size shells—a tiny taco for a mighty taste and it makes for a great side dish for chili!
If you can't find the street taco shells, consider using half the taco shell to make them smaller if you need a lighter side dish than a full taco!
Once again, an unlikely pairing, but doesn't your mouth just water thinking about this pairing?
Quesadillas are the perfect side for your chili. Typically, quesadillas are filled with meat and cheese, but an alternative to adding your cheese of choice then add a layer of chili right in while you're grilling your quesadilla! Literally, mouth bursting full of flavor!
You can even still have your sour cream to dip it in, seriously, you won't regret trying this—either with the quesadilla as the side or taking the side and combining it with the main dish!
Need something quicker than baking a whole pan of potatoes? This is the side dish for you…not to mention if you're throwing a party, what a way to keep those guests talking about your excellent hosting skills.
Pro Tip: Prepping this chili side dish before cooking any of them at all, will make them taste better and not be dried out when it's time to serve them.
These are best served warm, you don't want to have to reheat these, so be sure to cook them right before you serve them!
A lot of times when we have a savory meal, it's easy to want something sweet to offset it.
This apple salad is the perfect, healthy addition to your savory chili without having to add on all the carbs and calories (if you don't want to that is).
This recipe calls for 1 cup of mini marshmallows, leave this out to cut the carbs. You can substitute the mini marshmallows for some diced up pairs to make this a little sweeter!
Okay, we already know that grilled cheese sandwiches pair excellently with tomato soup. And, most likely, your chili is going to have a nice, savory tomato base—so of course, this tasty grilled cheese sandwich with your chili is going to be a dynamic duo! With this side dish for chili, you're going to want to make a crockpot or instant pot chili so you can serve everything warm!
Pro-Tip: Add some bacon + avocado to your grilled cheese sandwich for the best beefed-up grilled cheese sandwich you've ever put in your mouth!
Looking for a simple and nutrient-packed side dish for your chili? Look no further than this forbidden black rice.
Simply buy the pack, follow the instructions, serve and be ready to be amazed and how delicious this simple healthy dish can be and how it can perfectly compliment your main dish!
Suggestion: Make an extra serving to pack your lunch for the next day to keep the deliciousness going!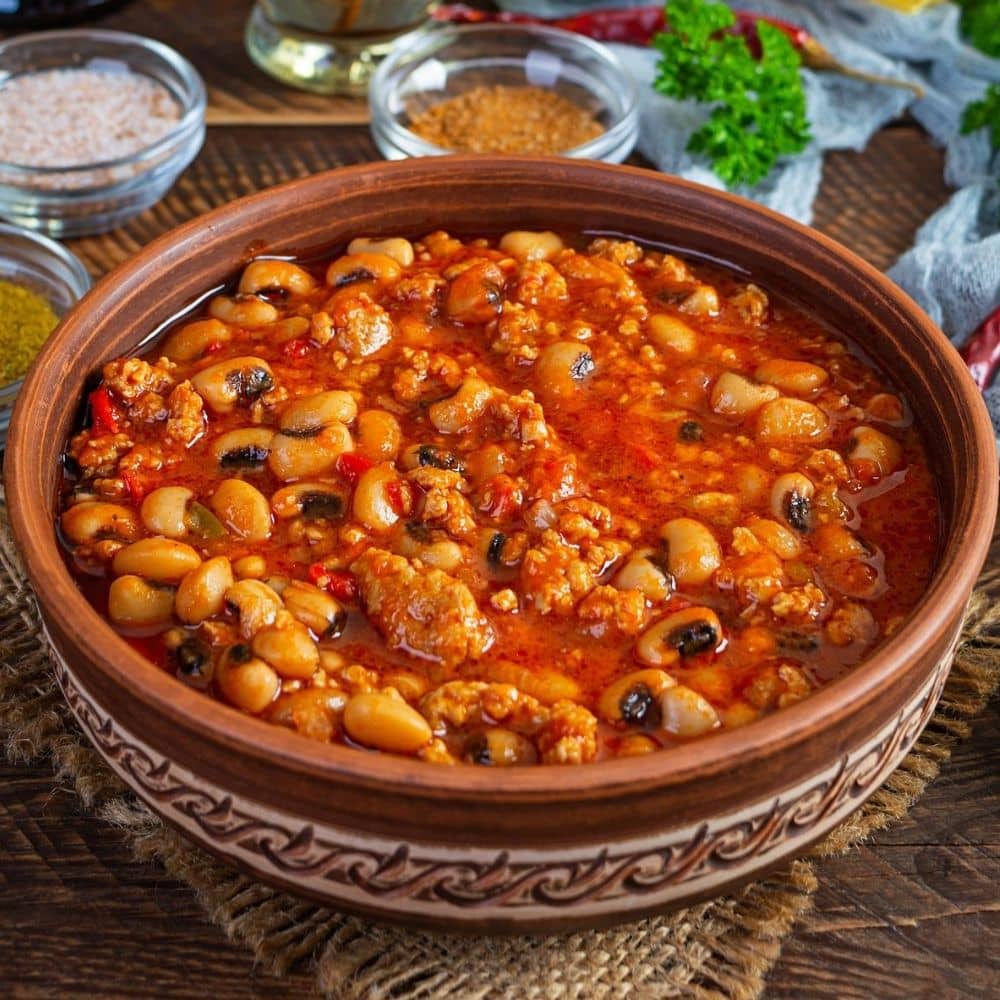 What to Serve with Chili (17 Best Side Dishes)
Cook Time:
1 hour
30 seconds
Total Time:
1 hour
1 minute
30 seconds
Ingredients
1 medium baking potato
2 tsp butter
½ tsp salt
1 pinch freshly ground black pepper
1 tsp olive oil
¼ c shredded Cheddar cheese
Instructions
Preheat the oven to 300 degrees. Do this before you begin to prepare your potatoes.
Scrub your potatoes—you'll want to get all the dirt off them.
Use a fork to liberally poke holes. We don't want those beauties blowing up in the oven. After poking holes rub with oil (we like olive oil) and sprinkle with salt and pepper.
Place potatoes in the oven. You'll want to bake them until they are soft and a nice golden brown.
Slice down the middle and serve with your favorite toppings! You can use cheese, salt, pepper, chives, butter, bacon, and sour cream. If you don't like these, get creative. Top with BBQ or chili!