Believe it or not, it's possible to have fried vegetables without guilt. The secret? Do your frying with an air fryer.
This machine can make all kinds of tasty air fryer vegetable recipes anyone will love.
The recipes will make the best air fryer vegetables you can eat. Whether for a snack or a side for an elegant dinner, these unique veggies will make anyone's day.
One of the best vegetarian air fryer recipes is air fryer asparagus.
The tool makes the veggies crispy, without the oil and fat of french fries and chips. It adds a crunch without the guilt!
The best part about air fryer asparagus is that it takes less than ten minutes to make. You can have it in just a few minutes.
You can only make broccoli in so many ways. This take only requires a few minutes of your time and it will paint a new perspective on what is possible with this veggie
Add flavor to this vegetable by adding any spices you want.
Need something hot? Mix in some red pepper flakes. Like cheese? Add parmesan on top. There's so much to do with air fryer broccoli!
Nobody likes Brussel sprouts – until now. These are some of the best air fryer veggies you will ever eat.
Each sprout is crisped to perfection and doused in a healthy sprinkling of salt for additional flavor.
There are so many variations you can try with air fryer Brussel sprouts.
Mix them with balsamic, add in some bacon, or toss with feta for an extra tang. Even the pickiest eater will enjoy this dish!
Sweet potato fries are already a healthy alternative – air frying them makes the dish even better for you.
They're less greasy but still have the same delicious inside people have grown to love.
This potato pairs well with any meal of the day. A little salt, garlic, and pepper will go a long way once these pop out of the air fryer. It's one of the best air-fried vegetables.
Avocado? In the form of a fry? It's all possible in an air fryer!
This recipe takes crispy and creamy and combines it into the perfect bite. Avocado fries are excellent for a snack or on the side of a meal.
Think of avocado fries like chips and guacamole mashed into one, but healthier.
You can add a little something to these with a tangy or spicy dipping sauce. Avocados, surprisingly, are one of the best vegetables for the air fryer.
Sweet peppers and onions roasted together make a tasty addition to any meal. In the air fryer, they take on a new life with a slight crisp.
You can take these veggies and mix them in with any protein you like.
The secret to these veggies is the splash of lime at the end.
The citrus brings out a flavor in the air of fried vegetables that pair perfectly with any dish. It's tricky to go wrong with sweet peppers and onions on your plate! Any eater will be happy with these.
No matter how healthy your diet is, it's difficult to resist the taste of french fries or an oily potato chip. These air fryer crispy potatoes create a crispy version with halved mini potatoes, providing a similar flavor without all the fat.
Potatoes are one of the best vegetables in the air fryer.
You can spice them up with items like garlic salt, red pepper flakes, and any other tasty flavor you love with french fries.
Cauliflower is the blank canvas of vegetables. This recipe is excellent because it only takes a few ingredients to work.
Cauliflower can be mixed with protein and other veggies to serve as a main dish, or it can complement a protein as a side option.
If you only have vegetables in the freezer, no worries! You can utilize frozen veggies in the air fryer. Cauliflower is super versatile.
Fried mushrooms? What's not to love? Each air-fried mushroom retains enough liquid for a juicy, flavorful bite every time. You can eat these by themselves or create a tangy dipping sauce for a pop of flavor.
This is one of the best air fryer veggie recipes because the mushrooms naturally burst with flavor.
It also only takes a few minutes to prep, spice, and fry the mushrooms.
If you are on the hunt for healthy air fryer vegetable recipes, an air fryer pumpkin is an excellent option. Not many people think of pumpkin as something edible – air-fried is the ideal way to try it for the very first time!
Spiced nutmeg is the secret to the pumpkin. It has a little taste of the holidays.
If you're not a fan of nutmeg, you can substitute the spice with items like cinnamon, pumpkin pie spice, or paprika.
Fried green beans are a popular side dish, but unfortunately, they're not healthy at all.
If you stick them in the air fryer, the fat and oil content drops without losing the delicious taste.
Simplicity makes this recipe special. You only need the beans, salt, pepper, oil, and a few minutes for everything to work.
Air fryer butternut squash is pretty similar to pumpkin in texture and taste.
Butternut squash, however, has a buttery essence that makes the veggie taste fattier than it actually is.
In an air fryer, this accent makes it perfect for a side dish.
The best part about air fryer butternut squash? There aren't many carbs in the dish! It's similar to potatoes without all the guilt that comes with them.
Of course, there's no harm in eating potatoes. Wedges made in an air fryer get rid of the additional fats and oils that exist in french fries and chips.
These are crispy on the outside, but soft and wonderful on the inside.
Potatoes are another excellent blank slate.
You can toss them with parmesan, mix in garlic, or add paprika to bring the flavor-forward.
What's not to love about french fries without the fried?
Zucchini is a versatile vegetable and it works well in the air fryer. With a few breadcrumbs and some cheese, the zucchini is a light treat.
If you're seeking something low-carb and keto, this recipe is excellent for you.
It's super tasty but doesn't force you to sacrifice your diet!
Beets might not be your first thought for the air fryer. Fried beets in general might not be an ideal choice for many.
But, you'll have to take it from use – this recipe takes beets to a whole new level.
The best part about air fryer beets is the versatility that comes with them.
They can work on top of a salad or mixed in with a dish.
Roasted carrots are tricky to perfect. In the air fryer, you can achieve that perfection in about half an hour.
Carrots work well on the side of a fancy steak or a casual sandwich.
This recipe can be made sweet or savory, so any palette can be satisfied. Carrots are a bland veggie – air frying spices them up in no time!
Raw kale might be nasty, but in the air fryer, it serves as an excellent replacement for potato chips.
It's easy to disguise the taste with various spices even if you don't like the taste of kale!
This recipe is fun because you can experiment with flavors until you find one you love. Salt, ranch, and even Dorito seasoning will work well.
On a similar note as the kale chips, zucchini chips are another excellent option for those who want a healthier replacement for potato chips. They're less greasy than oil-fried versions!
The addition of vinegar to these chips adds a wonderful bite. If you don't like vinegar, it's definitely optional.
Fried pickles aren't a new concept, but they've gotten more popular in the past few years.
These air fryer pickles provide a way to try the trend without all the calories and fat.
Shockingly, air fryer pickles go really well with peanut butter. If you're not a fan of that, try ranch as a coating for the yummy side.
Fried green tomatoes are a southern staple, but they're not the best for you.
This air-fried rendition is crispy and only uses a little bit of oil to make for a healthier life.
The fun part of this recipe is picking the dipping sauce.
Once you find that ideal combo, you can bring this dish to any gathering, and rest assured that it will be a hit.
Why not embrace the best of multiple worlds and mix several veggies together in your air fryer?
This recipe mixes bell peppers, mushrooms, and zucchini, but you can add others that you and your loved ones enjoy.
The seasoning and cheese tie everything together with a pop! You can even try feta or goat cheese to experiment with various flavors.
This recipe is the most complicated on this list, but the extra effort is worth it. Chickpea fritters are packed with protein and, dipped in the sweet-spicy sauce, will be the life of the party.
Once you have all the ingredients, it only takes fifteen minutes to prep everything.
The air fryer makes it easy to look like an expert chef.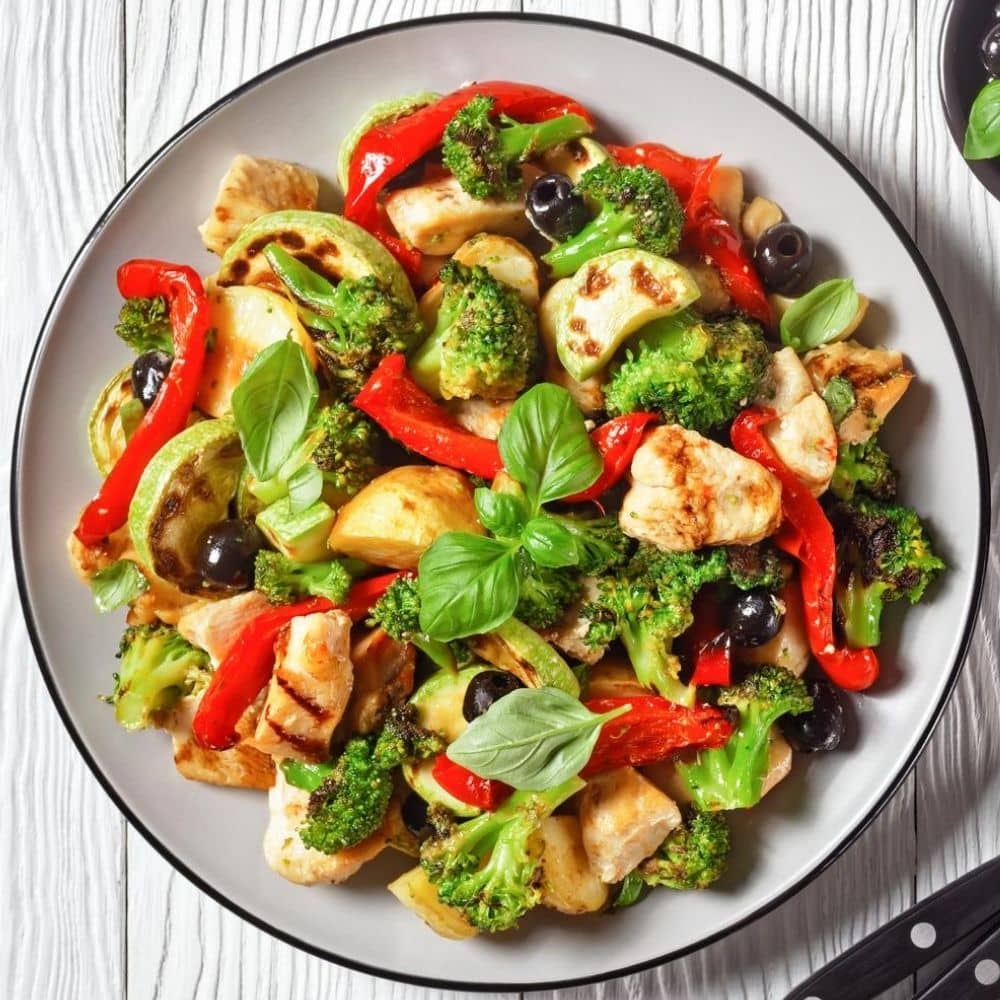 22 Best Air Fryer Vegetable Recipes
Ingredients
1 bunch fresh asparagus, trimmed
avocado oil cooking spray
½ tsp garlic powder
½ tsp Himalayan pink salt
¼ tsp ground multi-colored peppercorns
¼ tsp red pepper flakes
¼ c freshly grated Parmesan cheese
Instructions
Heat the air fryer to 375 degrees.
Line the basket with a sheet of parchment paper.
Add asparagus spears to the basket. Spray some avocado oil on top.
Add the garlic powder, salt, pepper, and pepper flakes.
Sprinkle the parmesan cheese on top.
Fry 7-9 minutes until charred.