Basil is such a delightful, fresh herb. It's an ingredient with an unmistakable flavor and scent. While we know it goes in dishes such as pasta and drinks like mojitos, what else can you do with it?
The past few years have shown growing fresh herbs in the kitchen or outdoor gardens to be a trend. Instead of letting your basil get brown and yucky, try these 25 fresh basil recipes. You'll impress your friends and family along the way.
If you've never made homemade basil pesto, you haven't truly enjoyed Italian food. Basil pesto is incredibly easy to make and works with many different dishes. Try it on pasta, over chicken, or even on a pressed sandwich.
Bet you wouldn't guess this recipe includes pine nuts. That's right! Pine nuts add a nice slight crunch to the pesto and a nuttiness.
If you aren't feeling the pine nuts, you can add sunflower seeds. You'll get a slightly different flavor but a similar texture.
Tip: Make sure you purchase shelled sunflower seeds for this substitute.
Do you have a slow cooker that's sitting sadly in a cabinet? Grab that sucker and put it to good use with this recipe! You'll end up with a hearty and rich meal that your family won't be able to resist! Serve it with pasta, and you have a complete meal.
It's made with evaporated milk – you heard us! Evaporated milk gives it the creaminess you are looking for; it's not just for sweet recipes.
You can, of course, swap the evaporated milk out with heavy cream for an equally tasty meal.
If you don't have an excellent go-to recipe for Thai basil chicken, you'll want to keep track of this one. It's spicy and flavorful while offering a freshness from the sliced green onions on top. Yum!
Oyster sauce is the surprise ingredient in this recipe. It adds a nice saltiness and slight fishy taste.
If you forgot to purchase oyster sauce at the store, you could use fish sauce instead. You'll get a similar flavor (slightly fishier) and the same saltiness you're looking for.
Have you tried this holy grail of toppings yet? It's so simple and so flavorful, you will want to add it to everything.
So, what is basil oil? Imagine a simplified version of pesto with more oil – a super tasty sauce that you can drizzle over anything you can think of.
The unexpected item in this recipe is garlic cloves. It adds a beautiful taste to the sauce that you might not think to add.
Try swapping the garlic cloves out with green onions. It won't be the same flavor, but you'll get an added freshness to the basil oil, and it will still be tasty.
Tip: Drizzle the basil oil over toasted bread slices with parmesan cheese for the ultimate garlic bread.
Any recipe, including the words creamy, and pasta is a yes from us! This tasty dish offers a lighter sauce using basil pesto and half-and-half for the ultimate pasta dish.
You wouldn't expect to use chicken broth for this, but it adds extra flavor and nicely brings the chicken pesto pasta. Plus, it helps deglaze the pan, so you get those tasty bits included in the dish.
You can swap out the chicken broth for beef broth for a richer flavor.
Have you wanted a new way to spice up your favorite fried rice recipe?
This Thai basil recipe is the perfect meal idea for you. It's sweet, spicy, salty, and filled with yummy shrimp. Give it a try!
The unexpected ingredient is the jumbo shrimp. They pair well with the Thai basil and the oyster/fish sauce.
If you're not a seafood lover, you can easily add in chicken instead. Voila! You have a tasty new twist on fried rice.
This recipe combines yummy pork chops with an herb-filled, decadent sauce. It's the perfect meal when you're in the mood for comfort food that the whole family can enjoy.
The basil skillet pork chop dish incorporates white wine into the recipe. If you want to avoid the taste of wine, you can swap it out for chicken broth instead.
The flavors in the dish will be incredibly tasty either way. You'll be surprised how quickly the meal is gone once you put it on the dinner table.
Looking for a way to include basil in a fresh salad? Here's your chance! This salad is fresh, creamy, and perfect for pairing with barbeque foods!
Mayonnaise is what makes this salad nice and creamy. If you are looking for a lighter version, try switching mayonnaise with unflavored Greek yogurt instead. It will add an excellent tang to the dish.
Tip: Grill the corn instead of boiling it for a nice smoky flavor. It will make it feel like a summery salad.
Raise your hand if you love Thai food! Thai food is a personal favorite and a type of food included in weekly lunches or dinners. This is one of the best authentic Thai recipes with basil that we've come across.
There's so much flavor packed into this meal; you'll be impressed by its taste! Surprisingly, you'll be using vegetable oil for this one.
Instead, you can try olive oil or sesame oil for some extra flavor. See what you think of these swaps!
Have you ever tried aioli with basil in it? No? Then you're missing out! Adding basil to aioli adds an unexpected touch and fresh taste that is incomparable.
A creamy, rich, garlicky tangy aioli is the final product for this recipe. Lemon juice is the unexpected part of this recipe – it adds tanginess.
You can swap it out for lime juice, or if you're feeling daring, try some fresh orange juice for a sweeter flavor.
Tip: Use this dip for your next batch of sweet potato fries.
Creating your basil garlic butter is an excellent way to elevate your mealtime. Whether you're just looking for a creative way to add some pizzazz to dinner time or looking to impress a date – this is a great go-to recipe to try at home.
The lime zest in the butter is the surprise ingredient. It adds a hint of lime taste to offset the richness of the butter.
If you're not feeling the lime zest, switch it with another fresh herb. Try adding fresh rosemary for a new flavor profile.
This yummy meal idea is super quick – you'll have a full meal on the table in under 20 minutes. This recipe is so tasty; everyone will be asking for seconds.
Like most Thai recipes, this noodle dish has a sweet, spicy, salty flavor. Jalapeños add in the heat for this recipe.
If you're nervous about cooking with them, you can try a dash of chili oil instead. This will add some heat and usually comes already prepared from the store. Give it a try!
Pan-seared cod is a great way to use up some of your extra basil. The sauce for this meal is fresh, bright, light, and super tasty. It's perfect for a summer dish.
This recipe uses sugar for a slight sweetness in the sauce. Swap it out with a small amount of honey to provide that same sweetness.
Tip: Make sure to add the sugar or honey in while the pan is still hot. Otherwise, it can caramelize and stay in a clump.
Still, looking for what to make with basil? Don't forget about this classic recipe. You can never go wrong with a tasty bowl of tomato basil soup paired with a buttery grilled cheese sandwich.
This vegan version provides a creamy soup without the added dairy. You'll be serving it with the secret ingredient – vegan cream on top.
Not vegan, but still want something tasty on top? Drizzle on some regular heavy cream. You can even swirl in some sour cream for an added tang.
Do you love bruschetta? Why not make it at home? It's a super simple recipe that yields a delightful appetizer. Use it to top crispy, toasted bread or even add it to chicken.
The balsamic vinegar gives this recipe its unexpected yet yummy tart flavor. It's mixed into the bruschetta, but you can also drizzle it on top.
You can switch out balsamic vinegar for any flavored vinegar. Or, add a squeeze of lime juice for a slightly sour taste.
Thai basil chicken is a scrumptious dish that is best served over basmati or jasmine rice. It has a similar seasoning as the Thai basil noodles. If you want a new way to prep and cook your chicken, give this spicy, sweet recipe a try.
The green curry paste is an unexpected twist that adds sweetness and freshness to the chicken.
For those who don't have green curry paste at home, you can use curry powder instead. It will have a stronger flavor and lack sweetness but will mesh well with the other flavors.
Something about the combination of basil and lemon brightens up a dish! Adding the combo to salmon marries all of the tastes together perfectly. The rice salmon taste is offset nicely by the bright citrus and fresh basil.
Of course, you're expecting the lemon and basil in this recipe, but what about the black pepper?
Kick it up a notch by swapping out the black pepper for a light sprinkling of chili powder. You can even add ancho chili powder for a smokier flavor.
Tired of eating the same lasagna recipe over and over again? How about making beef lasagna with some added veggies? This is one of the tastiest recipes using basil – plus, it's a healthy alternative to regular lasagna.
For this recipe, the surprise food item is the whole wheat lasagna noodles. For some, whole wheat noodles are a no-go.
If this is the case, try thinly slicing zucchini and using it as a noodle alternative. It adds extra veggies in and tastes delicious.
Paninis are always a great option when you're craving a warm sandwich. The crispy pressed bread and melty in this meal will be hard to pass up! This new twist includes an avocado basil pesto sauce that will be smeared on the crunchy bread. Yummy!
This basil pesto sauce includes parmesan cheese, surprisingly. While parmesan is delicious, you can easily switch it to another type of cheese for a different flavor. Try shredded asiago cheese.
Tip: For an extra crunchy sandwich, toast the inside of the bread in a pan with butter before using the panini press.
You've tried taco dip, onion dip, and spinach artichoke dip, but have you tried whipped basil feta dip?
This yummy dip combines feta and cream cheese for the ultimate cheesy dip. It's perfect for any get-together and goes well with chips, veggies, or pretzels.
I bet you weren't expecting cream cheese to be in a dip with feta cheese! You can use any other kind of creamy cheese that you have.
Try it with mascarpone or even ricotta cheese. You'll be left with a tasty dip that's irresistible.
If you're thinking, "what to do with basil?" you came to the right spot. This corn and zucchini goat cheese quiche is an interesting take on the breakfast dish. It's an unexpected combination of flavors that work well together.
Heavy cream is surprisingly used for the quiche to add richness to it. For those seeking a healthier alternative, try using regular milk or even nut milk. This is an easy ingredient to swap out and still be left with a delectable dish.
This pasta salad alternative offers a fresher taste and summery ingredients. With only a few food items and seasonings needed, this dish can be whipped up quickly and used for lunches throughout the week.
The surprise ingredient? Why that would be the cherry tomatoes! They add a pop of tartness throughout the spaghetti.
You can use red bell peppers instead of tomatoes for an extra crunch. Or, try adding in some sweet corn.
Tip: Serve this dish chilled for an extra refreshing dish.
Do you love curry as much as we do? Here's another curry recipe to add to your repertoire. You can easily whip up this dish in the slow cooker and leave it while you're running errands. The sweet, herby smell from this meal is an amazing scent to walk into.
The hidden ingredient in this recipe is cilantro. Cilantro and basil are well-known for combining well together.
Some people are not fond of the taste of cilantro. If this is you, use fresh parsley instead. Or, you can add extra basil.
This tomato chicken and basil leaves recipe is an excellent dish for a healthier dinner. This light tomato and herb sauce is the perfect complement to the chicken. It's served on top of cauliflower rice to create a filling meal.
The unexpected ingredient is cauliflower rice. If you have picky children, it can be tricky getting them to eat the extra veggies.
You can swap it out with low-carb noodles or even whole wheat noodles. You'll still have a healthy dish that tastes great.
You can never have too many pasta recipes! This recipe uses tortellini and tops it with a cheesy, creamy, rich tomato sauce as you've never had before. You'll feel like you're eating at a restaurant without the bill.
Included in this recipe is a sweet or spicy sausage for protein. Alter the protein to your liking. This sauce is quite versatile, so you can include most meats.
Try it with (shredded or ground) chicken, ground beef, or even ground pork. Enjoy!
Grab your fresh basil from your garden and get to cooking! You might even need to plant some more basil with all of the yummy recipes you'll be whipping up. Try one or all of the above for an array of excellent dishes.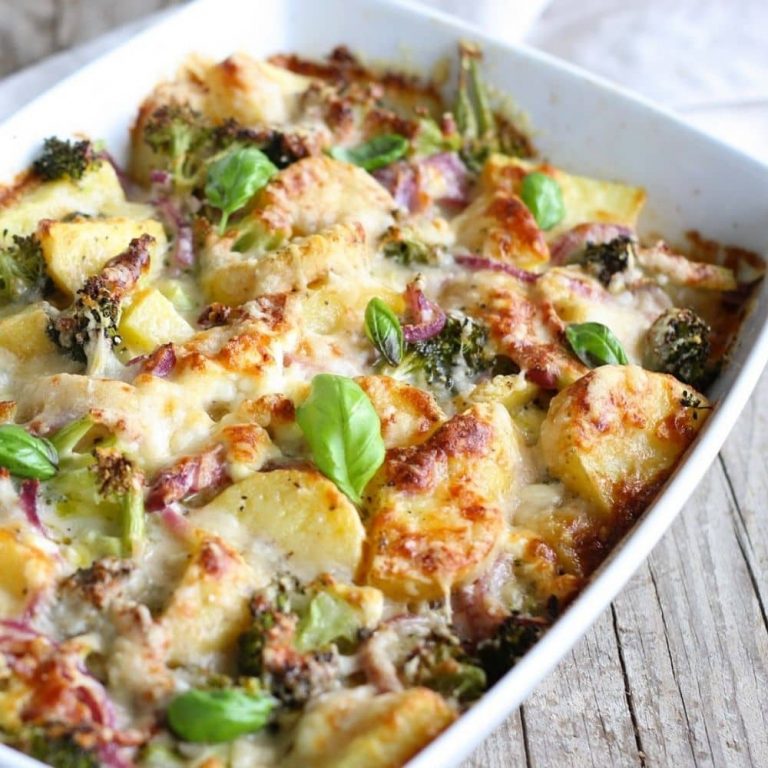 25 Best Fresh Basil Recipes
The Very Best Basil Pesto Recipe
Ingredients
4 cups fresh basil
4 ounces pine nuts
1 cup coarsely grated parmesan cheese
1 tablespoon lemon zest
3 garlic cloves
1 cup olive oil
salt and fresh ground pepper
Instructions
Toast 4 oz of pine nuts for 2-3 minutes in a skillet.
Grab a food processor and add half of the pine nuts, 3 cups of fresh basil, 2 cloves of garlic, ½ cup of cheese, and lemon zest. Process for 30 seconds; you should see finely processed ingredients.
Keep the food processor running and add in ¾ cup of olive oil, making sure to scrape the sides of the bowl down. It should form a paste.
Add in the leftover pine nuts, cheese, basil, and garlic. Pulse for a few seconds until combined.
Scrape the paste into a bowl and mix in the rest of the olive oil. Add salt/pepper to taste.
Keep the basil pesto in a container for up to five days in the fridge.