What are we having for dinner? If this question makes you wince, I'm here to help! Sometimes we get caught into making the same recipes over and over again. I'm going to show you 30 unique recipes for dinner that will make both you and your family very happy!
These different dinner ideas are easy to make, yet look very elaborate and are even fancy and gourmet-style!
Get ready to be amazed at what you can do with simple everyday ingredients and have something totally different for dinner in a matter of minutes!
Who says chicken is boring? In this recipe, tender chicken breasts are cooked in the most delightfully creamy sauce made with sun-dried tomatoes, heavy cream, parmesan cheese, and basil.
The creamy sauce is not overwhelmingly heavy. It is made with chicken broth and cream, making it just the right consistency, and the robust flavor of sun-dried tomatoes really comes through!
Burritos with a twist! These are not your everyday boring burritos. Who has time to wrap one at a time? Make burritos casserole-style and you'll cut your cooking time in half.
This ground beef burrito casserole is full of flavor and has gooey layers of cheese, refried beans, sour cream, diced tomatoes, and bell pepper. It's a flavor bomb and your family will love it.
I know most kids don't like onions, but this yummy casserole is made with French fried onions, and believe me when I say they don't taste the same as raw onions. They won't even mind having onions in their meal.
This casserole is made with ingredients you already have in your pantry like cream of chicken soup, sour cream, mayo, shredded cheddar, and a surprise ingredient: slivered almonds!
Please let me know what your family says the minute you place this amazing meal on the table. It looks like it came from a fancy restaurant and tastes even better.
Bone-in chicken thighs are browned and cooked in a scrumptious sauce made with balsamic vinegar, brown sugar, garlic, tomato, and Italian spices, all topped with slices of freshly melted mozzarella cheese!
You will have to make double the recipe of these very easy-to-make chicken chimichangas because I assure you each member of your family will want at least two.
Crispy flour tortillas are filled with a delicious mixture of cooked chicken, salsa, onions, and cheese that's both very simple and delicious.
There's nothing quite like biting into a crispy and cheesy quesadilla. Still, when that cheesy goodness is filled with chicken, onion, and pepper strips cooked with fajita seasoning, the meal becomes amazing!
These are not your everyday quesadillas, these are a complete meal and one that will go into your cool and fun dinner ideas!
If you have to feed a crowd (especially a crowd of teenage boys or men) this recipe is for you!
This hearty stew has ground beef, kielbasa, potatoes, beans, veggies, and tomatoes all cooked in a delicious southwestern style-broth.
No one will go hungry in your house if you cook this meal, and if you have any leftovers, freeze them for a rainy day!
Taco Tuesday just got a lot better with this easy slow cooker barbacoa beef recipe. Your regular chuck roast got a Mexican makeover!
The browned roast is slow-cooked with cumin, garlic powder, onion powder, paprika, and chili powder to produce the most tender barbacoa meat filling for tacos. I recommend using corn tortillas for a more authentic Mexican meal!
Borlotti beans (aka cranberry beans) are cooked in a tomato-based broth with carrots, onions, rosemary, garlic, parmesan cheese, cream, and fresh parsley to make the most delicious and hearty soup. This is one of those unique dishes to make at home!
One bowl of this soup will be enough for a satisfying meal. (ok, maybe add a slice of crusty bread to sop up all that delicious broth!)
This is my favorite go-to chicken dinner! I can't say enough great things about this recipe.
Browned chopped chicken thigh meat is bathed in the most amazing sauce made by combining oyster sauce, soy sauce, fish sauce, chicken broth, and brown sugar.
All this is infused with fresh garlic, ginger, Thai chilies, and Thai basil.
My mouth literally waters just thinking about this amazing chicken recipe!
If you know about Beef Wellington, you know it is delicious but time-consuming and hard to make. Meatloaf Wellingtons are the easy version!
Make your meatloaf meat mixture, cover it with puff pastry, and bake! The meat mixture is flavored with garlic, bbq sauce, Worcestershire sauce, oregano, and parsley, and the Wellingtons are served with an amazing red onion and mushroom gravy that is to die for!
Why make regular Philly Cheesesteak sandwiches when you can have a fun different dinner idea and cook a quicker version using ground beef? These sloppy Joes are not lacking in the flavor department and are easier to make.
They have all the good things like onions and bell peppers, but they have a secret ingredient that makes them even better: Minced mushrooms!
It doesn't get easier than this: Store-bought tomato soup and refrigerated tortellini.
The soup is glammed up with minced garlic, sun-dried tomatoes, Italian seasoning, and half and half to make it creamier and tastier.
Then, all you have to do is add the fresh tortellini, cook for a few minutes are you'll be amazed at how delicious and hearty this one-pot turns out!
Risoni, also known as orzo, is the base for this amazing tray bake. Browned chicken drumsticks are cooked with a base of onions, carrots, and garlic, then baked over orzo that has been cooked with chicken stock, cream, and whole grain mustard.
The flavors are robust and unique and this recipe is definitely one for the interesting dinner ideas list!
Looking for special dinner ideas that the whole family can love? This lemon chicken is it. It is simple enough for the kiddos, but tasty enough for the adults.
Chicken breasts are baked in a delicious marinade made with olive oil, oregano, thyme, garlic powder, white wine, lemon zest, lemon juice, and brown sugar that everyone will love!
Tonight you can make something different for dinner the easy way. Chicken drumsticks marinated in teriyaki sauce and served over fluffy rice which has been flavored with aromatic ginger, fresh green beans, and corn will delight your family!
And the best part? All you have to wash is an oven-safe skillet!
Oh my, this is my husband's version of exciting dinner ideas. He absolutely loves this beef and broccoli. The beef is fork-tender and the sauce is amazing!
I have to cook a big pot of white rice because he loves to spoon the sauce over the rice. I make this recipe whenever I want to treat him because I know he'll be happy every single time!
Fried rice is way too easy. If you are going for the uncommon dinner ideas, try making it tuna and pineapple Thai fried rice. Canned tuna is totally glammed up in this Thai version of fried rice.
Day-old rice is flavored with a delicious Thai sauce made with fish sauce, lime juice, and sugar and then mixed with egg, tuna, and veggies for an exotic twist!
Do you love chicken but want something totally different for dinner? Take a look at this spiced grilled chicken with cilantro lime butter. The spice mix for the chicken will impress you. Cinnamon, brown sugar, cocoa, and balsamic vinegar are not your usual choices, are they?
The results are amazing! And when you think it couldn't get any better, you drizzle it with cilantro lime butter…YUM!
Please, please make this delicious steak for dinner this week! Talk about unique dinner ideas! The marinade for this steak is AMAZING! It is sweet and tangy and spicy!
How does brown sugar, bourbon, whole-grain mustard, cajun seasoning, garlic, soy sauce, and fresh herbs sound? Well, it tastes even better!
15 minutes is all the time you have for making dinner? No sweat! That's exactly the time you need to make these delicious Lo Mein noodles.
You choose your veggies and your protein, and they are simply flavored with soy sauce, sesame oil, and a bit of sugar.
They are simple, but big in flavor!
I'm always looking for fun, different dinner ideas, and these spicy shrimp tacos are one of those. The garlic cilantro lime slaw is so good, I sometimes make it as a salad.
The dressing can be made with Greek yogurt if you're watching your calories, and the addition of Cotija cheese makes these spicy shrimp tacos very authentic!
I am a sucker for satay sauce. I love peanut butter in savory dishes, and the sauce for these noodles is a keeper! Who knew mixing peanut butter and oyster sauce would result in such a delicious combination?
Tender beef slices, kale, and water chestnuts are bathed in peanut sauce along with noodles and topped with sesame seeds and chopped peanuts. Simply delicious!
Want more exciting dinner ideas? This one is not only exciting but very fancy as well! Save this one for a special occasion. Perfectly seasoned and seared salmon is bathed in a finger-licking good curry sauce that you can throw together in a matter of minutes using red curry paste as a base.
Do yourself a favor and feed this to your better half. He will fall in love with you all over again!
The weather getting a bit chilly and you want to serve something hearty and delicious? Tortellini soup really just tastes better when you add spicy sausage and kale.
It becomes a very special full meal and a complete treat for the tastebuds. All you need to make this soup better is a slice of toasted bread. You will be slurping this one up in record time!
Not only is the ginger peanut chicken amazingly flavorful, but the rice is a delight in its own right. It is made with coconut milk, but the flavor of the coconut is not overwhelming, it is subtle and delicious.
When you pair both the chicken with the rice, all the flavors come together for a meal your family will not soon forget!
If you have never tried polenta, you should. Consider it another of the unique dishes to make at home. You may find it similar to grits, but the consistency is a bit different.
A spoonful of chicken cooked in marinara sauce over steaming polenta is something quite unique and comforting. Top it all with freshly grated parmesan cheese and you'll be in Italian heaven!
Speaking about Italian food, this one-pot baked gnocchi will hit the spot and quickly become a family favorite. Think about it: ground beef ragu mixed with gnocchi, and ricotta cheese all topped with fresh mozzarella and parmesan cheese and baked until gooey and melted….
Need I say more? You won't even need plates! Give everyone a spoon, place the skillet on the table, and shout: dig in!
When I came across this salad recipe, I was intrigued. It looked amazing, but would it taste as amazing as it looked? IT DID! Kale and green cabbage are the green base and the toppings…
Well, shrimp, chili-flavored peanuts, avocado, fresh green onions, and cilantro. What could be better? The dressing! White miso makes this dressing very unique. Give it a try and let me know what you think!
Unique dinner ideas entry number 30: this is not the orange chicken you're thinking of! This sauce is made with cilantro, garlic, orange juice, brown sugar, oil, and vinegar.
You will marinate the chicken with it and also use it as a sauce over it later. The chicken is served with pineapple avocado salsa and served over rice and beans! Isn't it really unique?
There you have it! 30 amazingly unique dinner ideas that will make you fall in love with cooking all over again. I bet your stomach is growling by now!
Happy cooking!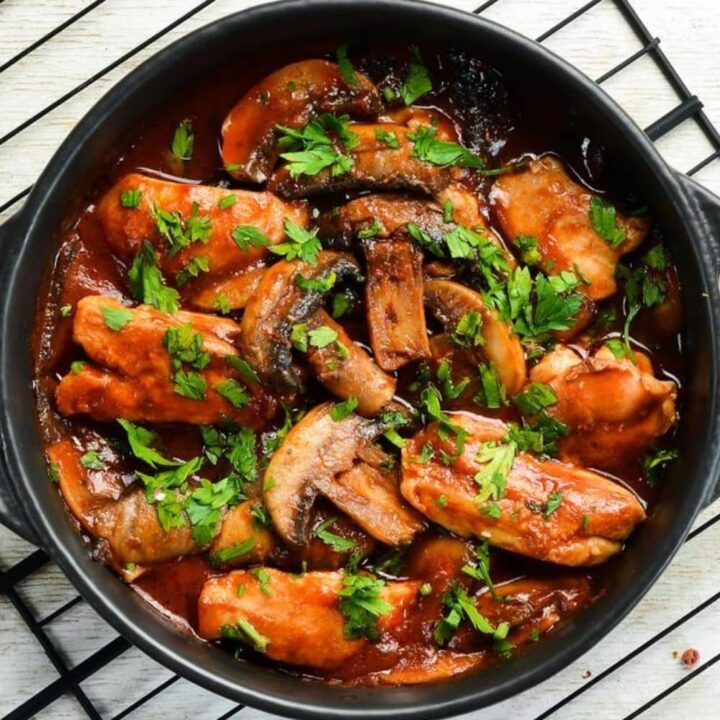 30 Unique Dinner Ideas to impress
Looking to impress? Or simply spice up your usual cooking routine? Look no further than these unique dinner ideas.
Ingredients
1 lb lean ground beef
½ cup onion, chopped
1 garlic clove, minced
½ cup green bell pepper, chopped
1 pack of taco seasoning
Salt and pepper to taste
1- 16 oz can of refried beans
1- 10 oz can Rotel diced tomatoes with green chilies
1- 10.5 oz can cream of chicken soup
½ cup sour cream
6 large corn tortillas
2 ½ cups sharp cheddar cheese, divided
Instructions
Preheat the oven to 350 F. In a medium-sized Dutch oven or large skillet, cook the ground beef with the onion, garlic, and green bell pepper until there is no pink left in the beef.
Add the can of refried beans, the diced tomatoes with green chilies, a pack of taco seasoning, salt, and pepper to taste. Cook for about 5 minutes until everything is well blended and heated through.
In a small bowl, whisk together the cream of chicken soup and sour cream. Spread half this mixture in the bottom of a 9 x 13-inch casserole dish.
Place three tortillas in one layer on top of the soup mixture. You may have to overlap them and cut one tortilla to fit the little spaces in between.
Place half of the meat mixture on top of the corn tortillas
Spoon the remaining soup mixture on top of the meat.
Sprinkle half of the shredded cheese on the soup mixture.
Repeat the tortilla and meat layers and finish with another layer of cheese. Bake for 20 minutes or until the cheese is melted and bubbly.