Looking to impress? Or simply spice up your usual cooking routine? Look no further than these unique dinner ideas. Perfect for date nights, special occasions or just treating yourself (that's allowed too!), these different dinner ideas will hit the spot.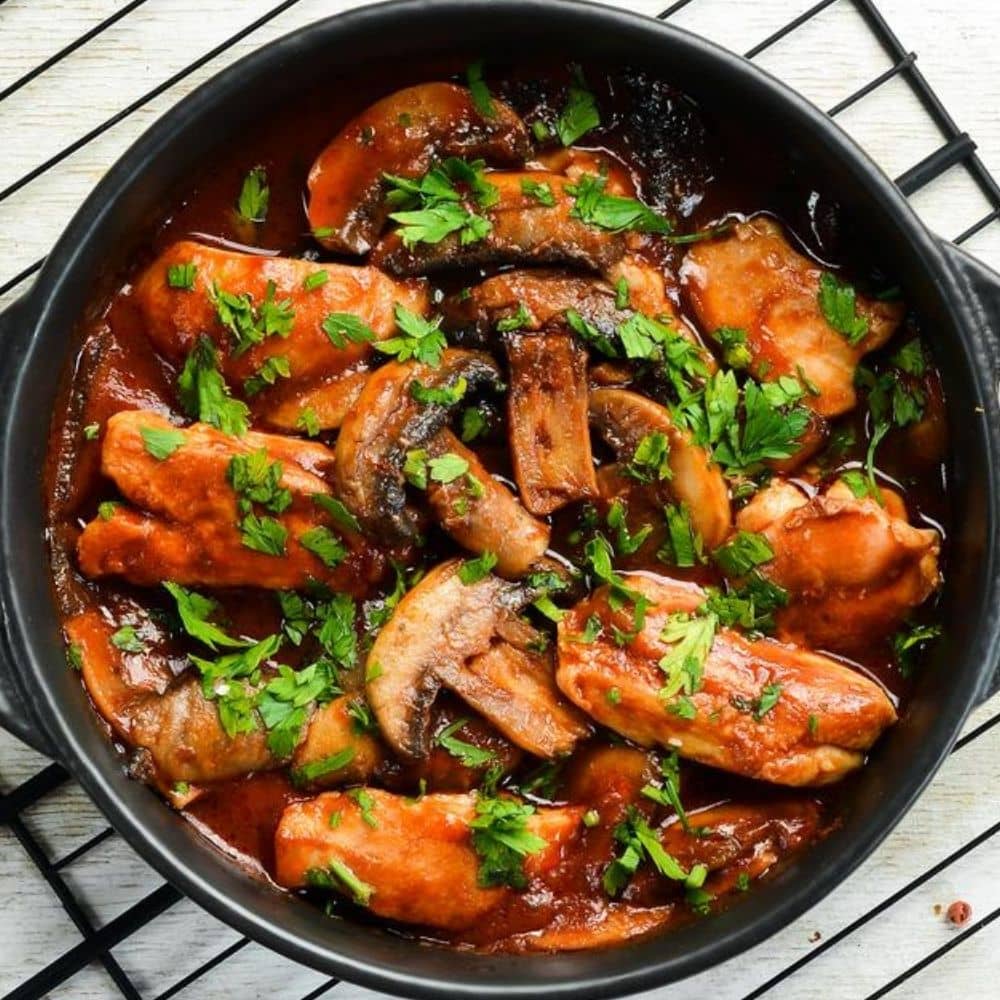 What should I make for dinner if I have no idea for dinner?
Whether you're having people over to watch the game and need a dish perfect for sharing, or just want an easy one-pot wonder to feed the family, there's something for you.
You'll also find plenty of comforting meals packed with flavor, along with options boasting super-quick preparation times which are great if you're a busy bee.
What should I cook for a special dinner?
If date night is coming up and it's your turn to cook, we've got you covered.
There are plenty of recipes here that will impress your other half and earn you some brownie points.
Look out for the 'Marry Me' chicken – appropriately named and ideal for a romantic night in.
What should I serve for a fancy dinner?
If you're expecting some important guests and want to make a great impression, you'll find plenty of options with something special to please your incoming crowd.
There really is something for everyone, and we'll bet you'll find some new fancy favorites that will become new staples in your kitchen.
Imagine what would happen if a lasagne married a burrito. Did match make in heaven? We thought so. And with this baked burrito casserole, that imagination becomes a reality.
Think delicious meaty burritos baked in the oven into cheesy casserole goodness.
You can make this recipe with flour tortillas or – for a little extra flavor and crunch – we recommend using corn tortillas.
Sure, this might be more of a taco-lasagne marriage than a burrito one, but we're here for it.
To avoid a soggy casserole, make sure your meat mixture is cooked until it's quite thick with only a little liquid.
This pizza braid is one of the simplest recipes to try and fit for any occasion.
Looking for something different for dinner? Ideal. House party? Perfect. Gameday? Yep, that too!
With only 4 easy ingredients, you'll have this gooey cheesy delight put together in 30 minutes. And if there are any leftovers (doubtful), it makes for the perfect lunchtime snack alongside a leafy green salad.
Vegetarians, to consider? Don't fret, they can try this, too! Just swap out the pepperoni for spinach, mushrooms, and peppers for a delicious veggie option.
This delightful Caprese Chicken is one of our unique meal ideas that we bet you'll keep coming back to.
Cooked perfectly in a sweet, garlic balsamic glaze with fresh basil, cherry tomatoes, and that all-important melted mozzarella, you honestly can't go wrong.
But rather than adding the tomatoes at the end, try mixing them in from the start – you'll end up with a delicious caramelized mix that you can't get enough of.
This recipe is perfect to impress your other half on a cozy night in or to get your friends talking at your next dinner party!
Tomato and basil are the ultimate pairings for any pasta dish, and this yummy edition can be thrown together in a mere 20 minutes!
The fresh flavors create a delicious meal for you and your companions, and we definitely recommend using the thin angel hair pasta for this one; its lightness really lets the flavors shine through versus a heavier spaghetti choice!
Trying out interesting dinner ideas keeps things exciting in the kitchen, and delicious food really doesn't need to be complicated.
These oven-baked Italian sandwiches are both super easy and a certain crowd pleaser, easily made in bulk for the perfect sharer at functions and parties.
For ultimate organization, get them pre-assembled so you can simply throw them in the oven when the time is right.
Cover with foil during cooking for soft-baked style sandwiches or, if you prefer a crispier sandwich, bake them uncovered.
This Frito Taco Pie recipe is one of the easy, best, ideas to please picky eaters whilst also trying something new.
With only a few ingredients including ground beef, cheese, Fritos, Mexican toppings, and Pillsbury crescent rolls, this pie is a unique, fun way to make tacos that will please the whole family.
The crescent dough crust gives the dish an amazing, unexpected flavor and the best part about this easy recipe is that you really customize it to your taste.
Add any of your favorite traditional taco ingredients from refried beans to jalapenos for extra flavor and spice!
You might not think of making a lasagna-themed soup, but this is one of those unique food recipes that will surprise you.
Perfect made either on the stovetop or in the slow cooker, this hearty soup is perfect for a cozy night in. And the best part? It's only a fraction of the work of lasagna itself!
Let the soup simmer and reduce for as long as you like and make sure you add plenty of cheese to really bring the recipe together. Mozzarella and parmesan are two firm faves!
Stuff yourself with this unique take on two Italian favorites because why make spaghetti with a side of garlic bread, when you can eat both in one bite?!
We bet you never thought you'd be eating spaghetti on the go, but this cool combo is easy to pack and eat anywhere, with no cutlery necessary!
Be generous with the cheese so that it covers the top like a blanket, and use angel hair pasta instead of spaghetti if you're looking for a lighter filling.
Who doesn't love a bit of tex-mex?! These chicken fajita quesadillas are like a sandwich, except WAY better.
Loaded with onions, peppers, chicken, cheese, and heaps of tex-mix flavors, these tortilla goodies need to be on your list of new recipes to try. And who'd have guessed they could be ready in only 30 minutes?!
Eat your fajita quesadillas as a meal on their own, or pair them up with a black bean corn and avocado salad!
This easy Salisbury steak is a firm family favorite. Tender beef patties slow-cooked with mushrooms, onions, and a rich brown gravy make for the perfect comfort food.
Pop it in the slow cooker before you head out and come home to a delicious, ready-cooked meal.
We recommend searing the patties before cooking as this can help them hold their shape without falling apart!
Serve over mashed potatoes, rice, or pasta et voila! A great, unique family dinner idea.
You might know chimichangas as being deep-fried, but this recipe offers up a quick and healthier way to serve up this yummy dish.
Baked tortillas filled with chicken, salsa, spices, onions, and cheese are always going to be good, but you can add and take away ingredients to suit your preferences and create your perfect mouthful!
Garnish with extra cheese and serve with Picante sauce for an ideal dinner option.
These little rolls of heaven are going to be your new favorite. Mouthfuls of crunchy taquito, chicken, cream cheese, spinach, and salsa (who's drooling?) make for great appetizers or even as their very own main dish.
To keep your tasty taquitos rolled as they're frying, use metal tongs to hold them in the oil with the tortilla's seam side down until they stay rolled. You can also use toothpicks before frying to keep them in place.
Looking for dinner ideas for tonight? This one-pot wonder is the perfect choice for an easy, hearty stew that'll have you coming back for seconds AND thirds.
Cowboy Stew combines three types of tender meat with beans and veggies, all nice and tidy in one pot for an easy cleanup.
You don't need fancy ingredients to feed a delicious meal to family or friends, and this wholesome recipe uses some convenient canned items you might already have in your pantry!
A casserole is just such a great dinner option – throw all the ingredients together, pop it in the oven, and get left with a delicious concoction that's perfect for both nights in on the sofa and entertaining.
This French onion chicken casserole is no exception, with only 10 minutes prep time of creamy chicken, celery, and cheese topped with crispy onions!
If you fancy making it a little more healthy, add some veggies like broccoli, zucchini, or carrots and use a low-fat mayo and sour cream.
You could also lose the mayo altogether, substituting some or all of it with greek yogurt for a slightly less guilty pleasure.
When you're looking for exciting dinner ideas, you might not necessarily think "oh yes – soup!". But we promise this one's a gooden.
Chicken and mushrooms are a total match made in heaven and this soup adds veggies, cream, and garlic to the pair for a totally comforting and delicious meal.
If you're looking for a meat-free option, this soup is just as good without the chicken and, if you want to be even thicker and creamier, sneak in a dollop of cream cheese. You won't regret it!
Yep, this 'Marry Me Chicken' is the perfect option for date night.
Your other half will be WELL impressed when you present them with this juicy, creamy deliciousness, and we wouldn't be surprised if it gets added to the regular meal rotation.
The extra special ingredient in this dish is the sun-dried tomatoes, adding an amazing unique taste to the chicken and they go great with heavy cream and chicken broth.
Serve this dish with whatever you and your partner like best as rice, pasta, and potatoes all work alongside some veg and crispy bread.
This slow cooker Barbacoa is bound to become a quick household favorite.
If the sound of tender beef simmering all day long with Mexican spices doesn't get you excited, imagine it on a corn tortilla with fresh avocado, pico de gallo, and a squeeze of lime. Yep, we thought that might make you hungry!
This is the perfect sharing recipe and ideal for parties as you can have it cooking in the slow cooker all day, ready to bring out when your guests arrive.
This easy, comforting goulash is a great way to feed a crowd or perfect to curl up around on a chilly evening.
Filled with hearty ingredients including beef, tomatoes, vegetables, and elbow macaroni, this one-pot dish is filled with zesty flavors and perfect alongside some cornbread.
Add some carrots or peppers to add some sweetness to the zesty sauce, and stir in some Worcestershire sauce and chili flakes for some extra kick. You also can't go wrong with sprinkling a bit of cheese over the top!
So, which of these unique dinner recipes will you try first? With simple ingredients, quick preparation time, and full of flavor, these delightful dishes will hit the spot whether you're entertaining or simply treating yourself at home.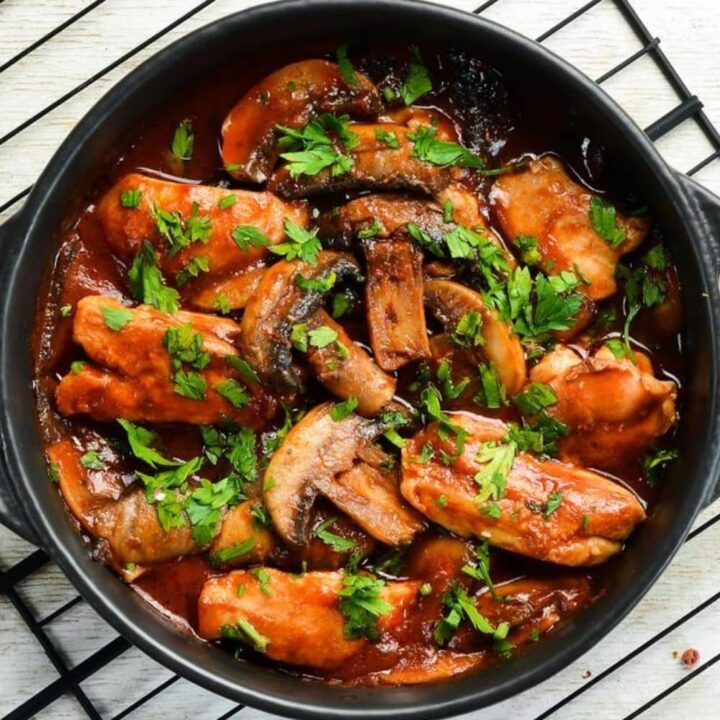 18 Unique Dinner Ideas to impress
Ingredients
1 lb lean ground beef
½ cup onion, chopped
1 garlic clove, minced
½ cup green bell pepper, chopped
1 pack taco seasoning
Salt and pepper to taste
1- 16 oz can refried beans
1- 10 oz can rotel diced tomatoes with green chilies
1- 10.5 oz can cream of chicken soup
½ cup sour cream
6 large corn tortillas
2 ½ cups sharp cheddar cheese,divided
Instructions
Preheat the oven to 350 F. In a medium-sized dutch oven or large skillet, cook the ground beef with the onion, garlic, and green bell pepper until there is no pink left in the beef.
Add the can of refried beans, the diced tomatoes with green chilies, a pack of taco seasoning, salt, and pepper to taste. Cook for about 5 minutes until everything is well blended and heated through.
In a small bowl, whisk together the cream of mushroom soup and sour cream. Spread half this mixture in the bottom of a 9 x 13-inch casserole dish.
Place three tortillas in one layer on top of the soup mixture. You may have to overlap them and cut one tortilla to fit the little spaces in between.
Place half of the meat mixture on top of the corn tortillas
Spoon the remaining soup mixture on top of the meat.
Sprinkle half of the shredded cheese on the soup mixture.
Repeat tortilla and meat layers and finish with another layer of cheese. Bake for 20 minutes or until the cheese is melted and bubbly.