Are you looking to incorporate more plant-based proteins into your rotation? Well, this list of lentil recipes is for you! I love lentils because not only are they highly nutritious, but also very tasty.
Lentils are great to both add to your normal diet, or if you're transitioning to a vegetarian or vegan lifestyle, a perfect replacement for animal proteins.
They are high in protein, fiber, thiamine, vitamin B6, iron, potassium, and magnesium, all while low fat and low calorie.
They have an amazing flavor: nutty and earthy while also being creamy in texture. They can pair with a whole range of tastes and are highly versatile.
In this list, you'll find various recipes, all of which are packed with flavor and nutrient-dense ingredients. Keep scrolling to find some lentil recipes to add to your dinner rotation!
When I first hear lentils, my mind goes typically to curry, as it is one of my top healthy lentil recipes. It is filled with antioxidants like turmeric and ginger, and the flavor is superb.
I love to make this on a fall day and let the scent of curry fill my entire home. It's lovely!
This recipe is also inherently balanced with fat from the coconut milk and protein from the lentils, serve this over rice, and there's your starch.
Sometimes I like to sneak in more vegetables like squash or carrots for added nutrients.
I love this take on lentil soup, it is flavored with tomatoes that give it a great acidic punch, and it is filled with nutrient-rich vegetables like spinach, carrots, and onion.
The best part of this recipe is how quickly it comes together; in just 10 minutes of preparation time, you can have this going on the stove.
I love to freeze a few containers of this soup for nights. I need a quick meal,l, and this thaws and reheats fast.
Who knew a vegetarian Bolognese could be this delicious? Bolognese is a tomato-based sauce usually filled with beef, pork, and veal or some combination of those.
This Bolognese uses lentils as the protein making it one of my favorite lentil dishes.
It still uses a mirepoix (carrot, celery, and onion) to boost flavor and includes mushrooms to help add some more meaty flavor.
Serve this over a big bowl of your favorite al dente pasta, and you won't be disappointed!
Another lentil soup here, but this one has an entirely different twist! Cumin, coriander, and lemon are the primary flavors here, and they make for a very fresh-tasting soup.
Even though this soup is brothy, the lentils themselves add a wonderful creaminess.
What makes this soup so special is all the fresh herbs, primarily dill and parsley.
Feel free to add whatever other herbs you have on hand; it adds a freshness to this soup you can't get with dried herbs.
This is a great recipe to make when you want to prepare lunches throughout the week.
It combines beautifully seasoned lentils with a fresh and filling salad wrapped up into a warm pita or tortilla.
Don't skip the fresh mint and parsley. It adds a lot of flavors to this wrap! The cucumber and tomato are crunchy, and it's all dressed in delicious olive oil and salt.
You can swap out the asparagus for whatever leafy green you like, and sometimes I want to add a squeeze of whole grain mustard.
Easy lentil recipes are a staple if you are transitioning to a more plant-based way of eating, and this instant pot lentil soup is the perfect addition to your roundup.
You can substitute green lentils for pink or yellow lentils if that's what you have available.
This soup proves that you can have a vegetarian soup that is warm, comforting, and homey.
I love to serve this soup with a thick piece of sourdough toast and freshly grated parmesan on top. It's scrumptious!
Shepherd's pie always reminds me of visiting family in the Midwest. It's that typical meat and 'taters meal you come to expect in that cold part of the country.
This version swaps ground beef for creamy lentils but still uses the same flavors and veggies, so it hardly feels different.
The potatoes on top are so creamy and delicious, and the filling is warm and hearty with carrots, celery, peas, mushrooms, and herbs like rosemary that bring the savory.
This lentil salad is your go-to if you have a meal you need to make in advance! It's fresh-tasting with cucumbers, bell pepper, and celery.
The surprise flavors come in with the golden raisins and sliced almonds, adding sweetness and a satisfying crunch.
I love the dressing for this salad, and I recommend making a large batch and saving it for other uses.
If you don't like arugula, serve this over spinach, chopped romaine, or mixed spring greens.
One of my favorite meals to make and eat is a hot, delicious stew poured over creamy mashed potatoes.
There's something about it that takes me back to being at home with my parents.
This stew is meaty, tasting without the meat, thanks to the mix of cremini and shiitake mushrooms and the soy sauce.
The lentils are cooked down, so they still hold their shape but are tender and creamy. This stew will make you fall in love with lentils!
Barbeque is one of my favorite flavors. It's sweet, smokey, and salty, the perfect combination of flavors. Brown rice and lentils are formed into meatballs and then sauteed in your favorite barbeque sauce for a delicious meal.
I like to serve this with French fries or mashed potatoes or even on a hoagie bun as a sandwich.
Worcestershire sauce adds a great zing to the flavor profile, and mushrooms add the perfect texture.
This is a great recipe to make next time you have a gathering. Stick each "meat" ball with a toothpick, and you have the perfect appetizer!
I've found that on nights when I'm rushing to get dinner on the table, curry is an easy and quick option that's healthy and packed with flavor.
You can substitute any vegetable you have on hand here, and it will still result in a fabulous curry.
If you don't like spicy food, switch the hot curry powder for a mild curry powder. I also want to stir in some leafy greens like chard or spinach for added nutrients and fiber.
=
Dahl is my favorite dish to order from an Indian restaurant. It's magical to scoop up a hot spoonful of dahl and eat it with some garlic naan and long grain rice.
So, if you can get your hands on some naan to serve with this dish, do it!
The spice mixture makes this recipe stand out, so I don't recommend skipping any of the spices listed.
This meal is low in vegetables, so if you want to add some, try roasting some eggplant, squash, or green beans to serve on the side.
If you want to start leaning into plant-based or vegetarian eating, recipes with lentils are going to be your savior as they are high in protein, iron, and a great meat substitute.
Thanks to the tomatoes, kidney beans, and cheddar cheese, this lentil casserole is a take on a southwestern casserole.
I love to eat this with tortilla chips to dip or a warm flour tortilla. This casserole is cheesy and delicious.
If you like some spice, try adding in some chile powder and cayenne. To add some extra vegetable action, I want to mix in some frozen corn.
This recipe is for anyone who eats gluten-free! The starches in the lentils serve as the gluten replacement for the bread and give it structure and texture.
The lentils also add a bit of flavor that makes this slightly different from a normal flatbread.
These also have a lot of protein-packed in versus a normal flatbread which is great for satiating meals!
If you include meat in your diet, you can stuff these with hummus and a big salad, roasted veggies, or even meat!
I love chili. It's one of my favorite meals any time of the year! This vegan chili uses black beans and split red lentils as the base and is amped up by chili powder, cumin, and chipotle in adobo.
I love to top this with a scoop of sour cream, cheddar cheese, pickled jalapenos, and some Fritos or crushed-up tortilla chips.
If you want some extra vegetables, you can add some corn, squash, or bell pepper. This recipe is hearty and warm, and it's an amazing addition to your dinner rotation.
Looking for the best lentil recipes? Look no farther!
These lentil tacos are a great vegetarian taco option, and I love to make these for people who aren't used to vegetarian eating because they are filled with flavor and prove you don't need pork or beef to make a good taco.
I love this spice mix, and I like to make a large batch and use it in other places around my kitchen. Serve these tacos with your regular favorite taco toppings, and you'll have a great taco night!
I know some people don't like a meatloaf, but I love meatloaf! Served with a side of mashed potatoes and roasted green beans, sign me up! Lentils and beyond meat make up the "meat" in this meatloaf.
Using your favorite barbeque sauce over the top as a glaze adds that sweet and savory flavor you look for in a good meatloaf.
The best part of a plant-based meatloaf is you add some extra vegetables in like mushrooms.
I also like to add some chopped carrots and celery. You won't miss the meat in this meatless loaf!
This recipe isn't vegetarian, but you can make it vegetarian by swapping the smoked sausage with your favorite vegan sausage alternative.
This soup is simple to throw together and filled with a smoky flavor that pairs with the lentils perfectly.
It may seem so simple it wouldn't have much flavor, but don't let the short ingredient list fool you!
The sausage in this recipe adds a ton of flavor, and the combination of celery, carrot, onion, and garlic gives the soup a hearty feel.
Sloppy joes used to be one of my favorite meals when I was little! I loved that sweet, meaty filling piled high on a hamburger bun with oven-baked French fries on the side.
These sloppy lentil joes are just as satisfying. The best part? This recipe includes a slaw to add to the sandwich for a crunchy texture and some vegetables for added nutrient density.
This is a great recipe for kids to get them used to eat lentils because nobody can turn down a sloppy joe!
If you're a vegan or vegetarian and are concerned about your protein consumption, give this soup a try!
I like to make a big batch and keep it in the fridge to eat as my lunch throughout the week for a protein-packed midday meal.
You can eat this with a warm flatbread or tortilla if you want to bulk it up a bit. This soup is delicious, but it's also a great addition to your week for a nutritious kick!
Moroccan spices are some of the best blends to incorporate into your meals for a fun new twist!
Sweet paprika, cumin, coriander, ginger, and cumin make up the bulk of this spice blend, and it marries perfectly with the lentils and creamy eggplant.
The lentils are cooked down in a tomato-based sauce and then stuffed into eggplants and topped with breadcrumbs and parmesan for crunch and saltiness.
Make this next time you're looking for a different flavor profile to spice up your dinnertime!
Fritters are a great appetizer or snack food to make for your next party! T
hey are different than your normal party food options, and people will be surprised but pleased after they take a bit of these delicious lentils and potato cakes.
They are dipped into a mayonnaise dip flavored with tomato paste, sriracha, garlic, and smokey paprika.
The fritters have a perfectly crisp outer texture, but the inside stays moist and creamy. This is sure to please your guests!
This lentil curry is sure to make you feel comforted. This is one of the best lentil soup recipes for its nutritious flavors!
It's high in fiber thanks to the lentils and garbanzo beans, and it has antioxidants in the same ingredients that bring the delicious flavor like curry powder, cinnamon, and ginger.
If you don't like cilantro, try topping with fresh parsley instead. You can also sneak some additional vegetables in here like peas, carrots, or celery.
This Moroccan spiced soup was a huge hit with my family! What makes this dish so special is the tahini dressing you drizzle over the top.
It adds a creaminess and nutty flavor that rounds out the entire dish perfectly.
What adds that smoky spiciness is the harissa paste, which I think is an ingredient everyone should have around in their kitchen.
You should be able to find it in your grocery store. The combination of warm and hot spices with veggies and tomatoes is the perfect backdrop for the creamy lentils and chickpeas. This makes a magical meal!
This lentil soup has fewer ingredients than the others, making it even quicker to throw together.
Thanks to the pantry staples and the lack of any special spices, this is also an affordable recipe.
While it has few ingredients, it still packs a lot of flavors thanks to fresh lemon juice, cumin, garlic, and red lentils.
This is perfect as a side soup or even a full meal with an additional flatbread. I like to make this on nights. I want something light and easy to prepare!
I love creative ideas to get more plant-based protein into my meals that mimic a meat dish without the meat!
These lentil meatballs are just that. The lentils and oats have a healthy serving of fiber, and they are great with a tomato sauce over zucchini pasta or whole wheat noodles.
As presented, these are not vegan, but you can substitute the egg with egg replacement powder or a flax egg.
These are a fun take on a "meat" ball and a great option to make for kids!
This is one of my favorite recipes to make on a cold winter weekend when I want a warm lunch that will fill me up.
There's something about these cold days that make me want potatoes. They are hearty and filling, creamy, and my type of comfort food.
This lentil soup includes potatoes to add some bulk and some creaminess. I love to use a mix of lentils in this soup for color and variety.
Pro-tip: you can make this more like a chowder if you pull out a cup of the soup, including the lentils and potatoes, blend them until smooth, and then add them back to the soup.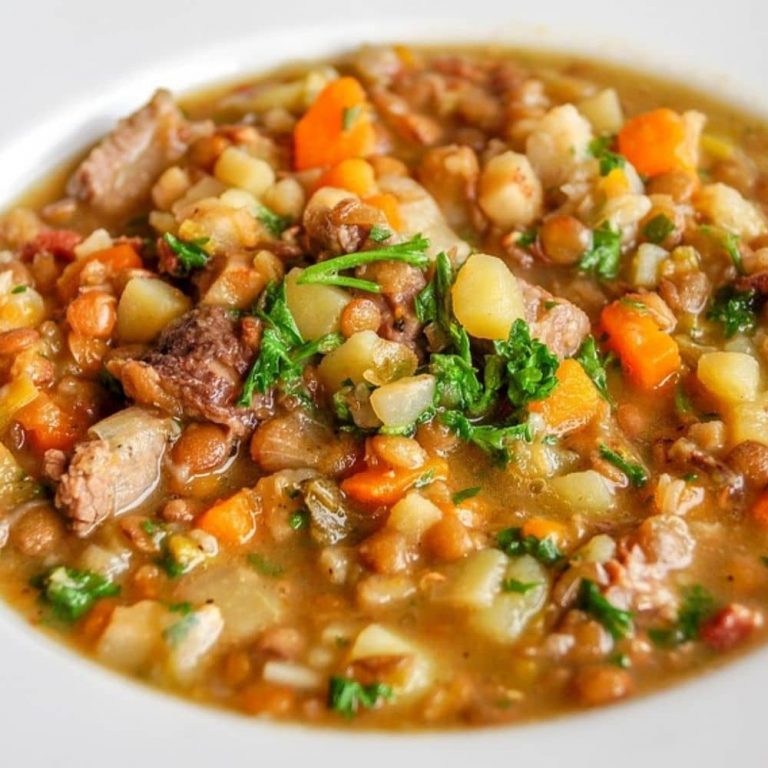 27 Best Lentil Recipes You'll Love
Ingredients
1 onion, chopped
1 carrot, peeled and chopped
2 stalks celery, chopped
3 cloves garlic, minced
1 1/2 cup. green lentils
1 (14.5-ounce.) can diced tomatoes
2 teaspoon. fresh thyme
1 teaspoon. Italian seasoning
Kosher salt
Freshly ground black pepper
4 cup. low-sodium chicken or vegetable broth
4 cup. baby spinach
Freshly grated Parmesan, for serving
Instructions
To your clean Instant Pot insert, combine chopped onion, carrot, celery, garlic, lentil, tomatoes, thyme, Italian seasoning, salt, and pepper. Pour all the broth into the pot and stir until it is thoroughly combined.
Set your Instant Pot to high on the manual setting and set the timer for 18 minutes. Once it is finished, use the quick release on the valve to let the soup vent quickly. Remove the lid and stir in the spinach. Stir until spinach is wilted down.
Top with parmesan and serve!