Convenient, delicious, nutritious, and affordable, it's no wonder that shrimp is one of the most popular proteins on the dinner menu here in the US. Frozen or fresh, this humble pink crustacean is for everyone, whether you're a seasoned and confident cook or you're apprehensive about cooking with shellfish.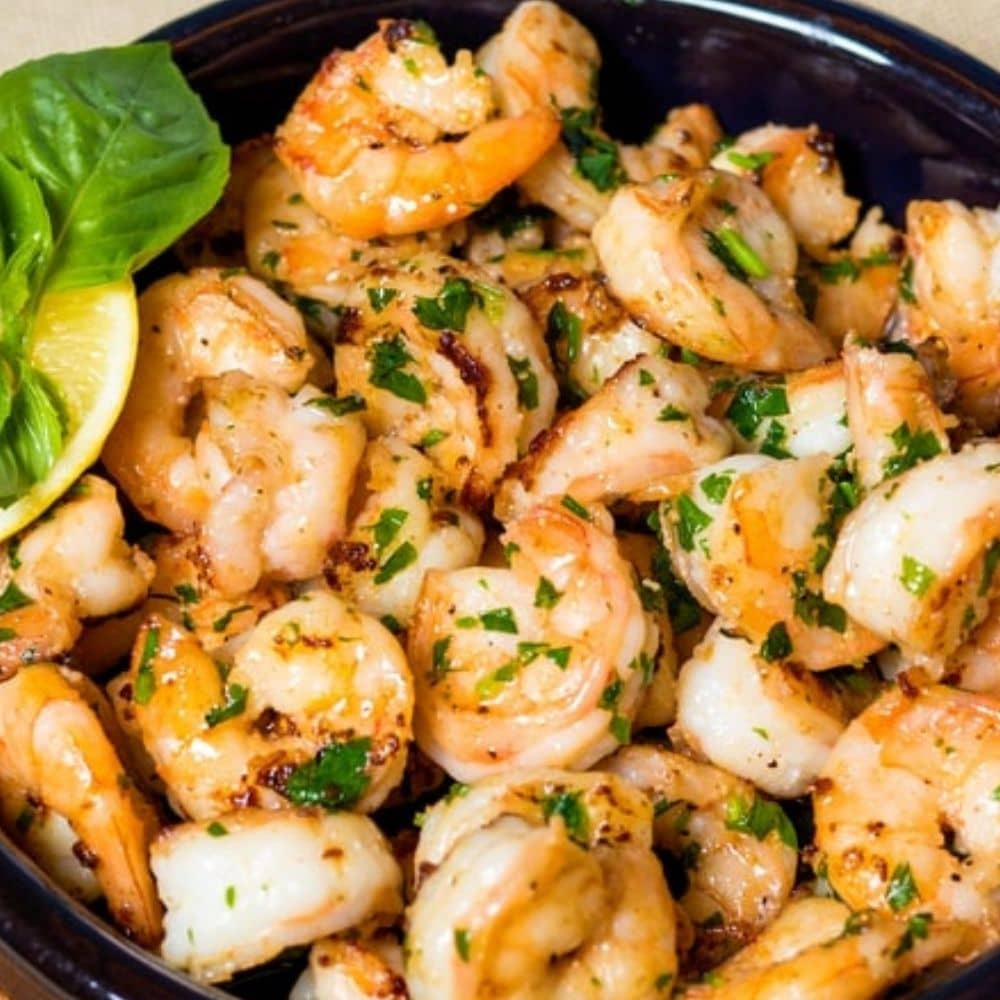 We've compiled the best shrimp offerings from the internet, including tacos, Hawaiian shrimp, to Cajun shrimp and seafood casseroles.
So, the next time you fancy shrimp or find a bag lying around in your freezer and don't know what to do with it besides a shrimp cocktail (no disrespect intended – we LOVE a shrimp cocktail!), here are 37 shrimp dinner ideas.
Is there anything a creamy bowl of pasta can't fix?
Ok, it might not be able to fix very much besides hunger, but a rich and comforting bowl of pasta can lull you into a sense of peace and happiness that very few other dishes can.
Sun-dried tomatoes and basil help intensify the savory notes here, and while the dish is flavorsome, the shrimp is still the star of the show.
The buttery pasta here comes in the form of angel hair pasta, which works so well with a shrimp-based dish as it cooks just as quickly as the shrimp.
The addition of lemon juice and zest helps to cut through the richness of the butter sauce and makes for a light and fresh-tasting dish while still being hearty and filling.
If you're unfamiliar, etouffee is a Southern dish that originates in New Orleans!
The heavily seasoned shrimp are covered in a creamy sauce flavored with Cajun seasoning, garlic, bay leaves, and the secret ingredient – Worcestershire sauce.
The dish is freshened up with freshly chopped scallions and parsley but be sure to add these right at the very end to retain their flavor and color.
This quick and easy shrimp and vegetable skillet is one of our favorite shrimp dishes for weeknight dinners, as it comes together in under 30 minutes.
Loaded with zucchini, bell peppers, and squash, it's packed with nutrition and makes for a great healthy meal option that doesn't compromise flavor.
Serve with brown rice or noodles to make the finished dish more filling!
This easy-to-make scampi is a perfect example of how easy it can be to recreate your favorite restaurant dishes at home.
It takes just 15 minutes to cook, and as it's baked in the oven, no additional preparation with deep fryers is required.
Serve with pasta dressed in olive oil, lemon, and fresh parsley or on their own as an appetizer.
How would you serve this scampi?
Flavored with sun-dried tomatoes, basil, Italian seasoning, and garlic, this creamy sauce is packed with flavor and is a great 'maximum flavor in minutes' kind of dish.
Any shrimps will work well but try opting for the medium to large-sized shrimps if possible.
Wondering what to serve with this creamy Tuscan shrimp dish?
Tossed into pasta, creamy mashed potatoes, or rice would all work well!
This is the perfect recipe for bridging the gap between summer and fall as the vibrancy of the basil pesto feels light and summery while the mushrooms provide that earthiness that we start to enjoy as we approach the colder months.
You can use any pasta shape you have a particular preference for here, but spiral pasta works well as it does a great job of allowing the sauce to nestle its way into the grooves of the pasta.
If you're fancying takeout but don't have the energy or budget to visit your favorite local, try making this.
Flavored with Chinese aromatics such as ginger, garlic scallion, along with the oyster sauce and sesame oil, this transforms leftover rice into something truly delicious.
Leftover, cold rice is best used for stir-frying here as it retains its shape and bites better than freshly cooked rice.
Shrimp broils don't have to be hard work!
They're often seen as intimidating and something that requires a lot of precision and skill, so this easy and one-pan broil tears down all of those misconceptions and instead offers an easy-to-throw-together midweek meal with shrimp.
The potatoes and corn require no parboiling and the only effort you need to put in is the patience needed for the 40-minute cooking time!
The shrimp is, of course, the star ingredient here, but really, we come back to this recipe time and time again for the slaw and cilantro lime sauce.
Crunchy, vibrant, and zingy, this slaw gives so much texture and freshness, while the cilantro lime sauce helps cool things down.
You could switch things up here and add in slices of mango, jalapenos, or toasted corn for a truly adaptable dish that you can enjoy with whatever fresh produce you have to hand.
For when you've had a busy day and want a comforting meal that you can whip up in a matter of minutes, this recipe is pure magic.
In the 10 minutes it takes for your shrimp to cook in the garlic-infused creamy sauce, you can cook some pasta or noodles to serve with it.
Top with freshly chopped parsley and a squeeze of lemon juice for ultimate yum.
This Southern twist on a classic lasagna is fresh, delicious, and much less labor-intensive than the traditional Italian recipe!
The shrimp are cooked in a creamy bechamel sauce flavored with cheese and andouille sausage and then encased in rolls of lasagna sheets before being baked under a liberal amount of grated pepper Jack cheese.
Tip: To prevent the bottom of the roll-ups from sticking to the pan and the foil on the top of the dish from the pepper Jack cheese, spray with a bit of oil.
There are so many variations of bang bang sauce, but this one is a standout.
And rather handily too, it is simple to make and minimal in ingredients.
Thai sweet chili sauce gives sweet spiciness, and the garlic and lime make this sauce so flavorsome and mean that you get heat, sweetness, sourness, and saltiness.
This recipe calls for fresh parsley, but fresh cilantro would work just as well!
This is essentially an alfredo pasta dish with added shrimp and mushrooms for a hit of umami goodness.
The blend of parmesan and mozzarella is key here as the parmesan offers that strong, salty hit while the mozzarella balances the strength of the parmesan out so as not to overwhelm the flavor of the shrimp.
Plus, the goo from the mozzarella is super satisfying! Who doesn't love a cheese pull?
This one-pot wonder flavored with Cajun seasoning is a great way of bringing summer into your Fall kitchen with fresh shrimp and parsley.
You could, of course, use a store-bought Cajun spice blend for ease, but this recipe includes details for creating your blend of spices like paprika, cayenne, onion, and garlic powder oregano.
It's well worth going to the extra effort!
If you need a dish, you can whip it up in less than 20 minutes. A stir fry is one of the best options.
It's a quick and easy way to a balanced plate with protein from the shrimp, heaps of veggies, and either rice or noodles for your filling carbs.
You can switch out the veggies for whatever you have to hand, but broccoli and peppers work particularly well for their crunch.
Heavy on the garlic front, these shrimp are reminiscent of Hawaiian shrimp trucks' food.
And when we say this recipe is heavy on the garlic, we weren't joking. The recipe calls for 18 – yes, 18 cloves of garlic.
Combined with lots of butter, parsley, and paprika, this is a full-of-flavor dish that can be served with anything from a salad to pineapple fried rice.
As an appetizer or main meal, when served with a side such as pasta, rice, or even just a hunk of crusty bread, this shrimp scampi is easy but impressive in flavor.
Bathed in a zesty, garlicky sauce, the shrimp are tender and fully infused with the butter sauce.
White wine is a key ingredient here, and while you don't need to go all out, we would recommend using one that you would drink with the meal, too.
We all love a lazy dish around these parts, don't you?
The shrimp are baked in the oven in a garlic butter sauce, meaning that no effort is required from you!
The recommended cooking times ensure that the shrimp stay plump and tender without overcooking and becoming rubbery.
Serve with herby rice or couscous for one of the lightest and freshest shrimp recipes for dinner.
Alfredo is one of the best, most comforting pasta sauces in the world.
Alfredo is perfect just on its own, but the heavily-seasoned shrimp adds even more delicious savory flavor.
Use the plumpest shrimp you can find – teeny salad prawns are not an option here!
Contrary to popular belief, ceviche is not 'raw' fish but is instead fish or seafood that has been cured in lemon or lime juice which magically cooks the fish.
The acidic marinade here is refreshing, tangy, and sharp and so pairs well with the addition of avocado, which helps to mellow this shrimp recipe out with its creaminess and mild flavor.
Serve with crackers for scooping the ceviche up!
Ready in 30 minutes, this medley of shrimp and broccoli tossed in a sauce made with garlic, ginger, honey, soy sauce, and chili flakes is a richly flavored but light dinner option.
As with all stir-fries, the vegetables are interchangeable here, and you can add your favorite veggies that have a good amount of texture and crunch when cooked!
Serve with rice or noodles tossed in a teaspoon of sesame oil.
A dish that takes just 20 minutes to put together for a speedy weeknight meal? Sign us up!
Blackened shrimp doesn't sound all that appealing if you've never had it before, but 'blackening' is just a Cajun cooking method where the spices that coat the protein or vegetables are cooked at a high heat so that they blacken.
How to serve these shrimp? Try serving them in tacos or lettuce wraps!
This dish is a celebration of Southern-style cooking with the heavily seasoned sauce and the smoky flavor of the smoked Andouille sausage.
Be sure to cook the shrimp and the sauce in the same pan that you brown the sausage in to retain all of the flavors from the fat.
You can easily omit the sausage if you don't eat meat or are serving pescatarians, and it will be just as delicious.
Pasta dishes low in fat can be hard to come by, making this healthy and light pasta dish all the more refreshing.
The most important thing with this dish is to avoid overcooking the pasta, spinach, or roma tomatoes to keep everything fresh and vibrant.
Try switching the spinach out for asparagus and adding lots of freshly squeezed lemon juice to the finished dish for more texture.
Sauteed with lots of red pepper flakes, pesto, and garlic, this is one of the best shrimp recipes for proving that cooking with shrimp doesn't have to be complicated to be delicious.
You could serve this with anything you choose, but creamy polenta, pasta, or rice would all work well.
What would you serve with this for a quick and easy weeknight dinner?
Cauliflower rice doesn't have to be boring! If you're cutting back on carbs or following a keto diet, this recipe is great because it's satiating and doesn't compromise flavor.
The herby, garlicky sauce also helps to flavor the cauliflower rice, so you don't have to worry about laboriously making your way through a heap of bland rice vegetables.
The cauliflower can be swapped out for broccoli here if you'd prefer.
We don't know about you, but a one-pan sheet meal is music to ears on weeknights when we can't face a mound of washing up.
With shrimp broil being famous for its heavy seasoning, it can seem not very comforting to re-create that favorite Cajun spice blend.
Luckily for us, Old Bay seasoning is used here as a cheat way to recreate the classic broil flavor without the effort or many spices and flavorings required for blending our own.
Simple and easy but full of flavor, this casserole is bursting with the taste of the sea, and while the cream, butter, and cheese give this a decadent feel of a restaurant dish, it's really easy to pull together (if a little unhealthy!)
Haddock is used with the shrimp here, but you could use any seafood or fish of your choosing for recreating this recipe, AKA one of our favorite shrimp meals.
Scallops work great too. Serve with rice pilaf or scalloped potatoes.
This is a dish that will have everyone around the dinner table requesting seconds every time.
And, luckily for you, it takes just 20 minutes to cook.
Frozen shrimp are baked with herbs, garlic, and butter flavored with parmesan and chili flakes and left to sit in their juices.
You can serve these with anything you like! Fries, vegetable casseroles, or freshly made garlic bread would all work well.
This quick and easy version of the classic alfredo sauce works as a treat for when you suddenly crave the rich, creamy sauce but want to spend a minimal amount of time in the kitchen.
Served on its own, this is delicious but if you want to add some color and a vegetable element, try serving this with roasted lemon, garlic, and parmesan asparagus to make one of the best meals with shrimp that both adults and kids will love.
This dish is like a vacation on a plate!
Crunchy and sweet from the coconut flake and bread crumb coating, the shrimp are juicy and tender and pair beautifully with the apricot and sweet chili dipping sauce.
It's made with just two ingredients, and while fruit and seafood sound like an odd combination, the sweetness balances out the spiciness of the sauce and compliments the sweetness of the coconut.
For a crunchy coating that is less sweet than the coconut above shrimp, this alternative is super crunchy and super delicious.
Blended with a touch of honey to balance out the bitterness of the walnuts, the coating looks deceptively like a typical breadcrumb coating but is far more decadent tasting.
Serve in lettuce cups or with rice.
This is a perfect example of a recipe that looks sophisticated and impressive but is quick and easy to make.
You'll need just a handful of ingredients to make this dish and if you need inspiration for something light to serve alongside this, try spaghetti squash, cauliflower rice, or zucchini noodles to balance out the richness of the sauce.
To champion what must be the most popular and widely used kitchen appliance in our kitchens these days, we're always looking to add to our air fryer recipe arsenal.
Spicy, smoky, and slightly sweet, these shrimp are delicious eaten straight from the air fryer basket, but why not try adding these to Cajun po'boys along with lettuce leaves and lots of freshly squeezed lemon juice?
This is a great option if you're fancying the deep, smoky flavors of a shrimp broil but don't have access to an oven.
Whether you're camping, cooking in the great outdoors, or out on the barbeque, these easy foil packets are not only an easy way of cooking shrimp broil but also help to keep the shrimp and corn from drying out as they steam in their juices.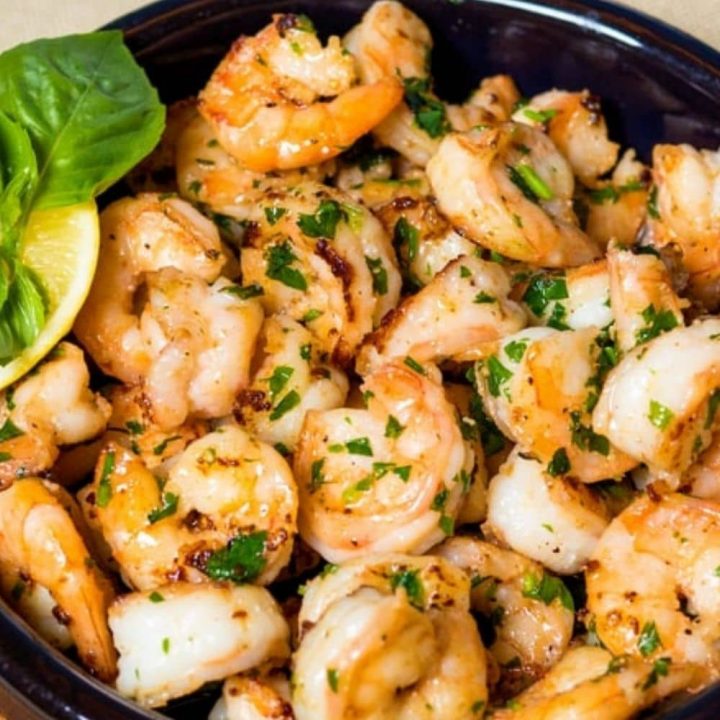 36 Best Shrimp Recipes
Ingredients
2 tablespoons. butter, divided
1 tablespoon. extra-virgin olive oil
1 lb. medium shrimp, peeled and deveined
1 lemon, thinly sliced, plus juice of 1 lemon
3 cloves garlic, minced
1 teaspoon. crushed red pepper flakes
Kosher salt
2 tablespoons. dry white wine (or water)
Freshly chopped parsley, for garnish
Instructions
Melt your butter along with the oil over medium heat in a large skillet.
Once melted and frothing slightly, add in the shrimp, lemon slices, minced garlic, and chili flakes.
Season with salt to taste and cook until the shrimp turns pink (this should take around 3 minutes).
Remove from the heat before adding in the remaining butter, white wine, and lemon juice.
Season with salt once more to taste and sprinkle over the fresh parsley before serving immediately.