If you're like me, you love to experiment with brie cheese recipes to find the best way to enjoy the ooey-gooey soft cheese! But not all brie recipes are created equal, in fact, recipes with brie cheese sometimes call for nothing but brie cheese and crackers.
This is, of course, a wonderfully simple way to enjoy cheese but it can leave you wanting something more.
So when you're wondering what to do with brie, look no further than the curated recipes here!
I know I just said that baking your brie and enjoying it with crackers or some choice bread can be a bit bland, but some simple additions to this recipe make it a dream to devour.
You'll want a crispy slice of bread for some crunch that will hold together when you go to dip it into the brie.
The thyme is mostly for decoration, but the honey complements the creamy nature of the cheese in a heavenly marriage of tastes.
There is no greater pleasure than the mellow, softness of brie with the delicate flakes of puff pastry, right? This is a twist for those with sweet tooth and cheese lovers alike.
Raspberry jam makes a unique filling that introduces a classic fruit and cheese combination I just can't get enough of.
If the jam and sugar weren't sweet enough for you, some maple syrup drizzled over the top holds the brown sugar in place.
If you don't have puff pastry, pre-made crescent rolls make an excellent substitution.
A sweet and savory recipe light enough for all to enjoy at a party, the pecans and maple syrup remind me of the fall season.
Serve with all sorts of crackers, bread, and slices of fruit like apples to make the most of this melty morsel.
More than just appealing to the eye, the rosemary infuses its fragrance into the maple syrup and the rest of the dish when poured over the wheel of brie for a fantastically fresh feeling.
A classic home comfort meal that has so many charming variations it's hard to choose a favorite sometimes!
I've seen mac and cheese recipes with cheddar, Monterey Jack, or mozzarella but never brie until now!
There is a lot of dairy in this so fair warning to the lactose-intolerant out there.
Thankfully the dijon mustard that goes into this recipe helps to cut how heavy all of the cheese and butter can get. Get funky with your pasta and swap out the elbow macaroni for whatever pasta your family likes best!
If I asked you to think about brie cheese, you would probably imagine baked brie. Right?
That's because it is the most common way to serve a wheel of brie, but what if I told you that you can toss that same cheese on a grill to get a sensational smoky flavor without forking out extra money for a fancy smoked brie?
That's exactly what this grilled cheese is (pardon the pun!)! Not only is it prepared in an unconventional way, the grilled peaches that decorate the top just explode with juicy flavor for the whole cheese.
Spaghetti is another brie cheese recipe dinner I wouldn't normally think of having with brie, but when it comes to cheese I'm always ready to try something new!
This brie cheese recipe is so simple, you're almost just taking your boiled pasta and dunking it into a giant wheel of brie. Yum!
My family likes to mix things up a little and add more than the suggested amount of red pepper flakes because we love that if we can't take the heat, the creamy brie will help soothe our torched taste buds.
Back to brie's baked roots, this brie cheese appetizer is fancy enough for a restaurant-quality meal yet somehow still casual enough for a weekday family dinner.
I'm not saying that you should make a whole meal out of an appetizer, but you definitely could with this recipe!
The apricot preserves used to make a brie sandwich are light and just sugary enough for the perfect sweet and savory blend.
Go for broke on the cheese by replacing the apricot preserves with a soft herb cheese spread to prove your love for cheese!
Bite-sized finger food always goes down well at wild parties just as well as it does at refined get-togethers, and these little mouthfuls of brie are sure to be a hit!
A small muffin baking tray will help your bites keep their shape until they can hold their own as golden brown delights.
Four distinct flavor profiles mean that you're bound to find one version you can just gobble up!
I'm biased towards the garlic butter herb flavor myself, the garlic is so aromatic and adds another dimension of creamy when cooked just right.
"Brie and broccoli" certainly rolls off the tongue, but that's the last thing you want to happen when you're eating this brunchtime meal!
Thick and hearty, this quiche can even satisfy your meat-eater family and friends while still being proudly vegetarian!
A tablespoon of chives boosts the dish with its freshness and provides an additional pop of color along with the green of the broccoli.
Nine eggs along with the brie make the quiche full of protein that even carnivores will crave.
Because many people usually just bake their brie, you might think to yourself something along the lines of "what to make with brie?"
Well, brie isn't usually associated with Mexican cuisine, but this quesadilla will convince you otherwise.
Easy to serve and eat makes this quesadilla a favorite for the kids.
The grapes have a burst of juice and flavor that makes each bite a surprising delight.
If you have trouble getting your kids to eat this meal you can forego the grapes but it's their loss.
Chicken and brie are both mellow ingredients that have complementary flavors. In my opinion, what this dish needs is some pasta or rice to soak up some of the sauce.
Oregano, parsley, thyme, and garlic all go into some great seasonings for the dish but the lemon is what makes the dish great with its acidity.
Leaving in some of the lemon rinds adds a pop of color and appeal to break up the beige color of the chicken and cheese when serving.
Whether you need an all-year-round breakfast idea or a great holiday appetizer for family dinners, this classic combination of baked brie and toast is bound to please any palate.
If you're having turkey as the main course, the cranberries will complement the meal even more!
The Pink Himalayan salt adds some healthy minerals necessary for your health and helps to bring out the sweetness of the honey and cranberry sauce without changing any of the appealing colors in the dish.
"What can I use Brie cheese for?", I hear you ask. This creative way to incorporate the classic combination of brie and bread without it being just that is perfect for you!
The breadcrumb crusting is buttery and crunchy against the creamy, smooth brie deeper into the dish.
Brussels sprouts and bacon are the clear stars of the show and for good reason.
The flavor of the Brussels sprouts depends mostly on how you cook them, in this case, boiling it can make the Brussels sprouts have a sweet flavor which balances the salty, smoky flavor of the bacon.
Is 2.2 pounds of brie cheese enough cheese? I sure think so!
This is a huge helping of cheese that can serve a whole gathering of people but can be easily downsized if need be without any changes to the baking time.
The cranberry-pear mostarda provides another flavor that can break up the delicious mellowness of all that brie.
It's subtle, but my family especially loves the pear flavor of the mostarda when we're spending time together at the end of the day.
There is nothing more pleasurable and simple than a baked wheel of brie with a light coating of honey on top.
Each time you break into the brie with your cracker or toasted baguette, you get just a little note of the honey.
There isn't much to this recipe, which makes it quick and easy for a snack, but your choice of honey is what matters.
Local floral varieties can have lovely flavors that generic store-bought versions sold across the country are devoid of.
Standing out from the crowd of baked brie recipes can be difficult but this particular recipe has no problem doing just that.
For those on a tight budget, this is a great option from the shortlist of leftover brie cheese recipes to enjoy a little bit of a fancier snack.
By crosshatching the top of the brie with a sharp knife, the cinnamon brown sugar seeps into the cheese which just makes me say "mmm-mmmm"!
Enjoying the cheese with a green apple brings tartness into the fold of creamy mellow and sugary sweet for your enjoyment!
Elegance does not necessarily mean that you have to have some overly complex dish made with the finest ingredients imported from all over the world.
This simple brie, when baked with some honey and a fruit spread of your choice, will fill your house with mouth-watering aromas until you can barely wait to let the cheese cool down from the oven.
The almonds are a bit crunchy on the cheese and you can choose to save money by chopping your whole almonds or saving time by buying slivered almonds from the store.
A nice summer's afternoon is best shared with family and friends, gathered around a smorgasbord of plates with fresh fruit and cheese.
When it comes to recipes using brie cheese, we like to enjoy the cheese with flavorful whole-wheat crackers.
You might not know it from looking at pictures of this dish, but apple juice is used to add more flavor and binds the mixture of blackberries and peaches together.
If you find that the mixture is too sweet for your taste, opt to use less brown sugar instead of reducing or substituting the apple juice.
There aren't many simple brie cheese recipes that don't involve baking the brie down with some sort of condiment or topping.
This recipe can turn heads because the brie is not baked or cooked at all for this salad.
This salad is a breath of fresh air, and the main reason for that is the ginger included in the dressing used to top the greens, cheese, and apples.
The spicy nature of the ginger is almost effervescent and is complemented by green onions.
Baking a brie in a cast iron pan is one of the greatest joys that you can experience as a cheese fanatic like myself.
The hardest part is waiting for the pan to cool down enough so you don't burn yourself while getting your dip on!
The artichoke hearts' mild nutty flavor plays exceptionally well with the brie, both are even similar textures. Even so, the spinach is what I like best in this dish.
Its texture when cooked down and the slightly bitter taste gives me something new to taste from spot to spot on the brie.
Traditionally very British in origin, these scones are perfect for breakfast or tea time wherever you are!
I prefer to eat these without any additional butter at the table, but you could lightly toast and butter them if you want.
The secret in this recipe is no secret at all because the name of the recipe says it loud and clear – the brie is what makes these scones unique!
When you think about it, brie is just another form of dairy that can be worked into any appropriate pastry!
Pizza, pizza, pizza! There are so many ways to customize and enjoy pizza that brie had to make the cut somewhere!
You probably won't be able to spread the brie evenly across the entire base but that's okay, it leaves space for the other toppings!
King Arthur flour is well-known in the baking industry for its superior quality flour and mixes.
The flavor and consistency of the pizza crust are reminiscent of pizza's authentic Italian roots for the pizza connoisseurs in your family.
Don't let the name of this recipe fool you! This is most definitely a Caprese sandwich in a clever brie disguise!
It's hard to pinpoint which of the five simple ingredients is best in this sandwich but if I had to choose, the ciabatta bread would be what makes this sandwich special.
A perfectly crisp crust with a moist, soft inner crumb is hard to replace with almost any other type of bread and leaves enough room for the other ingredients' flavor to shine through.
Sadly, baked brie cheese recipes are not the best thing to be eating on a low-fat diet.
That being said, this example of a baked brie uses comparatively less fat than some other brie cheese recipes because it uses phyllo dough, similar to puff pastry but with less fat.
Even though phyllo dough is the low-fat star here, a melted butter wash is used to seal the pastry in place.
I would use an egg wash to achieve a similar result but with less fat, if you are concerned about how much fat is in this single recipe.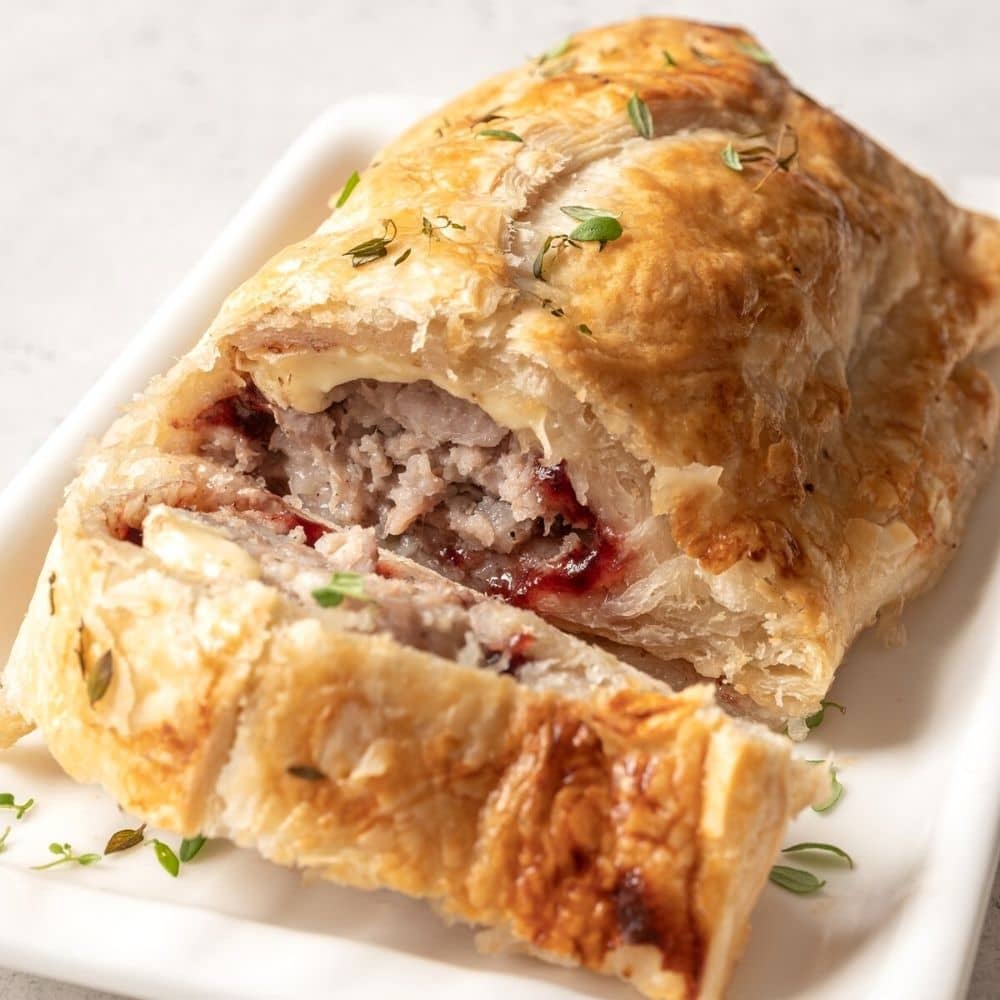 24 Best Brie Cheese Recipes
Ingredients
1 round (13.2 oz) Brie cheese
1/2 c crumbled blue cheese
1 sheet frozen puff pastry, thawed
1/4 c apricot jam
1/2 c slivered almonds, toasted
1 large egg, lightly beaten
Assorted crackers
Instructions
Preheat your oven to 400 degrees Fahrenheit.
Cut your brie in half horizontally, sprinkling blue cheese in the middle before recombining the two halves.
Lightly flour a clean, flat surface before rolling out puff pastry into a 14-inch square. Trim the square's corners to obtain a more circular shape.
Spoon your jam of choice (apricot is our favorite) into the center before adding slivered almonds. Place the brie wheel on top.
Using an egg wash, lightly brush and fold the pastry's edge, pinching to seal. Excess puff pastry can be trimmed if desired.
Place the puff pastry encased brie onto an ungreased baking sheet with all of the pinched edges facedown.
Brush the remaining egg wash over the entire pastry.
Bake for 20-25 minutes or until golden brown, serve with crackers after allowing to cool and stand for 45 minutes.