Chocolate cheesecake is a perfect combination of Oreo cookie crust and delicious chocolate cream cheese filling. Everyone loves chocolate and cheesecakes, but what about chocolate cheesecake? This is one of the most popular desserts in the world. Really, a slice of chocolate cheesecake can be found in almost any country.
Chocolate Cheesecake Recipe
If you are looking for chocolate cheesecake recipes, this one is worthy of your attention. It is quite simple to prepare, and the result is incredibly tasty.
This is my favorite homemade, Easy, Best chocolate cheesecake with a delicate, smooth texture and rich chocolate taste. Add more flavor by topping the cheesecake with Oreo cookies, whipped cream, chocolate chips, or mini marshmallows. Enjoy!
How Long Do I Have To Chill Chocolate Cheesecake?
I recommend to chill this chocolate cheesecake for at least 4 hours before serving or chill it overnight.
Freeze Chocolate Cheesecake:
Chocolate cheesecake freezes well. Wrap leftover slices in a freezer-safe plastic wrap, then wrap with aluminum foil. Place wrapped cheesecake slices in an airtight container or freezer-safe bag. Store in the freezer for up to a month.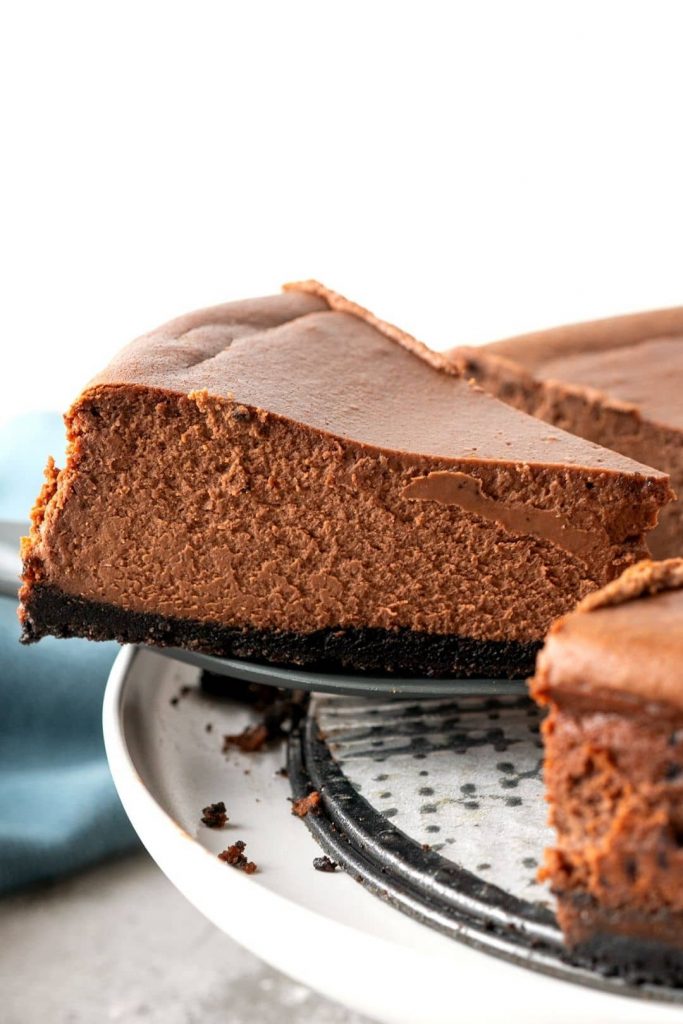 How to Store Chocolate Cheesecake
Store this chocolate cheesecake in the refrigerator for up to 5 days. Store covered with plastic wrap or placed in an airtight container.
Chocolate Cheesecake Recipe
Total Time:
1 hour
20 minutes
Chocolate cheesecake is a perfect combination of Oreo cookie crust and delicious chocolate cream cheese filling
Ingredients
For the crust:
- 24 Oreo cookies;
- 4 tbsp unsalted butter, melted.
For the chocolate cream cheese filling:
- 2 cups chocolate chips;
- ½ cup milk;
- 24 oz cream cheese, room temperature;
- 1 cup granulated sugar;
- 3 tbsp all-purpose flour;
- 1 ½ tsp vanilla extract;
- pinch of salt;
- 4 large eggs, room temperature.
Instructions
Preheat the oven to 375F.
In a food processor, pulse Oreo sandwich cookies until crumbled. The mixture should be sandy. Then, pour in melted butter and pulse until combined well
Grease a 9-inches springform pan with non-stick cooking spray or butter. Transfer crumbs mixture into it and presses it firmly to the bottom of the prepared pan using the back of a spoon or the back of a measuring cup.
Bake in the preheated oven for 12-15 minutes. Then, let the crust cool while preparing the filling. Reduce the heat to 350F.
In a small saucepan, mix together chocolate chips and milk over low heat. Heat until melted, stirring constantly. Set aside.
Combine the cream cheese, flour, sugar, vanilla extract, and salt in a large mixing bowl using an electric mixer at a low speed. Beat until combined and smooth.
Add 4 eggs, one at a time. Beat after each addition until combined.
Pour in melted chocolate mixture. Beat on a low speed until smooth and completely mixed.
9.Pour the chocolate cream cheese filling into the crust. Spread evenly. Bake in the preheated to 350F oven for 40-50 minutes. The cheesecake should jiggle in the middle when done and the toothpick inserted closer to the edges should come out clean. Turn off the oven.
Leave the cheesecake in the oven for 1 hour. Keep the oven door ajar. Then, transfer to the counter and let the cheesecake cool to room temperature. Refrigerate before serving.
Slice and serve with whipped cream.