It's the most wonderful time of the year…to drink holiday cocktails of course! Spice up your holiday season with some refreshing, easy-to-make cocktails! Whether you're hosting a small get-together at home with friends and family or a small shindig with your co-workers, these Christmas cocktails have a little something for everyone.
Whether you're a fan of vodka or prefer to spice up your glass of eggnog with something a bit more daring, these 31-holiday cocktail recipes are just what the man in the big red suit ordered!
Elevate your holiday hosting game with these delightful Christmas drinks. But first, before we get started, let's answer some of the most commonly asked questions about these spirits that are sure to the sleigh. Ho, ho, ho!
What is the most popular drink at Christmas?
When it comes to the most popular Christmas drinks, eggnog ranks incredibly high on the list. In fact, it's the most popular festive drink in 27 states across the U.S.
Some people may prefer to spike their eggnog with bourbon or rum and Cognac. Top it off with some powdered cinnamon or a cinnamon stick and it's like Christmas in a cup.
What is the most popular Christmas drink in America?
According to national surveys, hot chocolate is the most popular Christmas drink in America. Whether it's served traditionally, iced, or spiked, it's a fan favorite that continues to delight year and year.
What is the most popular holiday cocktail?
In terms of cocktails, some of the most popular include hot buttered rum and apple cider mimosas.
These are festive spins on traditional cocktails and they just scream winter. Another popular holiday cocktail is spiked hot chocolate. Like eggnog, many choose to spike their hot chocolate with rum.
However, in recent years, people have started adding red wine to it. Either way, it's a great take on a tried and true Christmas classic.
What do you drink on Christmas Eve?
The night before Christmas is usually spent with family, opening up early gifts and enjoying a relaxing dinner. As such, many people enjoy mulled wine, since it's filled with holiday spices. Plus, they're easy to make.
Sure, margaritas are typically thought of being a drink best served during the summer, but why should those months get all the fun?
The secret ingredient in this unique spin on a classic margarita is the orange liqueur, as it has a lot of citrus flavors that pairs well with the bitter taste of the cranberry juice.
Best of all, orange liqueur can either be sweet or bitter, so you have a range of customization not always available with other drinks. If you don't have orange liqueur, however, go ahead and swap it out with some Triple sec.
This is another fun, tropical recipe that will make you feel like you're on an island instead of somewhere with a foot of snow. The secret ingredient is the cinnamon stick.
While a small player in this drink recipe, it's what helps turn the basic tropical mai tai into something suitable for the festive, holiday season.
The recipe also calls for rum, but you can swap it out for tequila if necessary. You can also swap it out for a non-alcoholic alternative such as spiced cane. If you're looking for fun Christmas drinks, this one is hard to beat.
As mentioned earlier, mulled wine is a great holiday cocktail to serve your guests on a relaxing, intimate Christmas Eve spent at home.
Dry red wine is the secret ingredient since it provides a base for all the other flavours to blossom. Mulled wine usually calls for an orange, but you can swap them out for apples.
Keep in mind that since apples have a fuller flavour, you'll have to add twice as many to your mulled wine recipe as you would oranges. Just thinking about this festive holiday cocktail gets me in the cosy, Christmas spirit!
Do you make gingerbread houses with your family every Christmas? While the kids make the gingerbread houses, you can go ahead and make these awesome gingerbread martini cocktails for you and your significant other.
When it comes to this delicious cocktail, the secret ingredient may surprise you. It's half and half! This just gives the drink a little creaminess. If you don't have half and half, swap it out for either milk or heavy cream. Dare I recommend you also dunk your gingerbread house into your martini?
I'm dreaming of a white…Christmas margarita! Alright, so that's not exactly how the song goes, but here's my official petition to change the lyrics! The secret ingredient is a can of unsweetened coconut milk. This not only makes everything sweet, but it makes the margarita a little thicker and creamier.
The recipe also calls for Silver tequila, but you can swap it out for Mezcal for a stronger, bolder flavor. Or, you could use white rum instead. This unique cocktail is by far one of our favorite Christmas cocktail recipes.
This was my mother's favorite cocktail recipe and once you try it, I'm sure it'll be yours, too. While vodka is surely the star of the show, the secret ingredient is actually coffee liqueur.
This liqueur mimics the flavors of a traditional cup of fresh coffee. It's not overly sweet and in fact, it's just the right amount to make it stand out from all the other flavors involved in this specialty cocktail.
Ground nutmeg is traditionally used for garnish, but we recommend cinnamon if you need a quick substitution.
Are you hosting a big get-together for Christmas this year? If so, chances are you don't want to spend more time behind the bar mixing cocktails than you would mingling with your favorite guests.
As such, making one big, giant bowl of Christmas punch is the answer! Believe it or not, the secret ingredient in this classic Christmas punch recipe is ginger ale.
This sometimes overlooked soda has notes of citrus and can be incredibly sweet. When paired with cranberry juice and brandy, it creates an interesting, refreshing flavor that will have everyone requesting another glass.
This cocktail adds a little bit of class to your next holiday get-together. Made with fresh cranberries and a bottle of champagne, this delicious cocktail is sure to delight.
However, the real star of the show is a cup of orange or whipped cream vodka. Not only does this add a unique flavor to the Christmas-inspired punch, but it gives you the ability to customize how your punch tastes.
If you prefer, go ahead and swap the orange or whipped cream vodkas with vanilla or citrus. Likewise, swap out the regular soda for diet versions if you need to.
Nothing represents the Christmas season more than a tasty candy cane. So, if you're looking for a cocktail inspired by your favorite holiday candy, look no further than this recipe for a candy cane cocktail.
As one of our favorite holiday cocktail recipes, this flavorful drink only requires a handful of ingredients. However, the secret ingredient is strawberry vodka.
If you don't have strawberry vodka, you can always swap it out for another flavor such as raspberry or watermelon. Remember, candy canes can be any flavor so get crazy!
Christmas dinners are great, but what about a Christmas brunch? And nothing pairs better with brunch than an ice-cold, refreshing glass of sangria. Chock full of fruity flavors, the secret ingredient is a dollop of honey.
This adds a different level of sweetness and is completely unexpected! If you don't have red wine, you can always go ahead and swap it out with white wine instead.
Pair it with some delicious over-easy eggs or stuffed french toast and it'll be your go-to brunch meal every Christmas morning moving forward.

Earlier we mentioned that hot chocolate is one of the most popular Christmas drinks, but this one takes the cake. Since it's made with Rumchata, this unique holiday cocktail has notes of vanilla and cinnamon. That's what makes it the secret ingredient!
However, if you don't have Rumchata or prefer not to use alcohol, you could add a splash of Irish Cream coffee creamer and a cinnamon stick to create a similar flavor yourself. It's perfect for a cozy night in watching your favorite holiday film.
Blizzards are common during the winter season, but this is the kind of blizzard you don't have to worry about! The secret ingredient in this simple cocktail recipe is unsweetened cranberry juice.
Why unsweetened you ask? Because it helps combat the flavors of bourbon. Of course, you can swap it out for sweetened cranberry juice if you want. You could also swap out the required lemon juice for a little bit of orange zest or lime juice. This is one recipe that allows for creativity!
When you're entertaining guests over the holiday season, you may not always want to incorporate alcohol. This is especially true if this is a work-related event.
Fortunately, this recipe can be used as a basis for an alcoholic punch or served non-alcoholic, with alcohol set to the side. The secret ingredient is pomegranate juice.
If you choose to incorporate alcohol in the punch itself, you can substitute white rum with vodka. If you're looking for the best Christmas cocktails to serve at your next party, try this one that everyone will love.
This is one mean cocktail — and you don't have to have your heart grow three sizes to enjoy it! The secret ingredient in this fun and the unique cocktail is blue curacao, which helps create the famous Grinch Green color.
Of course, if you don't have this, you can serve it as is just without the grinchy hue. If you don't have rum as this recipe calls for, go ahead and swap it out with either brandy or bourbon to get a similar flavor.
Grapefruit is incredibly refreshing. Even though it can be a bit sour, the 7Up soda really cuts through, so it's easier to consume. That's why it ranks as this cocktail's secret ingredient.
If you don't have 7Up, you can swap it out for another lemon-lime soda of your choosing. Or, if you want to use this recipe as a basis for something else, why not swap the grapefruit juice out for some orange juice instead? Serve with ice and enjoy.
Are you looking for something sweet and festive to serve this holiday season? We highly recommend a cranberry Moscow mule. Moscow mules are already a pretty popular cocktail, but the addition of cranberry really takes it to the next level.
Ginger beer, which is a non-alcoholic beverage filled with intense spicy flavors is the secret ingredient. The recipe recommends using dark rum, but if you don't have any, you can swap it out with some vodka instead.
If you're looking for Christmas mixed drinks you can get creative with, try swapping out regular vodka for something flavored.
A hot toddy is just what Santa ordered! And you don't have to be on the nice list to enjoy it this holiday season.
There's something about warm cocktails that feel ultra festive, so a lot of that has to do with the secret ingredient: honey! Of course, the honey adds a little dollop of sweetness to the hot toddy, but it's an ingredient that shouldn't be overlooked.
If you don't have honey, you could use one of these honey sticks or a spoonful of maple syrup. This is one Christmas cocktail that makes you want to curl up with a good book.
Apple cider and Moscow mules are two of the most popular cocktails that exist over the fall-winter season.
So what better way than to combine them for a unique cocktail that's truly stupendous! Thinly sliced apples are the secret ingredient, but you can swap them out for some apple juice if you want.
Or, if you want, you can swap them out with some fresh pears. This will change the flavor a little bit, but not enough to completely transform the cocktail. The best part about this cocktail? How refreshing it is!
This refreshingly blue cocktail won't make your nose run, but it will make your taste buds sizzle. In a world where taking photos of your drinks are commonplace, there's nothing quite as Instagrammable as these!
The secret ingredient is blue curacao since it transforms the cocktail blue. It also calls for lemonade, but you could swap it out with some lime juice as an alternative, or white wine. This is one drink everyone at your next holiday gathering will surely love!
If there's ever been a drink that is more definitive of the holiday season than any other, jingle juice has to be it. This drink is guaranteed to jingle your bells this holiday season.
The secret ingredient for this cheerful cocktail is cran-apple juice, which gives this beverage its distinct flavor.
If you need to replace anything, try swapping the vodka out for gin. It shouldn't change the overall flavor too much and it has the same effect on the beverage overall.
For this beverage, a traditional gin sour is infused with a smattering of holiday flavors to make it an excellent choice of drink for this Christmas season. The secret ingredient here is the rosemary maple syrup. This adds the sweetness of maple syrup while infusing the distinct taste of rosemary into this drink.
If you want to change things up, try swapping out the egg for vinegar. It'll give the drink a little bit more of an acidic taste but still have the same effect on the overall recipe.
This next beverage is enjoyable whether you're a muggle or a wizard. Harry Potter fans can get festive this holiday season with this delicious boozy butterbeer punch. The secret ingredient here is melted butter. This melted butter not only defines the flavor of this drink but also gives it part of its namesake.
If you need a substitution, we recommend changing out seltzer for club soda, since they can be used pretty interchangeably as is. Do we recommend this magical beverage? As Professor Snape would say, "Always."
He's making a list. He's checking it twice. He's going to find out who's doing Jell-O shots tonight! The secret ingredient for these is the strawberries and whipped cream. As simple as they may be, these ingredients help create Kris Kringle's signature hat, making for a festive beverage.
If you need to change things up, try swapping vodka for your favorite liquor of choice. These tasty, booze-filled Jell-O shots will ensure a Merry Christmas to all, and to all a good night.
Looking to add some tropical flavor to your Christmas? Try these mistletoe margaritas on for size. The secret ingredient for these delicious drinks? The granulated sugar. It adds the sweetness to this beverage that gives it that holiday flare.
If you need to substitute anything in this recipe, try swapping the triple sec with any kind of orange liqueur. You might not be able to kiss someone under this mistletoe but it's a taste you'll appreciate on your lips nonetheless.
This next drink is a holiday take on the traditional gin and tonic. A perfect drink for the holidays. The secret ingredient for this one is the pomegranate juice.
It changes the traditional gin and tonic into a festive beverage that's the perfect drink for Christmas this year. If you're looking to change things up, we recommend swapping out the lime juice for lemon. While it's a change in flavor, it's nothing so major that it changes the overall cocktail.
This isn't the kind of milk we recommend dipping your cookies into. That being said, this beverage is a great way to complement a dessert. The secret ingredient for this one is sugar. It's subtle but adds just the right amount of extra sweetness to your cocktail.
If you're looking for a substitution, you can swap either the brandy or the dark rum with bourbon. While this probably affects the taste slightly, it shouldn't change the drink too much.
This next recipe takes your classic hot cocoa and turns it up a notch by turning it into our next cocktail. The secret ingredient for this drink is marshmallows.
Even though the marshmallows are just a topping, they add that timeless feeling of adding marshmallows to a nice cup of hot cocoa while you're trying to warm up in the winter.
If you're in a pinch, you can substitute heavy cream for half and half. While your beverage won't be as thick, it still keeps the recipe intact.
Mixing warm apple cider with caramel and turning it into a hot toddy makes for one of our favorite Christmas cocktails on this list. The secret ingredient for this one is caramel vodka.
This blends with the apple cider flavor to add an extra level of sweetness to this drink.
If you need to change things up, try adding a bit of bourbon to the mix. It cuts down on the sweetness a bit but if you're looking for a little more kick to your cocktail, this is the perfect way to do it.
This is a Christmas take on a classic drink. It takes your traditional Manhattan and infuses it with flavors you think of when you think of the Christmas season.
Your secret ingredient for this is a special Christmas syrup that introduces the flavors of cinnamon, clove, orange, and allspice to the drink to give it that holiday taste.
If you want something a little different for it, try garnishing this drink with an orange twist and cinnamon stick to bring out those flavors just a little bit more.
Who doesn't love the taste of peppermint around the holidays? It just seems to go with just about anything related to Christmas and this cocktail is no exception.
The secret ingredient for this one is the hot chocolate mix. Not only does it add chocolate flavor to this drink, but who doesn't love a little hot chocolate in the wintertime?
If you need to swap out any ingredients, we recommend swapping, whipped cream, and sprinkles for a topping of your choice.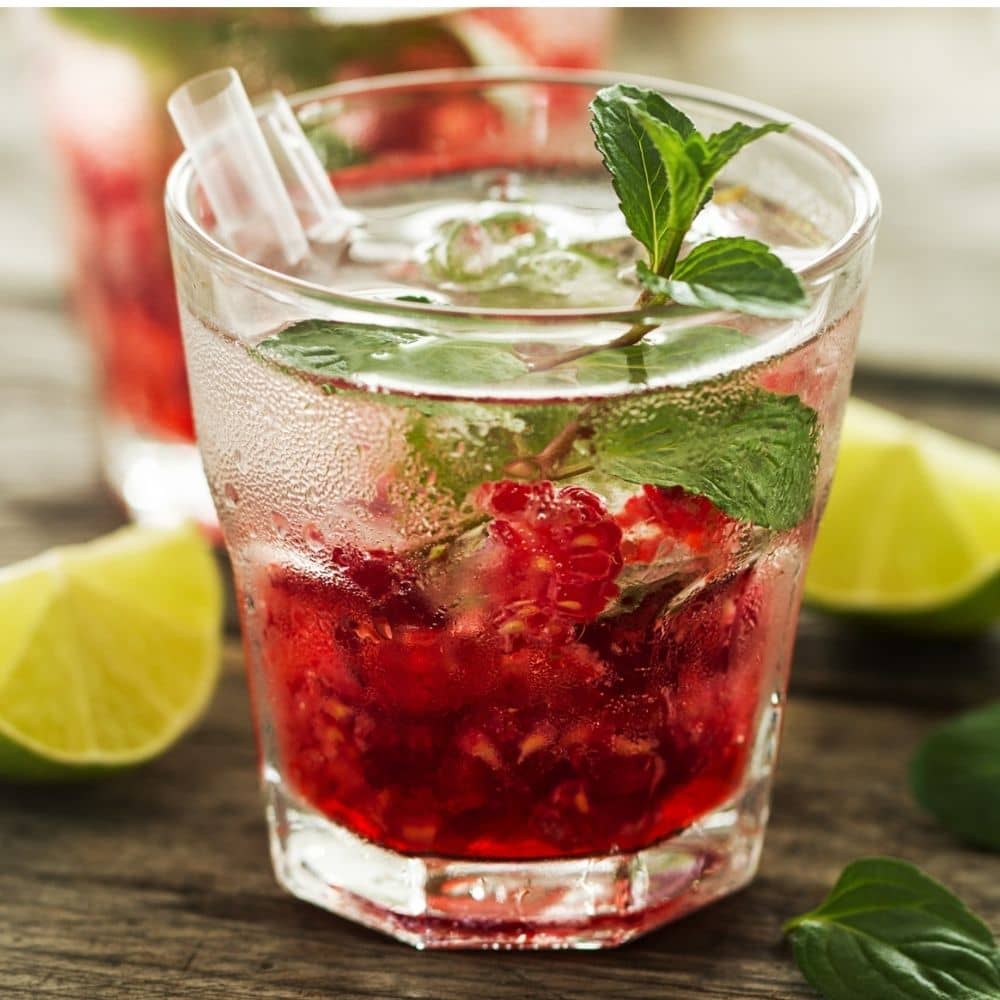 30 Easy Christmas Cocktails
Ingredients
1 fluid oz gin
1 fluid oz sweet vermouth
1 twist lemon zest
1 fluid oz campari
Instructions
Combine sweet vermouth, Campari, and gin in a cocktail mixer with ice. Stir well and strain into a chilled glass.
Top with a zest of lemon or preferred garnish.
Enjoy!