Even if you've never been to Louisiana, you've probably heard about how amazing creole cooking is. Creole food is a type of cuisine that is native to Louisiana but draws on influences from France, Spain, and West Africa.
Creole food recipes are particularly associated with the city of New Orleans, while Cajun recipes are more common in the countryside.
If you can't swing a trip to New Orleans to satisfy your gumbo cravings, here are some of the best Creole recipes to help you take a vacation without leaving your kitchen.
Creole is not just the name for the whole cuisine but also the name for a specific dish that cooks a protein in a thick, simmered sauce.
This recipe uses shrimp, which is one of the most common proteins in Creole cooking, thanks to the bountiful Gulf Coast. However, you can substitute chicken or other seafood if you don't like shrimp.
Tip: When you're making this thick, spicy sauce, start by sauteing onion, celery, and bell pepper. These three vegetables make up the Creole "holy trinity," the base for many recipes.
This recipe is very similar to the shrimp creole mentioned above, except the protein is different.
Chicken works very well in this dish because the mild flavors of the poultry absorb the flavors of the thick, spicy sauce.
If you want to serve chicken creole the way that chefs down in Louisiana do, serve it over rice, which you can use to mop up the sauce.
You don't want to lose a single drop of this delicious spicy sauce!
One of the hallmarks of Creole cuisine is its variety.
Every single grandma down in New Orleans has her own twists on classic dishes such as shrimp creole that she either guards jealously or shares with all her grandkids.
Keeping with that tradition, we're offering you several shrimp creole recipes so you can pick your favorite.
This recipe adds minced garlic to the traditional Cajun holy trinity and Worcestershire to the simmered creole sauce, showing the influence of European immigrants.
Cod is very popular in New England, but New Orleans is half the country away from Maine. So, what's this recipe doing on a Creole roundup?
The answer is simple: cod pairs so well with Creole seasoning. This dish is the perfect example of Americana fusion!
Tip: Creole seasoning is a blend of paprika, salt, onion powder, black pepper, red pepper, garlic powder, and oregano, so you can easily make your own if you don't find it in the store.
Etouffee is a common dish that you'll see when browsing Creole and Cajun recipes alike.
It consists of simmering protein in a sauce made with a light roux as a base. The result is a perfectly spiced, saucy dish that goes perfectly with rice.
Tip: Crawfish is one of the most popular seafood used in Creole cooking, but it can be hard to find in the supermarket. Use shrimp, crab, or similar seafood as a substitute.
You don't have to wait for lunch or dinner to enjoy the rich, indulgent flavors of Creole cooking.
With this eggs Creole over toast recipe, you can start your day with a hearty breakfast or brunch that delivers a kick of flavor.
The base of these eggs is the Creole "holy trinity," or sautéed onions and pepper (this recipe replaces celery with mushrooms). Then, scramble the eggs over the sautéed vegetables and serve on toasted bread.
Seafood creole is a great dish to whip out when you're entertaining a crowd! The riotous mix of seafood in this spicy sauce makes it feel like a real indulgent meal.
The recipe calls for shrimp, scallops, and haddock, but you can mix and match with your choice of seafood.
The sauce uses tomatoes as a base but is quite spicy thanks to the addition of plenty of Cayenne and hot sauce.
You can always add less pepper to make it milder.
Jambalaya is one of the most popular Creole dishes, with good reason!
This perfectly flavored mixture of rice cooked in tomato sauce, Andouille sausage, chicken, and shrimp is beautiful as well, perfect for impressing guests.
Want to know a secret? Your guests may ooh and aah at your jambalaya, but this dish is easy to make (and clean up afterward) because all the ingredients cook together in one pot.
Add it to your weekday dinner rotation!
What is Andouille sausage, and why does it pop up in so many dishes that come from Louisiana?
This smoked pork sausage came to Louisiana thanks to French immigrants and has been a staple of the local cuisine ever since.
You can find Andouille sausage in classic dishes such as jambalaya and gumbo, but this recipe allows the sausage, simmered in a spicy tomato-based sauce with plenty of herbs, to be the star of the show.
Sloppy joes are a weekday special in many busy American households. This dish of ground beef in a lightly spiced sauce served on a hamburger bun is comforting—but sometimes, comforting means boring.
Add a twist to a classic with this recipe.
If you know the technique of making sloppy joes, making Creole sloppy joes is easy.
Just add a dash of Creole seasoning when you're making the sauce, and your taste buds will be transported to Louisiana!
Creole sauce is a workhorse sauce that pairs well with almost any protein.
Have a jar of this sauce on hand to make weekday dinners a breeze!
The sauce starts like most other Creole dishes, with the holy trinity of onion, celery, and bell pepper. Once the vegetables are sautéed, add tomato sauce, chicken stock, and plenty of herbs and spices.
This recipe calls for bay leaf, parsley, two kinds of pepper, and thyme, but you can add your own favorites.
If you're at all interested in making Creole food, then you have to know how to make gumbo.
This rich stew is beloved in Louisiana, and no Sunday lunch would be complete without it—in fact, it's so beloved that it's the official state food.
Gumbo starts with a roux (a mixture of flour and butter), the Creole holy trinity, and broth. As it cooks, add stock, hot sauce, seasonings, and your seafood.
This particular recipe uses crabmeat and shrimp.
What if you're craving the flavors of Creole cooking but don't want to spend all day cooking gumbo?
Then make this super easy Creole shrimp dip, which is perfect for tailgates and barbecues thanks to its spicy flavor and creamy texture! Shrimp, pimiento cheese, onions, and green pepper combine to make a great dip.
Tip: Pimiento cheese is a popular spread in the Southern United States. Make your own by mixing pimiento peppers and cream cheese.
Creole cooking is delicious, but all the rich dishes can feel heavy after a while
This Creole cabbage recipe is one of the healthy Creole recipes out there but is still delicious and comforting thanks to the ground beef.
Creole cabbage is a great recipe for the winter when cabbage is in season, and you're craving warm dishes but still need to add some vegetables to your diet.
Just simmer the cabbage in the ground beef sauce until it's tender.
New Orleans also has many delicious desserts, even though savory dishes get the most attention.
This Creole cake is a staple of family gatherings and church parties thanks to its easy technique and delicious flavors.
Just mix standard cake ingredients to make the chocolate batter, then make the super-delicious frosting with pecans and flaky coconut.
Tip: This cake gets even better once the flavors have time to combine, so let it rest for up to 24 hours before serving.
Boneless, skinless chicken breasts are an easy, convenient protein to cook for dinner, especially if you're catering to picky eaters. However, chicken breasts also tend to be dry and flavorless.
The solution? Cooking them in delicious Cajun seasoning!
You can get Cajun seasoning at the store but making your own at home is also very easy. Toss your chicken in the seasoning and some oil to let the rub stick, then sear in a skillet until cooked.
Salmon is not the most popular type of seafood down in Creole country (that honor belongs to shrimp and crawfish). However, coating salmon in Creole seasoning is a recipe for a quick, delicious weeknight dinner.
Just sprinkle seasoning onto salmon fillets and bake for 18-23 minutes.
Tip: Ask your fishmonger to cut the skin off the salmon and cut it into fillets to save yourself time on meal prep (and the effort of handling slimy fish skin).
Alfredo sauce is an Italian American recipe, so what is it doing on a roundup of Creole dishes? Simple, this traditional pasta sauce gets taken to the next level with smoky Andouille sausage, sliced bell pepper, and a dash of Creole seasoning.
Plus, it's fitting to honor New Orleans's large population of Italian immigrants somehow.
To make this pasta sauce, start by browning the sausage and sauteing the vegetables, then finish the sauce with heavy cream and seasonings.
This dish may veer slightly from tradition, but it is still one of the best Creole recipes for a delicious dinner party centerpiece that doesn't require too much effort.
The dish gets most of its Creole flavor from the inclusion of the Holy Trinity, but there are plenty of modernizing twists.
While this recipe calls for chicken, you can serve it with the protein of your choice, including turkey, if you are using it for a holiday meal.
Shrimp and grits are a popular brunch dish across the South, thanks to the beautiful combination of creamy grits and savory shrimp.
This recipe takes a classic and elevates it to the next level by coating the shrimp in Cajun seasoning.
Tip: To avoid clumpy grits, add the grains slowly to heated milk, whisking the whole time. If you can't find grits, use polenta as a substitute, but you should be able to find this staple food.
Simple rice is one of the most common and beloved traditional Creole recipes. Even though the preparation is simple and requires only a few ingredients, the result is anything but boring.
Comforting butter and the bold flavors of Cajun seasoning and pepper bring out the best in rice.
Creole rice is the perfect side dish no matter what you're serving. It absorbs the cuisine's saucy dishes, such as crawfish etouffee, gumbo, and shrimp creole, very well.
This recipe combines two delicious Creole traditional dishes, gumbo, and creole, for a flavor-packed, saucy dish.
As with most other Creole recipes, you start by making a roux and sauteing the Creole Holy Trinity.
Then, simmer all the other ingredients.
Tip: Most gumbo recipes call for file powder, which is hard to find outside of New Orleans. This recipe doesn't, so it's a great way to get the flavors of New Orleans without sourcing that rare ingredient.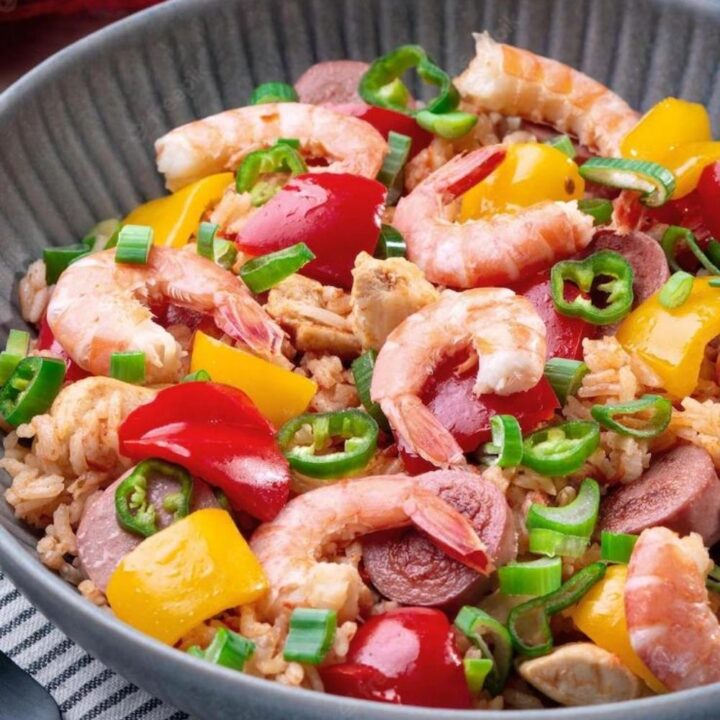 22 Best Creole Recipes
Ingredients
½ c finely diced onion
½ c chopped green bell pepper
½ c chopped celery
2 cloves garlic, minced
3 tbsps butter
2 tbsps cornstarch
1 (14.5 ounce) can stewed tomatoes
1 (8 ounce) can tomato sauce
1 tbsp Worcestershire sauce
1 tsp chili powder
1 dash hot pepper sauce
1 lb medium shrimp - peeled and deveined
Instructions
Melt butter in a large saucepan over medium heat.
Finely chop onion, green pepper, and celery. Mince garlic. Once the butter melts, add the vegetables and stir until they are tender about 5 minutes.
Coat the vegetables in cornstarch, then add all the other ingredients except for the shrimp. Bring the sauce to a boil.
Add the shrimp and cook until pink.