Everyone loves hamburgers, but eating hamburgers when you're doing the keto diet seems impossible! Rest assured that it definitely is not! With these keto hamburger recipes, you will be able to enjoy some tasty keto dinners with ground beef any day of the week.
These keto hamburger meat recipes are really simple, delicious, and low carb or carb-free keto recipes with ground beef that will literally change your dieting game forever.
A diet that lets you eat delicious ground beef recipes? Yes, please!
All the tastiness of a hamburger with the homeliness of a delicious casserole, this super delicious and incredibly easy dish is one of the best keto ground beef recipes out there.
It is flavorful, keto, and it is even gluten-free. So whether you're making it for the family, for yourself, or for a dinner party, everyone will be incredibly pleased with this dish.
To make this tasty and decadent casserole, you will need ground beef, olive oil, onion powder, garlic powder, dijon mustard, tomato paste, ground pepper, salt, eggs, heavy cream, cheddar, and green beans.
That all comes together to form a cheesy, gooey, hamburger casserole that will have you thinking about it for nights to come!
Hamburger soup isn't exactly a common dish, but once you've had it there is really no going back. It's so tasty and full of all of the flavors of a hamburger without needing to fill up on the most boring bit of a hamburger – the bread!
This is one of the best keto meals with ground beef, especially for the colder months. It's filling, and some part of this recipe really makes you feel all warm inside.
For an even easier hamburger recipe, swap out the fresh vegetables for a bag of frozen mixed vegetables.
You can also swap the ground beef in this recipe for any other meat if you fancy shaking it up a little – chicken is a particularly good addition!
This is easily one of the best keto hamburger skillet recipes. It is so tasty, and it's got all of the flavors of a hamburger that make you feel like you're having a takeaway cheeseburger, but without breaking away from your diet!
It's true comfort food without the carbohydrates – perfect for a Friday night keto dinner.
You'll just need a skillet, your ground beef, bacon, onion, tomato paste, mustard, cream cheese, chicken or beef broth, onion powder, garlic powder, salt, pepper, and cheddar!
If you're a fan of spicy food, you could add some cajun spice, chilis, or smoked paprika to the recipe for a bit of a kick.
We all love taco bowls, right? Well, then you'll love this. A hamburger in a bowl is one of the greatest easy keto ground beef recipes and is really lovely as a light dinner or lunch.
It is everything we love about hamburgers but in a bowl, allowing you to mix all of your favorite burger toppings and flavors into one mouthful.
To make a burger bowl, use ground beef, sea salt, pepper, lettuce, tomatoes, red onions, cheddar cheese, and an avocado. If you want to add some more flavor, why not air fry or grill some bacon until it's super crispy and sprinkle it on top?
Cabbage casserole is not necessarily the most appealing name, but this recipe is great for anyone looking for low-carb ground beef recipes. It is filling, tasty and cheesy – what more could you possibly be after in hamburger keto recipes?
You will definitely be making this dish more than once – that's a guarantee.
In order to make your cabbage casserole, you will need ground beef, onion, cabbage, canned tomatoes, green chiles, tomato sauce, garlic powder, chilli powder, and shredded cheese.
These all come together in a super tasty, thick, and rich cabbage casserole that will fill you up each and every time.
Who doesn't love a chilli dog? Or a bowl of steaming, spicy chilli con Carne? Well, luckily for you, there is a delicious keto chilli recipe that you can make any day of the week.
It is one of the best answers to the question: what to cook for dinner with hamburger keto recipes? Super easy, super tasty, and cooked and ready in 1 hour and 10 minutes. And an hour of that is cooking time!
To make the best keto chilli, you need ground beef, yellow onion, green pepper, jalapeno, garlic, tomato paste, diced tomato, beef broth, chilli powder, cumin, and salt.
These ingredients will take 10 minutes to prep, and then you simply add them together, leave them to simmer, and then serve.
This dish is prepped and ready in half an hour. It's full of flavor and is completely keto-safe! It is one of the best keto meals with ground beef, and will definitely help to satisfy any hamburger cravings you might be having on the keto diet.
With a mix of ground beef, vegetables, and the right spices, it is a healthy hamburger helper replacement that will have you coming back again and again.
Adding this recipe to your hamburger keto recipes will not only keep you happy, but it is a dish that kids and guests alike will love too.
All happy faces around the dinner table, all the time.
Mexican food is super tasty, and it is so many people's favorite! But a lot of it is very carb-heavy, making it not a particularly keto-friendly cuisine.
Luckily, with these keto empanadas, you can enjoy el Mexicana at home without breaking the diet. These empanadas are one of the best east keto ground beef recipes, and yet are incredibly flavorful, and are a great option for a starter or appetizer at a dinner party!
For your dough, use almond flour, eggs, mozzarella, olive oil, and xanthan gum, and then pack your empanadas with tasty vegetables, and spices like paprika, oregano, chilli, and cumin, and a small sprinkle of salt.
You'll be the talk of the party!
Looking for a hearty dinner that will keep you full without making you feel guilty? Look no further. This keto ground beef stroganoff is one of the most filling low-carb ground beef recipes, and it tastes absolutely divine.
This Russian dish contains beef, mushrooms, and onions all together in a really silky smooth sour cream sauce.
The creamy dish is often paired with pasta, but for those of us on low-carb diets, there are better ways to enjoy a good ground beef stroganoff.
This is definitely one of the simplest keto recipes with hamburgers. It just involves a burger, salad, and no bun whatsoever.
Cover it with your favorite sauces and some cheese for a delightful summer dinner or BBQ treat.
To enhance the flavors even more, why not caramelize some red onion to add some decadence to your bunless burger?
You can either make your own burger for this recipe using ground beef and herbs, or if you are hoping to be a little quicker, why not buy burgers fresh?
Just check the ingredients first to make sure that they are high meat content burgers!
Cheese and broccoli are a match made in heaven and this dish is no exception. It cooks up into a cheesy, tasty dish that will satisfy all of your cheese cravings in one fell swoop whilst also still sticking to your keto diet.
Super easy to make, this dish is also great for lunches or meal prep, and it reheats wonderfully!
To make this cheesy wonder, you will need ground beef, broccoli, cheddar cheese, oil, garlic, parsley, and peppers – many of which you probably already have in your kitchen!
Gluten-free people have been utilizing zucchini boats for years as a great alternative to tortillas and buns, and this cheeseburger keto recipe shows exactly why.
These delicious zucchini boats are packed full of cheesy ground beef filling and work perfectly for lunch, dinner, or as finger food!
To make these boats, simply half some zucchini, hollow them out, and then fill them with a mixture of ground beef, mustard, tomato paste, cream cheese, garlic powder, onion powder, and broth. Add bacon for a bit more excitement!
Tacos are a delightful meal. They're fun to assemble, fun to eat and super tasty. But their nature as meat in a corn shell makes them something that many gluten-free people and keto dieters miss out on.
Not anymore! Did you know that you can buy cheddar cheese taco shells?
Which, after you add the filling, makes each one of these low carb tacos only 5 net carbs.
For your filling, you will need ground beef, taco seasoning, tomato paste, beef broth, salt and pepper, and then cheese, avocado, salsa, sour cream, and cilantro. You will absolutely love these!
Casseroles are ideal for a busy chef, as once prepared they can be just put in the oven whilst you get on with your day.
This casserole is no exception, but it definitely tastes like you've put much more effort into it!
Absolutely packed full of seasoning and tasty high-quality ingredients, this is one of the keto recipes with hamburgers that you won't forget.
To make it you'll need olive oil, garlic, onion, ground beef, Italian seasoning, sweet paprika, salt, pepper, spinach, cauliflower rice, sour cream, butter, basil, and shredded cheese.
This is a great low-carb meal for those introducing themselves to keto or wanting something with a little carb in for a treat. It has 4 net carbs per serving, and it only takes 20 minutes to make, meaning it is perfect for a quick family dinner.
The saltiness of the bacon mixes amazingly with the cheese and the beef in this skillet dish, making it feel like a real treat even though it is still a completely keto dish. It is one of the best hamburger skillet recipes out there, for sure!
This dish is one of those really homely meals that will make you just want to wrap up with a blanket and watch comfort movies. It is super creamy, super tasty, and packed full of flavor, without any of the carbs.
Best cooked in a skillet, this casserole is held together by the piece de resistance: the cheese.
To make it, you will need cheddar, mozzarella, and cream cheese.
If you want some more cheese, try and source some red Leicester to sprinkle on top of your casserole and melt alongside the cheddar.
Lasagne is one of the most popular comfort foods. It is cheesy, tomatoey, rich and warm, and everything else you could possibly want from comfort food.
This low-carb lasagne is exactly that, too, but does so without using carbs. Instead of noodles, it uses eggs, mozzarella, and cream cheese to create layers that feel just like pasta when cooked.
This dish paired with a side salad is a great and easy family dinner that is low carb, tasty, and can be reheated when needed for lunch or leftovers.
Using tapioca flour or tapioca starch to keep the sauce nice and thick, these gluten-free and keto beef enchiladas are delicious, spicy, and keto-friendly. You will also need ghee and all of the necessary spices to make a kicking Mexican meal.
The tapioca spicy sauce, along with some cauliflower rice, spicy chicken, and all of your favorite Mexican vegetables, makes for a really delicious keto-friendly recipe.
For your tortillas, cauliflower wraps work wonders and are absolutely zero carbs, meaning not only will the dish keep to your keto diet, but it will also fill you up without bloating you!
Goulash is a Hungarian dish that is very similar to soup or stew, with meat, vegetables, and lots (we mean lots) of paprika.
Many American goulashes have noodles and tomatoes.
It is perfect for when you're sick, sad, or just need something warming to lift your spirits.
For a keto goulash, simply swap the noodles for cabbage. It really is that easy!
Then you just need ground beef, onion, garlic, tomato sauce, basil, diced tomatoes, oregano, coconut aminos, salt, pepper, and of course, paprika.
Too often, on the keto diet, people find themselves craving the one thing they cannot have, and this ends with them having a cheat day and splurging on a burger, a pastry, or something similar.
But this cheeseburger meatloaf will stop you from breaking. It is gooey, meaty, cheesy, and absolutely full of flavor.
Simply season your meat, layer it with onion and dill, then top with cheese and bake.
You will not regret it. It comes out so delicious that you won't stop thinking about it for days!
Stuffed peppers are not good. They're so juicy and rich in flavor that they're a favorite across the world for starters, mains, sides, and even snacks. These ground beef keto stuffed peppers can be your new go-to quick meal, taking only 20 minutes to prep.
These delicious and juicy peppers are roasted while full of cheesy cauliflower rice and ground beef mixture that just brings out the pepper's full flavor perfectly.
They're great for mains or can be used as a starter if you use smaller peppers!
It isn't always obvious why certain foods aren't keto-friendly, especially with things like meatballs!
But the majority of meatballs are held together with flour, making them suddenly a carb.
But if you use extra cheese to hold your meatballs together, you get an additional sprinkle of flavor and a low-carb meaty dish.
All you need to make keto meatballs is ground beef, garlic, mozzarella, parmesan, egg, salt, pepper, and olive oil. Then you can pair them with cauliflower rice, salad, or whatever takes your fancy.
This is one of those recipes where you simply chuck it all in and hope for the best. It is quick to make and takes very minimal effort.
Yet, once cooked, it tastes like you had some extravagant plan all along. The meat and veg go tender, and their flavors mix together to create a delicious, warming taste that will make you relax instantly.
To make your own hamburger stew, all you need is ground beef, tomato sauce, tomato paste, chicken bouillon paste, frozen mixed vegetables, apple cider vinegar, soy sauce, kosher salt, and ground black pepper.
Most of which, you probably already have!
This low-carb dinner pie is definitely a keto treat. It uses low-carb flours like coconut and almond to make the ground beef form a pie shape and is a perfect substitute for a fast-food burger.
So when you start to crave a Burger King or McDonald's, just whip out this recipe instead.
Topped with cheese, this dish is full of flavor and it is super easy to make.
You'll be making this a regular staple in your kitchen, for sure. Why wouldn't you want to keep making such a decadent treat?
This is not just any keto cheeseburger casserole. This is one with low-carb macaroni noodles threaded throughout it, creating a chewy, beefy, delicious casserole.
That will keep you full and satisfy any cheeseburger cravings you might find yourself having.
It is also an incredibly easy dish to make. You simply need low-carb macaroni, olive oil, onion, bacon, beef, tomato sauce, Worcestershire sauce, cheddar, mozzarella, and whatever toppings
you'd normally put on your cheeseburger – dill pickles, sauces, whatever you fancy!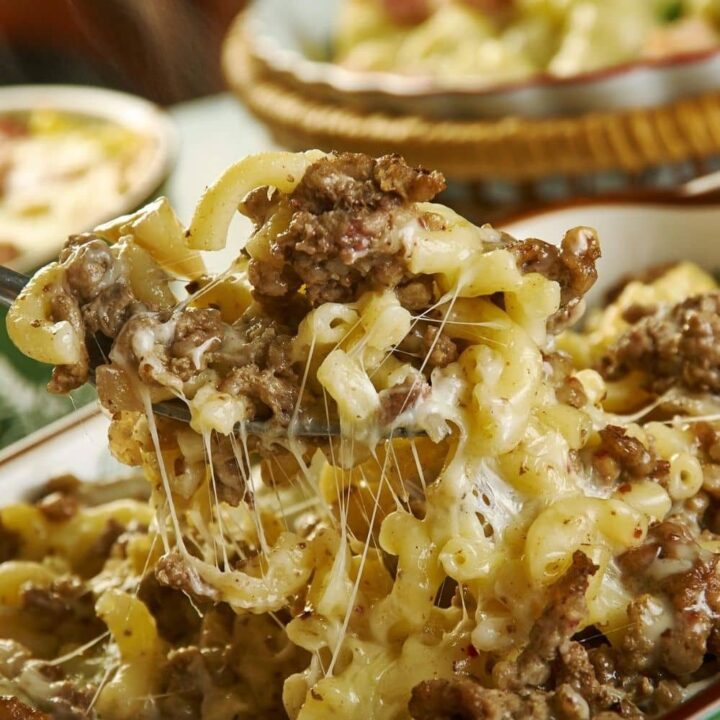 25 Easy Keto Hamburger Recipes
Ingredients
1 tsp butter
1 lb ground beef
½ c diced onion
2 cloves garlic cloves, pressed
salt and freshly ground black pepper to taste
1 c shredded sharp Cheddar cheese, divided
2 tbsps ketchup
2 tbsps mayonnaise
2 tbsps diced dill pickles
½ tbsp mustard
Instructions
The first thing to do is preheat your oven to 400 degrees Fahrenheit and grease a baking dish with some butter. Then, cook the ground beef and onion until brown.

Add garlic to the pot and cook for another minute, then season with your salt and your pepper. Then, add ½ cup of cheddar cheese and mix.

Remove your pan from the heat and add the sauces and pickles to the mixture.

Swap the mixture into the buttered dish and put the rest of your cheese over the top. Place in the oven for 7 to 10 minutes, or until the cheese is all melted.