We've all tried croissants, we've even waited hours in line to try cronuts (where the croissant meets the doughnut), but what's next? Are you ready to try croissant sandwiches? Replacing the bread with a croissant is a great way to change things up.
These crispy pastries can make the perfect sandwiches both sweet and savory.
If you're looking to mix up your lunchtime sandwich then boy do I have the best croissant sandwich ideas for you!
Quick to make and easy, these croissant sandwiches really are an exciting new addition to your day!
I didn't think you could improve on a BLT but then I tried this Turkey BLT croissant sandwich and I was wrong!
This twist on a classic is sure to leave you satisfied! Turkey, bacon, lettuce, tomato, and avocado come together perfectly with mayonnaise and the buttery flaking of this croissant.
This is an easy recipe to make and has to be one of the best croissant sandwiches ideas ever. You'll be the envy of the office with this sandwich as your lunch.
Croissants are synonymous with breakfasts and this sandwich is no different. All you need to make this delicious treat is one buttery croissant, ham, egg, and cheese.
This egg croissant sandwich is placed in the oven for 10 minutes resulting in a warm crispy croissant with soft egg and beautiful melted cheese.
The secret ingredient in this easy recipe? A single swipe of Dijon mustard!
With two different types of cheese, and three different types of meat packed into this sandwich; it might not be vegan but it sure is tasty!
This cold-serve sandwich is a great idea for a light lunch or dinner and will only take you 10 minutes to make.
One of my favorite things about these croissant sandwich ideas is how customisable they are! For example, this recipe contains baby swiss cheese but if you haven't got any in then normal swiss cheese will do.
If you're looking for easy croissant ideas then this is the recipe for you. In fact, you probably already have all of these ingredients in your fridge already!
Turkey is low in fat and is an excellent source of protein so it makes an ideal base for any sandwich and that's before we start talking about its ridiculously high vitamin B contents.
The best bit about this recipe? The fact that it makes six sandwiches so you can feed the whole family without having to get out your calculator.
Some people enjoy ham and eggs for breakfast, some opt for a more delicate croissant. Well, what if I told you that you could have it all inside one incredibly tasty breakfast croissant?
These breakfast croissant sandwiches are quick and easy to make, and the secret sauce really brings a beautiful balance to this cheesy classic.
Swiss cheese and ham dipped in raspberry jelly and encased in a crispy buttery croissant! You're sure to be thinking about this Monte Cristo for days to come.
Some of the best meals in the world land in that spot where sweet meets savory and this is no different!
The swiss cheese and ham bring a salty warmth to this dish after being baked for 10 minutes together and the addition of the jelly leaves you wanting more with every bite.
This bacon egg and cheese croissant sandwich are a classic and an absolute go-to in cafes and delis all over the country but sometimes we forget just how good a homemade version of our favorites can be.
This croissant is sure to be a new winner amongst the entire family and I know it will soon be a favorite breakfast on the go.
Sometimes vegetarian food gets put down for not having enough 'flavor'. Well, I can assure that you will not have that problem with this recipe!
This vegetarian croissant sandwich is full of veggie goodness and is absolutely and perfect for your lunch.
I mean, if a recipe has tomatoes, peppers, zucchini, and avocado then you can't really go wrong can you, it's bound to be full of flavor!
These baked croissant breakfast sandwiches are great for meal prepping, they're easy to make ahead and they're great for freezing.
Cheddar and ham is a winning combination and the addition of eggs makes this one of the best croissant breakfast recipes you can get your hands on!
This recipe is scaled up for 8 sandwiches and only takes a total of 30 minutes to make, prep and cooking included!
Are you looking for a breakfast sandwich? Well, if you are then I have the ultimate breakfast sandwich for you!
Thick cut bacon, soft scrambled egg, and guacamole all come together perfectly in this sandwich to ensure you're ready for the day ahead of you.
Want to know what my favorite thing is about this recipe? Garlic butter tomato sauce, of course! Have you ever heard of something so delicious sounding? I don't think I have!
There's a lot of ham and cheese croissant recipes in this roundup and there's a good reason for that… It's because they're great!
These delicious little treats are stuffed with ham, and cheese and you're sure to have everyone coming back for a second serving.
These delightful mini croissant sandwiches are great for snacking on the go and are the perfect meal prep idea.
One of the best things about this recipe is how great they are for freezing. You can scale up this recipe and stock your freezer with weeks' worth of snacks.
You can make 8 of these cute croissant sandwiches in just 30 minutes!
These croissant sandwiches are the perfect midday treat; gooey, cheesy, and absolutely delicious. This refreshing recipe is great if you fancy something new and very French to add to your favorites list.
This recipe is quick and easy to make. To add an American twist, why not swap out the swiss cheese for a classic American slice?
If you're looking to use up some leftover rotisserie chicken then I have the best croissant sandwich idea for you.
Sometimes leftover rotisserie chicken can be a little dry the next day but this recipe includes your own lemon mayonnaise sauce (okay, maybe it's store-bought mayo mixed with lemon juice… but who's going to know?).
Grapes, almonds, and celery, chicken and Greek yogurt come together beautifully in this sandwich bringing a great crunch and the perfect balance of sweet and savory.
This is hands down the best chicken croissant sandwich recipe I've ever come across.
It's quick and easy, only taking 10 minutes to make, and if you season using the recommended Mrs. Dash seasoning then you'll be sure to love it just as much as I do!
One of my favorite things about this recipe has to be the variety of textures, the crunch of the croissant and the burst of sweetness that comes with the grapes will add an incredibly satisfying element to your lunch.
Whenever I see a sandwich with bacon, ham, turkey, and cheddar I know it's going to be incredibly tasty, and I'm very rarely disappointed!
Now, you'd normally expect to have a club sandwich for lunch, but what if I told you that I've tried this recipe as a main dinner, and it works?
That's right, line several of these croissant sandwiches up in a baking tray and you'll make something similar to a British pie with layers of flaky pastry surrounding the delicious filling.
Chicken sandwiches are great but sometimes you get tired of the same old same old and that's where these come in.
After eating one of these parmesan and dill chicken salad croissants, I find myself craving them every day for weeks… they really are that good!
I think the success of this recipe lies in the addition of buttermilk.
If you're looking for a versatile recipe then this has to be at the top of your list!
You're likely to already have all of the ingredients in your cupboard, but if you don't then do not hesitate to change it up a little.
That said, this has to be one of the best sandwich recipes of all time. By adding these beautiful croissants to the oven for 10 minutes, you can ensure you get the perfect mixture of crispy croissant and melted cheese!
If, like me, you're not really a morning person then you're going to love these little breakfast croissant sandwiches, perfect for meal prepping.
All you have to do is take one or two out of the freezer the day before and heat them up a little and you can have a hearty homemade breakfast on the go every day.
This recipe has to be one of the easiest croissant sandwiches to make, and they're great for freezing if you're looking to make a week's worth in one go.
If you've got a party coming up, or maybe you're looking for a new pot luck recipe, then this is the perfect croissant sandwich for you.
These sandwiches are incredibly tasty and loved by the entire family, even the children will eat their vegetables in this treat of a snack.
This recipe makes 16 appetizers and takes just 30 minutes to put together.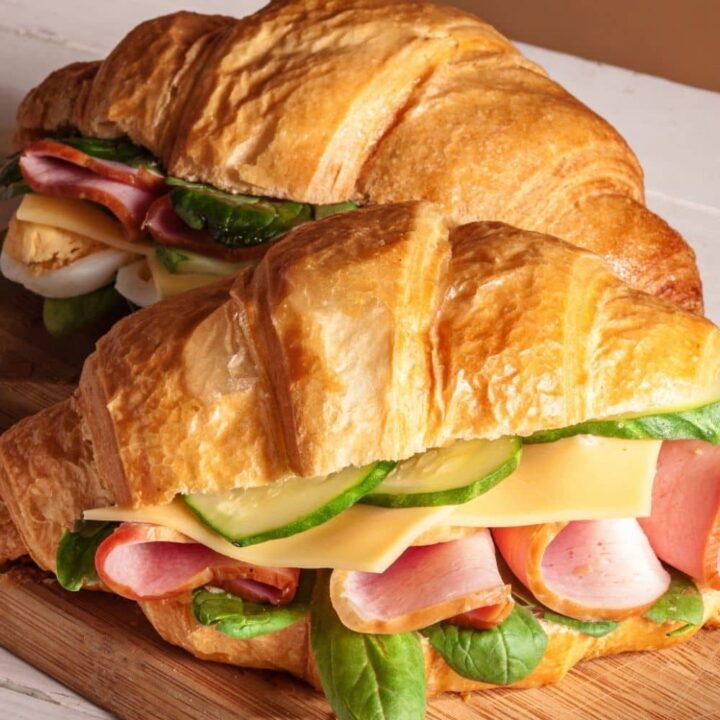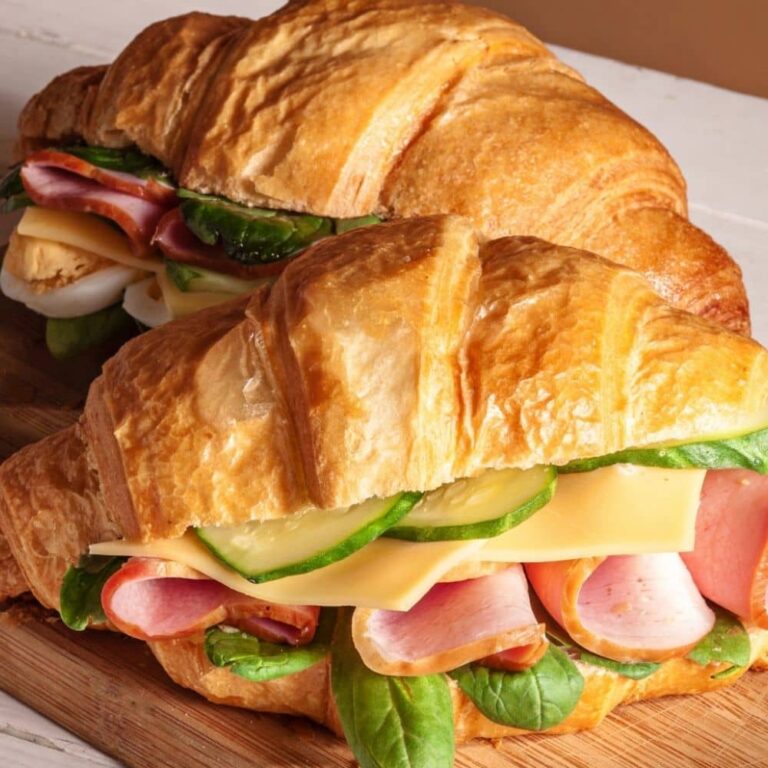 20 Best Croissant Sandwich Recipes
Ingredients
4 (4-oz) beef fillet steaks
Kosher salt and freshly ground black pepper
2 tbsps unsalted butter
6 oz Brie cheese, cut into 1/2-inch slices
2 c arugula
4 croissants
1 c (about 4 oz) jarred roasted red bell peppers
Instructions
The first step, and arguably the most important one, in this recipe, is to season the steaks on both sides with salt and pepper.

Melt butter in a medium skillet over medium heat, then add the steaks and cook for 5 minutes on each side to get the perfect medium-rare steak.

To ensure your steak is nice and juicy, you must allow it to rest for 5 minutes before cutting into it.

Slice the croissants in half like a hotdog roll and cook on a griddle for 30 seconds until lightly toasted

Add the slices of brie to each half of your toasted croissant and garnish with rocket leaves.

By this time, your steak should be ready to cut into ½ to 1cm thick slices. Add the steak to the sandwich and arrange the red pepper slices on top with the remaining rocket.

Enjoy your steak croissant sandwich!