Feta Cheese has been an important ingredient in Mediterranean cooking for thousands of years. It is traditionally made with sheep's milk, with a small percentage of goat's milk.
These days, it is manufactured in the United States and made domestically with cow's milk. No matter the source, feta is firm, crumbly, and tangy and works well in many dishes.
Wondering what to make with feta cheese? We've got your feta cheese recipes listed here.
From sides, desserts, and entrees, you are going to want to make these feta recipes again and again. So get creative, get some feta, and make some of these recipes with feta cheese right away!
This fun and easy Baked Feta Pasta With Cherry Tomatoes is a delightful recipe using feta cheese that's great for weeknights or anytime you want a tasty one-dish meal.
This recipe calls for a block of feta, but crumbles will work as well. Just be sure you adjust your cooking time if you substitute.
You want to use cherry or grape tomatoes so they will cook enough to burst open and make that wonderful sauce.
For the pasta, use penne, rigatoni, shells, or elbow pasta. Get it nice and coated with the feta cheese, and when you stir it all together, you get a wonderful cheesy sauce.
This tasty Greek Salad is one of our favorite recipes using feta cheese.
The combination of colors and flavors makes a beautiful presentation, so it's a great addition to any meal, but especially good as a complement to a heavier dish like pasta or meat.
The secret ingredient in this recipe is the Dijon mustard added to the simple oil and red wine vinegar and spices in the dressing.
You can make both the salad and dressing ahead of time and serve the salad chilled.
It's perfect for a summer meal. Substitute orange or yellow bell peppers for the green to add a sweeter taste and satisfying crunch.
This creamy dip is based on a recipe from Israel and works great with vegetables or toasted pita bread. The dip is simple to make. Simply put all your ingredients into the food processor and process until fully blended.
These flavor combinations are pleasing and addicting! Garnish with toasted sesame seeds and a drizzle of olive oil (infused or regular).
The secret ingredient in this feta cheese recipe is the red pepper flake. You can use it to increase the spiciness of the dip or add just a touch with a drizzle of honey for a perfect contrast of flavors.
This savory Homemade Feta Cheese Pizza is like nothing you'll be getting at your local pizzeria. It's hearty and chock full of Mediterranean flavors on a tasty homemade crust.
This feta cheese recipe bakes up fluffy and crisp with an explosion of savory flavors from the olives, tomato, and purple onion.
You can substitute other toppings for the onion and green pepper if you choose or omit them altogether.
Experiment with a variety of different toppings to change it up and keep it fun.
One of our favorite dishes with feta cheese is Lemon Feta Chicken. This is one of the simplest one-pan, 30-minute meals your family will love.
Just a few ingredients poured over your chicken, then baked to perfection, producing multiple layers of savory and lemony flavor.
This will be a go-to dish for any weeknight, in a hurry, or just want something easy to throw together.
It takes only a little time but tastes like you spent hours.
This colorful and delicious Beet Salad with Feta Cheese is the perfect balance of flavors and textures. The crispness and sweetness of the beets pair perfectly with the creamy tanginess of the feta cheese.
This is a quick and colorful side that you can put together in a flash.
You can cook the beets ahead of time and have them ready at a moment's notice.
Want to dress it up? Add some greens, arugula, or spinach, or garnish with chopped nuts, pepitas, sunflower, or pomegranate seeds. The possibilities are endless.
This Greek dish is almost like vegetarian lasagna, using phyllo dough in place of pasta. The filling is spinach and feta cheese combined with savory spices. If you've never tried this before, we highly recommend this dish using feta cheese in place of ricotta.
Simply layer the phyllo dough sheets with the cheese and spinach filling in a prepared baking dish.
Don't forget to brush the phyllo with oil, so it crisps up perfectly.
Once you master this dish, you can change it up with other ingredients added to the filling for a fun variety of savory flavors.
You can make these fried or baked, with baked obviously as the healthier option.
Say goodbye to chilli cheese fries. These Baked Greek Fries with Feta Cheese will soon become a family favorite.
This toasty and savory snack is a great side or stand-alone on game day or for your next summer BBQ.
They'll pair well with a burger or sandwich, or make them the main course with a side salad.
Top them with purple onion, garlic, feta cheese, and sliced grape tomatoes for a fun Mediterranean twist on your traditional garlic fries.
This Baked Macaroni and Feta Cheese Casserole is an amazing variation of the gooey comfort food we all know and love.
Made with feta and parmesan and topped with breadcrumbs, this casserole bakes up with a salty tanginess and spice that far surpasses your usual mac n cheese.
This is comfort food beyond your expectations!
Substitute seasoned or focaccia breadcrumbs and fry in butter for a savory crunch.
Experiment with Italian seasonings or a touch of red pepper flake for an extra layer of savory flavor.
You can also add crumbled bacon or cooked mild sausage for a meaty protein boost.
Jazz up your traditional scrambled eggs with the addition of tomatoes, purple onion, and some feta cheese.
Tip: Beat a little bit of milk or half and a half into your eggs and season with a pinch of salt for creamier, fluffier eggs.
This pairs well with the savory flavor of the onion and the cheese's tanginess.
Be sure to crumble the cheese into small pieces to encourage melting, then salt and pepper to taste.
Crumble a little bit of feta on top before serving, and add a dash of oregano or parsley for a bright and fresh presentation.
This Baked Feta with Sesame and Honey is a dip, yet, not a dip. This recipe with feta is a great party starter or appetizer when paired with a meat dish or soup course.
Use a block of feta cheese brushed with oil and honey. Coat the cheese with sesame seeds.
This bakes up melty, tangy, and sweet. It's a flavor combination that is sure to please.
Serve with pita or other flatbread. It can also be served with hearty whole-grain crackers. This baked cheese will be a hit at your next game day or get-together.
Even people who claim not to like spinach will love this Creamy Spinach with Feta dish.
This recipe uses feta, garlic, spinach, and red pepper flake for a multi-layered burst of flavor in every bite.
The tanginess of the cheese along with the bite of garlic and the hint of spice from the chilli flake combine to produce the perfect storm of deliciousness.
Use fresh spinach and parboil it for best results. Crumble your feta into small pieces to promote melting and to avoid big chunks of cheese in your dish.
Greek stuffed peppers are not the same as the Italian stuffed peppers you may be imagining right now.
This dish uses Romano peppers, kefalotyri, or other hard yellow cheese, and feta to create a winning combination of flavors that your family will love.
The trick to making these peppers perfect is to pre-cook the peppers until soft, then clean and seed them. Save the stalks to use as a cap when baking, so the cheese doesn't melt out the end.
Use your freshest ingredients and the best cheeses combined to make a creamy and savory filling to stuff these peppers.
This Tomato Feta Cucumber Salad makes a colorful and fun impression every time. The fresh summer crunch of the cucumber with the sweetness of ripe tomatoes makes this a perfect summer salad choice.
Feta cheese crumbles give a tangy and salty layer of flavor that takes this salad to a whole other level.
The secret ingredient in this recipe is the cumin in the dressing.
There are so many flavors to process in such a simple salad. You're going to want to make this one all summer long.
These Herbed Greek Roasted Potatoes with Feta are simple and easy to make. This recipe with feta cheese is the perfect storm of flavors that everyone will love.
Make this dish for a dinner side, or make a pan of Greek roasted potatoes for your next get-together or potluck.
The secret ingredient in this recipe is the fresh mint.
You don't normally think of mint and potatoes, but the mint brings out the saltiness and acid in the cheese for a wonderful flavor profile.
This Chicken Feta Pasta is another one of those easy weekday meals that all parents want to keep at the ready.
It's a one-pan meal that is ready in a hurry and tastes like you've spent hours slaving over a hot stove.
Start with boneless, skinless chicken breasts and your favorite pasta.
Use tomatoes out of a can and fettuccine or linguine pasta, and with the addition of feta cheese, you've got a great dish the whole family is going to love.
Use canned, diced tomatoes and Italian herbs to create a quick and delicious chicken dish that's truly out of this world.
What can I make with Feta Cheese, you ask? This Three Bean Salad is a perfect solution for you.
This salad is easy to put together using canned beans and tomatoes along with red onion, Greek seasoning, and feta cheese.
Take this tasty salad to your next summer BBQ, get-together, or game day.
The secret ingredient in this feta cheese recipe is the green chiles. They add another tasty layer of flavor that you don't expect.
This Beetroot and Feta Cheese Salad is a colorful addition to any table. Cook the beets beforehand and chill, then you can assemble the salad with fresh parsley, feta cheese, and a yummy lemon vinaigrette.
You can add different greens to this simple dish or leave it with three original ingredients. If you're feeling adventurous, try some arugula or baby spinach leaves.
You can also try some chopped walnuts or pecans for another layer of texture and taste.
Change it up to keep it fun and exciting. This one is sure to be a favorite.
You can't get a better taste with a few simple ingredients than you can with this Feta Cheese Pasta bake. Use grape or cherry tomatoes and some fun bowtie or other hearty pasta.
The feta and tomato reduce down during baking into a delightful sauce that will coat your pasta with cheesy goodness.
You can also use some red pepper flakes for a boost of spicy flavor.
This is a great recipe when you are in a hurry and need something quick, easy, and delicious.
This Greek Rice with Lemon and Feta is the perfect way to use up the leftover cooked rice. The dish works best with precooked rice, but minute rice can be substituted.
Saute your rice with butter, garlic, and lemon zest until the rice has absorbed the butter and is just beginning to brown.
Then add in your feta cheese.
Be sure to crumble your feta into small pieces to encourage melting, and add in your parsley right before serving.
You can substitute chopped spinach for the parsley for a more authentic Greek flavor. This side dish works well with entrees such as chicken or pork.
This Spinach Casserole with Feta Cheese is a low-carb twist on traditional Greek Spanakopita.
Cottage cheese is substituted for ricotta in the recipe, and the phyllo pastry is left out altogether.
The addition of feta gives the dish a lovely salty tang and texture. This spinach casserole is a great vegetarian option that is also gluten-free and low carb.
This breakfast casserole can also double as a side dish. Serve this at your next brunch or potluck event.
This one-dish meal is easy to make and always a crowd-pleaser.
What can I make with feta cheese? What if I also have lots of zucchini? The answer to your questions is this recipe for Zucchini Fritters with Feta and Dill.
Solve your problem of an abundance of zucchini from your garden by whipping up a batch of these fantastic fritters.
They're easy to prepare and fry up quickly with a satisfying crisp and tangy taste that your family will love.
These fritters make a great appetizer or side dish with burgers or sandwiches. Serve with a lemon wedge or freeze them for later.
If you've never made an onion tart, this is a perfect recipe to begin with. This savory Feta and Caramelized Onion Tarts make a great appetizer for any occasion.
They look fancy and fun, but in reality, they are not difficult to make, and they taste divine!
Make your dough and refrigerate it while you prepare the filling by caramelizing the onions with some balsamic vinegar and brown sugar.
Mix up the cheese, eggs, and herbs and blend in your food processor until combined.
Fill your pastry partway with the onions, then add the cheese and bake to perfection.
Frittatas are easy to put together and make a wonderful presentation for brunch, breakfast events, or a fun weekend family breakfast.
Roast the red bell pepper and peel according to the directions. This gives a sweeter taste and softer texture to the dish.
You may also substitute mild green chilli peppers in place of the bell pepper for a little bit of spicy flavor.
Try this dish with seasoned breadcrumbs for a satisfying flavor layer. This frittata is sure to be a hit wherever it is served.
You may think that feta cheese is an unlikely ingredient for cheesecake, but you'd be mistaken. This Feta Cheesecake with Rich Chocolate Ganache is the perfect blend of flavors.
This cheesecake bakes up fluffy and light with a delightful texture.
It's not as sweet as traditional cheesecake, but the depth of flavor contrasted with the rich semi-sweet chocolate is incredible.
This recipe calls for a crust with digestive biscuits and pistachios, but you can go with the traditional graham cracker crust as a substitution.
Here's a feta cheese recipe that is simple and tasty. Baked Feta works well with any meal, as an appetizer or as a light and delicious main course.
The secret ingredient in this recipe is chickpeas. They gave the dish a great texture and added a protein boost.
You can substitute spinach or Swiss chard for the kale, but we recommend keeping the greens for flavor, texture, and nutrition. Use the block feta for best results.
We predict that this recipe will soon become a family favorite!
This quick and easy side dish makes a pretty and colorful presentation and pairs well with just about any entree.
The addition of feta cheese to the dish gives it a salty and tangy flavor that compliments the sweetness of the tomatoes and the delicate pasta taste.
There's really not much effort needed to make this great recipe, some parsley, black pepper, and salt to taste, and you've got a delicious side dish that is certain to be a hit.
Try this out at your next potluck or get-together, and you're sure to come home with an empty dish!
These savory Feta Cheese Scones are perfect snack food. This easy scone recipe is a great one with which to teach children how to follow instructions in a recipe.
Serve scones warm with butter, or let them cool, fill them with ham or beef and use them for slider-type sandwiches.
Tip: Crumble your feta into very small pieces to encourage even melting. Top with some shredded cheddar for another cheesy addition to your recipe.
These scones work for brunch, lunch, or snacks; anytime you want something warm and cheesy!
Creamy Lemon Feta Chicken is one of the feta cheese recipes that we love the most.
These chicken cutlets cook tender and deliciously with a tangy and lemony taste that the entire family will love.
This will soon become a favorite weekday- in a rush dinner.
This recipe is quick and easy to prepare in one skillet and tastes like you've spent hours working to prepare it.
The secret ingredient in this recipe is heavy cream. This gives the sauce a rich and creamy texture and flavor. For a lower fat option, you can substitute half and half or whole milk.
Tiropita is a traditional Greek Cheese Pie using feta cheese and phyllo dough. You can use the store-bought version or make your own phyllo.
The filling is a mixture of Greek cheeses mixed with egg and cream.
The secret ingredient in this recipe is fresh mint which adds a crisp layer of flavor to the dish and a surprising contrast with the black pepper.
Brush each layer of phyllo dough with olive oil or melted butter. Bake this cheese pie until the phyllo is crisp and golden. Brush the top with melted butter and sprinkle with some sesame seeds for an added layer of toasty flavor.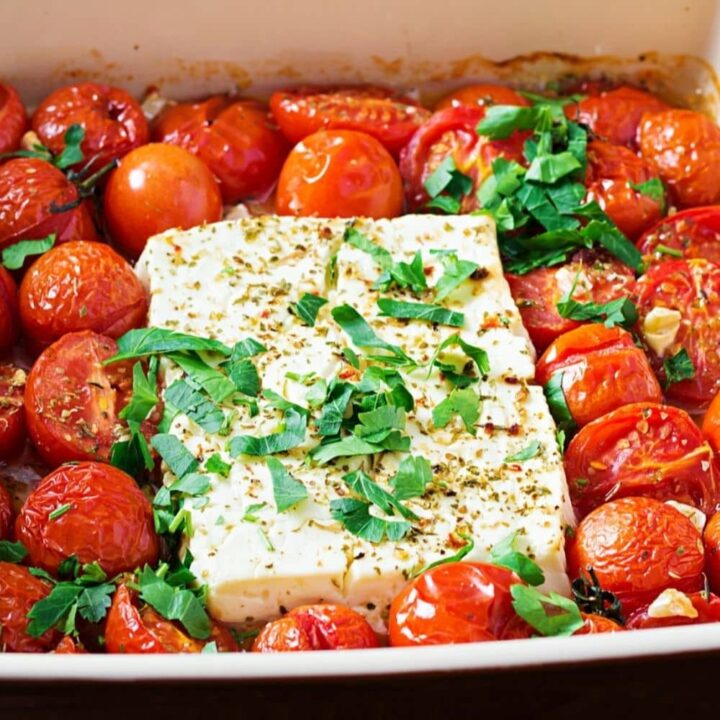 30 Best Feta Cheese Recipes
Ingredients
2 pints cherry tomatoes
3 garlic cloves, halved
1/2 c olive oil
1 package (8 ounces) block feta cheese
1 tsp sea salt
1/4 tsp coarsely ground pepper
1 package (16 ounces) rigatoni or other short pasta
Fresh basil leaves, coarsely chopped
Instructions
Reheat the oven to 400 degrees
Combine tomatoes, garlic, and olive oil in a greased casserole pan.
Make a well in the center and place the block of feta on the bottom of the pan.
Drizzle oil over the feta and season with salt and pepper.
While the dish is baking, cook your pasta al dente. Drain the pasta, reserving one cup of the pasta water.
Bake until the tomatoes burst, then remove from the oven
Stir until the tomatoes and feta are well-combined, then add the cooked pasta and toss to combine.
Add some of the pasta water until the sauce reaches the desired consistency.
Sprinkle with chopped basil before serving