There are so many types of pasta noodles out there; it can be hard to keep up with each recipe.
It's easy to fall into a rut of adding marinara sauce to all of the different types of noodles. For example, Gemelli pasta, what should you do with this type of pasta?
Let's take a look at the best Gemelli pasta recipes you can make for dinner!
25 Best Gemelli Pasta Recipes
This delightful Gemelli pasta recipe from Nigella is an elegant take on a pasta dinner.
The anchovies add a nice saltiness to the dish while the tomatoes bring a tang. The taste is rounded off by the creamy mascarpone that is added in.
Try this yummy homemade dish for your next romantic date night and watch your significant other polish off their plate!
This scrumptious dish creates the perfect elevated dinner to serve to guests!
The addition of the roasted Brussel sprouts makes this a healthier dish. Pan-fried Pancetta adds the ideal amount of salt and flavor to your dinner.
In just 60 minutes, you'll have a yummy dish ready to be served.
You can never go wrong with shrimp and pasta! This lovely pasta dish has a tangy and herby flavor that will make you crave more.
Create the sauce and saute the shrimp in one pan. Once the shrimp is cooked, and the sauce has been reduced, add over the cooked pasta.
Top the pasta and shrimp with burrata, parmesan, and lemon wedges, and you're ready to chow down!
An easy-to-make recipe that is perfect for serving your family.
This lighter pasta dish takes all of the delicious tanginess and garlic flavor of the above recipe but puts a healthy flair on it.
By incorporating spinach and taking out the burrata cheese, you now have a yummy dinner without the extra fat from the additional cheese.
A simple recipe that combines pasta, butter, garlic, shrimp, lemon juice, baby spinach, and parmesan for a tasty dinner.
Craving some ideas for a one-pot pasta dish? Nothing is more accessible than throwing all of the ingredients in one pot and mixing it together! Try out this Gemelli pasta with the mushroom recipe.
The pasta will be boiled separately, then all of the ingredients will be combined into one pan.
This includes olive oil, garlic, mushrooms, arugula, pepper flakes, black pepper, and parmesan cheese.
Voila! You have a yummy, earthy dinner ready to eat.
Talk about quick! This recipe takes 20 minutes from start to finish and is excellent for vegetarians (or even those trying to eat less meat during the week).
You'll need to boil the pasta separately, of course. Make sure to hold onto one cup of pasta water after boiling.
The mushrooms, shallots, garlic, butter, and olive oil will be sauteed in a pan.
Then, combine with the pasta, reserved pasta water, cheese, red pepper, and parsley.
Great for a night when you've returned late from work but want something warm and hearty to fill your belly.
This shrimp and Gemelli pasta recipe is sure to be a showstopper. It requires more ingredients, but the prep time is worth the end result.
You'll be happily enjoying the sweet, savory, herby flavors of this dish.
The heat warms up the dish and makes you want to keep returning for servings!
The best vegan pasta dish you will ever taste! It's incredibly easy with only six ingredients needed – Gemelli pasta, tomatoes, arugula, vegetable broth, lemon zest and juice, and pumpkin seeds.
This healthy and light dish is excellent for a summer meal.
If you want to add a little more pizzaz, try adding some vegan cheese on top or even some fresh herbs like basil.
Add a bit of color to your dinner with this delicious recipe. You'll love this bright, zesty recipe filled with bell peppers and peas.
This dish adds in orange zest instead of lemon zest, which adds a touch of sweetness.
Yum! Try out this mouthwatering recipe as a side dish for a barbeque and watch everyone pile it onto their plates.
Pasta E Ceci Alla Romana translates to roman style pasta and chickpeas. The chickpeas are a great way to add in both protein and crunch.
Make sure to throw both chickpeas and garlic into the oven for roasting.
This will help create the optimal flavors and textures for each. This easy step provides an added tastiness to the recipe.
Another great vegetarian option, this dish resembles more of pasta salad with the inclusion of potatoes.
This Gemelli pasta with pesto is a hearty dish that is sure to fill you up and keep your tastebuds dancing with happiness.
It takes about 20 minutes to prepare this homemade dish, and you'll only need a few ingredients – pasta, green beans, red potatoes, olive oil, pepper, pesto, and lemon juice.
Add a side salad next to this dish, and you have a complete meal.
Anything that involves Pecorino cheese is an instant yes from me. Add in scallops and pancetta, and you can bet I'll be making the recipe right away!
A great take on a sea and land dish, the crispiness of the pancetta paired with the succulent scallops is a mouthwatering combination that won't soon be forgotten.
Try adding some shrimp into this Gemelli pasta with scallops dish for extra oomph.
The sweet sausage adds in a different texture and meaty flavor that is reminiscent of pasta dinners at mom's house.
This recipe with Gemelli pasta, sweet sausage, and spinach is sure to keep you warm on a chilly winter night.
Red pepper adds a nice hint of spice to this dish, while the grape tomatoes make a tangy appearance. With only a few ingredients, this dish is sure to become a dinner staple.
For those seeking even more spice, this is the perfect recipe for you. You still get the heartiness of sausage and pasta with more heat.
The addition of heavy cream and nutmeg makes this dish rich, elegant and cools the spice slightly.
You'll be left with a delightful swirl of spice after each bite.
Looking for a perfect way to incorporate tomato sauce into a pasta dish, but with a twist? This Gemelli pasta with tomato sauce dish is sure to bring you back to your childhood.
The addition of broccoli to this recipe makes this a great healthy alternative to a standard pasta dish.
The mozzarella balls add a nice cheesy gooiness to the dish that makes it feel richer than it is. Try it out this week!
Who doesn't love a creamy pasta dish? Especially one that includes slow-roasted tomatoes.
This Gemelli pasta dish incorporates heavy cream, fresh thyme, and fresh basil for a lovely herby sauce that you won't be able to get enough of!
Make sure to roast your tomatoes for one and half hours to create the juiciest tomato additions to your luscious saucy pasta dinner.
Enjoy this dish with friends or family, or keep it all to yourself (you'll definitely be tempted to!).
Did you buy too much asparagus, and now you're not sure what to do with it? Try this delicious Gemelli pasta dinner with asparagus.
The sauce includes both white wine and sun-dried tomatoes for tart and sweet flavor that will make you feel like you're eating at a fancy Italian restaurant.
You'll still get the creaminess from the heavy cream, but also a light sweetness to make the dish feel springy.
Another perfect summery/springy dish that will make you think of warmer weather.
This homemade dish adds peas, tomatoes, and asparagus for a healthy dose of vegetables.
You'll be sure to enjoy the herby, cheesy sauce that is covering the pasta. Try adding some different vegetables that you love, like bell peppers, for some extra texture and color.
This is one of my favorite Gemelli pasta with chicken dishes.
It has a combination of the best things pasta can offer – lean protein, vegetables, fresh herbs, tomatoes, and a creamy sauce to top it all off. What more could you want?
Not only that, but this easy recipe is also cooked all in one pan, so clean up is extremely easy.
Test out this delightful, savory creation next time you can't decide which type of pasta dish to whip up.
This easy one-pot recipe is great to throw together for last-minute company.
Using a premade pesto helps keep the timing on this recipe down to a quick 30 minutes.
You will find this dish to provide tasty, tangy bites with broccoli and peas included in each bite.
Make sure to pan-fry the chicken sections first before adding in the other ingredients to ensure the chicken is cooked through.
I don't know about you, but creamy pasta salads that are served cold always remind me of summer barbeques.
Something about pasta salad with mixed-in vegetables just seems like the perfect side dish for summer get-togethers.
This is one of the best Gemelli pasta salad recipes. Not only does it include vegetables in it, but you also get the deliciously salty, crispy bacon mixed in with the pasta.
This recipe is sure to delight anyone you serve it to.
Plus, it can be made in less than 20 minutes!
Sometimes, a simple pasta dish is just better. This recipe only needs the following ingredients – pasta, lemon juice, olive oil, fresh basil, parmesan, black pepper, and garlic cloves.
The lemon and fresh basil in this pasta salad add a nice zing and freshness that make this dish an excellent summer dinner.
If you're craving a creamier, warm version of the last recipe, try this!
This pasta incorporates ricotta which adds a lovely richness to the meal. The inclusion of red pepper flakes adds a touch of heat.
A yummy dish for a cooler summer night – this dish will keep you nice and warm.
Tacos are one of my favorite foods, as is pasta. Combining the two? Genius.
This Gemelli pasta with a ground beef dish is sure to delight your tastebuds. This is the perfect comfort meal for a night in with a thick gooey, melted cheesy layer.
This recipe is reminiscent of a cheesy pasta dish stuffed with typical quiche toppings. A quick, easy, homemade dish that is perfect for a family dinner with the kids.
Your kids won't even notice the vegetables mixed in with the melted cheese. A yummy supper that anyone can enjoy!
Try out the dishes that sound tasty to you! I know I'll be making at least of few of these as soon as possible. Did any of the ingredient combinations surprise you?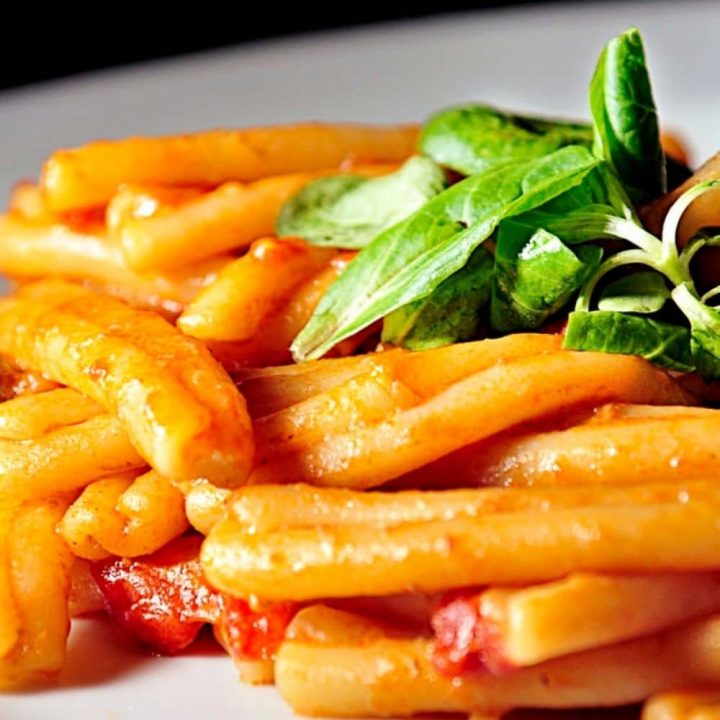 25 Best Gemelli Pasta Recipes
Instructions
Choose your favorite dish!
Prepare ingredients according to the recipe.
Be ready in 30 minutes or less!