We all know the importance of eating our veggies, right? But sometimes we don't have the time to cook an extra side dish. That's why we love casseroles.
One-pot meals are the best. But if you want your family to have a balanced diet, veggies are a must. That's why I love this ham, green beans, and potatoes in the crockpot recipe. They cook for themselves while you take care of your daily duties.
How To Make Ham Green Beans and Potatoes In Crockpot?
Place the washed, trimmed, and cut green beans, cubed potatoes, diced ham, and chopped onion in your crockpot. Add the bay leaves, thyme sprigs, oregano, and butter. Add salt and pepper to taste.
Pour the chicken stock into the crockpot, place the lid on top, and cook on low for 6 hours.
Midway through the cooking, mix everything, so it cooks evenly.
Cooking Tips
Mix everything up midway through the cooking time, so all the veggies cook evenly.
Be sure to add herbs to the veggies, or they will be flavorless.
Be cautious of the amount of salt you add. Remember that ham is already a bit salty.
The Best Brussels Sprouts of Your Life is truly delicious, and you can sneak some veggies inside a Pasta Salad Recipe, and in this very popular Dorito Taco Salad with Catalina Dressing.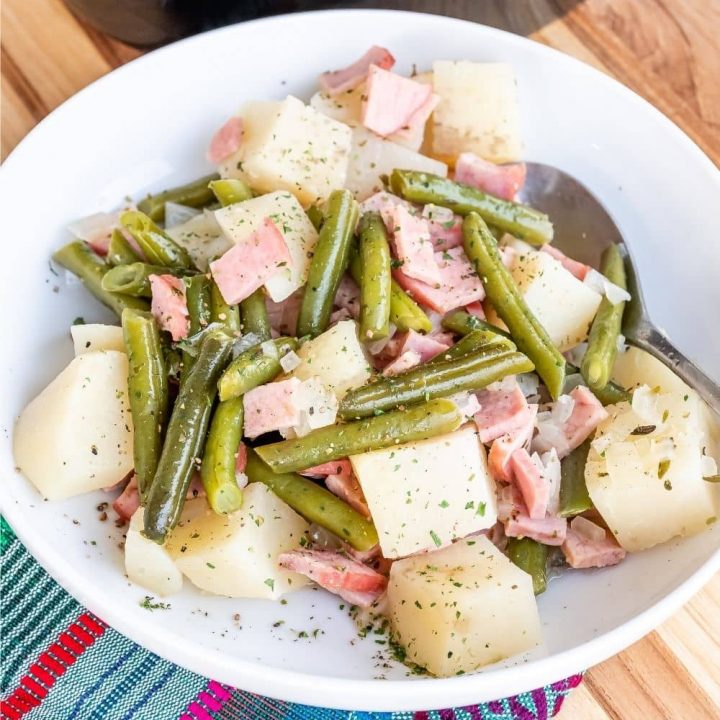 Green Beans with Potatoes and Ham
Total Time:
6 hours
10 minutes
Just adding a little ham makes veggies more attractive to the kids!
Ingredients
1 ½ lbs green beans, washed, trimmed and cut into 2 inch pieces
1 ½ lbs ham, diced
3 large baking potatoes, peeled and cubed
¼ cup onion, chopped
2 bay leaves
3 sprigs thyme
1 teaspoon dried oregano
2 tablespoons of butter
Salt and pepper to taste
2 ½ cups of chicken stock
Instructions
Place the washed and trimmed green beans, diced ham, cubed potatoes, chopped onion, bay leaves, thyme sprigs, oregano, butter, salt, and pepper in your crockpot. Add the chicken stock and cook on low for 6 hours. Midway through the cooking time, mix everything up to ensure everything cooks evenly.
Nutrition Information:
Amount Per Serving:
Calories:

578
Total Fat:

28g
Carbohydrates:

23g
Protein:

54g