If you're anything like me, there's no time of the year when you don't think to yourself, "Life would be a lot more fun if I were in Hawaii." Unfortunately, flying to the beautiful sandy beaches of the Hawaiian Isles is not feasible most of the time.
But if you can't take yourself there, at least you can take your taste buds there with some delicious Hawaiian food.
I've gathered 29 delicious Hawaiian food recipes that you can use to make yourself feel like you've gone somewhere tropical all year round. Settle in and enjoy these great Hawaiian recipes.
Take your taste buds on a trip somewhere warm and tropical with this delicious stir fry.
There's a lot of Asian influence in Hawaii, so this sweet and sour stir fry is a perfect way to encapsulate Hawaiian flavors.
This recipe calls for chicken, pineapple, and bell peppers, but it would also be delicious if you added white or green onions.
The best part is that this recipe comes together so fast; you can have dinner on the table in 30 minutes.
If you've ever been to Hawaii, or a Hawaiian restaurant, you know that one of the best local Hawaiian food recipes is macaroni salad.
I don't know how this became a quintessential Hawaiian dish, but you can always find it when you're eating Hawaiian food.
This recipe is super simple, with just the macaroni, the dressing, and shredded carrots and onions.
But you could add some nutrition, crunch, and bulk to this by adding diced celery, bell peppers, or green onions.
OK, so we all know that Hawaiian pizza wasn't actually invented in Hawaii; it was actually invented in Canada, which is not quite so tropical.
But whether or not it's authentic, Hawaiian pizza is delicious. There is a longstanding debate about whether to put pineapple on pizza, but I think that history will show that pineapple lovers are on the side of decency and right.
This recipe kicks up the usual Hawaiian pizza toppings by adding crumbled bacon for extra flavor.
It calls for a homemade pizza crust, but I won't judge you if you save yourself time by buying dough or a crust at the store.
Do you know that Oprah commercial where she passionately declares, "I love bread"? Well, that's something that I and Oprah have in common: I also love bread.
And these Hawaiian sweet rolls are a delicious accompaniment to any Hawaiian-themed meal.
Don't imagine that these are like cinnamon rolls; this is your standard dinner roll, just with a lightness and a sweetness that will knock your socks off.
If you don't have the buttermilk the recipe calls for, you can substitute regular milk with a little bit of an acid, such as lemon juice or vinegar, stirred in.
Here is another delicious Hawaiian baked good recipe.
The addition of pineapple juice is what makes these rolls so sweet and delicious, so don't skimp!
Well, this is a yeasted dough and therefore requires rising time; it's not as long as some recipes call for: just a total of an hour and 40 minutes. So make sure you plan that into your preparation time!
As I mentioned earlier, there's a lot of Asian influence in Hawaii from the Japanese and Chinese immigrants who have moved there over the years. So this fried rice recipe is perfect for Hawaiian meals.
The addition of pineapple to the dish is what gives this that special Hawaiian flavor.
As with all fried recipes, the best tip for a good result is to use leftover fried rice that's been sitting in your fridge for at least a day.
This dries out the rice just enough to get the perfect texture and consistency when you make the fried rice. Fresh rice can easily get sticky and mushy.
Poke is one of those traditional Hawaiian food recipes that has become very popular on the mainland in recent years; poke restaurants seem to be popping up all over the place.
Poke is a dish consisting of raw fish, usually ahi or yellowfin tuna. Now you can try this delicious Hawaiian dish without going to a restaurant!
If you're scared of eating raw seafood, don't worry about it! It can be a really delicious new experience to have.
It's just important that you make sure to get very high-quality fish.
Make sure to go to a market in your area that specializes in high-quality fish, and let them know that you're going to eat it raw so that they can recommend the best fish for you.
Is there anything better than relaxing on a tropical beach, preferably in a hammock, with a cold drink in your hand?
Well, you might have trouble getting to the tropical beach right now, and you may or may not own a hammock. But at least you can get your hands on a delicious tropical drink!
This mai tai recipe is full of the flavors of the islands. To really complete the experience, garnish with a slice of pineapple and a paper umbrella.
OK, so once again, we have strayed from the realm of the absolute most authentic Hawaiian dishes; after all, I'm pretty sure that tacos are Mexican, not Hawaiian.
But this delicious recipe combines the flavors of Hawaii with the unique stackability of the taco.
The grilled chicken is flavored with soy sauce, pineapple juice, and ginger for that Hawaiian flavor, and the pineapple, mango, and avocado salsa really kick it up a notch.
We've already talked about Hawaiian sweet rolls, those delicious accompaniments to any meal that goes with savory dishes and yet have a delightful sweetness to them.
Well, why not take them up a notch by using them to make ham and cheese sliders?
I love sliders, because there's something about the small size that makes them so much more fun to eat, don't you think?
To really kick this recipe into gear, you finish it with a buttery Dijon and poppy seed topping that you pour over all of the rolls before baking. Absolutely divine.
Here's another delicious drink recipe for your next luau, or for one of those days when you just want to sit on your back porch and pretend that you are somewhere tropical and warm.
I love the reference to the classic Elvis movie Blue Hawaii, and you'll love the flavors in this delicious drink.
Be aware that there's a difference between the Blue Hawaiian cocktail and the Blue Hawaii cocktail.
If you're looking for the one with the sweet and sour mix, that would be a Blue Hawaii cocktail, which would be a different recipe!
We've had a lot of recipes that are great dinner ideas. Hawaii flavors can be used for more than dinner, though! How about a delicious snack?
This Chex mix actually calls for two different kinds of cereals, along with pretzels. It's a very common snack recipe in Hawaii.
What sets it apart is its addition of furikake, which gives it a really unique and delicious flavor.
Furikake is a Japanese seasoning mix; check your nearest Asian grocery to see if they have it, and if they don't, you can order it on Amazon.
This is another recipe that takes inspiration from Hawaiian flavors, but is not authentically Hawaiian itself. But if you're looking for easy Hawaiian recipes, then you have come to the right place!
Hawaiian haystacks are one of those meals that I always keep in my back pocket for when I need to feed a lot of people easily and cheaply. The bulk of the meal is white rice and the sauce, so it's actually easy and cheap to make.
It's also super customizable; you can set out all sorts of things as toppings. In addition to those listed in this recipe, I like slivered almonds and celery.
Here's a great way to bring the flavors of Hawaii to your breakfast table.
Oatmeal is very good for you, giving you loads of very important fiber, but on its own, it's not terribly interesting.
This recipe calls for pineapple, coconut, and nuts to bring a tropical flavor to what could otherwise be a boring meal.
When I was a little kid, I didn't like coleslaw; it wasn't until I was an adult that I realized that it is the perfect pairing for all sorts of main dishes.
And if the flavors of your main dish are Hawaiian, then this Hawaiian coleslaw is the accompaniment you've been looking for!
The crushed pineapple is what really gives this its tropical flavor. And the addition of cilantro gives it an interesting kick.
This would be the perfect side dish with kalua pork.
If you've got busy days, then a slow cooker is an absolute must-have in the kitchen.
Is there anything better than dumping all of the ingredients in the slow cooker in the morning, turning it on, and coming home to a delicious hot meal?
This recipe combines chicken and peppers in a delicious, Hawaiian-influenced sauce.
If you don't have a slow cooker, the author also includes links to instructions for instant pot and oven recipes.
We can't talk about Hawaiian recipes without having a few dessert recipes, right? And this cake recipe is a delicious end to any meal.
What makes it so easy is that it starts with a cake mix that you then dress up. I love recipes that save time and make less mess because they include these easy shortcuts.
And with the addition of pudding, cream cheese, whipped cream, coconut, walnuts, and maraschino cherries, no one will be able to tell that this delicious dessert started its life as a boxed cake mix.
I am an absolute sucker for party foods. I'm talking appetizers. I'm talking finger foods. I'm talking chips and dip or crackers and cheese. It's a dream of mine to someday throw a big dinner party and then surprise everyone by just serving hors d'oeuvres the whole time.
And when I do, I might include this recipe to give some fun flavors to my cheese ball.
Cheese balls are such a great and festive addition to any meal; somehow, putting a cheese ball out seems so much more fun than just putting out a lot of cheese, right?
The addition of bell peppers and pineapple is what makes this feel so deliciously tropical.
We've talked about a few alcoholic beverages so far, but what if you are having a Hawaiian-themed meal for kids or for adults who don't drink?
Why not give this delicious version of the classic kids' drinks a try? The store-bought kind is a sugar-loaded delight that dyes your lips red.
This version is a little healthier since you can control what goes in there, but it's still delicious and will still dye your lips red.
If you're anything like me, you had no idea what a malasada was until you came across this recipe.
Turns out it's a dessert that was brought to Hawaii by Portuguese immigrants and that is popular for eating on Fat Tuesday.
They're a bit like a doughnut that is rolled in sugar, only 100 times better because they're homemade.
Traditionally these are not filled, but you can now find filled ones in Hawaii.
If you're looking for Hawaiian food ideas that are authentically Hawaiian, not just influenced by Hawaiian flavors, then check out this recipe.
The name "long rice" might bring to mind long-grained rice, but that's actually not what this is at all.
Instead, it's a light and tasty soup that is made with glass noodles, sometimes called bean vermicelli.
To find glass noodles, check out your local Asian grocery store.
Here's a recipe that is extremely authentically Hawaiian, and also extremely delicious.
This snack is like a cross between jello and pudding. It's smooth and creamy like pudding, but you can cut it into pieces like jello.
It only requires four ingredients: coconut milk or cream, sugar, water, and a thickener.
The cooking time is really short, but it does require six hours to set in the fridge, so make sure you plan that into your prep time.
I'm a big fan of rice pudding. I think it was because my family never made it, so I only ever got to eat it at restaurants. So it always feels really decadent to me.
So I was really excited when I found this recipe for a Hawaiian rice pudding, which brings Hawaiian fruits and flavors to the dish.
While it calls for pineapple chunks on top, I think this would be equally delicious with mango chunks. They would pair beautifully with the flavors in the pudding.
These cookies look and taste really decadent, but they're actually easy to make.
Candied pineapple, as well as that popular Hawaiian nut, the macadamia, give this a tropical flavor.
If you want to really step up the tropical flavors, you could consider rolling these in shredded coconut instead of confectioners' sugar.
By the way, if you're not sure what confectioners' sugar is, it's just another name for powdered sugar.
Is this not just the perfect dish for a summer day?
Grilling is great, but we have a tendency to just grill meat, so it can be hard to make sure we're getting healthy fruits and veggies on the side.
That's why I'm such a fan of kebabs like these because you cook fruit and vegetables right alongside the meat.
In addition to including pineapples on the skewers, what really makes these feel Hawaiian is the tangy, sweet marinade for the chicken.
If you have never tried butter mochi, you are in for a treat.
This popular Hawaiian cake is sweet and buttery and delightful, with a surprising but fun texture.
What gives it its unique texture and also its connection to Japanese mochi is the use of glutinous rice flour.
Make sure you get this flour because if you use anything else, you won't get that unique mochi texture.
This is one of those salads that will always remind me of my grandmother. It has a certain 1960s and 1970s vibe to it.
By that, I definitely mean that this is not a terribly traditional recipe. But also, there's a reason that we've been making it for decades: it's delightful.
Using marshmallows for the body of the salad gives this a fun, sweet texture and taste, while the tropical fruits give it the taste of Hawaii.
The use of sour cream as the dressing, instead of whipped cream, keeps the sweetness from going overboard.
Here's a Hawaiian twist on a non-Hawaiian dish.
Everyone has their own way of making chilli, but I bet you've never tried one with pineapple before!
The pineapple gives it a nice sweet tanginess, which goes really well with the rest of the ingredients.
For a more interesting mouthfeel, try mixing different kinds of beans instead of just kidneys.
Here's another delicious recipe for poke, that classic Hawaiian dish of raw tuna.
This is a fancier recipe than the last one we looked at, which is no surprise, given that it comes from J. Kenji López-Alt.
In addition to the ingredients you might expect, it calls for hijiki and wakame, two kinds of seaweed.
It's worth tracking down these more obscure ingredients for a more delicious meal.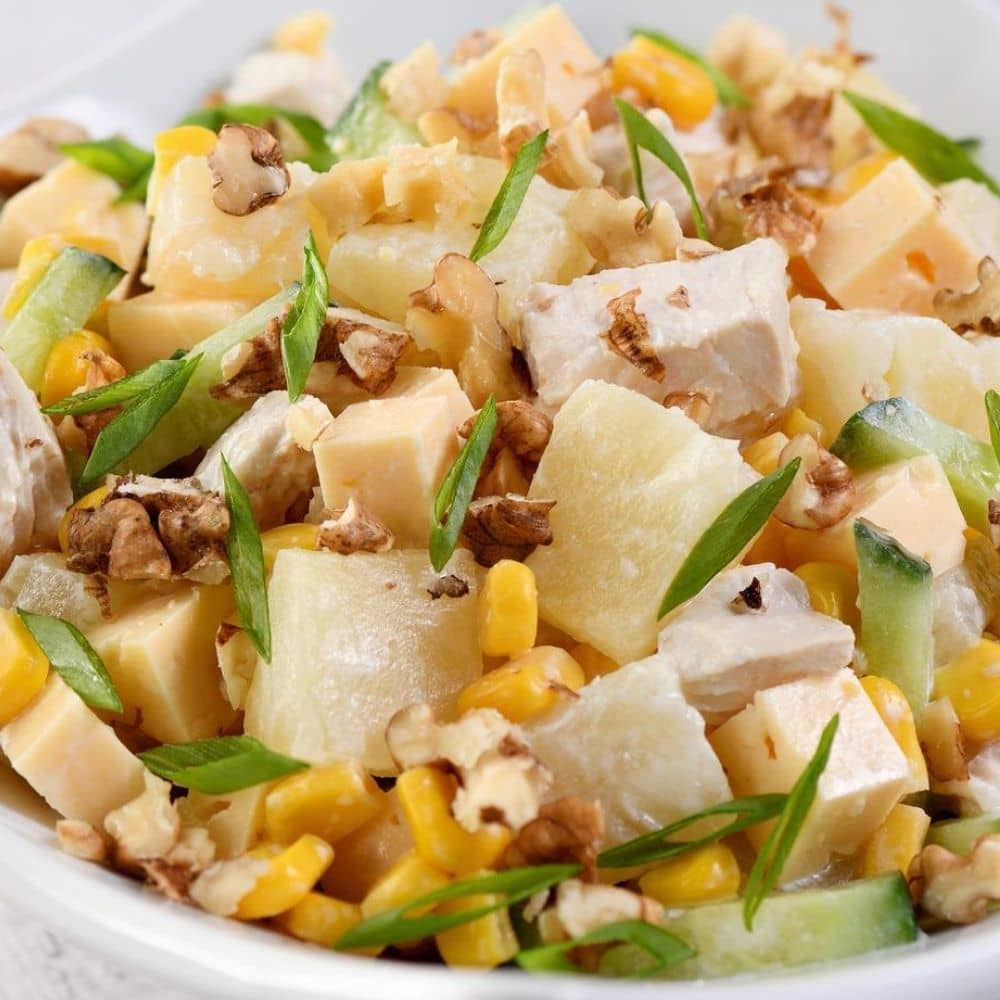 29 Easy Hawaiian Recipes
Ingredients
1 (2 pound) whole chicken
1 tbsp all-purpose flour
2 tsp salt
1 pinch ground white pepper
4 tbsps vegetable oil
½ onion, thinly sliced
1 green bell pepper, thinly sliced
1 (8 oz) can crushed pineapple with juice
2 tsp soy sauce
2 tsp brown sugar
2 tsp cornstarch
2 tsp chicken stock
Instructions
Turn on your oven to 350 degrees Fahrenheit, which is 175 degrees Celsius.
In a plastic bag, add your pepper, salt, and flour and stir together. Put one piece of chicken at a time into the bag, seal up the top, and shake the bag until the chicken is well coated in the mixture. Repeat for all pieces of chicken.
Put a skillet over medium heat and add oil. Once the oil is heated, put in the chicken and cook until the chicken is brown all over.
Grease a 9 by 13-inch baking dish and put the cooked chicken in it. Cover the pan with tin foil and put it in the oven for a 45-minute period.
While the chicken is in the oven, put the green bell pepper and the onion in the skillet you used for the chicken. Sauté until the vegetables are translucent, which should take 5 minutes. Put the brown sugar, the soy sauce, and the pineapple in the pan. Pour the cornstarch into the chicken stock and mix until there are no lumps. Pour this mixture into the pan.
Mix everything in the pan together and simmer the mixture for three minutes. It should thicken and become clear.
Remove the pan of chicken from the oven and pour the sauce that you have made over the top of the chicken. Bake another 10 minutes.