Not sure what to serve with chicken pot pie? This creamy, flakey entrée always takes center stage, but that doesn't mean it has to be the only thing on the plate.
If you are trying to elevate your dinner for some guests or want to make sure everyone is getting a balanced, nutritious meal, then you'll want some sides for chicken pot pie that balance out its dense (and delicious!) flavor.
Below are 18 of the best side dishes for chicken pot pie, from classic favorites to new experiments.
You can't go wrong with something as comforting as chicken pot pie, and these chicken pot pie sides will be sure to please.
Wondering what goes with chicken pot pie? Why not try some of the things that are already inside it! This simple and elegant recipe for roasted vegetables will extend the range of your pot pie outside the crust.
These roasted veggies take just a few minutes of prep time, and then you can pop them in the oven while you heat up the pie.
Served alongside your pot pie, all the lush colors of the different vegetables will make your plate look like a classic painting.
Don't have the right ingredients? Not to worry, as this recipe is super flexible.
A dish as classic as mashed potatoes should speak for itself. This amazingly creamy recipe needs little explanation.
Something starchy might not be your first thought for what to serve with pot pie, right? But when you think about all the saucy goodness on your plate after a helping of stewy pot pie, mashed potatoes really are the perfect side.
Savor all the delicious flavor in this full-bodied meal with a delectable heaping of these pillowy mashed potatoes.
Even your most veggie-averse dinner guest will love this option.
Looking for a healthy option but not sure what to eat with chicken pot pie? This simple, garlicky sautéed spinach recipe balances out both the flavors and textures alongside your chicken pot pie.
The spinach is simple enough to complement the many flavors in the pot pie, and a touch of garlic, olive oil, and salt give it just enough to make it stand out on the plate.
This side dish comes together in minutes with just a flash in the pan.
You don't need to be sitting out at a summer barbecue to enjoy the sweet crunch of corn on the cob.
When it comes to sides for pot pie, corn on the cob might not be the first thing that comes to mind. But this make-ahead side dish adds so much to your plate and is a crowd-pleaser for a reason.
You can boil your corn cobs ahead and wrap them in foil to keep them warm. Then just serve with butter and salt – so simple!
Chicken pot pie is a pretty soft meal, so it can be great to pair with something hearty and crunchy. If you're going for a full-textured meal, one of the best sides of pot pie is this oven-roasted asparagus recipe.
You can quickly turn your simple weekday dinner into a meal fit for a dinner party.
A simple secret ingredient – a squeeze of lemon – accentuates the asparagus' already rich flavor.
If you want to kick it up, even more, you can roast them with some red pepper flake and sprinkle them with grated parmesan before serving.
When I think wintery comfort meal, the first thought for the perfect side dish is golden-brown roasted Brussels sprouts like the ones in this recipe.
These Brussels sprouts come out perfectly cooked, and their complex flavor adds so much to the taste of the chicken pot pie.
Brussels sprouts are pretty forgiving, so this is not an energy-intensive recipe that requires you to keep an eye on it. Just pop these in the oven and pull them out when their tops start to brown.
When you're trying to think of what goes good with chicken pot pie, you might think up savory side dishes first. But let's not forget the power of the classic fruit salad.
Nothing on this list will add as much unique flavor to your meal as a sweet fruit salad.
This recipe keeps it simple, and you can always swap out what fruit you have or try to keep it seasonal.
When you're putting together a pot pie meal in fall or winter, a fruit salad with apples, pomegranates, persimmons, and other seasonal treats.
When trying to decide what sides to go with chicken pot pie for your picky eater, you might win them over with this simple roasted broccoli recipe.
The prep is easy as pie and only requires things you will already have in your pantry.
This broccoli recipe can be doctored up to fit your needs. Add herbs like oregano or basil to add a little more flavor.
The recipe calls for parmesan, but some ingredients substitutes that work well are shredded cheddar, asiago, or nutritional yeast depending on what you have on hand.
This authentic recipe for German Potato Salad adds an interesting variety to your chicken pot pie plate.
The secret ingredient that your dinner guests will not be expecting is bacon! 4 slices of crispy bacon in bite-sized pieces give this potato salad a salty and smoky kick.
If you don't have sliced bacon, you can easily substitute bacon bits or thinly sliced sausage to get a similar flavor effect.
You might be used to potato salad that has an additional crunch, like celery and bell pepper, but if you want to keep it authentic, stick to the recipe.
Garlic bread is not just a great side for chicken pot pie. It is a great side dish for pretty much anything.
This delectable, buttery garlic bread recipe will have the dinner table licking their plates and asking for seconds.
Garlic bread is a great side dish if your chicken pot pie has a light shell or is being served in a bowl more like soup. That way, you can sop up the liquid and use the crispy garlic bread as an additional crust.
No need to reach for the can when this cranberry sauce recipe is so easy with only 3 ingredients – and one of the ingredients is water!
You already know from your Thanksgiving meal that cranberry sauce adds an incredible burst of flavor to a savory meal like a chicken pot pie.
Homemade cranberry sauce like this will really elevate the flavors on your plate, and its rich color looks great, too.
For even more of a flavor kick, you can use this ingredient substitute hack and use some orange juice instead of water, or add a squeeze of lemon while it cooks down.
Plain old rice just won't cut it, so, fortunately, this recipe for garlic parmesan rice adds tons of flavor to your chicken pot pie meal.
This recipe calls for Jasmine rice, but you can easily substitute it with another long-grain rice like white rice, Basmati, or even brown rice.
Just be sure to follow the instructions on your rice packaging to make sure you are boiling it with the right portions of water.
Need a truly make-ahead side dish that doesn't require any heating? This broccoli slaw is the chicken pot pie side dish for your next meal.
This crunchy, flavorful slaw only gets better with time and can last in the fridge for a day or two easily.
The secret ingredient in this bouquet of flavors is dried cranberries, which add a tart yet sweet bite to each mouthful.
You cannot go wrong with this foolproof recipe as no cooking is required: just gather the ingredients and mix them up!
Looking for a healthy choice for comfort food? Trick your pickiest eater into vacuuming up all their veggies with this sneakily delicious mac and cheese style baked cauliflower.
The creamy combo of butter, milk, and cheese will have everyone fooled and makes a great addition to pot pie.
A touch of onion adds a nice depth of flavor, and you can also season to your liking with garlic powder, onion powder, or a seasoning mix.
This recipe calls for California cheddar, but you can easily sub out a different ingredient like a shredded Mexican cheese blend.
Add some color and crunch to your plate alongside your chicken pot pie with this super simple green salad recipe.
A few dashes of garlic powder are the secret ingredient to make this salad pop.
This green salad is also a solid make-ahead recipe if you want to get your prep done early in the day. Just add the dressing and serve.
Looking for a more low-calorie pot pie side? Make your own dressing with oil, vinegar, and your favorite seasonings
Enjoy a classic side dish with your chicken pot pie with this country-style fried cabbage recipe.
The cabbage cooks quickly, making this recipe the best side dish option when you're in a rush but looking for something better than frozen peas.
A little bit of bacon makes this veggie side dish savory with meaty goodness. The earthy flavor of the cabbage pairs nicely with the many flavors in the chicken pot pie.
This meal will look like it's right out of a country tavern. Maybe you can serve it at your old-timey-themed party!
It is always great to balance your savory meal with some subtle sweetness. Why not try pairing your chicken pot pie with these gently caramelized glazed carrots?
This recipe bakes easily in a Dutch oven or cast iron, but you can also spread out the carrots on a baking tray.
A touch of brown sugar and creamy butter turns carrots from a simple vegetable to an incredible, elevated side dish.
These carrots come out tender and golden brown along with their rich orange color.
The final item for the best chicken pot pie side dishes is another much-loved classic.
This recipe for classic southern coleslaw is just right; not too sweet, not too creamy.
A great thing about this recipe is the secret ingredient of sour cream. Adding sour cream to balance out the mayo adds a tartness to the flavor and also makes this a protein-rich side dish.
If you don't have sour cream, you can also sub in full-fat yogurt or Greek yogurt.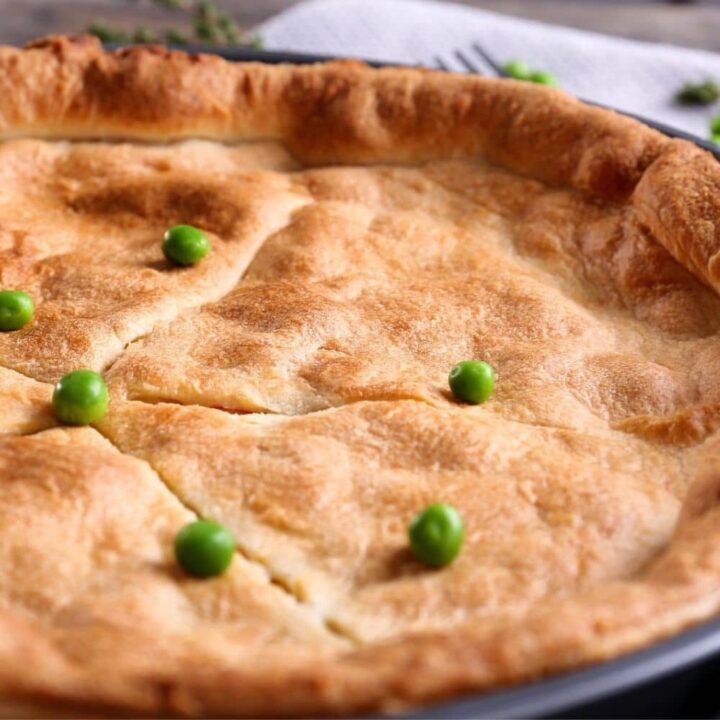 What to Serve with Chicken Pot Pie – 18 Best Pot Pie Sides
Ingredients
1 small butternut squash
2 red bell peppers, seeded and diced
1 sweet potato, peeled and cubed
3 Yukon Gold potatoes
1 red onion, quartered
1 tbsp chopped fresh thyme
2 tbsps chopped fresh rosemary
¼ c olive oil
2 tbsps balsamic vinegar
salt and freshly ground black pepper
Instructions
Place a rack in the middle of your oven and preheat to 475 degrees F (245 degrees C). Prepare a roasting pan with parchment paper or baking mat (optional).

Wash and chop squash, bell peppers, yams or sweet potatoes, and regular potatoes into 1-inch cubes. Cut the red onion into quarters and separate the quarters into individual slices.

Combine all the vegetables in a medium-large bowl. Set aside.

Whisk together oil (we prefer olive oil), red wine vinegar, thyme, rosemary, salt, and pepper in a small bowl. Toss the oil mixture with vegetables until they are completely coated.

Spread coated vegetables evenly on the roasting pan. Make sure to give the chunks as much space as possible.

Once the oven has preheated, roast the vegetables for 35 to 40 minutes, stirring the pan every 10 minutes to get an even roast, or until the vegetables look cooked-through and are golden brown.