Calling all seafood fans! Looking for easy, affordable recipes that still have that tasty fish flavor?
Imitation crab recipes might be the answer! Imitation crab meat is a mix of different fish that has been cleaned and deboned, leaving the soft, yummy, easy-to-eat portion. This process is why it's often called the "hot dog of the sea."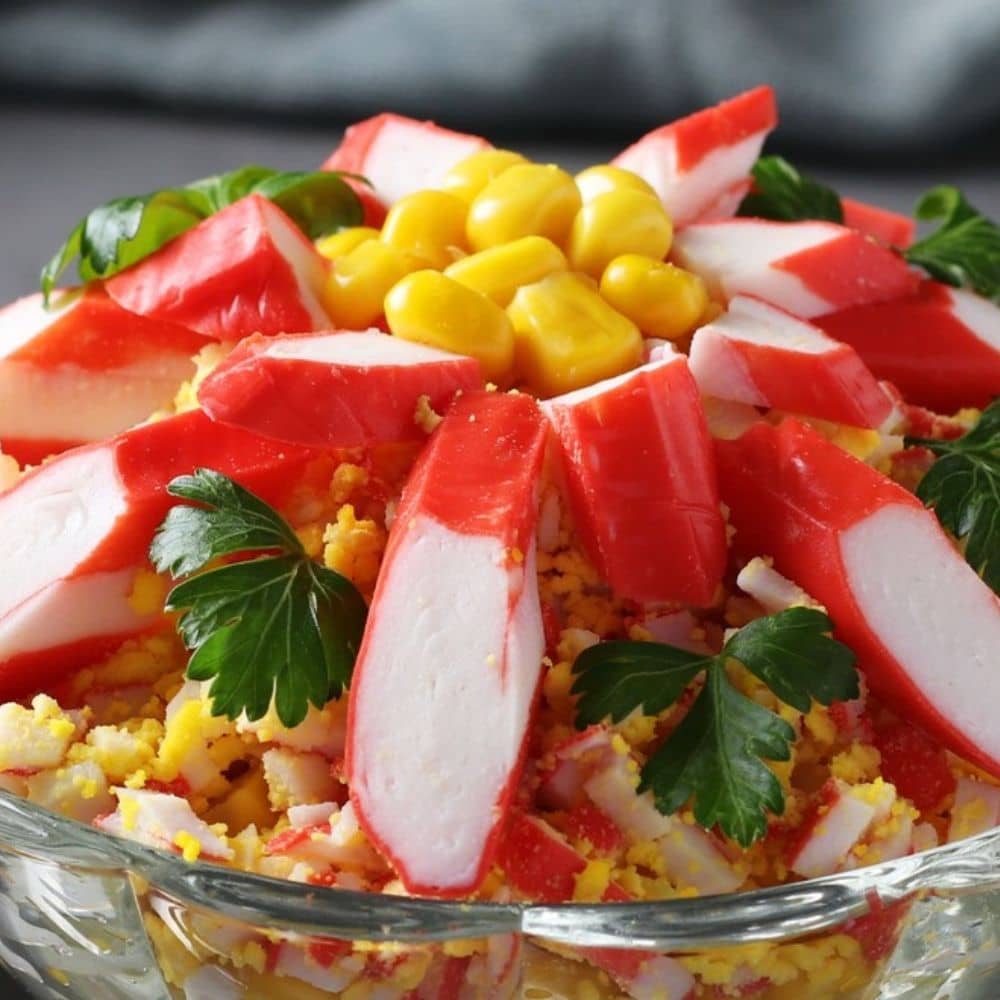 It's predominately made of fish and little to no crab. However, it still maintains that crab-like taste and comes in reddish-pink links to resemble its crustacean inspiration.
Recipes with imitation crab are often inexpensive and easy to make but still flavorful.
Are you looking for a main course with crab as the base? Or a delicious side dish to accompany your meal?
Crabmeat is here for you.
We've come up with some of the best ideas of things to make with imitation crab meat. So read on for new, easy recipes to add to your kitchen.
Crab Salad is a classic. If you haven't tried it, you definitely should.
It's fast, healthy, and requires zero actual cooking– just prep. Since it's served cold, it is a great thing to bring to a potluck, picnic, or on-the-go lunch. Just chop up crabmeat and veggies, mix with seasonings, lemon, mayo, and voila! You've got yourself a meal.
Celery gives this salad a nice crunch, and dill brings all the flavors together, giving it a lovely green accent. If you're looking to spice up this recipe, peas or chopped hardboiled eggs will compliment it well.
Crab Egg Drop Soup is a nice twist on the original Chinese dish. The crabmeat gives it an additional seafood flavor and some nutritious protein.
Dashima, a seaweed often used in Asian cooking, is the secret ingredient that gives this soup a yummy edge.
Soup is a great starter or main course. Crab egg drop soup is also light enough to eat in any season. Mix the ingredients, let it simmer, and serve hot.
You can also substitute vegetable broth for chicken stock for those pescatarians out there.
Dip into this delicious Hot Imitation Crab Dip!
This is one of many easy recipes using imitation crab. It takes only 10 minutes and is best served right away.
The hot pepper sauce gives this dip a nice kick, and the cream cheese makes it even creamier. Feel free to add a bit more or less hot pepper sauce, depending on your tastebuds and tolerance.
Every event or gathering calls from some finger foods. Dips are a great option. So grab those chips or crackers, and get the party started.
This mouth-watering dish gives you a hearty, home-cooked taste without the hours of cooking. Cheddar, cream cheese, and sour cream give it that extra rich flavor that we love in casseroles.
The secret ingredient, soy sauce, adds a nice saltiness to the overall flavor. However, feel free to substitute with tamari or coconut-aminos if you're gluten-free.
Are you wondering what to do with imitation crab meat? When in doubt, make a sandwich!
This crab roll is a quick, go-to recipe in a pinch—a great way to make a fast snack or feed that hungry family.
The melted butter really makes it satisfying. Let it soak into the bread rolls and savor every bite. If you don't eat bread or just want to switch things up, try the same recipe in some soft or hard-shelled tacos.
A foodie favorite for a fraction of the cost! The imitation crabmeat is the secret to this popular dish. The crab cake flavor remains the same, but without the labor-intensive process of deshelling and cooking the crab.
We recommend using two eggs in this recipe instead of just one. Many people have noticed it adds the right proportions and balance to the mixture.
So don't hesitate. If you're looking to impress some dinner guests or upgrade those family meals, imitation crab cakes are the way to go.
What to make with imitation crab? How about some Crispy Fried Crab Stick Bites?!
This recipe is an excellent substitute for crispy fried shrimp or other seafood. It's a lot less expensive and faster to make. Don't forget to serve it with aioli or tartar sauce for dipping.
Tempura sticks have always been a bit of a guilty pleasure. You can feel a little less guilty by breaking those expectations– not the bank. Guests will never know.
Head to the Mexican coast with this enchilada recipe! Enchiladas with crab meat are among the best ideas we've seen so far.
Cilantro, cheese, and enchilada sauce give this recipe the authentic Mexican flavor you expect from the region. Use hot sauce as desired to provide it with a spicy kick.
Enchiladas are kids' favorite. They're tasty, filling, and have that homemade feel you love from mom's cooking. Serve it with rice and beans for a complete meal. Buen provecho!
Yum. Crab Rangoon is one of our favorite crab appetizers. It's hard to resist at Chinese restaurants. Now, you can bring it into your kitchen for less. This recipe will have your guests thinking you ordered it from your favorite Chinese takeaway.
It's a great starter or side dish when serving Chinese-inspired stir-fries or meat. Don't forget to have a sauce such as sweet chili or hot and sour to go along with it.
Dip the crispy crab finger food into the sauce and munch away!
If you're looking for a hot dish using imitation crab meat, a casserole is the way to go. Just 15 minutes of easy prep, and you can pop that pan straight in the oven. You'll have a piping hot, mouth-watering Imitation Crab Casserole in one effortless hour.
This casserole has a few more components than most recipes, including French onion and mushroom soups, rice, and bell peppers. The extra touches give it a slightly heavier, savory flavor.
Are you looking for healthy imitation crab recipes? You've come to the right place!
Pasta salad is a light, refreshing summer staple– made even tastier with some imitation crab! This particular recipe is packed with veggies such as bell peppers, onions, and celery for extra vitamins and a nice crunch.
This dish is an excellent potluck or picnic option. It carries well, is easy to share, and is a crowd-pleaser. Make a big bowl and grab some serving spoons!
Who doesn't love pasta alfredo? The creamy butter and cheese sauce makes the dish. Adding some imitation crab will give you that seafood flavor and more protein.
Pasta is relatively quick to cook. This dish is ready in 25 minutes, so you can spend less time in the kitchen and more time enjoying the food with your family or friends.
Alfredo is best eaten straight away, so whip up a dish and enjoy it fresh!
You can't go wrong with cheese, and this dish has plenty of it.
It's a twist on the classic casserole. Worcestershire sauce, garlic, and lemon zest sets it apart and give it a yummy, slightly Chinese-inspired flavor.
Bake it just under 30 minutes for a slightly creamier texture or the entire time to get crispier, burnt cheese on top.
You are sure to love this indulgent recipe straight from the oven. As a bonus, it's also great for leftovers!
If you've never made sushi, you'll be surprised at how easy it actually is!
You don't need to fuss over the quality of the fish either. It can be challenging to find fresh, tasty raw fish up to sushi standards. However, using crab meat is a simple and safe solution.
Sushi can be expensive at restaurants but affordable at home. Plus, it provides a unique culinary experience. Get the kids or your friends involved by rolling the rice and goodies yourselves. Then enjoy those light, refreshing sushi slices!
This is another satisfying pasta dish. Seafood pasta somehow seems fancy. Tomatoes, garlic, and parmesan cheese make this pasta dish feel special despite how simple it is to make.
It's a lighter option than the alfredo sauce recipe, making it ideal for those hot summer nights.
If you can't get your hands on some shrimp or aren't a big fan, try substituting other seafood or even chicken. The parmesan cheese is added last and optional but gives it a nice, salty touch.
These tasty treats are sure to impress your friends! Bite-sized and full of flavor, these snacks make the perfect finger food for any occasion.
Phyllo shells have a flaky, buttery texture, and the jalapenos add an unexpected but welcomed spice. Get a dipping sauce to go with it if you want to make it even fancier.
Put it on your list of recipes for the next party. You'll be ready to delight your guests with these yummy Crab Delight Bites!
Imitation crab can even go well in a breakfast recipe. This Crab Quiche is absolutely delicious and relatively simple to make.
This savory, egg-based dish is perfect for brunch gatherings. It's easy to carry and serve. Just slice it like a pie, and serve a piece to all your lucky guests.
Save yourself time by using an already-made pie crust as the base. The great thing about quiches is that they're versatile. Feel free to add in more veggies such as tomatoes or red peppers.
Are you looking for the best crab dip ideas? This one takes the cake. It's quick to whip up and flavorful to boot.
Because this dip is cold, there's no cooking, just prep. The cream cheese gives it creaminess, and the lemon juice gives it a slight hint of citrus.
If you want a slightly healthier version, opt for greek yogurt instead of mayonnaise. And if you like your dips to come with a crunch, throw in some chopped celery.
This dish goes well with many types of chips and crackers. It's a versatile appetizer yet still cheap and cheerful!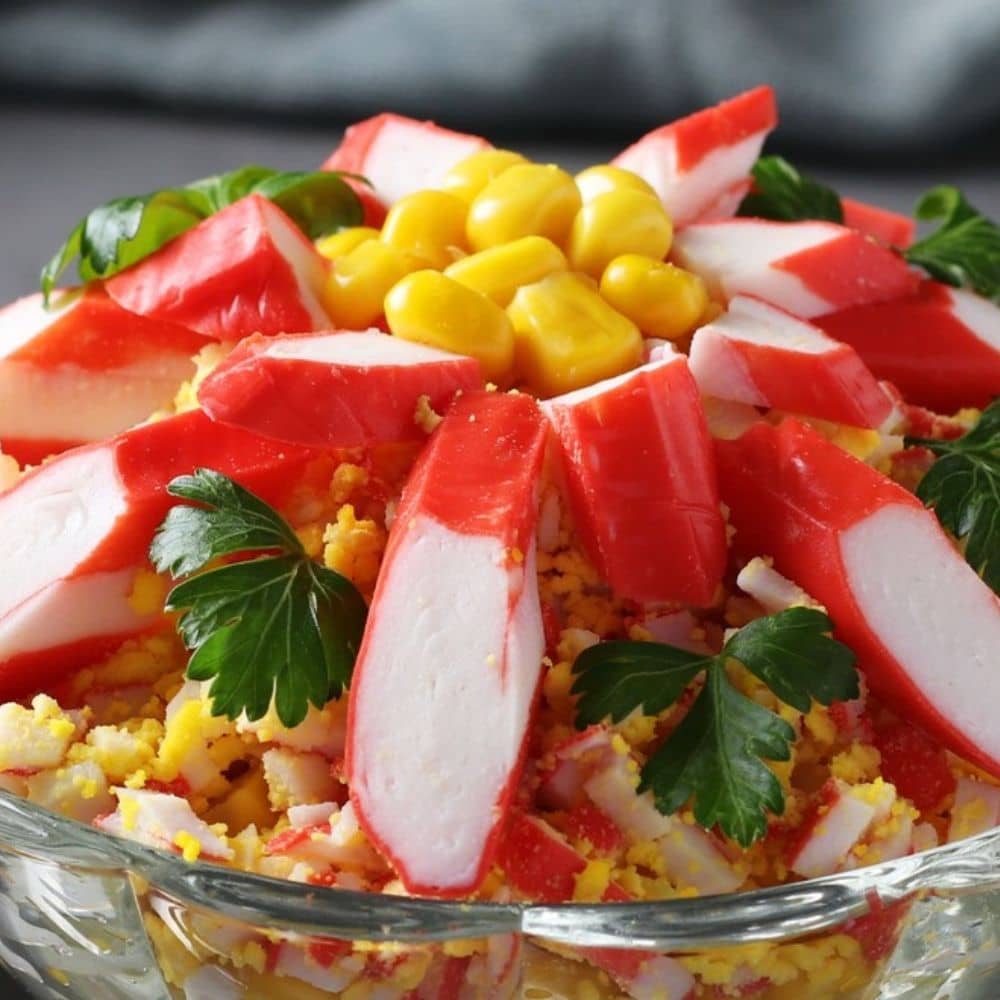 18 Easy Imitation Crab Recipes
An excellent alternative to chicken salad is crab salad. Crabmeat has a saltier seafood flavor than chicken, but it's just as light and delicious.
Ingredients
1 lb jumbo lump crabmeat, picked over to remove any shell or cartilage
1 stalk celery, peeled, and cut into 1/8-inch dice
1 tsp minced fresh tarragon leaves
4 tsp finely sliced fresh chives
3 tbsps sour cream
1/3 c prepared mayonnaise
1/2 tsp Dijon mustard
1 tsp freshly squeezed lemon juice
Kosher salt
Instructions
Gently mix the dry ingredients in a bowl: crabmeat, chives, tarragon, and celery.
Make the dressing in a smaller, separate bowl by stirring the wet ingredients together: mayonnaise, sour cream, mustard, and lemon juice.
Pour the dressing over the crab mixture- usually until coated.
Add salt and pepper as desired.
There you have it! Now you know what to do with that imitation crabmeat– and you might be surprised with the variety of options available. There are many recipes and ideas to titillate your taste buds. So bust open that crab meat and get to it.
Happy cooking!