What is Keto? A Ketogenic, or Keto diet is a high fat, moderate protein, low-carbohydrate diet that puts the body into ketosis. This is a state where the body burns fat rather than carbohydrates for energy.
The diet was first developed as a medicinal therapy for children with epilepsy. It has evolved to become a mainstream weight loss solution for millions of people.
With the popularity of the Keto diet, people have been turning more towards lifestyle changes eating in ways that keep the body in ketosis. To assist you in this, we've gathered a list of recipes for keto side dishes that you are going to love.
The good news is that most of them are also low-carb side dishes that are delicious and guilt-free.
Some of these delightful keto recipes can also be used as an entree. There are enough choices on this list to have keto-friendly side dish recipes every night of the week.
This keto Mac and Cheese recipe are so balcony and cheesy that you're not even going to notice right away that it's cauliflower 'mac' and not pasta.
Cauliflower is one of those lower-carb and keto sides that can be used in a ton of different ways in keto cooking. This is straight-up comfort food that is largely guilt-free.
You can use it as a side dish or entree and substitute the bacon for chicken or pulled pork for great variety.
This Bacon Wrapped Asparagus works great as an appetizer or a keto-friendly side dish. Just about everyone likes bacon!
When you tightly wrap these asparagus spears after brushing them with garlic and olive oil and bake them with the sweetened butter mixture, the flavor combinations are amazing!
The secret ingredient in this recipe is the bit of cayenne pepper in the butter mixture. Your guests are going to go crazy for is keto side. This dish is perfect for your next get-together.
Brussels Sprouts are a vegetable whose time has come. In the world of keto cooking, the Brussels Sprout has an important role.
This Creamy Garlic Parmesan Brussels Sprouts recipe makes a delicious addition to your list of keto dinner sides. You can also serve it as an entree.
Topped with crispy bacon bits, you can't go wrong. Your dinner guests are going to be happily surprised with the depth of flavor in this recipe, and even more so when you tell them it's low carb, and keto.
One of our favorite keto sides for dinner is this Cheesy Garlic Roasted Asparagus. This is one of the best, easy ideas for giving the lowly asparagus shoot a whole new life.
Prepare your shoots with olive oil and garlic and par-bake them for ten minutes. Top with mozzarella cheese or another mild and melty cheese and put them back into the oven until the cheese is browned and bubbly.
Tip: Add some chile flake, anything bagel seasoning, or a couple of grinds of black pepper to the cheese for a little added spice.
The trick to making this Homemade Keto Cranberry Sauce is cooking the cranberries just right. You want to simmer them until they break open, but if you want a smoother, less chunky sauce, simmer the cranberries longer.
The secret ingredient in this recipe is allulose. This sugar substitute is used and acts like regular granulated sugar, so you don't have to do any extra steps.
This is a great way to add a little sweetness to the tart cranberries, without blowing your diet. Take this to your next holiday gathering and it is sure to be a hit!
Creamed Spinach may seem rather bland, but when you make it the keto way, the addition of cream cheese gives our recipe for Easy Low Carb Keto Creamed Spinach a delightful flavor and texture.
Traditional creamed spinach uses flour, but we've eliminated it for this keto-friendly version. The cream and cream cheese will thicken the recipe up without needing to add flour. This is a holiday favorite that's just had an upgrade.
Take it to your next Thanksgiving meal and you'll bring home an empty pan.
These Creamy Garlic Mushrooms with Bacon are an excellent choice for an appetizer or a keto side dish. This dish is all about butter and garlic.
You want those mushrooms to be nice and garlicky. Then when you add the cream sauce with chicken broth and cream, topping it with bacon bits, you will have everyone's mouth-watering to devour them.
This dish is always a favorite at potlucks or dinner parties. Be sure you make enough to go around.
The versatile Cauliflower is put to good use in this keto-friendly recipe for the best Keto Mashed Cauliflower. This recipe is perfect in place of any dish that you traditionally would use mashed potatoes.
The trick is to steam your chopped head of cauliflower until it is very soft. Then mash with butter and cream cheese. The secret ingredient in this recipe is minced garlic. You can substitute garlic powder, but don't skimp on the toppings.
Sour cream, bacon bits, and chives are traditional, but you can also use scallions and a bit of shredded cheese for another layer of flavor.
This 5 Minute Keto Gravy recipe will soon become your go-to for any side dish that would go with gravy. The trick to making this gravy is to keep stirring continuously while the gravy cooks, so it thickens without scorching or becoming lumpy.
The secret ingredient in this recipe is Xanthan Gum. This ingredient takes the place of flour in bringing your gravy together. Properly seasoned, you'll never question the flavor of this recipe as being anything other than delicious gravy.
Use broth or pan drippings from the meat you've cooked for an authentic flavor.
When you think of it, Brussels Sprouts really are like miniature cabbages.
This makes sense in a recipe such as this Keto Brussels Sprouts Salad with Shaved Parmesan. Most cooks wouldn't dream of eating a raw Brussels Sprout whole.
However, when you shave it or chop it finely, you end up with a tasty and super crisp green. This keto side dish salad incorporates other unusual crunchy ingredients as well.
Add pomegranate seeds, sliced almonds, sunflower seeds, and thin slices of shaved parmesan for a multi-dimensional texture, taste, and crunch. Olive oil and lemon make the perfect dressing for this unusual keto salad.
For those of us who love pasta, but for one reason or another have decided to cut it from our diets, it can be sorely missed. There are few substitutes for pasta.
Fortunately what most of us are really missing is the fact that pasta is the vehicle for all the other ingredients we love. These are not restricted to us. This Zucchini Noodles with Garlic-Butter and Parmesan is a perfect example of this.
We can eat these low-carb and keto-friendly zoodles loaded with garlic butter and parmesan. Let's just take a moment to be thankful for this.
This is a great instant pot recipe. The trick to cooking the broccoli perfectly is to cut the florets all about the same size and not too small so they don't overcook.
It only takes about a minute. Then stir in the cream cheese and cheddar cheese. Once you incorporate all the ingredients you can put them into a casserole dish.
Top with cheese and bake to melt the cheese. This one is a favorite at potlucks and any holiday gathering.
This bacony Keto Spinach Dip is the answer to the dip in a bread bowl that we used to see at every summer BBQ and potluck. It works with either crackers or vegetable pieces and is low carb and keto.
The great thing about this dip is that you can use frozen spinach and ready-made bacon bits if you're in a hurry. This is a hot dip, and is best served as soon as possible. The secret ingredient in this recipe is the bacon bits.
If you take the time to cook up some bacon to crumble on the top, it makes for a great presentation and tasty crunch.
These Carrot Fries are a low-carb and keto-friendly side dish that will surprise you. These are made in your oven or air fryer and satisfy everything about your cravings for crispy, seasoned fries without the guilt.
The spice blend is the secret ingredient and you can substitute and modify it to your personal taste. Add some chili powder or cayenne to the mix for a bit of a kick of spice.
Be sure to make enough of these carrot fries for everyone because they are sure to be a hit.
These Keto Cauliflower Wings make a great keto dinner side. They are boldly flavored, crispy and delicious.
This keto side dish pairs well with chicken. You can make this recipe in your oven or air fryer for the crispiest crunchy tots. The secret ingredient in this recipe is the tangy and spicy sauce.
Substitute your favorite hot sauce in the recipe and give your Cauliflower Wings just the right amount of spice and kick. We know that this dish will be a hit at your next get-together or game day.
This Broccoli Salad has been described as the perfect keto side dish. Broccoli salad is a staple at just about any potluck or get-together, so your version is sure to be well received.
Crunch it up with some pepitas, sunflower seeds, some slivered almonds, and onions. Try some cheddar or provolone cheese in there as well.
Mix up your vinegar with a little bit of sweetener for balance and you have a wonderful salad that your family will request again.
Steamed vegetables, a creamy sauce, and bacon are the key ingredients to making this Keto Broccoli, Bacon Cauliflower Casserole.
This is cheesy and delicious comfort food that boasts a savory flavor profile and is not only low carb and keto but so creamy and delightful that you can elevate it from a side dish to an entree.
Your family is going to love this casserole. We predict it will soon be put into regular rotation on your weekly menu plan.
This recipe for Low Carb Zucchini Fritters is easy and versatile. You can make them fried, baked, or in your air fryer and they only have 2 net carbs each.
They're made with almond flour which is the key to keto. Fresh savory ingredients such as garlic and scallions give them wonderful flavor, and the parmesan or shredded mozzarella adds a little cheesiness.
The secret ingredient in these fritters is chili powder. You can use any kind of chili for a boost of spike and a little color. Make sure to drain the shredded zucchini fully before cooking.
This is one of the best, easy soups to put together. It comes together in just 20 minutes and is a perfect keto dinner food.
Simply saute your onion and garlic in butter, add in your chicken broth or stock, the heavy cream and stir. Next in goes your broccoli and seasonings and then you bring the heat up and simmer until the broccoli is done.
You put the cheese in just before serving. Smoked paprika is the secret ingredient in this amazing soup. This recipe is one that is sure to satisfy.
This is a simple recipe for super tasty Keto Cauliflower Tots. This is a dish that can be an appetizer, a game day snack or a dinner time keto side dish.
It's the three cheese blend that makes them so delicious. Vegetable tots are a great way to get a big taste without the carbs. The secret to making them so good is the Cauliflower rice. You can buy it frozen, but it's better if you can cook and rice your own cauliflower.
Bake your tots in a hot oven or fry them on the stovetop. They're ready when they turn golden brown and crunchy on the outside. Enjoy!
Brussels Sprouts will never be boring again with this Cheesy Brussels Sprouts Bake. It's a delicious and easy dish to put together.
Make it in one pan! Cook your bacon in the pan first and let some of the drippings help to flavor the dish. Cheddar and parmesan cheeses mixed into almond milk and a little cornstarch make this keto side dish a cheesy favorite.
The almond milk reduces the carbs in this dish to 4 net carbs per serving. This one is a winner.
One thing you give up when you are eating a low-carb or keto diet is bread. We have wonderful news, do not despair!
This Keto Garlic Dinner Rolls recipe is going to change all that. It's low carb, made with almond flour, cream cheese, and mozzarella cheese with an egg binder.
This is a recipe that you're going to want to make again. These rolls are great for sandwiches and burgers as well. You're going to want to make them frequently.
Almond flour is the common replacement for AP flour in most keto recipes. This recipe for Baked Keto Zucchini Fries is a perfect example.
Almond Flour and Parmesan Cheese mixed with egg and a zesty spice blend are all that is needed to make some crunchy and delicious zucchini fries. You can bake them or cook them in the air fryer.
These fries pair well with anything that potato fries will. Tip: Make sure you get as much moisture out of the zucchini before you batter them for the best results.
Keto dieting is a world filled with salads. This can be a bit boring if that's all you're eating. Well, this Keto Broccoli Salad with Bacon is going to shake things up a bit.
This recipe has a bit of crunch, lots of nutrition, and a sweet and tangy dressing. Simply whip up the dressing while the bacon is cooking, then add your vegetables and the pine nuts to the dressing. Sprinkle with bacon and mix.
The trick to this salad is to let it sit for 20 -30 minutes before serving so the flavors have time to meld.
We all remember the hated green bean casserole that we were forced to eat at holidays. Did you ever think of trying it at home with fresh, wholesome ingredients?
Here's your chance. This recipe reimagines the green bean casserole of old with a Low Carb Keto Green Bean Casserole that you and your family will love. The cream soup is gone; replaced by cream cheese and grated cheddar.
Fresh green beans and mushrooms make this dish a flavorful departure that you are going to want to take to all the holiday get-togethers this year.
When we go Keto, we have to give up on most of the white stuff. Bread, pasta, and rice are the big three. Fortunately, our friend, the versatile Cauliflower can substitute quite effectively.
This Cheesy Cauliflower Rice is a great keto side dish that is simple to prepare and a welcome sight after being away from rice for so long.
The Keto Cheese Sauce is the secret ingredient to making this a delicious low-carb side dish for dinner.
This simple and rustic recipe for Keto Oven Roasted Vegetables will soon become one of your go-to recipes for dinners. The secret to making the perfect roasted vegetables is the olive oil and balsamic marinade with herbs.
Simply drizzle this oil over your veggies and toss to coat. The trick to making the best keto oven-roasted vegetables is to cut all your vegetables to approximately the same size for uniform cooking.
Place them in a single layer so that they roast and do not steam. You want them a little bit crispy and browned, but not so overcooked that they're burnt or mushy.
This recipe for Crispy Keto Onion Rings is the answer to your onion ring cravings. After all, who doesn't like a sweet onion covered in breading and deep-fried to golden perfection?
This version is a great substitution for the high-carb onion rings of the past. The recipe uses almond and coconut flour combined with eggs and spices for the perfect breading. Double egg dip and bread each ring for best results.
Fry on the stovetop, deep fry or use your air fryer to cook your onion rings until they are perfectly golden brown and crisp. Drain on paper towels and serve.
This so-called "fathead dough" is the best garlic bread you've ever had since you gave up bread to go keto. This recipe uses yogurt, cheese, and almond flour along with lots of garlic and spices for a delicious outcome.
Add in the eggs at the end for best results. When the bread is nearly baked, brush the top with minced garlic and butter.
This bread is sure to be a requested favorite in your household. Serve it with your entree or use it for sandwiches.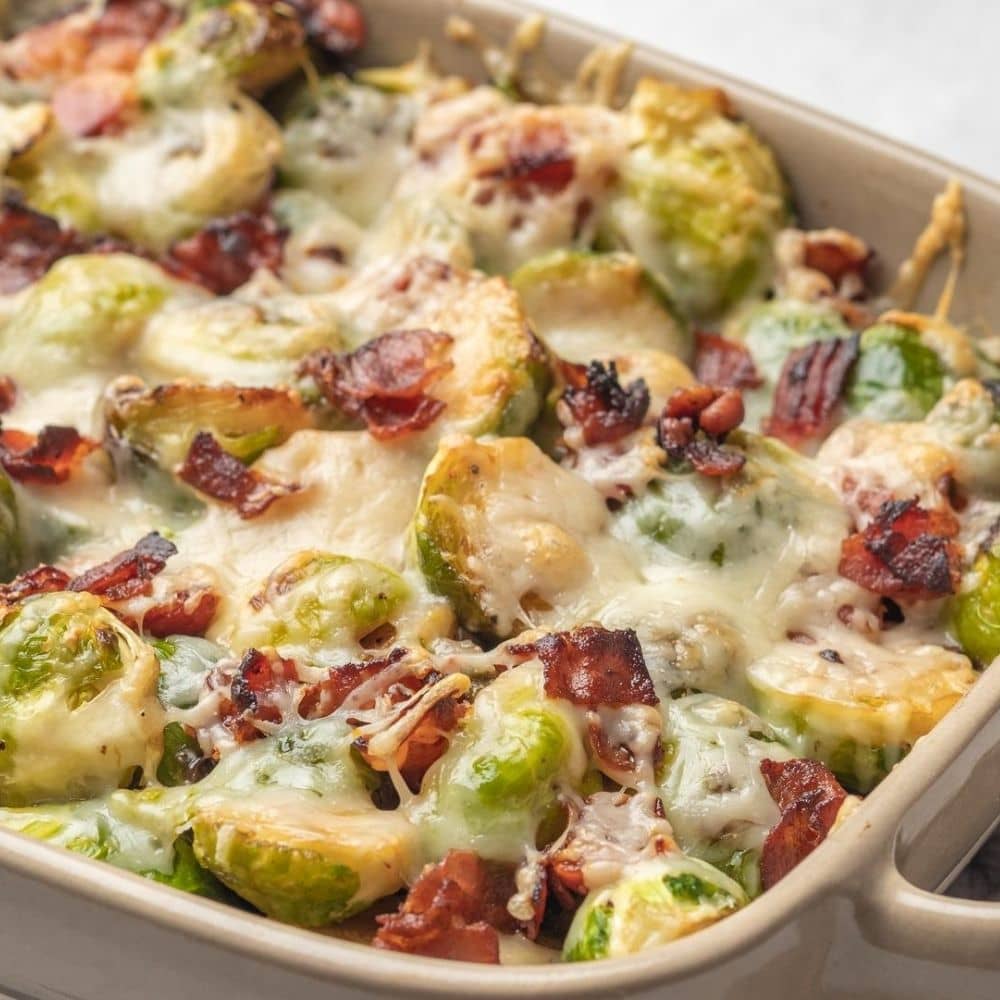 29 Best Keto Side Dishes
Ingredients
1 ½ c elbow macaroni
cooking spray
1 tbsps olive oil
1 tbsps all-purpose flour
½ c cauliflower florets
½ (8 oz) package cream cheese
1 ½ c shredded Cheddar cheese
½ c milk
½ tsp salt
⅛ tsp round black pepper
Instructions
Boil your elbow pasta and steam your cauliflower florets until soft. Drain.
Placed cooked cauliflower into a blender and blend until smooth
Make a roux with flour and oil in a saucepan over medium heat
Add milk and stir until the mixture thickens
Mix in the cheese and cream cheese, salt, and pepper along with the blended cauliflower
Add the cooked pasta and stir to coat.