What comes to mind when you think of kidney bean recipes? For most people, it's a kidney bean salad served as a side dish throughout the year or at a BBQ. But that doesn't mean you can't find new recipes with kidney beans!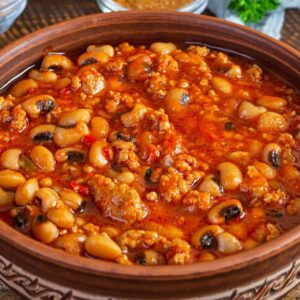 We've saved you from searching "What to make with kidney beans?" and put together a list of the 30 yummiest options to try.
You'll be cooking with kidney beans (think chili) and using them to beef up the protein in veggie burgers.
Kidney beans are much more versatile than many people think. Let's get into these 30 mouthwatering dishes!
As mentioned, kidney bean salad is one of the most often made red kidney beans recipes. It's a classic dish that you can pair with nearly any type of the main dish. It's crisp, creamy, refreshing, and super easy to make.
How does this kidney bean salad remain so creamy and delicious? It's the mayonnaise that you'll be adding to the chopped veggies and beans. For a lower calorie option, you can also use nonfat Greek yogurt.
This salad is perfect in the summertime, as it's served cold.
When you think of chili, do you think of adding kidney beans? If not, you're missing out on a delicious element that will take your chili to the next level.
Adding kidney beans creates a lush, creamy texture that you would otherwise miss out on.
The standard recipe calls for ground beef. However, we prefer ground turkey with this chili as it lets the flavor of the beans shine through.
Tip: Add a dash of smokey paprika for an extra punch of flavor.
You've heard of black bean burgers, but kidney bean burgers? If you've ever tried a black bean burger before, you know that they're often quite dry.
Using kidney beans instead helps create a softer, less dry burger that you'll want to make day in and day out.
Creating a flavorful burger is easy by using ketchup to hold the patties together and add taste. For a less sweet-tasting burger, use your favorite mustard.
Try Dijon or spicy brown mustard for a more savory flavor.
These delicious sloppy joes are healthy, and they're also quite flavorful! Instead of using ground beef as a base for the sloppy joes, you'll use kidney beans. This swap helps keep the calories down and the protein up.
This sloppy joe recipe is unlike any you've had before – it's sweet, spicy, and even tangy.
Part of the heat comes from the dash of hot sauce that you'll be adding at the end. To get a similar heat, use a sprinkle of cayenne pepper.
If you can make sloppy joes and burgers from kidney beans, why not use them to make a filling curry?
This recipe is noted as one of the options to make when you only have random ingredients left in your fridge. We know that you'll be recreating this dish all the time after a taste.
Like most recipes, this curry starts with the step of adding vegetable oil to a pan.
Create a more buttery and decadent curry by using ghee or butter instead. You won't believe how swapping this one ingredient adds more flavor.
Here's one of the healthy kidney bean recipes that you'll want to have on hand for chillier weather. This soup is filled with delicious noodles, chunks of tomatoes, and soft kidney beans.
Seasonings and bay leaves are the final touches that bring this soup together.
How do you make this soup even better? By adding crispy pancetta to the soup for a salty kick. If you don't have any pancetta on hand, you can use bacon instead.
Tip: Pack your leftovers into small containers and freeze them for a later date.
Looking for a lighter chili that will still be satisfying? This chicken and red bean chili is still a great winter option, though you won't feel sluggish after eating it.
It's jam-packed with veggies and just the right amount of heat.
Green and red bell peppers help beef up this recipe. If you're low on time, you can use a bag of frozen veggies as a swap. This won't affect the flavor, and you'll still be able to pack in those extra nutrients.
Not a chili person? Try this bean-vegetable soup instead. You won't believe what helps thicken the soup broth – pureed kidney beans and tomatoes. Once you use this hack, you won't go back to making regular vegetable soup anytime soon.
The not-so-secret ingredient in this recipe, especially after revealing the above hack, is stewed tomatoes.
We love swapping in cooked tomatoes with diced chilis for an extra pop of flavor and heat. Using this replacement won't alter the consistency, though it will change the flavor slightly.
Not everyone likes pinto beans in their Mexican food, and this recipe proves that you can swap out kidney beans for an equally tasty recipe. This recipe is geared toward those who want a vegetarian-friendly meal.
But that doesn't mean you need to be vegetarian to enjoy it!
As you might have guessed, one of the main ingredients is large flour tortillas. An option that will work just as well is a veggie-based wrap tortilla. This allows you to sneak some extra veggies into the mix.
Try a spinach wrap to create a fun color and healthier meal.
To make these simple kidney bean recipes, you'll need to have kidney beans on hand. Sure, you could use the canned variety, but you're adding a large amount of salt to any of your dishes.
Creating homemade kidney beans allows you to be in control of the flavor.
There are only two ingredients for making Instant Pot kidney beans – dried kidney beans and water. Switch it up for a more flavorful pot of beans by using a chicken or vegetable broth instead of water. If you're concerned about the salt level, use a low-sodium broth.
Want to take your kidney bean salad from side dish to the main dish? Add some elbow macaroni to the mix, creating the perfect entrée. You still get the creamy consistency and flavor so that you won't be missing out at all! Plus, you can make this recipe in about 10 minutes.
The secret ingredient in this macaroni and kidney bean salad is the red wine vinegar. It helps add delicious acidity to the recipe, so it doesn't taste too rich.
You can also use apple cider vinegar if that's what is available in your kitchen.
Chili mac and cheese is one of those comfort foods we can eat every day. The combination of mac and cheese and chili offers the perfect balance between creamy and hearty. We love that it's ready to go in 30 minutes and cooks in one pot for easy clean-up.
You can't have mac and cheese without noodles, and this recipe calls for elbow macaroni.
You can use any smaller noodles, including cavatappi or shells. The flavor will be the same, but you'll have a slightly different texture.
Tip: Cook this recipe in the crockpot for a more hands-off dish.
This dish is somewhere between a bowl of chili and tacos. It has a delicious taco seasoning that will make you feel like you just took a bite of Mexican food at a restaurant. It's hearty, tasty, and ready to eat in no time.
Forgot to add taco seasoning mix to your grocery list this week?
It's easy to recreate with a few spices, including cumin, chili powder, salt, pepper, paprika, oregano, garlic, onion, and red pepper flakes. Now, you can recreate this dish without running to the store.
Travel to Lebanon by enjoying a bowl of this super tasty soup. Fashola is a traditional dish that many Lebanese families ate growing up. It's filled with tomatoes, chili, spices, and more. You'll love this recipe!
Traditionally, this dish includes cubes of beef and is not vegetarian.
If meat is typically in your diet, you can brown and add pieces of beef for a more authentic taste. Keep the kidney beans in for an extra dose of protein.
Tip: If you're using dried kidney beans, you'll need to let them soak in water overnight before you use them.
Think this kidney bean soup is the same as all the others? Think again! This one has a rich, thick, creamy broth instead of a standard tomato-based broth.
How does one make this dish even better? Add a dollop of vegan yogurt to the top to help cool the spice and create a tangy contrast.
You can, of course, swap this out with regular unsweetened, unflavored yogurt.
You'll be surprised by how thick and lush this soup is just by blending the vegetables and kidney beans.
This is one of our favorite kidney bean salad recipes – it's tasty, simple, and requires ingredients that you probably have lying around the house. As far as convenience goes, this option ranks a 10/10.
Sweet pickle relish is one of the ingredients you'll use to add tanginess. If you prefer a saltier kidney bean salad, use capers instead.
Tip: This salad is best served cold, so make sure to chill for at least one hour before serving it at your next get-together.
Pizza that's super flavorful, Mexican-inspired, and vegan?! Sign us up! This recipe is a great option for those who have dairy sensitivities or want to cut back on their meat intake without sacrificing flavor.
Instead of cheese, you'll be using a vegan sour cream as one of the toppings on this pizza. If you can find a vegan mozzarella or cheddar nearby, you can use this option instead.
As a heads up, vegan cheese doesn't melt quite the same as regular cheese, so you can expect a different consistency.
You make hummus out of chickpeas; why not create a dip from red kidney beans? Perhaps you don't like the flavor of garbanzo beans, or maybe you're looking for a new dip to try. Give this one a shot – you'll be surprised by how creamy and tasty it is!
Like how you'd make hummus, you'll be adding a fresh garlic glove to the dip as it blends or processing. You can also use minced garlic if that's what you have available.
Don't be shy with the garlic; add as much as you'd like. But be prepared for garlicky breath!
Spicy bean soup is the perfect way to warm up on a cold, rainy day. It's filled with vegetables, so you won't feel guilty going for a second bowl. This is one of the easiest recipes using kidney beans, and it will only take about 35 minutes to whip up.
Fresh coriander leaves add a deliciously fresh, citrusy flavor that perks up this bean soup.
This may be challenging to find at the local grocery store. So, you can use dried coriander sees or powder, which your store should offer.
Kidney beans and rice are so simple yet so tasty. We love adding this side dish next to grilled salmon in the summer. It's quick to make but packs a punch of flavor due to the seasoning.
Of course, you'll need rice for this dish. Typically, you would use long-grain white rice. However, you can feel free to experiment with the type of rice you use and include rice like basmati.
Tip: The seasoning is key, do your best to find Cajun or blackening spice mix at the store.
We can never get enough kidney bean salad – regardless of the season! Even though this recipe is meant to eat in the summer, we have no problem eating it all year long. It's tangy, sweet, and everything that kidney bean salad should be.
Wondering how it has a slightly sweet flavor? You'll be adding a tablespoon of brown sugar to create this taste. Maple syrup will also work well in a pinch.
Like the other kidney bean salads, you'll want to refrigerate this dish when you've finished putting it together.
First kidney bean burritos and now fajita tacos? Yep, that's right! These fajita tacos are filled with various layers, from smashed kidney beans and guac to sour cream.
Crispy taco shells help make these fajita tacos fun and add a nice crunch.
We won't judge you if you're a soft taco lover! Simply swap the crunchy shells for soft flour tortillas, and you're ready to bite into these fajita tacos.
Tip: Make the prep time quicker by offering these fajita tacos at a DIY filling station.
What are cowboy beans? Well, they're similar to baked beans but SO much better. Skip the canned version and make this easy replacement that will have your guests reaching for seconds.
There is a hidden ingredient in this recipe that you likely won't expect – brewed coffee.
It balances out all the flavors and provides a liquid base for the beans to cook in. You can also use instant coffee, though you'll need to mix it with water before adding it to this recipe.
We've all had ground turkey or beef stuffed bell peppers. Here's a vegetarian version that you'll love just as much! This is one of the most flavorful meals with kidney beans that you'll lovemaking.
Yes, there are kidney beans in each stuffed bell pepper. But there are also home-cooked black beans.
You can always swap these out with canned black beans. Or, use your favorite type of bean, like pinto, to customize the recipe toward your taste preference.
Tip: Adding fresh parsley on top is a nice finishing touch that adds freshness to the dish.
By this point in the recipe list, there's no way you can still think kidney beans are boring or overrated! The cheesy, spicy bean filling perfectly complements a flaky crust.
It's super easy to slice, and your family will love eating this pie.
You may be able to guess the unexpected ingredient in this recipe as it's known for helping thicken sauces. It's cornstarch! The easiest swap for cornstarch is flour.
Whichever option you use, you can rest assured that you'll have a perfectly thick filling every time.
Not sure what kidney bean taco bake is? Think about a casserole made from nachos, and you'll get the idea. With crunchy tortilla chips crumbled on top, this taco bake is a sure winner on the dinner table.
Creating the taco bake is easy when using tomato sauce as the base! Swap this out for a liquid salsa if you want your taco bake to be more similar to Mexican cuisine. This will also add some extra spice to the dish.
Sometimes you just crave jambalaya but don't want to use the same old recipe that you always make. That's where this kidney bean dish comes in. It's got all the flavors and ingredients you love, with a slight twist.
The not-so-secret ingredient in this recipe is the andouille sausage. You can up the ante with chorizo if you're a spicy lover. Get prepared for a bowl of fiery goodness that will leave you wanting more.
Tip: Don't add the kidney beans until the rice is almost fully cooked.
We love a healthy dessert recipe! Like black bean brownies, you can make protein-filled brownies using kidney beans. You'll get a fluffier cake-like consistency that makes it challenging to stop at one brownie.
For that extra bit of sweetness, you'll be mixing icing sugar into the batter. If you prefer to use a sugar-free alternative like Stevia or Truvia, you can swap it in.
Just make sure you're using the variety that you can bake with.
For a little extra sweetness, dust the tops of the brownies with a light coating of powdered sugar.
Still wondering, "What to make with kidney beans?" Well, how about this unique twist on kidney bean salad? It has a Mediterranean flair and tastes super fresh.
You can't have a delicious Mediterranean salad without cucumbers!
This recipe calls for the English variety, though you can also use regular cucumbers. If you use regular cucumbers, remove the seeds from the center.
Taking out the seeds helps prevent the salad from having too much liquid when it's sitting in the fridge and being served.
Ready for another 30-minute recipe that packs a flavor punch? Check out this spicy, sweet, creamy version that's comforting and addicting. Grab some naan to go with it; you'll want to soak up every bit of the sauce!
So, what is the hidden ingredient in this dish? The coconut milk helps add a delicious creaminess to the curry. For a richer flavor, use heavy cream instead.
Tip: Don't make too large of a portion, as it will only be good in the fridge for up to three days.
Are you surprised by how much you can do with kidney beans? These little red beans have a subtle flavor and the most delicious texture, making them great for many recipes. Try out some of the above, and let us know which ones were your favorite.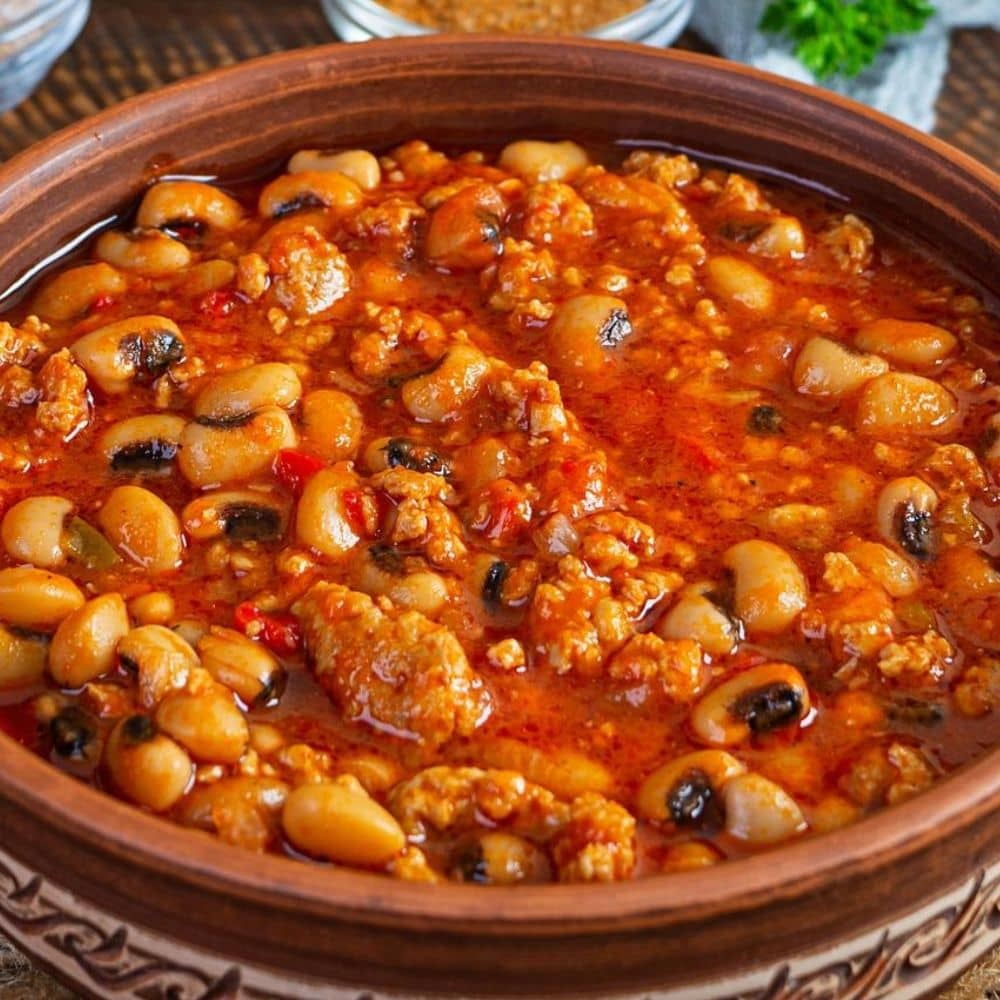 30 Easy Kidney Bean Recipes
Ingredients
1-1/2 lbs ground beef
1/4 c chopped onion
1 can (16 ounces) kidney beans
1 can (14-1/2 ounces) stewed tomatoes
1 tsp salt
1 tsp chili powder
1 bay leaf
1/2 tsp garlic powder
1/2 tsp seasoned salt
1/4 tsp dried oregano
1/4 tsp pepper
2 c cooked long grain rice
Instructions
Sautét the ground beef and sliced onion in a large skillet on medium heat until the meat is browned and no pink is visible; drain the grease.
Add everything except the rice, cover, and simmer on low for about five minutes.
Then, add the rice, cover it again, and simmer for about 30 minutes. Make sure to take the bay leaf out before eating a dish of this recipe.