Lamb meat is tender, juicy, and downright delicious. But when you make too much of it, it's difficult to find innovative ways to utilize its flavor in new and exciting cuisine. From the typical roast to classic stew, it can get boring always resorting back to familiar recipes.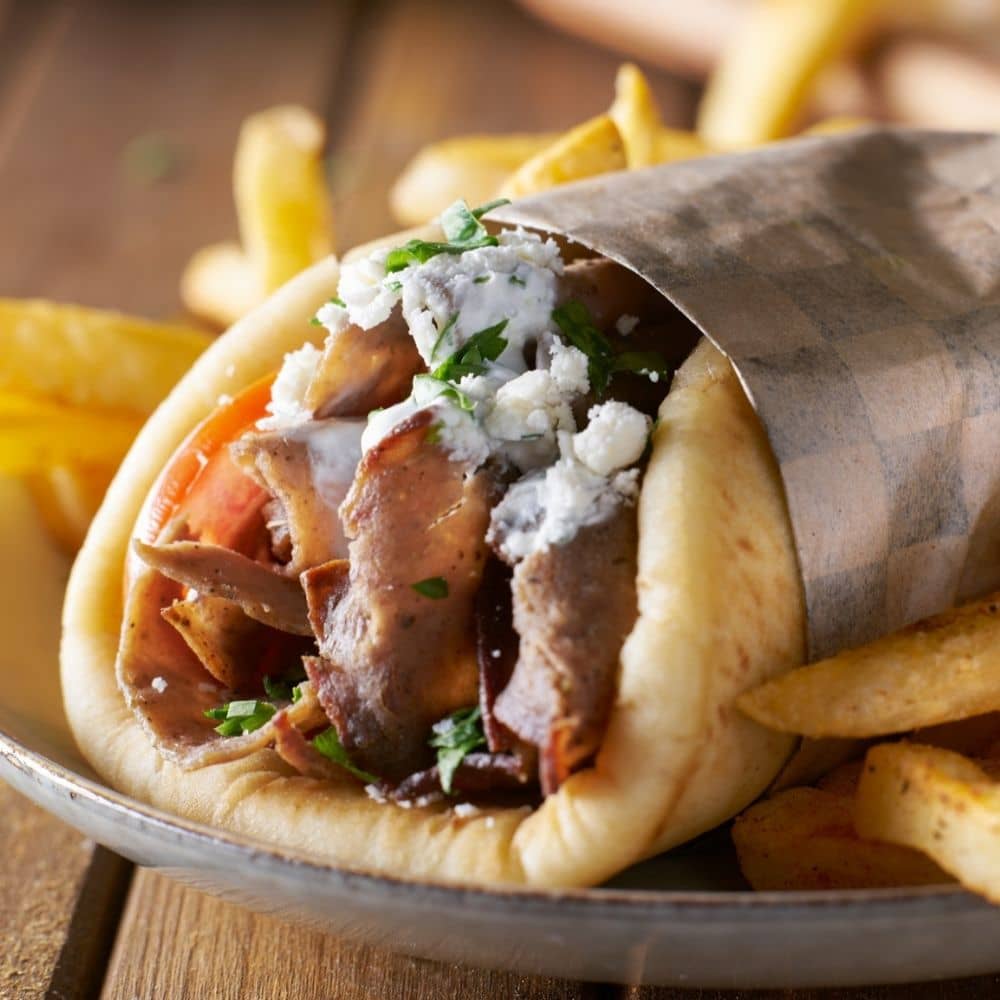 Have no fear. Our compilation features 20 fantastic leftover lamb dishes that help you make the most out of your remaining meat.
By seeking recipes from various cultures, you can find an endless array of spices and flavors that make your leftovers feel brand new.
Our compilation includes interesting ways to prepare every part of the lamb, including leftover leg of lamb recipes. Take a look at our list of dishes down below.
This speedy curry is a perfect weeknight recipe when you're on the go but still want a flavorful dinner.
The combination of ginger, garlic, cinnamon, chili, and curry paste makes for an aromatic masterpiece that takes just minutes to create.
Yes! It's THAT easy! Serve the curry with basmati rice, naan, or natural yogurt, for a satisfying meal that'll have you coming back for seconds. All the ingredients are combined in one casserole dish, making the cleanup process hassle-free.
A dinner filled with vegetables, protein, and unique spices? Yes, please! Jamie Oliver's leftover lamb biryani recipe is the best way to combine seasonal ingredients with last night's leftovers.
The recipe utilizes traditional biryani staples, such as chickpeas, yoghurt, and cinnamon, along with some innovative twists.
The special ingredient? A pinch of saffron that takes the meal to the next level.
Top the biryani off with a crispy layer of cashew nuts, mints, chili, and leek. The floral, spicy, and sweet elements come together to make a fantastic medley of delicious flavors.
Although it may be difficult to figure out what to do with leftover lamb, look no further! This Italian dish is easy and savory, making it the perfect comfort food.
Leftover lamb ragu utilizes ingredients you already have in the pantry, such as bay leaves, carrots, celery, onions, and passata.
The spices are simple because the recipe's nuance is carried through the lamb stock and leftover lamb chunks. Add a little parmesan on and bon appetite!
Don't let the ingredient list overwhelm you – this shepherd's pie is much easier to make than you think. The best part? You can feed the whole family with a serving size of six.
Using tender, leftover lamb, shred the meat into pieces to be dispersed throughout the pie fillings. The meat will become infused with the juices from the onions, celery, and tomato puree and pair beautifully with thyme and red wine.
Whether it's a cold, winter night, or a sunny spring day, this pie is perfect for any day of the week.
Running out of ideas on what to do with leftover lamb? This leftover lamb stew is exactly what you're looking for. The hardest part of the recipe is just chopping down the ingredients and putting them in an oven-proof flat casserole dish.
You can tweak the recipe by adding leftover gravy, wine, or beer to your stock. Make the recipe your own by adding your favorite vegetables to the mix.
Root vegetables, such as parsnips or turnip, make the best additions to this hearty recipe.
Tired of boring weeknight food? We got you covered! This recipe combines pizza with souvlaki to make a delicious flatbread concoction.
Instead of traditional mozzarella cheese, step up your dinner game with feta cheese, red onion, Greek yoghurt, and coriander.
By reheating the leftover lamb with a little bit of olive oil and garlic cloves, most of the work is already done. Just put the meat along with the salad mixture on your pizza base and cook for a few minutes.
With its beautiful colors and spice mixture, this Middle Eastern-inspired spiced lamb pilaf is sure to become a staple in your kitchen – and it only takes 40 minutes!
Instead of simply boiling your rice in water, add a few lamb stock cubes to enhance the flavor.
By adding raisins, spring onions, tomatoes, and almonds to your basmati rice, you get a delightfully textured addition to your leftover lamb. Don't forget the final drizzle of yoghurt on top. You'll thank us later.
Creamy, sapid, and cost-effective. What more can a chef want? This leftover roast lamb stroganoff is jam-packed with tender mushrooms, thick sour cream, and buttery goodness.
The recipe works with any cut of lamb, making it versatile for any leftover situation.
Add some Worcestershire sauce for a little kick – the mushrooms will absorb all the seasonings you add (think paprika, rosemary, and Dijon mustard). Serve with some creamy mashed potatoes or pasta for a fully satisfying meal.
Even with its simple ingredients, this recipe delivers a hearty soup, filled with juicy meat and tasty veggies.
You can even use all the leftover pieces to create a homemade stock to be used as a base for the soup.
That's right – a soup made from scratch in only a matter of hours. Once you'll make your own stock, you'll never want to go back to the store brand containers. Combined with your tender lamb pieces, each bite will feel straight out of heaven.
Need a busy week-night dinner that you can make in 20 minutes or less?
The roast lamb stir-fry is the perfect option for anyone looking to make a quick meal from leftovers taking up space in the fridge.
Using lemongrass, ginger, and coriander, the stir-fry incorporates Thai-inspired ingredients, bringing a new level of freshness to the meal. The sauce is a chili, soy sauce, and lime mixture – simple, yet extremely effective. Add some broccoli for a nutritious layer to the dish.
This is one of the most original recipes for leftover lamb because of the secret ingredient – apricots! Sweet and tangy, the leftover lamb tagine is a great meal filled with nutrients and flavor.
The lamb, chickpeas, and spinach also provide a substantial portion of delicious protein.
The tagine beautifully simmers in the casserole dish for about half an hour, allowing all the flavors in the pot to come together in wonderful harmony. Afterward, sprinkle some pomegranate seeds and toasted almonds on top and your taste buds will be ecstatic!
This crispy lamb salad proves that healthy eating doesn't have to be tedious. The best part of a salad is that you can customize the ingredients to your liking!
The recipe calls for semi-dried tomatoes in olive oil, red onion, and feta cheese. In the mood to kick it up a notch? Add some olives, cucumbers, or roasted red peppers!
The beautiful salad compliments the crispy lamb, cooked to perfection in sizzling oil. Save some time by preparing the salad while the lamb cooks through!
In the mood for a lazy day dinner? This leftover lamb casserole is gluten-free and easy to assemble.
The rich medley of tomatoes, onion, mushrooms, and curry powder, combined with grated Parmesan cheese will melt on your lips.
Any piece of leftover lamb can be used. After sautéing the mushrooms, just combine all ingredients into your casserole dish and let the oven do the rest! Serve with a side salad and enjoy!
This Greek-inspired moussaka utilizes leftover lamb pieces for a one of a kind meat sauce.
Smeared on some roasted eggplants, the sauce's nuances can be truly tasted, from the red wine to the cayenne pepper. Don't forget to salt the eggplants to avoid any bitterness.
Perhaps the best part? Make your own béchamel sauce with some low fat milk, flour, and egg yolks. Sprinkle on some Parmesan or better yet, traditional Greek cheese kefalotiri.
Creamy, nutty korma that takes less than 25 minutes to make? Count us in! This leftover lamb korma is easily customizable based on your spice tolerance.
Want to feel the heat? Add some chili powder for that nice, extra kick. Opting out? Don't worry – the flavor won't suffer.
The combination of coconut milk, garam masala, and ground almonds make up a simple yet tasty dish, great for a casual weeknight dinner or an upscale weekend lunch.
Get some more protein in your system with this chickpea and lamb pilaf.
The recipe is especially great if you're looking for that includes all the nutritious elements but is more filling than a salad.
Use currants or sultanas, as well as pomegranate seeds, for a nice sweet taste alongside the refreshing mixture of parsley and coriander. To make the rice even more flavorful, be sure to boil your rice in Massel chicken-style liquid stock.
Whether you're in the mood for one, or all four, these lamb sliders guarantee hunger satisfaction. This recipe is perfect for when you're unsure what to do with leftover leg of lamb!
In just under 20 minutes, you'll have an alternative burger on your plate with homemade Greek-influenced tzatziki sauce. A little bit of pickled onion and voila! A masterpiece completed.
Sandwiches are a lunch staple, but just because you eat them often doesn't mean they have to be lackluster.
This leftover lamb sandwich packs an epic punch by combining anchovies, lamb leg, and caciocavallo cheese all in one recipe.
The trick is to use delicious, hearty bread to make all the moving parts come together. Use some balsamic vinegar and high-quality extra-virgin olive oil to avoid any dryness in the sandwich.
Who doesn't love an easy pasta recipe? This caponata-inspired dish will have you throwing out your canned sauces in no time.
Roasting the eggplant brings out its true flavors, making the leftover roast lamb pair perfectly without much additional work. Besides the typical spice mixture of parsley, mint, garlic, and dried oregano, try adding some cinnamon and cocoa powder.
Though it may seem unusual, we promise your taste buds will thank you.
Fajitas are a versatile meal that can be used with any protein of your choice. Leftover lamb, especially lamb leg steaks, are a great option for this Mexican dish.
Served with warm corn or wheat tortillas and some fresh condiments (think guacamole, salsa, and sour cream), these fajitas only take 20 minutes to make. Mix your pepper colors for a beautiful, vibrant addition to your dinner plate.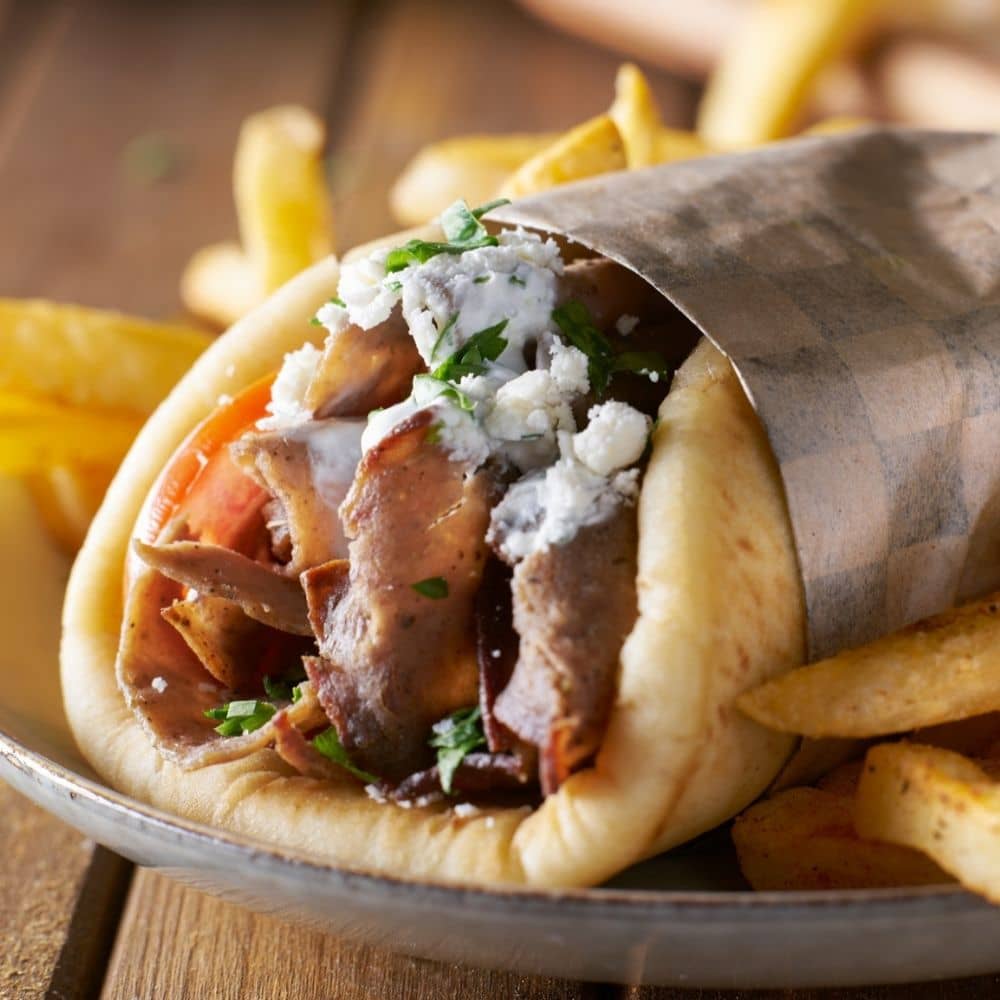 20 Best Leftover Lamb Recipes
Ingredients
150 g full-fat Greek yogurt
25 g crumbled feta
2 teaspoon freshly chopped mint
1 teaspoon lemon juice
Salt
Freshly ground black pepper
450 lamb mince
4 hamburger buns
1/4 red onion
Instructions
First I put the yogurt, feta, mint, and lemon zest all into one bowl. I season it with salt and pepper to my liking.
I take the lamb and divide it equally into four patties. I then make an indent on the patty to help it cook easier. Again, I season with salt and pepper to my liking.
After heating up the cast iron skillet on medium-high heat, I place the burgers on the pan for approximately six minutes. The goal is for the patty to have a crispy exterior but a soft interior.
Lastly, I smear the yogurt sauce on each bun and add any vegetables of my choice, such as red onion and rocket. Place the patty in your buns and voila!