Everyone loves a warm, yummy pasta dish. Pasta is known to be comforting, hearty, and will always fill you up. Some people try to avoid pasta because they are concerned about their health.
When you are craving your next pasta dish, try one of these 12 low-calorie pasta sauce recipes for an even better, guilt-free topping to your favorite pasta or pasta alternative.
So, you want to enjoy delicious pasta but are looking for something healthy or low in calories. You're in luck! There are plenty of healthy options available.
The best thing that you can do is start by choosing a low-calorie pasta sauce. Take a look at the answers to commonly asked questions about improving the healthiness of pasta and pasta sauce.
Do you know what kind of pasta sauce has the lowest calories?
Pasta sauces that are vegetable-based have far fewer calories than those that are cream or cheese-based.
If you are looking for healthy pasta try a noodle that is made with whole wheat flour or is plant-based. Another option is to choose a pasta alternative, like spiraled vegetables.
Is pasta sauce good for weight loss?
Yes, it can be! When you make your own low-calorie sauce you will benefit from having a healthier sauce that has better nutrition than a store-bought sauce that is packed with artificial flavors and preservatives.
Try one of these low-calorie pasta sauce recipes to help you reach your health and wellness goals!
This recipe makes a classic marinara that any grandma would be proud of. It uses fresh tomatoes and herbs like basil and oregano.
Feel free to use this fresh tomato recipe for more than just pasta! It pairs nicely with garlic bread, sauteed vegetables like zucchini, and meatballs.
This low-fat pasta sauce recipe is also great to use when you want to make your own pizza. You can make a full, family-sized pizza, flatbread, or even a personal English muffin pizza with this sauce.
I don't know anyone who doesn't love a good Alfredo sauce. This healthy alfredo sauce recipe has a few secret ingredients that make it low-calorie, but just as yummy as the Alfredo sauce you're used to.
Greek yoghurt, skim milk, and parmesan cheese are the three main ingredients that you will use. Who would have thought that greek yoghurt could make an all-time favourite pasta sauce healthier than the original?
Easily prep this sauce in five minutes and make it in as little as 10 minutes. Enjoy a serving of this healthy Alfredo sauce for under 130 calories!
When you need to mix up your healthy meals, turn to this creamy pumpkin pasta recipe.
It's not only low-calorie but it's vegetarian, too! This sauce is perfect to enjoy on a crisp fall evening. It combines the traditional fall flavours of nutmeg, cinnamon, and pumpkin.
Enjoy this rustic sauce over your favourite large noodles, hearty ravioli, or even tortellini. Top your pasta and sauce with parmesan for the perfect bite of creaminess, saltiness, and yumminess. You won't be disappointed!
The healthiest pasta sauce that you can make is one that uses fresh produce without a ton of fat. The "Oh My!!! Spaghetti Sauce" recipe has fresh garlic, mushrooms, sweet basil, and tomatoes.
Seasonings used include Italian seasoning, onion salt, pepper, salt, and sugar.
You'll never get bored of this sauce when you mix it up a little bit. If you want to add a healthy twist to this pasta sauce, simply add in thinly sliced zucchini, squash, or sauteed Italian peppers along with the mushrooms.
Not a mushroom fan? Skip them all together or substitute them with diced onions. Yum!
Giving up your favorite creamy white sauce will be a thing of the past with this amazing low-calorie white sauce.
It's full of flavor and veggies. Colorful veggies used in this sauce include onions, broccoli, and carrots. If you want even more veggies, add in sliced bell peppers.
Use this low-calorie white sauce to top healthy whole wheat noodles like ziti or rigatoni. You could even skip the noodles altogether and serve this sauce over a baked chicken breast, too.
Many people skip pasta sauce because they think that pasta isn't healthy enough for their diet.
You'll be surprised by how healthy and vibrant this pesto sauce is. It's packed with easy-to-find herbs and can be made in under 10 minutes.
Pesto is a great sauce for long noodles like spaghetti or fettuccine. Fresh sliced cherry tomatoes or a squeeze of lemon juice will brighten up your dish. Top your noodles with a sprinkle of parmesan, pecorino romano, or Grana Padano for an extra tasty meal.
Here's another classic marinara sauce that is so tasty that you'll want to pour it over everything!
There are no canned ingredients here. Use fresh, large, whole peeled tomatoes along with fresh basil, garlic, and yellow onion. You'll also see dried oregano, salt, pepper, and a little bit of olive oil.
To peel your fresh tomatoes, boil a pot of water. While your water is heating up cut an "x" on the bottom of each tomato. Place the tomatoes in the boiling water for about 30 seconds. Let them cool and then easily peel the skin off.
Are you craving a delicious meat sauce? Try this healthy bolognese sauce over zoodles, spiraled vegetables, or your favorite plant-based noodle.
You'll get plenty of veggies in the sauce, too. The recipe calls for carrots, celery, tomatoes, onions, and fresh herbs like basil and parsley.
This sauce is made with ground turkey, which is a great alternative to traditional ground beef or ground pork sauces. If you can't find the ground turkey at your local grocery store? Try ground chicken instead.
Do you want something healthy without the appearance of being an actual healthy food? Try this veggie pasta sauce – all of the veggies are hidden inside!
You'll cook and then blend a variety of vegetables like celery, carrots, onions, leeks, and zucchini. Easily get the benefit of all the vegetables without feeling like a rabbit.
This veggie pasta sauce recipe is great over noodles or in your favorite pasta casserole. Try it with your favorite recipes for baked ziti, lasagna, stuffed shells, or manicotti.
Are you looking for another yummy, yet healthy veggie sauce? Try this green pea sauce that will knock your socks off! This bright green sauce is made from purred pees and mint, but it can be made with other green veggies, too.
Looking to change it up a bit? Substitute the green peas for marinated artichoke hearts, sauteed fennel, or even broccoli.
Use this recipe as a guideline to help you experiment with other vegetables and flavor profiles for a truly unique sauce.
Not all healthy alfredo sauces are made equally.
If you're craving a creamy sauce try this healthy alfredo sauce that uses almond milk instead of traditional milk or cream. You'll still get the cheesy taste and creamy texture that you're used to getting from an Alfredo sauce thanks to the parmesan cheese and pecorino romano.
Easily pull this sauce together in 15 minutes or less. It's not only good for you, but it will fill your cravings for a traditional Alfredo sauce. Pour it over fettuccine noodles, create a white spaghetti casserole, or use it for the sauce on a chicken and spinach pizza.
Looking for another yogurt-based sauce? We thought you'd never ask! This yogurt sauce is garlicky, fresh, and slightly citrusy. It can be left thick which is perfect for dipping veggies or flatbread. Thin it out with a little milk and pour it over your favorite pasta dish.
Unlike our other sauces that have more of an Italian flavor profile, this sauce leans more Mediterranean and will leave you feeling happy and healthy.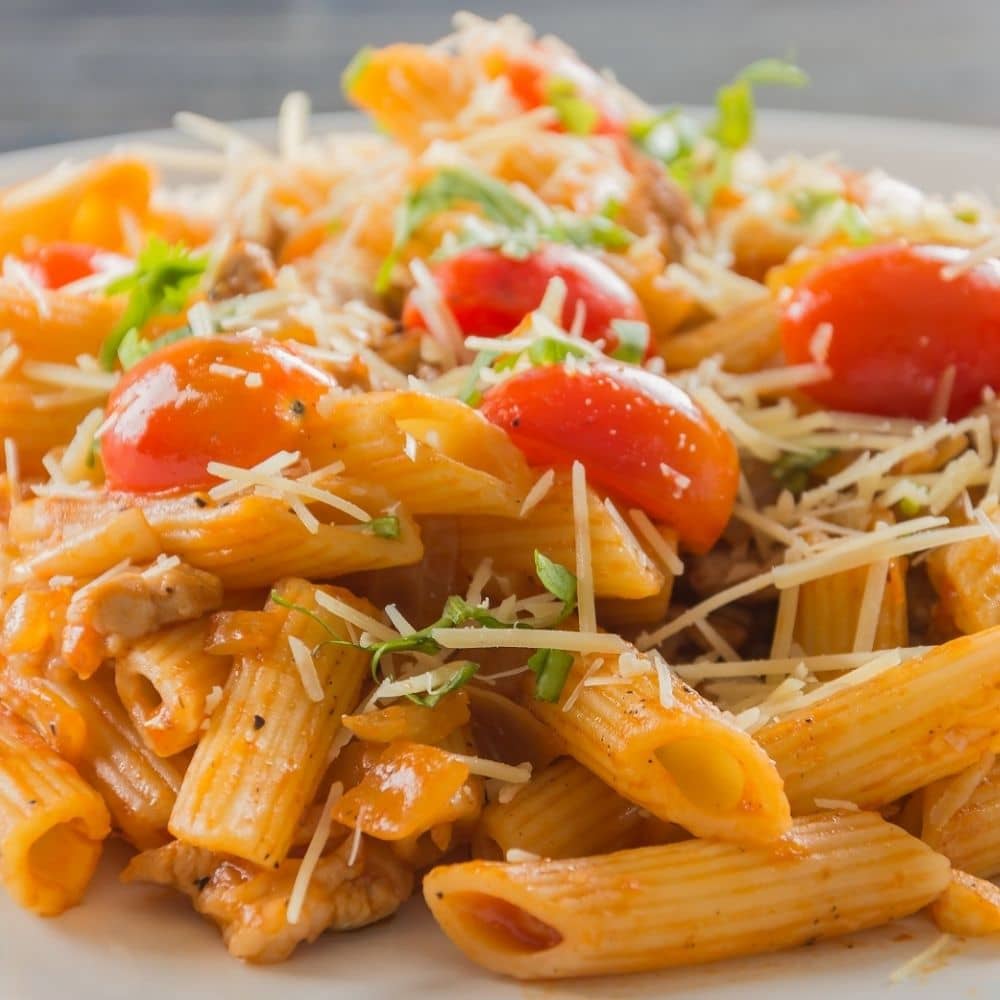 12 Best Low Calorie Pasta Sauce Recipes
When you need a classic, healthy pasta sauce, then make this tomato sauce recipe your go-to! It's simple, healthy, and always delicious.
Ingredients
1 tablespoon olive oil
3 brown onions
4 garlic cloves, crushed
4kg tomatoes, peeled, chopped
2 tablespoon brown sugar
2/3 c shredded fresh basil leaves
Instructions
Make sure to gather your ingredients first. You will need olive oil, three finely chopped large onions, four cloves of crushed garlic, four kg chopped and peeled tomatoes, 2T brown sugar, and ⅔ cup shredded basil leaves.
To make the sauce, start by heating your oil in a large saucepan. Sautee your onions and garlic over medium-high heat, until translucent. This takes about two minutes. Stir occasionally.
Next, add the tomatoes and sugar. Mix everything together and turn the heat to low. Simmer the sauce for two hours. Stir occasionally.
Finally, remove the sauce from the heat. Season with salt and pepper, to taste. Mix in the basil and serve over your favorite cooked pasta or ravioli. Enjoy!