If you're reading this, you've probably begun the process of making some homemade sourdough bread.
As the leftover starter (aka "discard") continues to add up, you're probably left wondering, "Can I use this to make something else?"
Yes, you can! Rather than throw away the sourdough discard, you can use it to make other types of bread, pastries, desserts, you name it.
It's a recipe that can expand to even more recipes. Even healthy recipes. How cool is that?
Check out these recipes to help you repurpose your discard to even more tasty treats.
Pancakes are an excellent pastry to try if you're new to experimenting with sourdough discard.
Why? It's quick, easy, and only requires one bowl and 5-10 minutes of prep work (assuming you already have the starter).
Serve your light and fluffy pancakes with homemade fruit syrup, fruit topping, or stick with the traditional butter and maple syrup.
Sourdough pancakes are a great way to start both the morning and your sourdough-making journey.
Looking for a fun spin on a classic breakfast dish? Look no further!
Waffles are another excellent beginner recipe if you're still getting acquainted with sourdough.
This recipe requires traditional ingredients like milk, eggs, flour, oil, and sugar.
You can also use fresh or mature discard, depending on what you have.
Baking soda helps the batter expand as it bakes in the waffle iron, so this recipe doesn't include a resting time. Just mix, pour, and serve.
Don't forget your toppings! Besides butter and syrup, you can also serve your sourdough waffles with fresh fruit, whipped cream, or jam.
Sourdough has a strong flavor, but don't let that intimidate you when trying it in English muffins!
Your discard will enhance that tangy flavor of English muffins, which tastes even better when toasted.
The ingredient list calls for a "recently fed starter", but you can use discard at any stage for this recipe.
Just be sure to bring it to room temperature first.
The dough will be a little sticky, which is normal. Work with wet hands and use a wet dough scraper to make it easier.
Whether for breakfast, as a side with soup, or even as a sandwich, you can't go wrong with trying sourdough discard in a biscuit recipe.
Like English muffins, sourdough discard helps enhance the taste and texture of biscuits.
These biscuits are super easy to make and freeze great as well. No need to wait for the dough to rise; just combine, shape, and bake!
You can use any firm cheese you like, though the bright orange color of cheddar cheese provides a more appealing appearance.
Green onions, parsley, and dill are all great substitutes for chives.
Enjoy these biscuits plain, or add some jam for another delicious breakfast.
Coffee cake typically refers to any cake or pastry intended to be eaten with coffee.
Some recipes include coffee as an ingredient, but the name usually suggests the cake is served with coffee.
The sourdough flavor adds to the harmony of vanilla and cinnamon, creating a rich, moist cake that tastes perfect with your morning coffee.
This recipe includes pecans in the cinnamon crumble, which adds a little crunch.
Since you're creating three different elements of the cake (the cake, the cinnamon filling, and the crumble topping), this recipe is a little more complex, but an entire cake will last you for days.
You can store any leftovers in the refrigerator or freezer for later. Here's to even more sweet breakfasts!
Sourdough discard donuts are the softest donuts you'll ever taste!
If you want an even sweeter kick, a chocolate version of this recipe is available.
When making the donuts, you'll need to punch a hole in the dough to give the donut that ringed shape.
So, what do you do with the extra dough? Make donut holes! The gift of sourdough keeps on giving.
The sour tang of the sourdough discard compliments the sweetness of the donut beautifully.
There is a prep overnight option available if needed. And yes, you'll need to use oil instead of an oven or an air fryer. But the results are mouthwatering.
If you're looking for an option outside of breakfast recipes, crackers are one of the easiest ways to use your sourdough discard.
This recipe only requires five ingredients and only needs a rest time of 20 minutes before baking.
These sourdough crackers are crunchy, flavorful, and taste great with cheese, cream cheese, crab dip, or all on their own.
Add some lemon juice to the butter before brushing onto the dough for a little extra zest.
Everything seasoning is customizable too, or you can use store-bought. The results are a savory side or an afternoon snack.
Here's another recipe if you're on an everything seasoning kick!
Unlike the donut mentioned earlier, you'll have to boil the pretzels in water to cook the dough, then brush each pretzel with a beaten egg before sprinkling the everything seasoning.
With the everything seasoning, you'll get a burst of flavor along with the chewy sourdough taste.
The bake time for these pretzels is only 15 minutes, and they are best served warm.
These everything pretzels taste even better when served with butter or whipped cream cheese.
Crumpets are small griddle cakes traditionally cooked on the stovetop in a cast-iron skillet.
Like pancakes, recipes for crumpets are generally simple and require only a few ingredients.
This recipe requires one cup (227 g) of discard, so this is an excellent option if you have a lot of discard on hand.
For extra flavor, you can add Italian seasoning to the dough while the dough is still wet.
These crumpets taste great with maple syrup or fig jam as a topping.
Popovers are light rolls typically baked in muffin tins or their own designated popover pans that "pop over" the sides when baking.
Popovers may be another simple recipe with minimal ingredients, but don't let the lack of complexity fool you.
You'll get a beautiful combination of light and dense with a savory sourdough kick.
Popovers taste great with virtually any topping you can think of (various flavors of butter, jam, whipped cream, and fresh fruit, to name a few), so go nuts!
When making a sourdough starter, you'll likely be discarding some of the starters every day.
This process can add up to a lot of discards over time, so one single recipe may not be enough.
Banana bread is a perfect addition to your list if you're looking for a quick and easy recipe.
This recipe calls for flax eggs, but regular eggs work just as well if you prefer.
Throw in some chocolate chips for extra sweetness, or you can use chopped nuts to add some crunch.
However you go about it, you still get moist, fluffy, and sweet banana bread.
It'd be a shame to only have one sourdough discard recipe for banana bread, so here's a second one from Heart's Content Farmhouse.
This recipe doesn't include any add-ins like chocolate chips or nuts, but you'll still get that supple banana flavor without being overpowered by the sourdough.
You can store it at room temperature for up to three days, or you can freeze it for up to two months.
Cinnamon raisin bread is a tricky bread to master, but the results are delicious.
The process requires forming the loaf into the right shape to help prevent falling apart when slicing.
This recipe provides pictures and video of the process, giving you a step-by-step guide on turning sourdough discard into tasty cinnamon bread.
This recipe is a perfect option if you have lots of time on your hands, so add this one to your list if you're craving a challenge.
Pizza dough recipes can be tricky, but the sourdough discard adds extra flavor to traditional pizza toppings like cheese and marinara sauce.
You can make one single pizza with this recipe or save time by doubling (or tripling!) the batch and storing it for later.
You can keep it in the freezer for up to three months, but make sure the dough is unbaked.
This pizza dough also combines beautifully with flatbread recipes.
The sky is the limit when you have savory Italian dishes with a sourdough spin!
What better way to satisfy your sweet tooth than with this chocolate cake recipe?
This dish includes chocolate buttercream and chocolate ganache for a mind-blowing combination of textures.
You may notice coffee on the list of ingredients for the cake, but don't let that scare you off!
The coffee is included to enhance the chocolate for extra richness, but you can use hot water instead.
This recipe is the perfect one to try if you love all things brownies.
Whether you want a gooier texture or prefer a cakier brownie, you can modify this recipe to create any texture you like for your brownies. And the sourdough adds a boost of tang to the sweetness of the chocolate.
After the brownies have cooled, you can enjoy these brownies as-is or add a powdered sugar or frosting layer on top.
You can't go wrong with brownies.
Recipes for cookies (especially chocolate chip) generally don't include liquids besides butter.
So how do you add sourdough discard to a cookie recipe?
Simple answer: browning the butter! This recipe explains how to brown the butter, and it will need to chill for about 30 minutes.
You can use dark chocolate or milk chocolate for the chips, or you can crumble a tablet of chocolate.
Keep in mind that dark chocolate will add a potent sweetness to this recipe. Either way, you get a gorgeous cookie with a burst of flavor.
If you're in a cookie mood but are craving something chewier and nuttier, you have to try these cookies!
Just like the sourdough chocolate chip cookies, you will need to brown the butter for these cookies.
This recipe calls for Einkorn all-purpose flour to give the cookies extra softness, but you can use any brand you'd like.
Add walnuts, Craisins, or chocolate chips, or bake them plain, but beware. You may have a new favorite cookie.
Looking for a healthier option?
These sourdough pancakes are a lovely vegan alternative to a staple breakfast pastry.
This recipe calls for almond milk, apple cider vinegar for extra tang, flaxseed meal for extra nutrition, and maple syrup as a refined sugar alternative.
If you have different ingredients on hand than what the recipe calls for, you can easily substitute with this recipe.
These vegan sourdough pancakes are quick, easy, and versatile for any occasion.
The flavor of sourdough can be a bit strong. But for recipes like this one, you don't need to worry about that.
The baking soda aids in neutralizing the sour taste of the sourdough, which results in a delicate crisp on the outside and a rich, custardy texture on the inside.
This recipe requires vegan ingredients such as vegan butter, flax eggs, and vegan buttermilk made with non-dairy milk and apple cider vinegar. And as always, the sky is the limit with toppings.
Calling all cinnamon roll fans! Whether you want to use the original vegan ingredients in this recipe or substitute for other ingredients you have on hand, this recipe delivers on versatility.
The steps for making these vegan cinnamon rolls require an overnight rise and a few resting stages for the dough, so be prepared.
This dish has a frosting option as well, though you'll need plant-based milk and vegan ingredients on hand to keep it vegan-friendly.
Either way, you'll never need to look for another cinnamon roll recipe.
Conclusion
Whether you're just starting as a sourdough newbie or you're ready to take on a longer or more complex recipe, this list has your back wherever you are on your sourdough bread-making journey.
Recipes can get repetitive over time, but adding a sourdough punch can make a lasting impression.
What have you made with sourdough discard?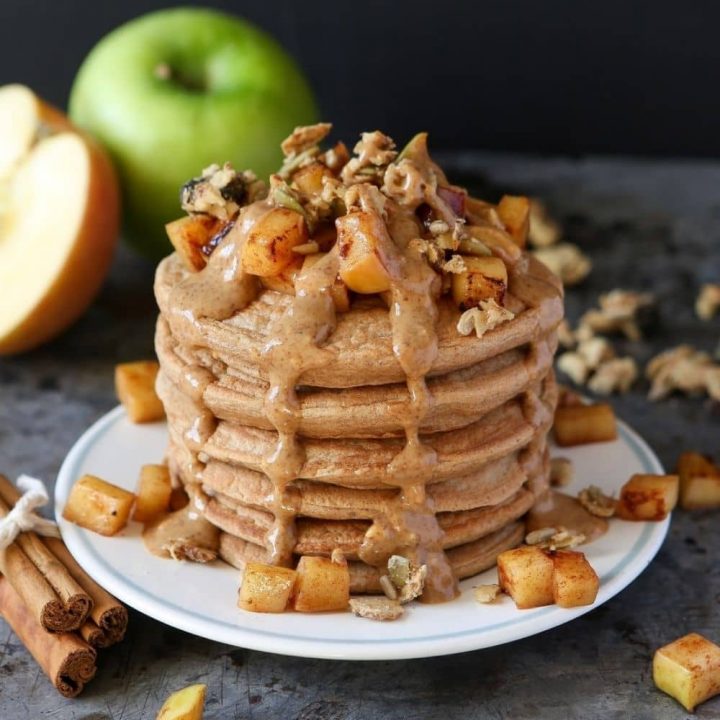 21 Best Sourdough Discard Recipes
Instructions
Choose your favorite dish!
Prepare ingredients according to the recipe.
Be ready in 30 minutes or less!