Everyone loves cake. But if your diet is mostly sugar-free, whether by health requirements if you are diabetic, or by choice, you might not get to enjoy this tasty treat very often.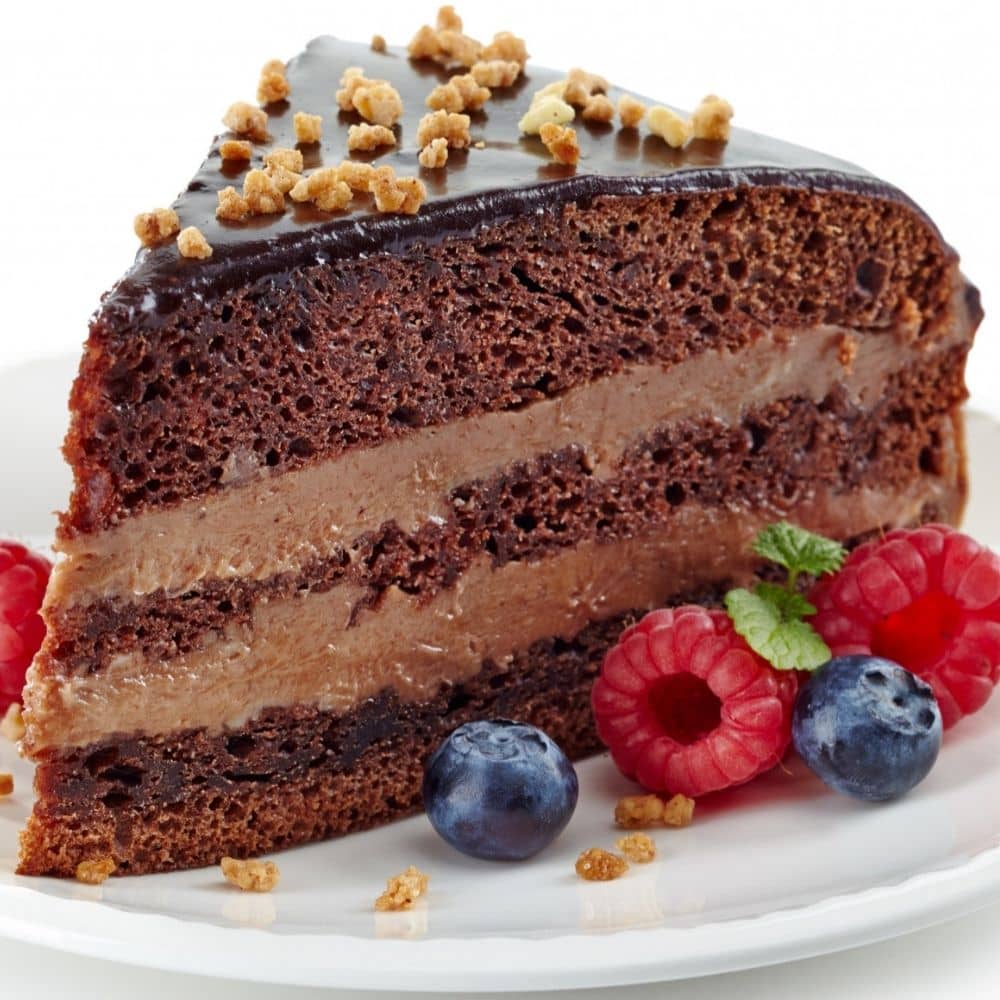 However, don't despair! Sugar-free cake recipes exist, and we are here to tell you that they are just as delicious and enjoyable as traditional cake.
There are many sugar substitutes when it comes to baking, and with other flavor combinations, you might be surprised by how little sugar is missed.
If you are looking for diabetic cake recipes, look no further! Here are 20 sugar-free cakes you are sure to love!
Who doesn't love carrot cake? Especially in the spring and summer, this tasty cake is light, refreshing, and sure to please!
This carrot cake recipe calls for sugar substitutes and recommends Splenda for white sugar and Truvia for brown sugar. However, if you only want to use one substitute, you can just use Splenda.
This recipe is extra delicious with the addition of chopped walnuts and pecans, which add an extra crunch you are sure to love!
This chocolate cake is so delicious, that no one will believe it does not have sugar. We think this would make the perfect sugar-free birthday cake!
The secret ingredient in this cake is coffee. Yes, you read that right. Coffee deepens the decadent chocolate flavor, but if you are not a coffee drinker, you can use water instead, and the cake will still be just as moist.
This recipe also includes directions for homemade sugar-free frosting, which uses pudding and cream cheese instead of sugar. Yum!
This low-carb birthday cake is a delicious addition to this list of sugar-free cake recipes for diabetics because it is very versatile and can be paired with many different fillings and frostings.
The recipe recommends fruit fillings and cream cheese frosting, but you can get creative and use your favorites to customize this cake.
The key to this cake is to use a powdered sugar substitute instead of a granular one. The recipe suggests So Nourished Monk Fruit Blend, but your substitute of choice will also work well if you have a tried-and-true go-to.
Who doesn't love banana cake? Banana cake is a great option for sugar-free cake because the fruit flavors help add a natural sweetness.
Due to the banana, this recipe does not call for any sugar substitutes, and even the frosting is sweetened with dates.
If you want to go the extra mile regarding health, you can use the gluten-free flour blend found in this recipe, but if you are not concerned about the cake being gluten-free, your flour of choice will work just fine.
This low-carb chocolate cake is perfect when you want to enjoy a special occasion guilt-free. Plus, it is super easy to make and can even be whipped up in the blender.
This recipe is keto-friendly, so it calls for coconut flour and almond flour in addition to your sugar substitute of choice, making it gluten-free as well as sugar-free.
We guarantee that if you serve this cake up to your party guests, no one will guess it is sugar-free. Enjoy!
What cake is more classic than angel food cake? If you are looking for unique sugar-free dessert recipes, then this one is for you.
This cake uses specialty cake flour, so it is not low-carb like some of the other cakes on this list, but because of the subtle flavor of angel food cake, you can pair it with pretty much any frosting flavor, fruit, or other toppings of your choice.
You can use your sugar substitute of choice for this cake, but the recipe does specify that it needs to be a granular option.
If you love the refreshing flavors of citrus, then this lemon cake is for you.
This recipe uses the sugar substitute xylitol, which is great because it does not have a significant effect on blood sugar levels and can be found a most mainstream grocery store.
But the real secret ingredient here is Greek yogurt, which is what makes this cake so moist, dense, and delicious because it is so creamy. Combined with zesty lemon, this cake is too irresistible to not try immediately!
If you are still in the mood for lemon, this pound cake is not only sugar-free but also keto-friendly.
While there are sugar-free cake mix options out there, the homemade aspect of this cake is what enables it to be keto-friendly, making it the perfect option to serve up to any guests you have, regardless of what their dietary restrictions might be.
The secret ingredients that make this cake keto are the coconut and almond flour in the crumb and the delicious coconut butter drizzle on top.
This recipe calls for Lakanto Classic Monkfruit Sweetener to replace the sugar, and it even has suggestions on the best way to get it.
This cake is not completely sugar-free because it does not use standard substitutes, but it is much lower on the glycemic index thanks to coconut sugar and monk fruit, which is much better for diabetics to consume than traditional sugar.
To make the cake extra moist, this recipe calls for sour cream, which might surprise you. However, we promise this addition pays off in the end!
Furthermore, the recipe includes a homemade Swiss meringue buttercream that layers in and covers the cake perfectly. You won't be disappointed by this delicious combo!
Is there a better combo out there than lemon and blueberry?
This refreshing and delicious cake is the perfect go-to for any occasion, and we doubt you'll be able to tell it is sugar-free! Plus, it is keto-friendly and gluten-free, as well.
The best part of this recipe might just be the keto lemon buttercream, which uses mascarpone cheese to create that perfect frosting texture we all crave.
Whip this up, top it with fresh blueberries, and delight even your most diet-restricted guests.
This bundt cake combines a mix of complementary flavors, including raisins, walnuts, and applesauce, making a unique cake you're sure to enjoy.
Note that this recipe calls for a liquid sweetener as opposed to a traditional sugar substitute, but if you are trying to go for more all-natural ingredients, you can replace the liquid sweetener with concentrated apple juice, which will enhance the apple flavor.
Another tip is to coat the raisins in flour before adding them in so that they do not sink to the bottom of the pan.
What traditional holiday meal would be complete without the addition of a classic fruit cake?
What makes this fruit cake so special is that it is both sugar-free and grain-free, but no one will even notice with all the dried fruit, orange zest, and spices in this recipe.
You can even make it dairy-free by replacing the butter with coconut oil, so no matter who you are serving, you can tailor this cake to their needs.
You can also pick which fruits you want to use based on your personal favorites, but the recipe recommends apricots, currants, figs, dates, and more to get you started.
Cinnamon coffee cake is a classic (especially for holiday breakfasts!), so no sugar-free cake list would be complete without a coffee cake option.
This recipe calls for Splenda instead of sugar, but if you prefer another substitute, you can absolutely use that rather than Splenda. You can also easily make this coffee cake gluten-free with your choice of gluten-free flour.
To add another fun element, drizzle a sugar-free glaze on top of the cake using the cake poke method. Pour yourself a cup of coffee and enjoy!
What's better than cupcakes? Keto and sugar-free cupcakes! Additionally, these cupcakes are even gluten-free.
The flour of choice in this recipe is almond flour, as it does not absorb as much liquid as other flour substitutes, like coconut flour. Note that you will need both powdered and granular sweeteners for the frosting and cake, respectively.
Cupcakes are great to serve at parties or other gatherings because they are already ready to go in the perfect serving size. Although, with how good these cupcakes are, you may want to bring plenty of extras!
This cheesecake recipe is insanely easy to make with only eight ingredients! Who doesn't love that?!
The key to this recipe is the Best sweetener in place of sugar, as it dissolves completely and will not leave a grainy texture in your cheesecake filling.
This cheesecake is so good because it makes the perfect base, meaning you can top it with any of your favorite fruits, chocolates, or sauces (though keep in mind that not all of those toppings will necessarily be sugar-free or keto-friendly depending on what you select).
This cake is a healthier cake option because it gets its sweetness naturally from apples!
If you are feeling like a master chef, you can make your own apple juice reduction to keep this cake sweet and moist, but if that sounds too complicated or will take too much time, unsweetened applesauce will work just as well!
Your guests will be delighted when you cut into this cake and reveal its pattern, and the vanilla and chocolate batters offer the best of both flavors.
Who doesn't love blueberries, especially when they are in a coffee cake for breakfast?
There are many sugar-free cakes on this list, but this one just might take the cake (see what we did there?).
This recipe uses substitutes for both white sugar and brown sugar (Splenda and malitol), so you still get the rich brown sugar flavor, which pairs perfectly with the sweet and tangy blueberries!
To keep the berries spread evenly throughout the batter, we recommend coating them lightly in flour before folding them in.
If you are craving something sweet but don't want to take the time to bake an entire cake, then this mug cake is for you!
You will need both Spenda and Surkin Gold sugar substitutes for this recipe, so if you don't have those on hand, make sure you pick them up in preparation for the next time you want a chocolaty treat.
Otherwise, you just need flour, butter, cocoa powder, water, and boom! After a few minutes in the microwave, you have yourself a decadent dessert made just for you. What better way to top off a cozy night at home?
While pumpkin may be best associated with the holidays, we won't judge you for making this delicious cake any time of year. Plus, this is one of the only sugar-free cake mix recipes on this list, making it extra easy!
The secret ingredient in this recipe is the cinnamon butter you won't be able to resist! You can also learn how to make your own pumpkin pie spice, but in a pinch, a store-bought blend will work just as well.
Just be sure to use pumpkin purée and not pumpkin pie filling.
This ooey-gooey goodness is brought to you by butter and cream cheese, and it is so fantastic that no one will realize there is zero real sugar involved.
It does call for both granular and powdered sugar substitutes, so make sure you have your go-to's for both on hand when whipping this up.
This cake is faster to make than many others on this list because of the shorter baking time. It is essential to not overbake this cake, so keep a close eye on it while it is in the oven. If you want another twist, you can top it with peaches or blueberries!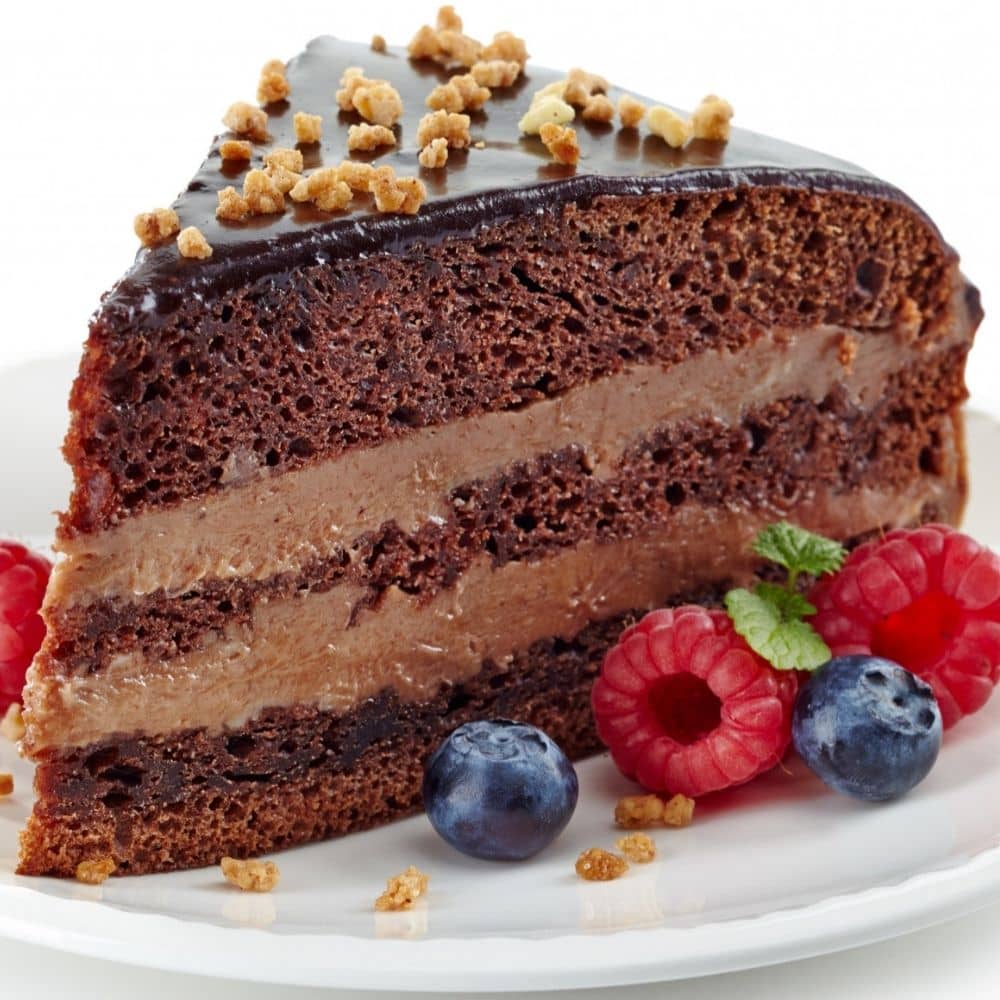 20 Best Sugar-Free Cakes
If you are wanting a sweet, sugar-free treat but aren't quite in the mood for cake, check out our bonus recipe for four-ingredient sugar-free chocolate fudge!
Ingredients
2 oz chocolate, melted and cooled
2 packages cream cheese
1 tsp vanilla extract
1 c sugar substitute of choice
Optional:
Instructions
This recipe is so easy! Just beat the four ingredients together until well combined. If you want some crunch in your fudge rather than a smooth texture, stir in the optional pecans. Cover and chill well before serving (overnight is best — yes, good fudge requires a lot of patience!). Enjoy!