Have you been craving an authentic Cajun meal but have no idea where to begin?
Fortunately, I have collected an amazing jambalaya recipe along with recipes for accompanying side dishes that anyone can easily make from home!
Jambalaya is a melting pot of flavors as it combines Spanish, African, and French influences to create a unique and filling dish. It is a staple meal of Louisiana but a delicacy to all. It usually contains meat, seafood, vegetables, and rice. You can also cook it all in one pot!
Even though this jambalaya recipe can fill you up and satisfy you all on its own with its variety of ingredients, you may still want to make a side dish or two to amplify the flavors of your meal.
Here are 10 delicious side dishes that are easy to make and definitely worth considering for your jambalaya night.
You can never go wrong with a simple and refreshing side salad! With delectable Cajun flavors and the variety of salty proteins in your main dish, you're probably going to want something to cleanse your pallet here and there.
This salad recipe is sure to do just that. It is very simple to make and only requires 4 ingredients: salad greens, a cucumber, an onion, and nuts. It also includes a savory dressing that you can make along with the salad instead of buying one.
Salads are also always a great idea if you're having guests over.
They are inexpensive, low effort, and only takes about 15 minutes to throw together in bulk, especially if you go with a light and delicious recipe such as this one.
Can't get enough of the Cajun flavors in the jambalaya but want something a little lighter to accompany it? Try this sausage and rice recipe!
Without all of the veggies, seafood, and meat that are in the main dish, this side adds more carbs to your meal without making it feel any heavier.
It maintains the Louisiana spice with the use of Andouille sausage and cayenne pepper yet doesn't overwhelm the complexity of the jambalaya. You can even substitute brown rice for white rice to add a bit more nutrition!
Cornbread is a classic southern side dish that goes well with pretty much anything. It even tastes good whether it's made to be sweet with honey or jam, or more savory with salted butter.
It's a moist and light texture that will perfectly accompany the hearty and salty jambalaya by balancing out all of the flavors. This recipe can be made in just 30 minutes using basic ingredients that you probably already have in your kitchen such as flour, sugar, and butter.
If you're wanting to give your guests or family the home-cooked southern experience, cornbread is a must!
If you don't feel like investing in a bunch of new ingredients just for a side dish, then this seasoned white rice recipe is an ideal solution for you.
Cooking rice in broth instead of plain water, and also adding some seasonings, can dramatically change the presentation and flavor of the rice. This particular recipe uses additions such as salt and pepper, parsley, chicken or vegetable stock, and butter to create a more savory and vibrant flavor.
This recipe can ideally be paired with jambalaya because it has a simple and light taste, that again can balance out the deliciously heavy main course.
It seems like people are always serving corn on the cob at barbecues and family events. Well, that's because it goes great with meaty dishes, like jambalaya! It's a good pair because it is light and airy but can still pack a lot of flavors.
If you've never made corn on the cob before, this recipe emphasizes how easy it can be! Boiling some cobs in water, milk, and butter for 6-8 minutes makes delicious and tasty corn.
This is another inexpensive and easy southern classic that you cannot miss having on your next jambalaya night.
Another corn recipe you say? Well, yes of course! Corn is commonly eaten in the south and it just goes so dang well with jambalaya.
This creamed corn recipe is probably one of the easiest ones so far and it sounds delicious! Frozen corn mixed with half and half, butter, flour, salt, and sugar sounds like something that I could make a lot of it and eat all day!
This is another dish that can be altered to your sweet or savory preferences and uses fairly common and inexpensive ingredients. This side dish sounds like the perfect combination of light, salty, and sweet flavors.
Bread with a meal or as an appetizer is pretty common, but have you tried cheesy bread? Specifically, cheddar biscuits? I believe that anyone who has tried the ones from Red Lobster would tell you that they are a must-have, especially when paired with a seafood dish such as jambalaya.
As someone who has actually made these before, I can tell you that you don't even need to add any meat to them as the recipe says. They will be just right without it since the jambalaya already contains a lot of protein.
Again, it is a super easy recipe with minimal ingredients, and I can assure you that regardless of whom you're feeding adult guests or just the family, these biscuits will be devoured.
Here comes another southern corn recipe! This one pair similarly with jambalaya as the creamed corn mentioned above. However, this one has a twist for those looking for a healthier side dish.
This recipe still contains half and half but has an addition of red and green bell peppers, sweet onions, and some garlic. I would recommend this side dish if you're like me and love vegetables, but don't want something as light or as simple as a salad. You can even add a pinch of cayenne for a dash of that Cajun spice!
Have you ever tried a cucumber salad? If not, you have to give this recipe a try! The refreshing sliced cucumbers and onions combined with cool sour cream and sugar are added to some white vinegar and dill weed to make a creamy, tangy summer salad.
The cool flavor of this salad is perfect to pair with the spicy, hot meal that is jambalaya. It is healthy, rehydrating, and it only takes about 15 minutes to make!
Last but not least, there is nothing like a good ol' fruit salad! Fruit salad is typically eaten in the form of ambrosia salad in the southern states, but this recipe is a little different!
Of course, you'll start off by chopping up a variety of colorful fresh fruits such as strawberries, pineapple, and blueberries. But the twist is that the dressing is a little lighter than a usual creamy fruit salad. It is made with honey, lime zest, and lime juice.
I don't know about you, but that sounds even better! This side dish will absolutely hit your sweet spot and refresh your taste buds after scarfing down a bunch of salty, spicy jambalaya.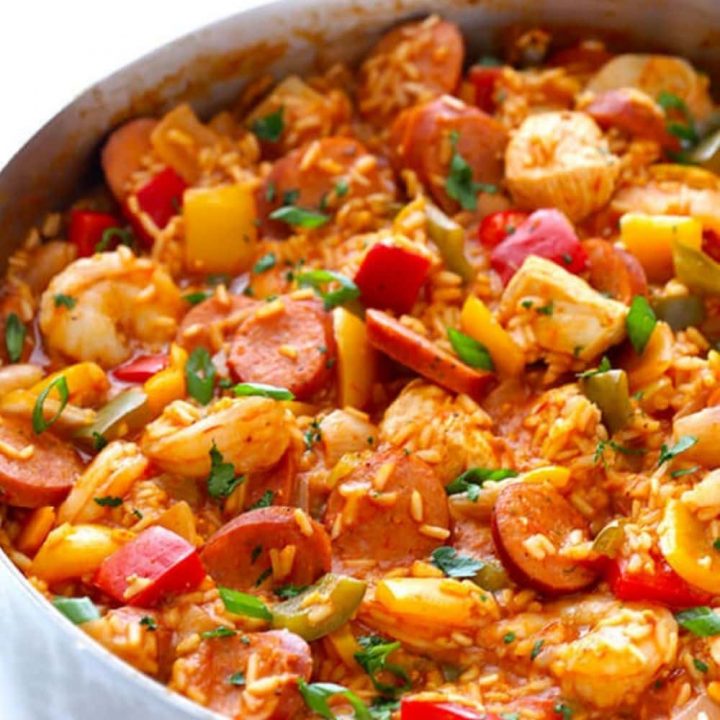 What to Serve with Jambalaya? 10 Incredible Side Dishes
Ingredients
Instructions
Choose your favorite dish!
Prepare ingredients according to the recipe.
Be ready in 30 minutes or less!