If you grew up in, or have traveled to, the east coast U.S. state of Maryland, chances are you've eaten a crab cake.
Maryland's Chesapeake Bay is home to the famous blue crab and using it in various recipes is wildly popular across the state. The blue crab is famous for its soft, buttery, melt-in-your-mouth flavors.
Crab cakes are composed of ingredients such as shredded crab meat, breadcrumbs, eggs, mayonnaise, mustard, and other seasonings.
They are then formed into thick patties and can be baked, grilled, broiled, or fried until a golden-brown crust is formed on the outside.
They are a perfect dish to have on a hot summer day while sitting on a patio that overlooks the water.
While crab cakes are incredibly delicious on their own, pairing them with the right side dish can elevate their flavors even more, and provide a more sufficient meal.
Have you ever wondered what side dishes go well with crab cakes? Here are 15 ideas to help you out.
Of course, it's no secret that a classic tartar sauce is served with crab cakes, but don't be afraid to spice it up with a remoulade! This Louisiana-style sauce packs a Cajun punch and will add a kick of spiciness to your crab cakes.
A traditional Louisiana-style remoulade is made with mayonnaise, mustard, paprika, Cajun seasoning, hot sauce, and more. Simply mix all of the ingredients in a bowl and let it sit in the fridge for a few hours to allow the flavors to infuse.
Once the sauce is ready, smother it on top of your crab cakes or use it as a dip on the side!
Here's another sauce to serve with crab cakes, but this one is a little bit different. This avocado ranch dip is very quick and easy to whip up. Some of the ingredients include fresh avocado, creamy Greek yogurt, and a very versatile packet of ranch dip mix.
Chop up some green onion and parsley and extract the juice from one lime. All of the ingredients come together easily because essentially all you have to do is blend them up in a blender.
This creamy and refreshing dip is sure to bring the flavor of your crab cakes to the next level.
This corn salsa is wickedly simple to make and is full of fresh veggies. Everything can be thrown together in just one bowl!
It contains chopped peppers, tomatoes, red onion, jalapeño, and cilantro all mixed in with the corn. The lime juice and various seasonings bring out all of the crisp flavors of the vegetables. This salsa can be served with tortilla chips or crackers for dipping along with your crab cakes.

@eatsomethingvegan
You can never go wrong with potatoes and green beans to complement any main dish! They are very easy to prepare and can even roast in the oven on the same baking sheet. Just make sure to put the potatoes in first and then add the green beans later on so they don't get mushy.
The potatoes are coated in olive oil, salt, pepper, oregano, and taco seasoning. The green beans are also tossed in olive oil and salt, but the added minced garlic gives it an extra boost of flavor.
Serve these with crab cakes to create an even more comforting home-cooked meal.
Aioli is incredible and people often forget how simple it is to make. It has a mayonnaise base with just a few other common kitchen ingredients added to it. This garlic aioli has fresh garlic, lemon juice and zest, salt, and pepper. You can also add Dijon mustard if you'd like.
This recipe also shows how to make your own mayonnaise if you're feeling fancy, but store-bought mayonnaise will work just fine, too.
Top your crab cakes with this delicious aioli for a creamy burst of garlicky goodness.
Just like potatoes and green beans, rice pilaf is also a perfect side dish for any meal. The key trick to a delicious rice pilaf is to toast the rice in butter or oil before adding the chicken broth to cook it in.
This recipe adds garlic and onion to it, but you could add any vegetables you prefer. Once finished, mix in some fresh parsley and serve it with crab cakes for a hearty and filling meal.
Surprise, another potato dish! These are a little bit different than the one mentioned above. These potatoes are diced up into bite-sized pieces and coated in olive oil and a whole lot of warm spices.
The spices are all pantry staples- paprika, chili powder, cumin, garlic powder, and onion powder. They bake at high heat in the oven and come out crispy on the outside while soft and tender on the inside.
There's just something about grilled vegetables that make them even more delicious. The smoky char from the grill elevates the flavors beautifully.
This recipe includes corn, zucchini, yellow squash, red bell peppers, red onion, and asparagus, all vegetables that will cook on a grill easily.
Once grilled and cooled, chop them up and toss in your favorite vinaigrette dressing and top with crumbly blue cheese. This salad is the perfect side dish to a crab cake dinner on a warm summer night.
Coleslaw is such a classic side dish. The crunch of the cabbage and the creaminess of the dressing is the perfect addition to a crab cake meal.
All it is made of is diced (or shredded) cabbage and carrots, grated onion, and tossed in a sauce made of mayonnaise, vinegar, lemon juice, sugar, and spices. Make sure to chill it well in the fridge before serving!
As stated in the aforementioned grilled vegetable salad recipe, asparagus is an amazing vegetable to throw on the grill.
All you have to do for this one is season it with olive oil, salt, and pepper, and then top with grated parmesan cheese and squeeze out the juice of a freshly grilled lemon.
There is nothing better than a heaping scoop of fluffy mashed potatoes to add to your dinner plate. It also helps that potatoes are filling, so they are a great idea for a side dish for crab cakes.
Besides the potatoes, all this recipe consists of is butter, milk, heavy cream, sour cream, salt, and pepper. Your dinner guests will thank you for this one!
Another delicious recipe with loads of fresh veggies. There are many different veggies you can swap out or add-in, but a succotash dish will always have lima beans, corn, and tomatoes for its staples. This recipe also includes bacon, but you could use a different protein or omit it to make it a vegetarian dish.
This Southern Living succotash recipe comes together on the stove in just about 30 minutes and will surely add a delicious crunch as a side dish for your crab cakes.
Green beans are loaded with vitamins and make the perfect side dish. These are tossed in parmesan cheese and panko breadcrumbs for something a little extra special.
They are incredibly easy to make. Simply coat them in some olive oil and toss with parmesan, breadcrumbs, salt, and garlic powder. A light and healthy vegetable like green beans will be an excellent complement to comfort food like crab cakes.
Corn on the cob is a must in the summertime and roasting it in the oven is a great option if you're serving a lot of people.
For this one, combine melted garlic butter and creole seasoning in a small bowl and brush the mixture over the top of the corn. Then wrap them in foil and roast them in the oven for a sweet and satisfying crunch.
Tomato gazpacho is a unique soup since it is served cold. It's a combination of blending the vegetables for that soupy consistency and dicing them up for added sustenance.
This recipe includes tomatoes, cucumbers, onions, and bell peppers. It mainly has a base of tomato juice, but olive oil and red wine vinegar are added as well. Feel free to top it off with a few dashes of your favorite hot sauce for a nice kick of heat.
With warmer weather right around the corner, this is the perfect time to get a head start on brainstorming ideas about what side dishes to serve with crab cakes and your other favorite summer meals.
These recipes are all easy to make and do not require much time to prepare. The fresh ingredients and spices from these side dishes will enhance the savory flavors that crab cakes possess.
If you have been wondering what side dishes to serve with crab cakes, hopefully, this list provided some insight and inspiration. Happy cooking!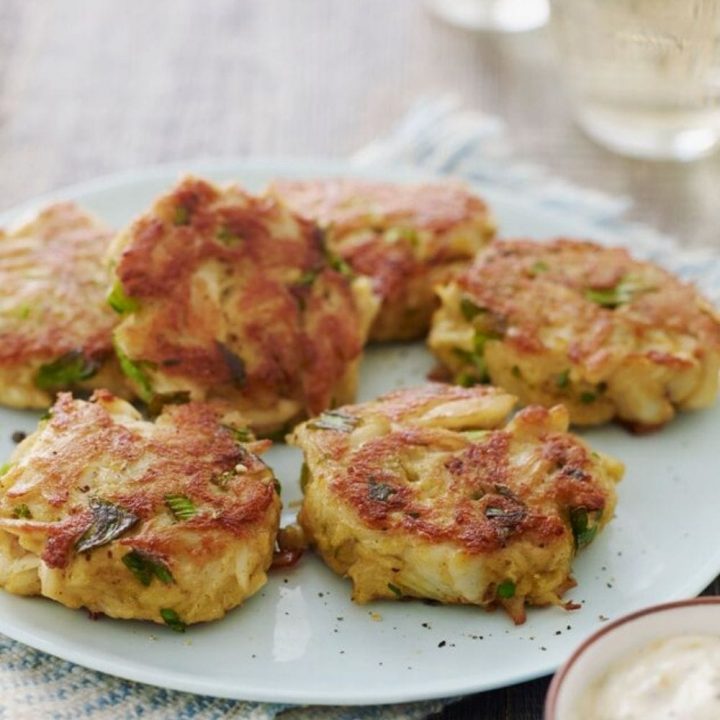 15 Side Dishes To Serve With Crab Cakes
Instructions
Choose your favorite dish!
Prepare ingredients according to the recipe.
Be ready in 30 minutes or less!