Are you looking to elevate your stuffed pepper entree with some delicious side dishes? If so, look no further!
Stuffed bell peppers are a favorite among many cultures and have been adapted to fit people's taste buds from all around the world. The majority of stuffed peppers dishes include bell peppers, meat, grains, veggies, cheese, tomato sauce, and melted cheesy goodness.
Is your mouth watering yet? Because mine sure is.
Of course, it is absolutely essential to pair suitable side dishes to match such a delicious entree. So now the real question is, what goes with stuffed peppers?
Never fear. I have compiled the perfect list of mouth-watering stuffed peppers side dish ideas. Here are 12 of the best complimenting side dishes for stuffed peppers.
A fresh, crisp salad is exactly what you need to cut through the rich flavor of the carbs stuffed peppers.
This flavorful recipe is made with a bed of romaine lettuce mixed with kale and halved grape tomatoes, mozzarella parmesan cheese, toasted slivered almonds, bacon, croutons, and mozzarella, and parmesan cheese.
The cold cheese in the salad is a welcoming contrast to the crispy, golden-glazed tops of the stuffed peppers. And the lemon garlic dressing adds a zingy acidic pop to your plate.
While many broccoli salad recipes include mayo, this light version of a broccoli salad is fresh, healthy, and delicious. With crispy broccoli, smoky bacon, onion, dried sour and sweet cranberries, and crunchy sunflower seeds, this side provides a plethora of textures to your meal.
Serve it up alongside your roasted stuffed peppers for a textural explosion in your mouth.
If you are short on time, consider pairing your stuffed peppers with a simple side of steamed broccoli.
This classic recipe truly allows the taste of broccoli to shine through as the side dish's star since there are no other ingredients besides salt, pepper, and butter!
The simplicity of steamed broccoli is an excellent contrast to the many ingredients added to your stuffed peppers.
Homemade dutch oven bread is the perfect addition to your stuffed peppers. After all, who doesn't like fresh homemade bread?
This bread has a hard, crunchy crust with a soft intersection that makes scooping up any fallen pepper stuffing easy. Use the bread to soak up the hearty tomato sauce and enjoy your well-balanced meal.
Sauteed spinach with garlic is so creamy and delicious that you can hardly even remember it is a vegetable. This buttery side dish is an excellent match for your soft and juicy stuffed peppers.
Sauteed spinach is the perfect way to get in all your nutrients while enjoying every bite of your meal.
When thinking of what to eat with stuffed peppers, more roasted vegetables are hardly what comes to mind. But, roasted zucchini is a delicious classic side dish that everyone can enjoy.
By roasting the zucchini, their natural flavors are enhanced, bringing out their naturally sweet and nutty flavor.
The flavors complement the density of stuffed peppers since they are filled to the brim with rice and meats.
This easy-to-make arugula salad only contains six ingredients, baby arugula, pine nuts, parmesan cheese, lemon, and honey!
Arugula has a natural peppery taste that cuts through the stuffed peppers' soft hearty taste. If you are looking for a great salad to switch up the flavor in your mouth, this arugula salad may just be exactly what you're looking for.
Sauteed carrots are simple to make and packed with vitamin A and potassium.
This side dish can also be modified to your liking, and you can carmelize them with brown sugar, add garlic, thyme, or balsamic vinegar. Cook these up as a side for your stuffed peppers to make a bright and colorful plate.
A treat for your eyes and your mouth!
Roasted garlic parmesan cauliflowers are superb as a side dish for stuffed peppers. The breaded cauliflower gives a nice crunchy contrast to the tender stuffed peppers.
Though this recipe takes a bit more time than some of the other sides, these cauliflowers are totally worth it!
These roasted garlic parmesan cauliflower bites are irresistibly delicious and perfectly seasoned.
These healthy, sweet potato fries are simple to make and enjoyable for everyone. After all, who doesn't like sweet potato fries? The secret to the best sweet potato fries is to bake them in the oven.
This recipe makes the fries come out fluffy on the inside and sweet, salty, and crunchy on the outside.
Place these on the side of some stuffed peppers, and your meal will be complete.
From fancy steak houses to easy home-cooked meals, roasted red potatoes are a great addition to almost any meal.
These potatoes have crispy, seasoned skin and have many health benefits. In fact, these potatoes have more potassium than a banana.
Just make sure to scrub and rinse the potatoes really well so you can keep the skin on and retain all of the health benefits it has to offer.
If you are craving a side of rice, but don't want to add more carbs to your meal, consider making some cauliflower rice.
It is light in taste and calories, making this the perfect substitute for rice.
Once you cut open your stuffed peppers, the tomato sauce stuffing will absorb right into the cauliflower rice, giving it a fantastic flavor.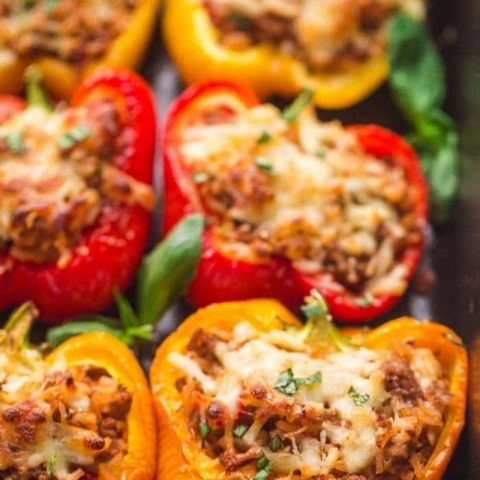 What Goes With Stuffed Peppers? 12 Incredible Side Dishes
Ingredients
Instructions
Choose your favorite dish!
Prepare ingredients according to the recipe.
Be ready in 30 minutes or less!