Meatballs are a fantastic way to get your daily protein in a meal. Add a few to your lunch or evening meal and suddenly the entire dish has been majorly leveled up.
But as much as we love meatballs, sometimes they get ignored and overlooked – after all, you can only eat pasta so many times in one week! What people fail to consider, though, is that meatballs are not just an Italian dish.
If you really think about what goes with meatballs, you'll realize that they can go with a huge range of delectable side dishes! You could have meatballs every day and still not have to repeat a meal.
So, what goes with meatballs? What are all these sides for meatballs that we're talking about? Well, let's break it down for you. Soon, you'll be cooking meatballs all the time and thanking us!
One of the ultimate comfort foods: is mashed potatoes. Creamy, warm, and carby, mashed potatoes are just the perfect side dish, especially for meatballs. Cook up some delicious meatballs and a lovely creamy sauce like peppercorn, gravy, or mushroom sauce.
The absolute best meatballs to pair with mashed potatoes are Swedish meatballs. Ikea knows what they're doing!
Enjoy creamy comfort food at home with meatballs and mashed potatoes. You can even enhance your potatoes to make them tastier by adding in special ingredients like garlic, cream cheese, and of course butter and milk.
These help to broaden the flavors in the meal and make sure that your potatoes are delightfully creamy. Of course, if you need to swap out any of these taste-making ingredients, free from options work just as well!
Try alternative plant milk or butter in your mash for a vegan side dish for meatballs.
Do this dish right and you end up with a tasty meal that feels like home, with creaminess, smoothness, and a mix of flavors.
There is a reason that mashed potatoes are one of the best side dishes for meatballs, even if you opt for plant-based meatballs!
Yes, more potatoes! Potatoes are ideal for side dishes. They're versatile and really filling – and you can always rely on them to taste delicious. Especially when roasted with garlic… Roasted potatoes are one of the easiest things to eat with meatballs.
You simply cover them in your chosen spices, throw them in the oven and take them out when you're ready – what could be better?
Garlic roasted potatoes go with most types of meatballs, but they're especially enjoyable with Italian meatballs or cranberry meatballs.
The garlic in the Italian meatballs matches the flavors of the potatoes and the tartness of the cranberry meatballs pairs delightfully with the strong flavors of the roasted potatoes.
If you want to experiment with your potatoes, but you're still not sure what goes good with meatballs, try adding some rosemary and parsley to the potatoes for an extra ounce of flavor.
If you find yourself wondering what to serve with meatballs for dinner during the summer, this is the side dish for meatballs that you should try.
Corn on the cob is a summery-tasting fresh veggie option for your meatball dinner. Boil your corn, smother in as much butter as you like and a sprinkle of salt, and enjoy it alongside some great BBQ, Swedish or Italian meatballs.
You'll feel like you're at a BBQ even if it's just a quick weeknight dinner.
You can also grill or steam your corn on the cob, but the best way to get juicy and flavorful corn is to boil it.
This side dish is great if you're debating what to cook with meatballs and want something simple, but that tastes delicious. Meatballs are usually associated with pasta, so pairing your meatballs with rice isn't too far-fetched!
Especially a rice pilaf, which is tasty, meaty, and full of nutritious veggies.
All you need for a rice pilaf are some green or yellow onions, celery, parsley, rice, salt, pepper, cayenne, and stock.
Cook up your pilaf and pair it with some lovely Swedish meatballs in a creamy, thick sauce like a mushroom or peppercorn sauce. The meatiness of a mushroom sauce especially pairs well with a pilaf.
If you want to try something new, give turkey meatballs a go with rice pilaf for a slightly healthier twist on this meatball and side-dish combo.
Sometimes, simplicity is key. This student-staple side dish is a fantastic way to focus your tastebuds on the flavors coming from the meatballs.
This dish has so few ingredients, it is a super simple solution to use next time you find yourself asking what to cook with meatballs.
To make this tantalizing side dish, all you need is salt, egg noodles, butter, parmesan, parsley, and pepper. It really is the easiest option when you're considering what goes well with meatballs.
You can pair this side dish with meatballs on their own, or you can pair it with some Swedish meatballs with a creamy sauce (like a mushroom sauce, for example). This dish is even better if you add some parmesan to the top of the dish after serving.
Asparagus is often considered a bitter vegetable, but when roasted, this bitterness is cooked away, leaving a salty, savory, crunchy, and all-around delicious veggie.
The saltiness of oven-roasted asparagus sets it up t be a perfect side to pair with creamy Swedish meatballs.
The creaminess and meatiness of the meatballs and their sauce work amazingly together, both flavors complementing one another perfectly.
It's a great side to pair meatballs with for a small dish such as for lunch or for a healthy low-carb meal.
If you're ever unsure of what to cook with meatballs that are nutritious and packed full of veggies, ratatouille is the side dish you're searching for.
This tasty and nutrient-rich dish consists of eggplant, zucchini, yellow squash, and tomato, baked with peppers and herbs. It is warming, tasty, and will get you most of your daily veggie intake in one dish!
Pair a delightful ratatouille with herby Italian meatballs for a kick of protein with all your veggies, and you'll never look back.
The sauciness of the ratatouille compliments the meaty texture and flavor of the meatballs, and they come together to form an Italian taste explosion in your mouth.
The meal we usually associate with meatballs is a lovely spaghetti dish with a rich tomato sauce – but what about if we swapped the spaghetti for peppers?
This gorgeous Italian side dish makes the perfect carb-free accompaniment to meatballs. It's rich, full of flavor, and absolutely bursting at the seams with nutrients.
Pair a peperonata with some big, herby Italian meatballs for the best experience. With the sauce from the peperonata, you don't need to cook your meatballs in a sauce!
For a little extra depth of flavor, add a sprinkle of your cheese of choice to the top of the dish after serving – you won't regret it.

You'd be forgiven for thinking broccoli is a boring vegetable – many people don't know what to do with it to get its real flavor to come out. But with sauteed broccoli, your eyes will be opened to a new delicacy.
You'll never wonder what's a good side to go with meatballs? again. You'll want broccoli for every meal!
This cheeky sauteed broccoli takes less than 10 minutes to cook and provides a nutritious texture adventure to go with your meatballs.
Tender florets with a crunchy stem and great meaty meatballs? Yes, please. Plus, broccoli goes with any type of sauce or meatball.
Choose BBQ meatballs for a summery meal, or Italian meatballs with a rich and tangy tomato sauce if you're fancying something more hearty.
Granted, your first answer to the question 'what is a good side to go with meatballs?' probably isn't a salad. But it definitely should be.
Salads are so easy to make, and there are so many types of them that it would be ludicrous to suggest that none of them pair well with meatballs.
If you want to make a meal feel lighter and refreshing, pair your meatballs with an ordinary salad. Alternatively, pairing a bistro salad with a herby Italian meatball or feta, goat's cheese and tomato salad with a Swedish meatball makes a lovely European meal…
The options are endless. Plus, if you need a bit of sauce, there are dressings galore to choose from!
More veggies! These sauteed green beans are a great way to make meatballs more interesting. Green beans are a rarely used vegetable in the grand scheme of things, and they definitely deserve more love.
Sauteeing the beans with garlic gives them a really rich flavor to go along with their classic crunch.
Pairing green beans with a BBQ meatball or even meatballs with an Asian-inspired sauce is a great way to make meatballs feel a bit more exciting.
Sweet chili sauce is definitely one Asian-inspired sauce to mix with your beans and meatballs, especially if you make turkey or chicken meatballs!
Meatball subs are just otherworldly. They combine some of the best elements from Italian cuisine and put them in one of the best inventions ever: the sub.
Tomatoey, meaty, cheesy, and full of flavor, if you're ever unsure what to serve with meatballs – this should be your go-to.
Not only are meatball subs super tasty, but they're also incredibly easy to make. Cheese, marinara sauce, meatballs, and whatever herbs you feel like adding in and you're done.
We recommend adding mozzarella to the top of your subs and putting them under the grill for a few extra minutes to get a stringy, cheesy extra flavor to your subs.
Cauliflower rice has taken the world by storm in the last few years. It is a great alternative to rice for anyone who is gluten-free or dodging carbs and is super tasty. It's also incredibly easy to make and is packed full of vitamins and nutrients.
Rice and meatballs go well together, we've established that, but cauliflower rice brings with it an extra fluffiness and flavor that other rice dishes just do not have.
Pair it with a marinara sauce and Italian meatball, or something creamier like Swedish meatballs and a gravy or mushroom sauce – regardless, you'll be in for a treat.
This roasted asparagus dish is absolutely delectable. It is ideal for anyone who is a fan of Italian cuisine, and is the perfect side dish for meatballs, especially Italian meatballs!
The sweetness of the asparagus is enhanced by the roasting process and blends delightfully with the intense flavors of parmesan and garlic.
All of those flavors compliment the rich, meatiness of a well-cooked Italian meatball, creating a whirlwind of flavors that melts in your mouth.
If you need a sauce to pair with this dish, a marinara sauce or something similar would work best with the flavors of the asparagus.
This sweet and savory salad is a great summer accompaniment to a Swedish or BBQ meatball. It is tangy and crunchy and is great on its own or with a light dressing.
The flavors of the sweet apples and the walnuts combine gloriously with the spinach and the vinaigrette and really boost the flavors of both BBQ and Swedish meatballs.
Try this dish on a crisp evening as a starter, or as a light dinner if you're hosting – it's bound to impress your dinner guests!
Salty, sweet, cheesy, and good for you, this side dish is great with meatballs. All you need to cook up this plate of goodness is onion, parmesan, zucchini, and butter, and you'll have a big pan of tasty sauteed zucchini in no time.
Pair this dish with Italian herby meatballs and enjoy the herby, salty, cheesy taste that comes from mixing parmesan, onion, and zucchini together. You'll never want to eat meatballs with pasta again after this savory taste extravaganza.
If that wasn't enough, it's also incredibly easy to cook, and involves very minimal prep to make! Simply chop up your veggies and sautee – what could be easier?
Sometimes, all you need is a meal that you can throw in the oven and not think about for a while, and this is just that. These delicious roasted vegetables are the epitome of minimal effort, and yet will come out of the oven tasting incredible.
Sweet, savory, warming… they're perfect!
Only made better when you add some meaty Swedish meatballs and a creamy sauce or gravy. Enjoy the taste medley from the roasted veggies with the rich flavor of a mushroom sauce and protein-full meatball.
These sweet yet savory veggie coins are a simple but great way to enjoy vegetables whilst still getting a flavorful meal.
The brown sugar and butter used to glaze the carrots make them a delicious and exciting take on what can often be a boring and discarded veggie.
They pair amazingly with sweet meatballs like cranberry meatballs or BBQ meatballs and make a perfect sharing side dish for family meals or dinner parties.
You wouldn't be blamed if you soon decide that this is the best way to cook carrots, and they started to turn up in all of your dishes.
Add a bit of protein to this delicious broccoli salad with some cranberry or Swedish meatballs. The mix of flavors that comes from the bacon, sunflower seeds, and broccoli is intense, so there isn't a need for herby meatballs like Italian ones.
But the tartness of a cranberry meatball, and the texture of a Swedish meatball pair perfectly with this mixture of ingredients.
You can even prepare a broccoli salad the day before and refrigerate it, making it perfect for an on-the-go meal for work or a trip! Make your coworkers and their boring sandwiches jealous when you whip out that beauty.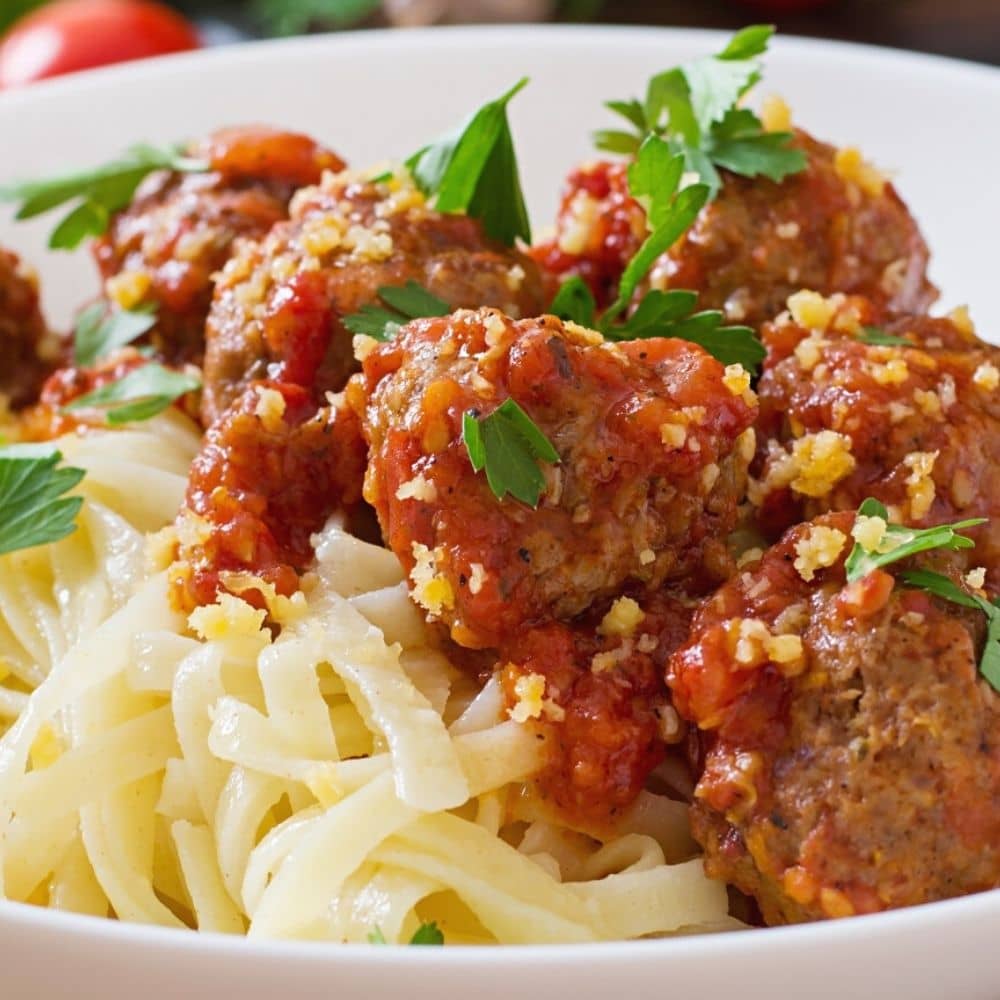 What to Serve with Meatballs (19 Best Side Dishes)
Ingredients
2 lbs russet potatoes, peeled and quartered
Kosher salt and freshly ground black pepper
1 stick (8 tbsps) unsalted butter, cubed
3/4 c heavy cream, heated
Instructions
To start your potatoes off, peel and cut the russet potatoes into 1-inch pieces. Place the potatoes and a teaspoon of salt in a pan with some cold water.
Bring the pan to boil over high heat, and then reduce the heat and leave the potatoes to simmer. Check on your potatoes regularly.
When you're able to easily pierce the potatoes with a fork (after about 10 minutes), take the potatoes off the heat
Drain your potatoes and return them to the pan and shake them dry
Place your potatoes in a bowl
Put the milk and butter into the pan and heat on medium-high heat until the butter is melted
Mash your potatoes in the bowl, then stir in the butter and milk. Add cheese here if desired
Sprinkle black pepper and nutmeg if wanted