Don't you love those meals that take you right back to your childhood? The simpler days spent outside playing and coming inside to enjoy your favorite comfort foods? Or more importantly, do you have a meal your children will actually eat?
Let's combine the two! We're talking about our classic, reliable friend, Sloppy Joe.
Not only do I crave the nostalgic taste of this sweet and savory sandwich, but my two little ones love it, too!
It's simple and easy: two things that are such a priority and a relief on a busy weeknight! And don't worry – we're not using a can of Manwich to make these crave-worthy sandwiches.
We're going homemade and making it just as effortless, but with 5x the flavor.
So, now that we've got the main dish covered: What goes good with sloppy joes? I've gathered 15 of the best side dishes for sloppy joes below!
WHAT TO EAT WITH SLOPPY JOES
Channel the perfect, nostalgic summer barbecue with some grilled corn on the cob!
This recipe takes it to a whole new level by layering the spice, flavor, and colors of the classic Mexican street food Elote. Get ready to fire up your grill and dig into sweet, summery flavors.
The vibrant chipotle chili powder, fresh lime, and creamy sauce make the best side dish for your savory sloppy joes. Take this meal outside in the fresh air to make the experience even better!
A salad is a great way to brighten up your sloppy joe plate and add some fresh greens. And this recipe is an Olive Garden copycat. Anyone else obsessed with their salad?
The secret is in the homemade sauce listed in this recipe. From the pepperoncini to the parmesan, the tang and bite of this salad were made for your sloppy joe night.
Garden salads go with any meal and are a great way to sneak some veggies in, with just a few quick chops and tosses.
Again, salads are one of the best side dishes for sloppy joes since they help lighten up the sandwich's rich and savory flavors.
Caesar salad is another one of my favorites! For this recipe, say goodbye to store-bought dressing. You can make this classic Caesar salad dressing in a snap with just a handful of creamy, zesty ingredients, a bowl, and a whisk.
This recipe doesn't use raw eggs, so no worries there! Note: Don't be frightened by the anchovies.
They are what give Caesar salad dressing its unique and sharp flavor! Just make sure you mash them until they are paste-like for the dressing.
Okay, important question: Sweet potato fries or regular French fries? (Feel free to share your opinion in the comments!)
If you opt for the vibrant color and sweet taste of sweet potato fries, I have just the recipe for you.
These are oven-baked, so they're a healthier option, while not compromising that satisfying, crunchy goodness of regular French fries.
You and your family will gobble them up, and the slight sweetness of the sweet potatoes will match the bit of sweetness in the sloppy joes nicely.
All hail the versatile queen that is the potato! From French fries to tater tots, she sure knows how to show up to a dinner party.
(There are a lot more delicious potato-based sides to come, so stay tuned!)
Skip the freezer-burnt tots you have on hand, and try out these homemade tater tots!
Paired with my comforting sloppy joes, this meal will take you on a wonderful trip back to the best days of your childhood. Of course, they are tater tots, so your kids will love them too!
Curly, crinkled, or crispy, who doesn't love a good French fry?
Fries make one of the best side dishes for sloppy joes. Making them at home is just as tasty and satisfying as finding an extra one at the bottom of your fast-food bag.
Fry up some oil and make some fresh, crispy, and crunchy goodness. It's that simple!
Pro tip: Spoon some sloppy joe filling over your French fries for an extra tasty treat! Or, scoop up what fell out of your satisfyingly messy sandwiches with your homemade French fries.
Mashed potatoes are the ultimate comfort food. They go with so many classic dishes and help bring out that comforting, homestyle side of sloppy joes we all love and crave.
These garlic mashed potatoes are super easy to make and will have you sworn off from buying the dried boxes of mashed potatoes in no time. Another
pro tip: Get the potatoes boiling first to make sure you give them enough time to soften while you prep the rest of your meal and sloppy joes.
Here we are daydreaming of summer barbecues again! Potato salad is a refreshing, classic, and one of the best side dishes for sloppy joes.
You can't go wrong with it, especially if you are going to a potluck event this season! As the weather gets warmer, it's always good to mix in a cold side dish with a hot meal.
Make it ahead of time and serve it with your delicious sloppy joes! Or, make a big batch and store it in the fridge for up to five days. Your family will thank you later.
More cheese, please! Now, put your hands up and walk away from the Kraft.
Homemade mac and cheese is always so much better than the box kind you buy at the store. And it's almost just as easy! With homemade mac and cheese, you get that stretchy, cheesy texture and real cheese flavor we all know and love.
It's yet another creamy, comforting side dish that pairs so nicely with the tanginess and sweetness of our sloppy joe recipe.
Homemade coleslaw is another fresh, summery side for sloppy joes that makes so much sense!
It's perfect for barbecues and any hot sandwich, like sloppy joes. This is one of the quickest sides on the list.
So if you are in a pinch or don't feel like doing a lot of extra cooking, this refreshing coleslaw recipe only takes 15 minutes to make!
Lighten up your sloppy joe plate by adding some fresh, creamy coleslaw.
You can even make it ahead of time and pull it out of the fridge when you are all ready to dig into your sloppy joes.
Cheers to more chilled, classic, and creamy sides! Macaroni salad is popular with both kids and adults (because who doesn't love pasta?) and is such a reliable make-ahead side dish for a busy weeknight.
It's sweet, tangy, savory, and everything in between — just like our sloppy joes!
The combination of creamy mayonnaise, fresh herbs, chopped veggies, and tangy vinegar makes it one of the right answers when figuring out what goes well with sloppy joes.
We're all about sticking to the classics when it comes to deciding what to eat with sloppy joes.
Sloppy joes and baked beans go together like peanut butter and jelly. It's such a great combo! This recipe is super simple and effortless. Start with your favorite can of baked beans.
Then, add a little bit of personality! Throw in some spice, sauces, red onion, and chopped bacon to it to take the classic side dish to a whole new level of flavor.
When you look at the ingredient label on your favorite brand of chips, you will probably see a long list of ingredients that are difficult to pronounce.
These homemade potato chips only require 3 ingredients that you already probably have in your kitchen: Potatoes. Oil. Salt. And they are so much better than store-bought!
Making homemade potato chips is actually super easy and much quicker than you'd think!
It's all about slicing them thin to get that satisfying crunch that pairs oh-so-great with our warm and comforting sloppy joe recipe.
Onion rings are so underrated! Their crispy coating and flavorful, juicy onion inside make onion rings debatably better than diamond rings.
This recipe adds some smoked paprika and crunchy breadcrumbs to add that extra bit of flavor and texture your friends and family will love.
Now, pair it with our sloppy joes, and you've got a meal that the adults and kids will lick clean.
Tip: Use the bigger outer rings for better results!
Nothing says spring and summer quite like a colorful fruit salad. Fresh, easy, sweet, and sour. A side for sloppy joes everyone will love!
Simply wash and prep your fruit, add the juice, honey, and a bit of cinnamon for extra flavor.
You can also customize it with whatever fruits are your and your family's favorite.
Then, store it in the fridge and bring it out when you are all ready to dig in alongside your homemade sloppy joes.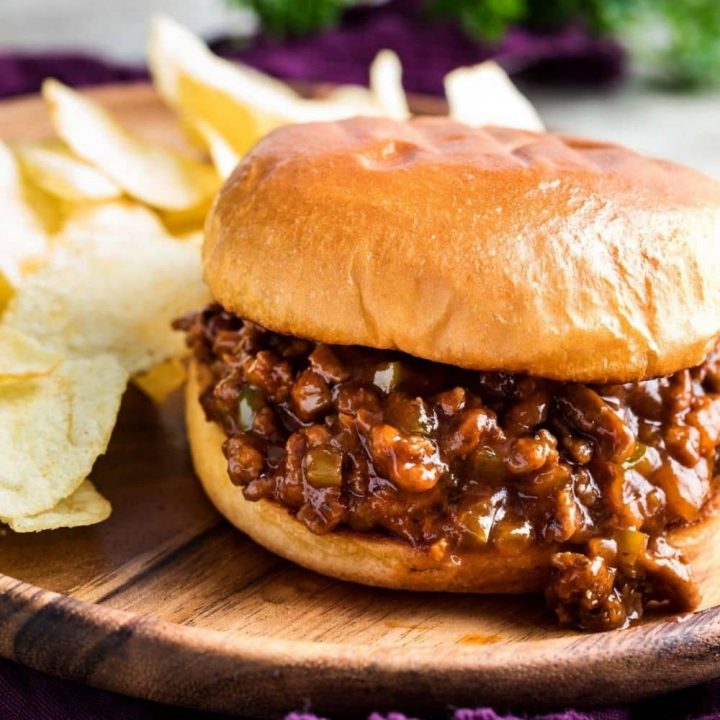 What to Serve with Sloppy Joes? 15 Best Side Dishes For Sloppy Joes
Ingredients
Instructions
Choose your favorite dish!
Prepare ingredients according to the recipe.
Be ready in 30 minutes or less!