Rich and hearty, beef stroganoff is a popular dish to serve for dinner. Bite-size pieces of tender beef simmer together with mushrooms in a sour cream-based sauce, making for an easy meal that seems to please everyone.
Originally from Russia, this dish is now known worldwide for its comforting flavors. But what goes with beef stroganoff?
While it's delicious, you can't just plop it onto your table in a serving bowl with a ladle. It needs something to balance those creamy and rich tastes.
If you're wondering what beef stroganoff side dishes to serve, you're not alone. These 13 beef stroganoff accompaniments will help you plan your dinner sides.
Good side dishes will turn this into an epic meal perfect for your little family or even when guests join you at the table.
Buttered noodles might sound basic, but they are the perfect nest to spoon a heaping portion of that hearty beef stroganoff upon.
Made with egg noodles, butter, broth, and seasonings, they won't detract from the flavors of this rustic main dish.
Plus, they take just minutes to make, allowing you to get them on the table with your beef stroganoff in record time.
Next up with side dishes for beef stroganoff, a garlic rice pilaf dares to be different with complimentary garlic flavors that are a match to your main dish's savory side.
If the thought of plain white rice bores you, then you'll love how this 4-ingredient rice turns out.
With garlic, butter, and vegetable broth, you can be sure your rice will be flavorful and fluffy, a stunning match for that creamy, dreamy stroganoff sauce.
I know brussels sprouts aren't high up there on everyone's list of side dishes, but they really go so well with beef stroganoff.
Don't worry about the bitterness here as roasting them turns them into tender and delightful accompaniments for beef stroganoff.
Butter gives it a richer taste too, one that melds quite nicely with garlic powder and paprika.
Just a little salt pulls it all together too so you'll have a nutritious green vegetable side dish to serve with this heavy meal.
What's even more comforting to serve with your beef stroganoff?
Potatoes! Not just any potatoes though…mashed potatoes make the ideal platform on your plate to pour those tender morsels of beef and mushrooms, making an island in a sea of extraordinary sauce to dig your spoon into.
Even more blissful than mashed potatoes are garlic mashed potatoes!
Simply mince your own garlic and along with the butter and heavy cream, you'll have an absolutely divine dining experience.
Do you prefer your potatoes in a crispier format?
Then choose roasted potatoes to pair with your beef stroganoff tonight! Cut them up into bite-sized pieces and coat with olive oil, garlic powder, paprika, onion powder, cumin, chili powder, and a little salt and pepper for flavorful potatoes that are crispy on the outside and perfectly tender inside.
And hey, if some of that creamy beef stroganoff sauce gets on them, they'll be even more delicious!
Are you a dunker? Beef stroganoff is the kind of dish that brings with it plenty of sauce.
You can of course use that sauce on noodles, rice, or even a bed of mashed potatoes. Heck, you can put all of those on the table AND one of my personal favorite beef stroganoff side dishes…cheesy garlic bread!
It's hard to beat with all that garlicky goodness embedded into the bread. Buttery and topped with cheese, the only way it gets better is by submerging it into a sea of beef stroganoff sauce. YUM!
OK, maybe you turned up your nose at brussels sprouts or you've got a few kids at home who you know will throw them to the dog waiting under the dinner table.
Maybe you just want another green vegetable side dish to match with your beef stroganoff. Whatever the case, I've got you covered with roasted broccoli salad.
It takes broccoli, carrots, tons of garlic, peanuts, sundried tomatoes, balsamic vinegar, and parmesan cheese and brings it together for a flavorful explosion of textures in your mouth.
I love the acidity of the balsamic which makes for a diverse contrast with the richness of the creamy beef stroganoff sauce!
Since beef stroganoff is a Russian dish, it will most certainly work well with a side of homemade dill pickles.
These can help cleanse the palate and offer a refreshing taste along with this indulgent meal. Pickled vegetables are quite popular in Russia, plus making your own will ensure you've got plenty of pickles for snacks and sandwiches too!
You don't have to work hard to find great side dishes to go with your beef stroganoff. Something as simple as steamed broccoli can work.
Plus, if you use your Instant Pot, you'll barely have to lift a finger. Simply get your broccoli to that perfect texture that has a little crispness yet nice and soft.
You can add cheese or almond slivers to it if you'd like, or you can simply let it mingle with that dreamy stroganoff sauce on your plate.
You're already in front of the stove making beef stroganoff, so why not pan-fry your potatoes to go with them?
With a super-hot skillet and 4 simple ingredients, one of them being potatoes, you're on your way to a wonderful side dish that has its own savory elements without clashing against the richness of beef stroganoff.
A nice citrus flavor matches well with beef stroganoff to balance things out.
With these lemony steamed green beans, they lighten up your meal in a lovely way. They take just minutes to make and burst with zesty lemon and feisty black pepper.
Crisp yet tender, you'll be a lover of green beans when you try them this way!
There's one salad that I find goes with everything. From light meals or even as a meal itself, to those absolutely decadent meals.
Since beef stroganoff somewhat falls into that decadent range, this Olive Garden salad recreation is one of the best sides to make.
It's got it all…iceberg AND Romaine lettuce, red onions, slices of Roma tomatoes, black olives, pepperoncini peppers, grated parmesan, and croutons. Oh, and let's not forget that heavenly Olive Garden salad dressing.
Sure, you can buy that ready to go, but it will taste lightyears better if you make it yourself!
And finally, if you're looking for something that's familiar yet a bit different all at once to pair alongside your classic beef stroganoff dish, try a lemon rice salad.
You'll cook long grain rice in chicken broth and shallots which gives it a more savory yet pungent flavor.
Then you'll add in cilantro, garlic, red pepper, and red onion along with lemon juice and lemon zest for bursting of flavors.
Add a little grated parmesan when you're done and it becomes both rich and luxurious yet light and refreshing all in one. That's what makes it a treat to serve with your beef stroganoff.
With these 13 beef stroganoff side dishes, you have plenty of options to fill up everyone's plates.
From sides that complement to sides that contrast in a delightful way, you can have fun making your meal!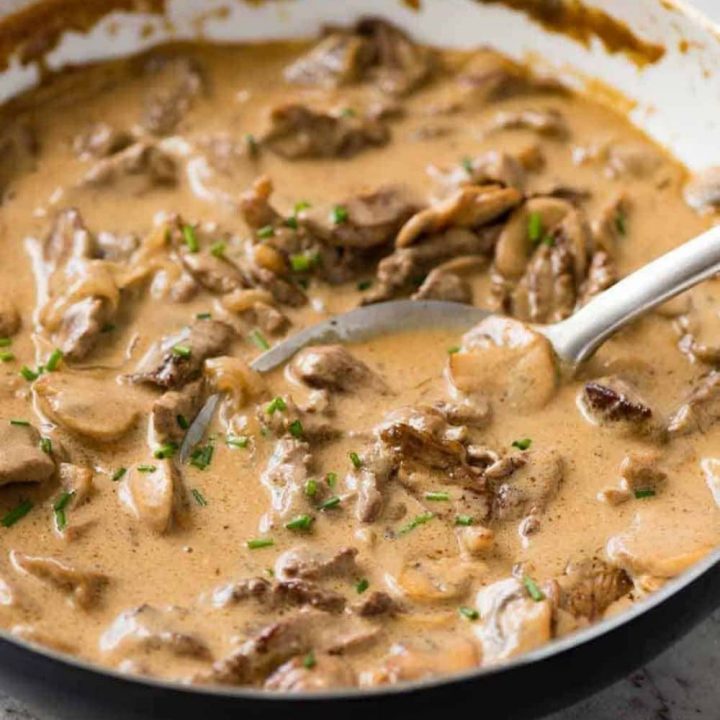 What to Serve with Beef Stroganoff? 13 Savory Side Dishes
Instructions
Choose your favorite dish!
Prepare ingredients according to the recipe.
Be ready in 30 minutes or less!