Beef stew is classic comfort food that's been warming hearts and bellies for generations.
On a cold day, there's nothing better than curling up by the fire with a nice hot bowl.
Chunks of hearty beef, fresh veggies, aromatic seasonings. What's not to love? It's easy to make and only requires simple, easy-to-find ingredients.
But every entrée needs a good side dish So what goes good with beef stew?
A lot of things, actually. Beef stew is surprisingly versatile, and the side dish you serve with it can change the vibe dramatically.
Here are 14 easy and delicious side dish recipes for all your beef stew needs, no matter the occasion.
For generations, Buttermilk biscuits have been a staple in every southerner's diet.
They can be enjoyed with any meal, whether it's with butter and jam for breakfast or smothered with gravy for dinner.
Serve it as a side dish with your beef stew and you're sure to impress your southern relatives.
These biscuits are easy and don't require much effort. You can make them with basic pantry items that you likely already have. And don't worry if you've never made bread before.
You don't need yeast to make these biscuits, so there's no need to worry about the rising dough.
Garlic goes well with almost everything, and beef stew is no exception!
These cheese-stuffed crescent rolls are perfect for when you're heating up the leftover stew and don't want to spend a bunch of time making sides. And now you can finally break out that air fryer that your brother got you for Christmas!
This is also an easy recipe for kids to follow, so if your kids are interested in cooking, strap an apron on them and turn it into a fun project.
If you want to go the traditional route, you can't go wrong with this crusty-on-the-outside, chewy-on-the-inside bread.
All you need is some butter or olive oil and you have the perfect companion for your beef stew.
Bread is most often used for dipping or mopping up the extra gravy, but if you're feeling adventurous, you can hollow out the loaf and use it as a bread bowl.
This bread is made with ingredients that you probably already have, saving you a trip to the store. And the best part is that you don't have to knead the dough. No need to strain your arms and shoulders this time!
If bread is your go-to as a side dish but you still want to shake things up a bit, these popovers make the perfect dinner roll.
They're light, fluffy, buttery, and perfect for mopping up leftover gravy from an empty bowl of stew. Can't let any of that gravy go to waste!
Popovers are made with an egg batter, meaning that you don't need any yeast, baking powder, or baking soda. The eggs do all the work for you.
Who doesn't love mashed potatoes? Beef stew is already a comfort food, but mashed potatoes will give your meal an over-the-top coziness factor.
Since mashed potatoes are commonly eaten on holidays, serving these as a side dish gives your beef stew a holiday vibe.
So if you don't want to go through the hassle of making a turkey this Thanksgiving, whip up some beef stew and serve these smooth, buttery mashed potatoes along with it.
These particular mashed potatoes are full of garlic and butter, which complements the rich stew nicely.
But you can make it your own by adding whatever seasonings and herbs you want. Bonus points if you take some of the gravy from the beef stew and drizzle it over your mashed potatoes.
This green bean salad gives you a healthy serving of veggies and nuts, making for a balanced meal when paired with beef stew. And the multitude of textures and flavors from the green beans, nuts, cheese, and vinaigrette dressing stimulate your taste buds.
Whether you're a procrastinator who does all their cooking at the last second or an organized meal planner, this recipe can fit into your lifestyle.
It can easily be thrown together at the last second, or it can be made ahead of time and refrigerated.
If you needed any more proof that potatoes go with everything, this is it!
These crispy potatoes provide a nice contrast to the thick, hearty stew (especially when dipped in the gravy).
Red potatoes contain potassium and Vitamin C, which we all need more of, especially in the winter months.
These potatoes taste good with almost all spices, so feel free to go nuts. Use whatever you like. Garlic, rosemary, thyme, chili powder, or even just salt and pepper. No matter what you use, these potatoes are sure to please.
You may be wondering, "What are new potatoes? Did scientists discover a new species of potato?" No, there haven't been any new potato discoveries.
New potatoes are simply regular potatoes harvested prematurely. They hold their shape better than mature potatoes, making them good for roasting.
This is another side dish that transforms beef stew from a winter entrée to a summer meal. The balsamic vinegar and asparagus give the dish a summery vibe.
You can almost picture enjoying this meal outside while watching the sunset and sipping on your favorite red wine.
Cornbread is another classic southern staple. There's no such thing as a southern cookout with no cornbread! Like the buttermilk biscuits, cornbread is enjoyed for breakfast, lunch, and dinner.
This slightly sweet side dish gives you the ability to add some southern flair to your beef stew.
If you're a fan of mixing sweet and savory in your meals, then you'll love this sweet cornbread with the savory stew. Not to mention, it's good for dipping (again, don't wanna waste any of that gravy).
Cornbread is also incredibly easy to make, even if you don't consider yourself a baker. So don't worry if you've tried to make bread in the past and failed miserably. This is one bread that's hard to mess up.
You know those nights when you can't be bothered to put effort into your meal? Or maybe you're tired of bread and potatoes and want something lighter and a little less dense.
This rice pilaf is easy, delicious, and extremely customizable. And it goes with everything.
So for yet another night of leftover beef stew, cook up a pot of this rice pilaf and add your favorite seasonings. Who said leftovers couldn't be fun?
If you're looking for a side that's easy, quick, and delicious, but you're tired of potatoes, this roasted broccoli will fit right in at your dinner table.
Even if you're not a fan of broccoli, you're going to want to try this recipe. While you're savoring your delicious beef stew, you also get to enjoy the fresh, summery taste of the broccoli.
The garlic and paprika also add a nice kick that gives your meal some attitude.
There's nothing that says beef stew can't be classy. If you're hosting a formal lunch or dinner party, this spinach salad, when paired with beef stew, adds an air of classiness to your meal that will appease even your snootiest guest.
The spinach, lemon juice, and nuts give the salad a spring feel, so it's also good for when you want to bring a little spring into your home during the winter months.
This recipe is another good one for procrastinators and busybodies, as it doesn't take long to measure out the ingredients and mix them together.
And don't let the recipe prevent you from making it your own. Customize all you want. If you want your salad to have apple slices or mandarin oranges, by all means, add them!
Bread goes great with beef stew, but it's not always the best for your diet. If you're low-carb, this recipe is for you!
These oven-roasted, parmesan-covered cauliflower pieces are covered in bread crumbs and will give you the breaded goodness you love without the carbs you hate (you can even dip them in the gravy).
Roasted cauliflower is great during the summer, and this recipe can transform beef stew from a winter dish into a new summer cookout tradition. And since these are so easy and quick to make, they're easy to feed a large crowd.
Most people think of beef stew as a dinner entrée, but these adorable stuffed tomatoes make your beef stew lunch-friendly.
The most difficult part of this recipe would be hollowing out the tomatoes, but even that is more time-consuming than it is difficult. And after your guests taste these creamy, cheesy tomatoes paired with your thick, savory stew, the time you spent will be well worth it.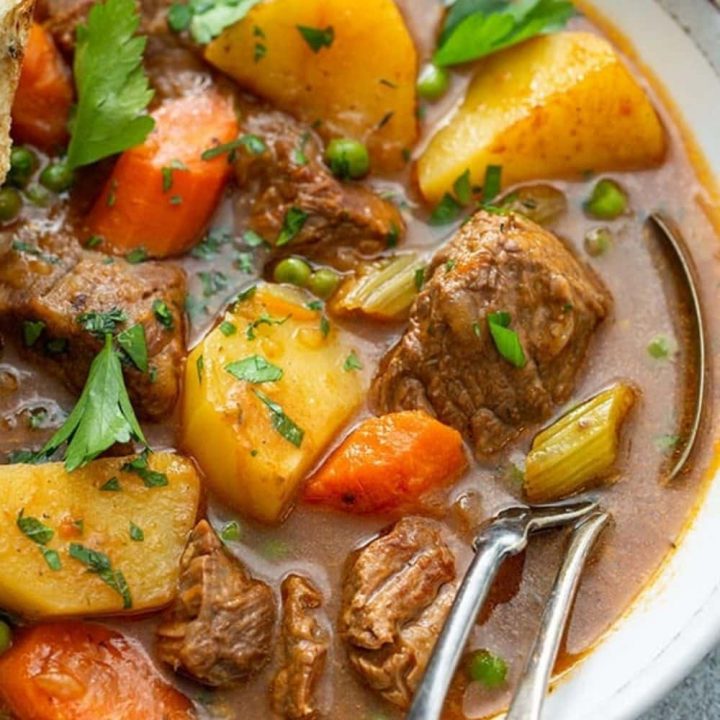 What To Serve With Beef Stew? 14 Quick & Easy Side Dishes
Instructions
Choose your favorite dish!
Prepare ingredients according to the recipe.
Be ready in 30 minutes or less!