Look no further. You just found the perfect Thanksgiving side dish! If you like loaded baked potatoes, you'll love these loaded mashed potatoes. They are creamy, fluffy, cheesy, and have delicious crispy bits of bacon and green onions hidden in every bite.
Cooked and mashed potatoes are mixed with sour cream, milk, shredded cheddar, grated parmesan, green onions, and crispy crumbled bacon and then baked until the cheese melts to perfection. You can top them with extra bacon and cheese to make the most amazing homemade loaded mashed potatoes you will ever taste.
How To Make Loaded Mashed Potatoes
Place potatoes in a large Dutch oven, cover with water, and bring to a boil. Cook for 15 mins or until potatoes are tender.
Drain, return the potatoes to the pot, and add the sour cream, milk, butter, salt, and pepper to the hot potatoes.
Mash with a potato masher or a hand-held mixer until light and fluffy.
Mix in the parmesan cheese and 2 cups of shredded cheddar.
Place the mashed potatoes inside a baking dish, and top with the remaining ½ cup shredded cheddar, crumbled bacon, and sliced green onions.
Bake for 30 mins or until the cheese is melted and bubbly.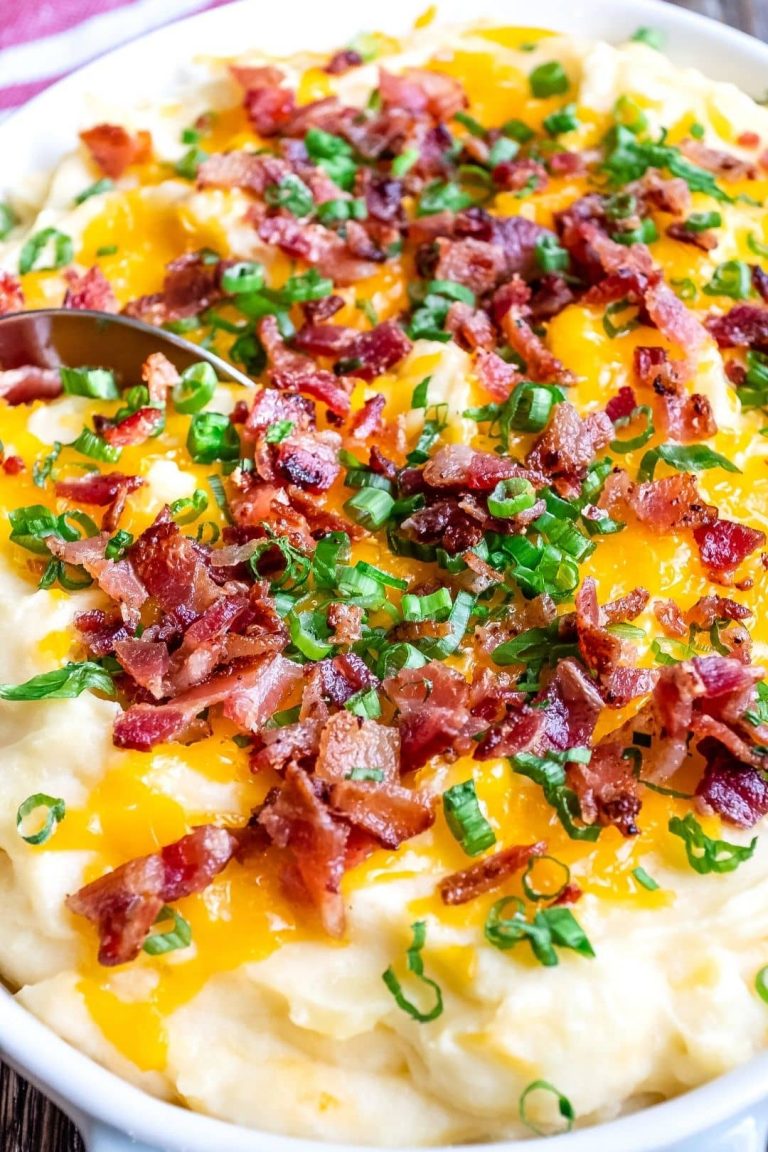 What To Serve with Loaded Mashed Potatoes?
Turkey, of course! The perfect Thanksgiving includes baked turkey, loaded mashed potatoes, baked green bean casserole, and homemade biscuits.
But this is also the perfect side dish for meatloaf, fried chicken, or any grilled meats. It is also great paired with steamed or roasted veggies, including Brussels sprouts.
Cooking Tips
You can adjust the amount of milk depending on how fluffy you like your mashed potatoes. Add more if you feel they are too thick. I would start adding ½ cup and go up from there.
Remember that parmesan cheese is a bit salty, so go easy on the salt and try it after adding it. You can always add more salt later.
You can mix the bacon and green onions into the mashed potatoes, but I like to serve them on top.
I love to change my potato recipes around for Thanksgiving, and these are others I love: Homemade Scalloped Potatoes, are always a bit hit as well, and Potatoes Romanoff, are a crowd favorite. Mashed Potato Cups Recipe and Loaded Mashed Potato Bites Recipe are a fun treat for the kids!
Loaded Mashed Potatoes Recipe
Look no further. You just found the perfect Thanksgiving side dish!
Ingredients
4 lb potatoes, peeled and cubed
½ cup sour cream
¾ cup milk
3 tablespoons butter
Salt and pepper to taste
2 ½ cups shredded sharp cheddar cheese, divided
½ cup grated Parmesan cheese
6 strips of bacon, cooked and crumbled
3 green onions, sliced
Instructions
Boil the cubed potatoes until soft, about 15 minutes. Preheat the oven to 350 F
Add the sour cream, butter, milk, salt, and pepper to the hot potatoes and mash them with a potato masher or with a hand-held mixer
Mix in the parmesan cheese and 2 cups of shredded cheddar
Place the mashed potatoes in a baking dish
Top with the remaining ½ cup shredded cheddar, crumbled bacon, and sliced green onion, and bake for 30 minutes or until the cheese is melted
Nutrition Information:
Amount Per Serving:
Calories:

300
Total Fat:

15g
Carbohydrates:

26g
Protein:

12g