Raise your hand if you order steakhouse potatoes whenever you order the steak! In my family, we all love loaded baked potatoes. There's nothing like opening a steamy baked potato, fluffing it, and just watching the sour cream, cheese, and butter melting inside the soft flesh.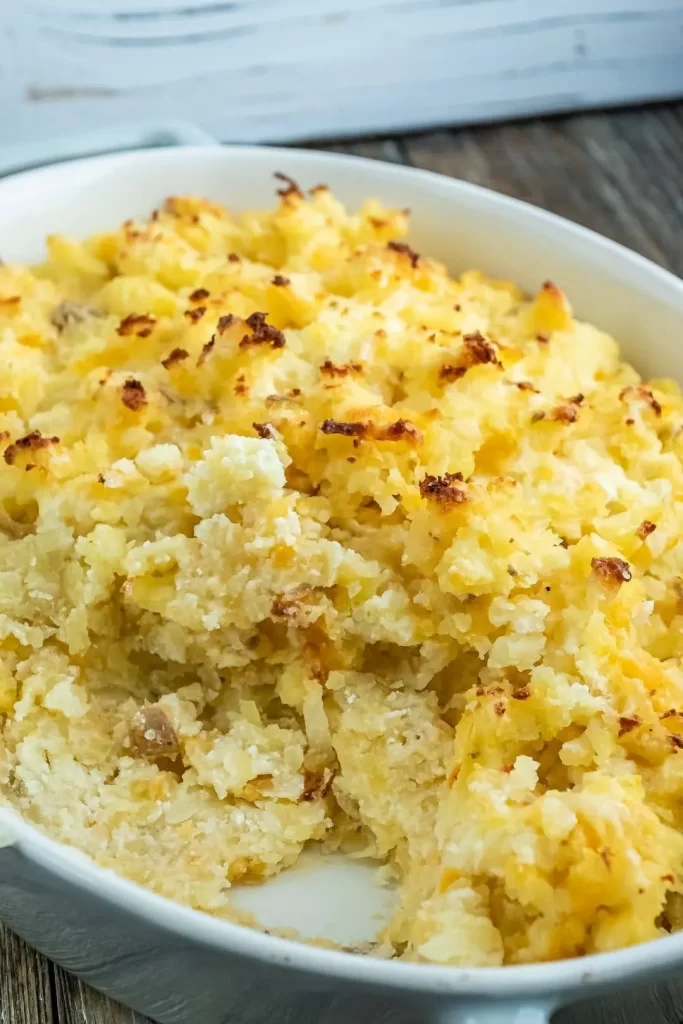 How To Make Potatoes Romanoff?
In the morning or the night before you wish to serve this dish, wash, dry, and wrap each potato in aluminum foil. Make some holes in them using the tip of a sharp knife or a fork. Bake them in a 400 F oven for one hour or until they feel tender when poked with a knife. Let them cool and refrigerate for 8 hours or overnight.
Preheat the oven to 425 F. Using a cheese grater, shred the very cold potatoes, skin and all.
Using two forks, mix in the very finely minced shallot, garlic powder, salt, and pepper. Do not overmix. You never want to mash the potatoes.
Add the two cheeses, mixing them in with the two forks.
Pour in the room temperature sour cream (you don't want it to be too hard) and mix in using the two fork technique again.
Place the potatoes in a greased baking dish. Place them carefully, piling them high. Don't mash them down. Bake for 30-35 mins or until the tops are brown.
Freeze and Reheat Potatoes
If you want to freeze Potatoes Romanoff, let them cool completely, place them carefully in an airtight container and freeze for up to 4 months.
To reheat, let them thaw overnight in the fridge, place them in a baking dish and bake in a 400 F oven for 10-15 mins or until heated through.
Cooking Tips
Do not grate room temperature potatoes. They have to be cold, or else they will mash.
Don't use the grater. Use the shredder part of the cheese grater. Otherwise, you will make mashed potatoes.
When mixing all the ingredients in, do not overmix. Use two forks to fluff the shredded potatoes and gently mix in the ingredients.
I wouldn't recommend adding cheese on top. They have enough cheese mixed in, and you wouldn't be able to accomplish the beautiful browning on the top.
Potatoes Romanoff
Cook Time:
1 hour
45 minutes
Total Time:
2 hours
10 minutes
Ingredients
3 large (the largest you can find) russet potatoes
1 shallot, finely minced
3 teaspoons salt
¼ teaspoon garlic powder
Freshly ground pepper to taste
1 cup sharp cheddar cheese, freshly shredded
1 ½ cups white cheddar, freshly shredded
1 ½ cups sour cream, room temperature
Instructions
Preheat the oven to 400 F. Wrap each potato in aluminum foil and poke a few holes in each one with the point of a sharp knife or a fork. Bake for one hour or until tender. Allow them to cool completely and refrigerate until very cold. I bake them the night before and leave them in the fridge overnight.
Using a cheese grater, shred the very cold potatoes with the skin on
Preheat the oven to 425 F. Using two forks, mix in the very finely minced shallot, garlic powder, salt, and pepper
Add the cheeses and mix them in using the two forks
Using the same two fork technique, fold in the sour cream gently. You don't want to mash the potatoes. Just keep on fluffing them with the two forks until the sour cream is just mixed in. Carefully transfer them to a baking dish and pile them on high, don't mash them down. Bake for 30-35 mins or until the tops are brown