There are many different foods available around the world, but how many foods are available that start with the letter 'J'?
Just for fun, the below list has been put together with foods (and recipes included!) that all start with the letter J.
Which ones are your favorites?
Which foods are you excited about trying?
Jalapeños are a type of pepper that is common in Mexican cuisine (like salsa) and Latin dishes. Jalapeños are usually green and are used to add spice to dishes.
Jalapeño Poppers are typically created by stuffing jalapeños with cheese and deep-frying the entire jalapeño.
Healthier alternatives usually include baking the jalapeños instead of frying them.
This recipe takes typical jalapeño poppers up a notch by adding in pieces of bacon. These bite-sized morsels are a perfect snack for game day or even just as a tasty appetizer.
Jaboticaba is a fruit that resembles small dark grapes – dark peel on the outside and light on the inside.
Jaboticaba fruit usually has seeds inside and is a tropical fruit. This fruit has a sweet taste with a slight spice to it. Jaboticaba fruit hales from Brazil.
This tasty recipe for Jaboticaba Syrup is super simple and quick to make!
You can use this syrup to drizzle over ice cream or stir it into your favorite cocktail for a new, fruity flavor.
Jack fruit is a fruit that is native to Africa, Asia, and South America. This fruit has a bumpy outside and yellow edible inside. Jackfruit is known for its distinct smell.
Jackfruit has been recently popular as a meat alternative. The yellow inside can be used to replace foods like pulled pork.
Check out the recipe for some ideas for how to cook Jackfruit.
Jam is a fruit spread made from either pieces or whole fruit that is cooked with sugar until it thickens.
Typically, depending on the fruit used to make jam, it has seeds.
Try out this easy recipe for homemade Blueberry Jam. This recipe is great for spicing up a PB & J sandwich.
Jam Puffs are delicious, flaky pastries that have jam inside of them.
These pastries can be made with any type of jam flavor in the center.
Test out this super easy, 2-ingredient recipe. Jam puffs are delicious for breakfast, lunch, or dinner. You can even eat them as a snack or dessert.
Japanese Plums of course originate in Japan – they are also known as Satsuma Plums.
There are multiple types of plum and each has its unique taste. Some plums are sweet and some have a more sour taste.
Try out this recipe for Plum Wine (Umeshu). This sweet wine is created from small, sour, green plums (Ume), sugar, and Shochu or Vodka.
Jello is a food that has been around since the late 1800s. It is made from flavored gelatin and water and can be molded into a specific shape.
Some recipes add fresh fruit into the Jello for an extra punch of flavor.
Check out this recipe for creating Jello Eggs. These eggs are perfect for Easter and are a tasty, colorful snack.
Jelly Rolls are a tasty dessert that involves a thin rectangle of cake and jam or jelly.
The jam/jelly is spread on the cake layer and then it is rolled into a log shape and sliced so the layers of jam/jelly and cake are visible.
Check out this Raspberry Jelly Roll Recipe – this tasty version includes a sweet dusting of powdered sugar creating a mouthwatering dish.
Jerk Chicken is a spicy chicken dish that is typically associated with Jamaica.
This dish can be found all over the Caribbean. Jerk is the cooking style of the dish – the dish is coated in spices and then grilled or roasted over a fire.
Try out this tasty recipe for Jamaican Jerk Chicken with Rice and Peas. This recipe is for a whole meal, not just a single dish.
Jerky is a snack/food created by drying different types of meat with seasoning. Jerky is thought to originally come from a South American tribe in the mid-1500s.
Here's a delicious Homemade Beef Jerky Recipe for you. This recipe takes a few hours, but the wait is worth it!
Most people have heard of Jello, but what is Jello Salad? Jello Salad can be either savory or sweet.
Sweet options offer fruit suspended in Jello while savory options include vegetables and sometimes protein (like canned tuna) in Jello.
Check out this Berry Fluff Jello Salad recipe for a sweet, spring-like dessert.
This recipe calls for cottage cheese, fruit-flavored Jello, marshmallows, whipped cream, and fresh berries. Yum!
Jerusalem artichokes are part of the sunflower family. These artichokes are often referred to as sunchokes and have an appearance like fresh ginger root – bumpy exterior with light brown skin.
Jerusalem artichokes can be eaten raw or baked.
Try this Roasted Jerusalem Artichoke Recipe. It's quick and easy and creates a delicious, crispy side dish.
Jicama is a vegetable in the bean family. It looks like a root vegetable with its brown skin and white interior, but it is related to peas. Jicama is used in a lot of Mexican dishes.
Jicama has a juicy, fresh flavor and can be eaten both raw or cooked.
This Avocado, Jicama, and Orange Salad recipe are refreshing and light. It's a perfect dish for a summer picnic or bbq.
Jambalaya is a spicy dish that usually contains sausage, rice, and vegetables. There are two versions of Jambalaya – Creole and Cajun.
Creole originated in New Orleans and Cajun originated in other areas of Louisiana.
Check out this delectable Jambalaya Recipe that includes chicken, andouille sausage, and shrimp.
Jiffy Corn Muffin Mix is a delicious premade mixture used to create corn muffins. This mixture began being sold to the public in 1930.
If you don't feel like running to the store to grab a box, try this Copycat Jiffy Cornbread Mix Recipe. It tastes just like the mix.
Everyone has heard of/knows what juice is as it spans across many cultures and comes in many flavors like orange, grape, and apple.
Test out this Morning Glory Detox Juice recipe for a healthy dose of immune-building juice.
You can't go wrong with this brightly colored juice.
Julep is a sweet alcoholic drink that includes either sugar or syrup, flavoring, and ice.
This tasty Mint Julep recipe is the perfect summer drink and so easy to make.
Julienning carrot is a method of chopping the carrots.
They are sliced thinly and evenly in rectangle shapes. Julienne carrots can be used in many different recipes like salads and wraps.
If you're looking for tips check out this blog on How to Julienne Carrots.
Jollof Rice is a delicious rice dish that originates from West Africa.
This rice dish is created by boiling rice with tomatoes, peppers, spices, and meats to create flavorful, soft rice.
This Nigerian Jollof Rice Recipe is easy to follow along with and packs a punch. This dish goes well to the side of the chicken.
Jello Poke Cake was invented in 1969 by Jello as a way to boost sales.
To make this cake, you will need to bake a standard cake and poke holes in it (usually done with a fork).
Once completed, the Jello will be poured over the cake so it soaks into the holes in the cake.
This creates a swirl pattern inside the cake. Test out this Jelly Poke Cake Recipe at home for a brightly colored dessert.
Jellybean Cookies are exactly what they sound like – cookies that have jellybeans baked into them.
This recipe is often used for Easter. The Jellybeans offer a nice pop of color to the center of the cookies.
Try some out at home with this colorful and festive Jellybean Sugar Cookie Recipe.
Muffins are a pretty widely known baked good. They can come in many different flavors ranging from all sorts of fruit to chocolate and bran.
Jumbo Blueberry Muffins take it to the next level with their extra-large size and delightful flavor.
This recipe for Jumbo Blueberry Crumb Muffins includes a delightful crumb topping over a fluffy, moist muffin.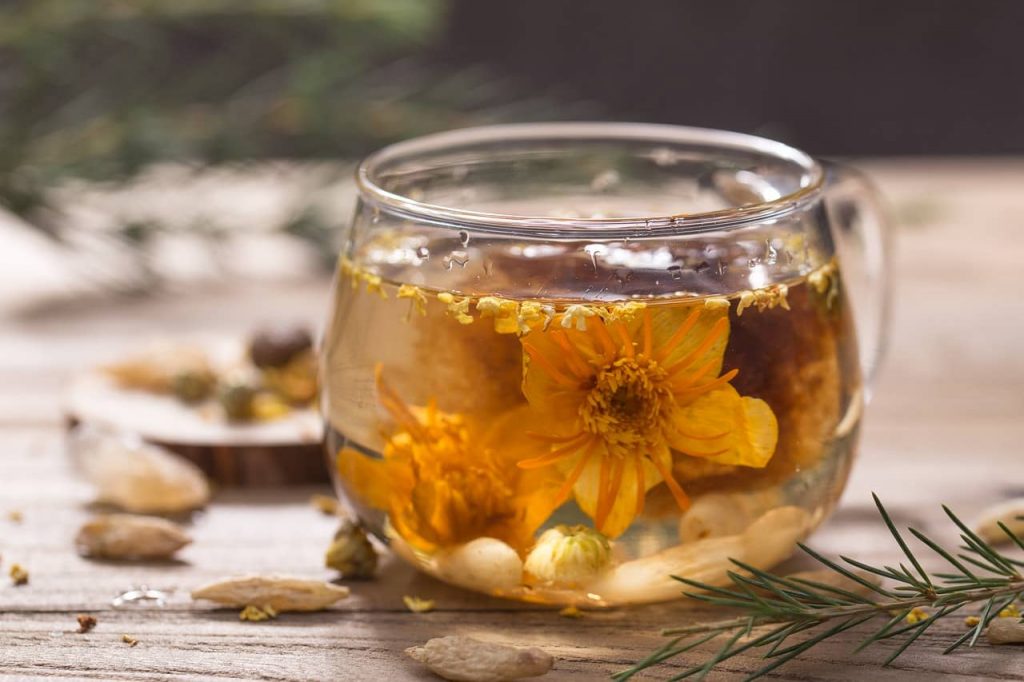 23. Jasmine Tea
Jasmine Tea is a type of tea that originated in China over 1000 years ago. This delicious tea is made with jasmine flowers and is always in high demand.
Jasmine is typically picked in June, July, and August in the afternoons.
After the flowers are plucked, they are saved in a scenting house until they bloom and the smell of the flowers comes out.
Jasmine Tea (specifically Green Tea) has a large number of antioxidants that can help fight cancer and combat the process of aging.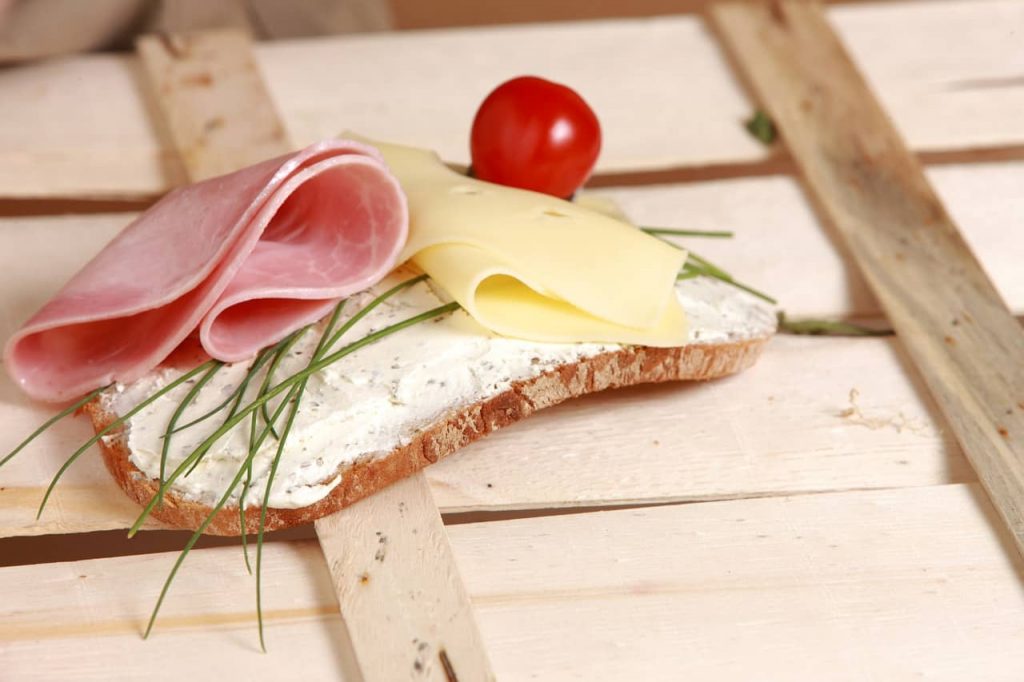 24. Jambon
Jambon is a flaky pastry with cheese sauce and ham. Jambon translates to ham in French. In the 1980s, Cuisine de France was brought to Ireland.
These products were delivered half cooked and frozen.
Stores in Ireland would finish baking the items once they arrived at the store. Jambons were originally called ham and cheese baskets. The name changed to Jambon in the late 1990s.
In 2018, six million Jambons were eaten in Ireland. This beloved food offers a rich flavor and decadent feeling. It is recommended that Jambons are not eaten after 2 pm.
25. Jelly Doughnut
Jelly Doughnuts originated in Germany and were known as Sufganiyah. Jelly Doughnuts originally started as a jam in between two slices of bread that was deep fried with lard. It wasn't long before the jelly doughnut started making its way around the world.
Doughnuts in Germany were typically created with savory fillings like meat, fish, and cheese. Sweet doughnuts were not often created at first because of the cost of sugar.
Once the cost of sugar fell, sweet doughnuts started taking over.
26. Jell-O
Jell-O is so versatile, it needed to be visited twice. Is there a difference between Jello and Jell-O? You bet. Jell-O is specifically the dessert form of gelatin.
This includes plain fruit Jell-O-like cherry, strawberry, and lime flavors. Try out some different flavors and see which one is your favorite!
27. Jalebi
Jalebi originated in West Asia as Zolabiya and then shifted to India as Jalebi. This dessert is served in a crunchy, coiled pile almost like a funnel cake.
Jalebi is created by putting the batter in hot oil and then when it is cooked, transferring the final product into a delicious, sweet syrup. A lot of people eat these tasty sweets for breakfast.
Originally, Jalebi was used for special occasions like weddings and temple food. Now, Jalebi is a more common sweet dish.
28. Jamun,
Jamun (or Gulab Jamun) is a delicious dessert that includes fried balls of dough served in a tasty, sweet syrup. This dessert is usually infused with Cardamom or Rose to create a unique flavor.
The history of Jamun is not 100% certain. It is said that this Indian dessert was created by accident by the royal chef of Shah Jahan.
Supposedly, the dessert was inspired by Persian/Turkish desserts called Halwais. Either way, this tasty dish is something that should be tried at least once by everyone.
29. Jhal-Muri
Last, but not least, is Jhal-Muri. This snack is from Bengali and consists of puffy rice with added spice. Jhal-Muri is even sold on the streets of London.
This snack is created by adding powdered masalas, chana chur, minced onions, boiled potatoes, green chiles, lemon juice, tamarind water, and mustard oil on top of puffy rice.
This combination is mixed together in a delightful, spice-filled dish.
That concludes the list of foods that begin with J. Try some new snacks and dishes that are on this list!