Planning a fancy dinner party can be stressful. Trust me; I've been there. Trying to come up with new, elegant dinner party menu ideas is hard. You can spend hours on the internet trying to find the perfect dinner party menu ideas to no avail.
With social media and the internet readily available to everyone, there aren't many recipes that people haven't already heard of or even cooked for themselves.
So, choosing something unique for your dinner party guests can be really tricky.
Luckily, I've done the hard part for you, and I've chosen 17 fancy dinner ideas to impress your guests at your next dinner party.
No matter who you're cooking for, I guarantee there will be something on this list you can easily include in upscale dinner party menus.
Keep reading on to find out my 17 easy, best, ideas for delicious dishes to serve up at your next dinner party.
What should I serve for a fancy dinner?
What you decide t serve up at your dinner party depends a lot on the time and resources you have. If you're aiming for an impressive and fancy dinner party, you want to cook up something that will dazzle your guests.
I recommend cooking up a beef wellington for a fancy dinner party. Everyone knows the effort and skill that will go into cooking a beef wellington. Plus, it's super tasty, and please everyone around at your dinner table.
What do you serve at a formal dinner party?
You've come to the right place if you're planning a formal dinner party and don't know what to make.
You want to cook an elegant dish at a formal dinner party that will impress your dinner guests. I recommend cooking this creamy cajun chicken pasta or this Salisbury steak and mushroom gravy.
What are some fancy entrees?
We all want to host the best and fanciest dinner parties for our friends, families, and loved ones. So you want to choose a dish that will be memorable and that your guests will love.
For a fancy entree, I recommend cooking this goat cheese stuffed chicken or this pecan-crusted salmon with dijon maple glaze.
How do you create a menu for a dinner party?
There's a lot to think about when planning your dinner party. You don't want to miss anything, so I recommend giving yourself plenty of time and planning everything in advance. Your party may be formal, or fancy, or you may want to make it fun with fun dinner ideas too!
When creating your dinner party menu, make sure you have thought about the following elements:
At least two dishes (more if you're serving a bigger group)
Think of this as the bare bones. You can add in anything else that fits in with the tone of your dinner party, like a salad or cheese selection at the end, or maybe any of these 30 Unique Dinner Ideas to impress, to make something a little different or surprising!
Easy Dinner Party Menu Ideas
The first of my easy dinner party recipes is this pecan-crusted salmon with dijon maple glaze. This dish will impress at any dinner party.
And the best thing about it is that you can have a made and on the table in only 30 minutes!
Plus, salmon is a super healthy dish. So if you don't want to be too indulgent at your dinner party, this one is an excellent choice for you. But healthiness doesn't have to compromise taste.
This recipe will have your dinner guests talking about it for weeks!
Another salmon dish for you! This time, crusted with delicious pistachio nuts. Again, this dish is super healthy, but the flavors are amazing and will please any adults or kids.
You can whip this recipe up super quickly (but your guests certainly won't know that).
I recommend serving with rice pilaf or veggie pasta if you're looking to get more carbs in there. Alternatively, it goes very well with an apple salad if you're looking for a low-calorie meal.
Look no further if you're looking for a recipe to please picky-eaters!
This chicken limone recipe is one of my best dinner party recipes. It's a surefire way to literally please anyone sitting around your dinner table. The lemon in this dish gives it a perfect punch of flavor.
With this recipe, your guests will be transported to a quaint Italian village, and I can guarantee they'll be going in for seconds.
Serve this chicken with lots of spaghetti or linguine. It's super easy to make, so it is an easy one to add into your mid-week meal repertoire too.
Get ready to really impress with this goat cheese stuffed chicken and caramelized onion recipe. It might not be a dish that a lot of people would go for, but it's packed with delicious flavor.
I know how hard it can be to come up with different chicken dishes that will stand out; that's why I've added it to this list.
This dish might take a little longer to prepare than some of the others on this list, but you'll undoubtedly taste the effort you've put in, and your dinner party guests will love it!
Cheeseburger sliders are one of the best dinner party recipes. They're a super fun way to eat for an entertaining games night. It's a different twist to an otherwise overdone dish — a simple cheeseburger that we've all had a million times.
Your dinner party guests will certainly remember this interesting spin and talk about it for months to come.
It's also a fun snack to cook up for your kids, whether at birthday parties or just a different way to eat dinner on a Friday night.
Steak can be a tricky meat to cook for a dinner party. That's where this London broil recipe comes in.
This London broil is an easy, affordable dish to throw together. It's a great one if you don't have a lot of time to cook before your party.
This London broil marinade is made with balsamic vinegar, soy sauce, brown sugar, lemon juice, and lots of delicious seasonings that infuse the steak with tangy, sweet, and savory flavors.
You can serve your London broil up with as little or as many side dishes as you like. You can cook up mashed potatoes and any veggies you like.
Mexican dishes are one of those go-to crowd-pleasers for a dinner party recipe. And this chicken and goat's cheese enchiladas recipe is no different.
Enchiladas are just one of those irresistible foods.
The great thing about these is that you can easily swap ingredients to suit your tastes — like substituting chicken for veggies, skipping out of the jalapenos, or packing on a different cheese you love.
They're also easy to cook in bulk, making them a great dinner party meal.
Too many people associate this dish with only being for vegetarians. I've added this one to the list because it's a great meal that anyone will love.
I mean, who doesn't love a dish covered in melted cheese?
Eggplant parmigiana is a staple comfort food of southern Italians. It's also super affordable if you're looking to save a few bucks. Plus, it is a great mid-week dinner.
And if you did want to have meat or fish as your main course, you can quickly cook up an eggplant parmigiana to have on the side.
Are you looking for an easy but elegant meal to cook up at your next dinner party?
This skillet chicken and mushroom wine sauce is the one for you.
My favorite thing about this dish is the mushroom wine sauce, and you can use whichever mushrooms you have available to you. It also goes amazingly well with a perfectly cooked steak, if that's more your thing.
This dish is super easy to make as well — it's easy to prep, and you cook it all in one pot (which means less washing up!)
This cranberry rosemary chicken is a super tasty dish you can cook up any time of year, but it's the perfect dinner party dish to make during the holidays.
The great thing about this recipe is that it's gluten-free, paleo, grain-free, and dairy-free. So it's a good choice if you have people with different dietary requirements at your dinner party.
It's also super easy to make, so it's an excellent recipe to keep up your sleeve for a midweek meal.
Are you looking for a meal that will blow your guests' minds?
This beef wellington is a surefire way to impress your dinner party guests.
This beef wellington recipe strives to make the process as easy as possible and doesn't take nearly as long as some other recipes you'll find on the internet. It'll show you how to get the beef cooked perfectly medium-rare.
Nachos are the ultimate party food and guaranteed crowd-pleaser.
As nachos are, this recipe is incredibly easy to cook. If you don't have a lot of time to cook your dinner party meal, this nachos recipe is the perfect way to satisfy your guests.
Sheet pan recipes have been all over the internet recently, and that's because they make everything so so simple while still being so so tasty.
This oven-baked chicken recipe created perfectly juicy chicken every single time.
Chicken is a go-to when it comes to dinner party meals. Unfortunately, that means that people have incredibly high standards for chicken dishes.
Luckily, you can rest assured that your guests will be satisfied and impressed with this one. Plus, this seasoning recipe is like no other.
This bruschetta recipe is the perfect decadent appetizer to serve at an Italian dinner party.
It brings perfect flavors of kalamata olives, prosciutto, and fresh basil to give you and your guests' taste buds a real treat.
Plus, it's one of the most visually pleasing recipes on this list. So if you have the time and really want to dazzle your guests, I recommend trying this bruschetta recipe.
Here's another delicious Salmon recipe. This creamy garlic butter Tuscan salmon is the perfect recipe to serve your guests a restaurant-quality meal at your home.
This meal is certainly a crowd-pleaser that everyone around the table will love, no matter their age.
The creamy sauce in this recipe will have your guests dipping in for seconds. Plus, follow this recipe to get your Salmon crispy and perfectly cooked.
This roasted Cornish hens recipe will quickly become your favorite for a romantic meal for two.
Cornish hens are a great way to change up a chicken recipe. They're just as easy to cook as chickens, but they're much easier to serve up since they don't need any tricky carving.
Cornish hens are simply a particular brand of chickens but are much smaller than the ones you would find in a grocery store. They taste very similar to standard chicken too, so they're easy to incorporate into your favorite chicken dish.
Who doesn't love a perfectly crispy hash brown? It's definitely one of my favorite treats!
This recipe gives you a super simple method to make the perfect hash browns for any occasion. Your hash browns will be perfectly soft in the middle with a golden crisp on the outside. Is your mouth drooling yet?
Serve these hash browns at your next big brunch with all of your other breakfast favorites.
One of my absolute favorites from this list is the pistachio-crusted salmon. Mainly because of how truly delicious it is, but also because it's super simple to make.
Here's how to make the pistachio-crusted salmon so that you can impress everyone at your next dinner party: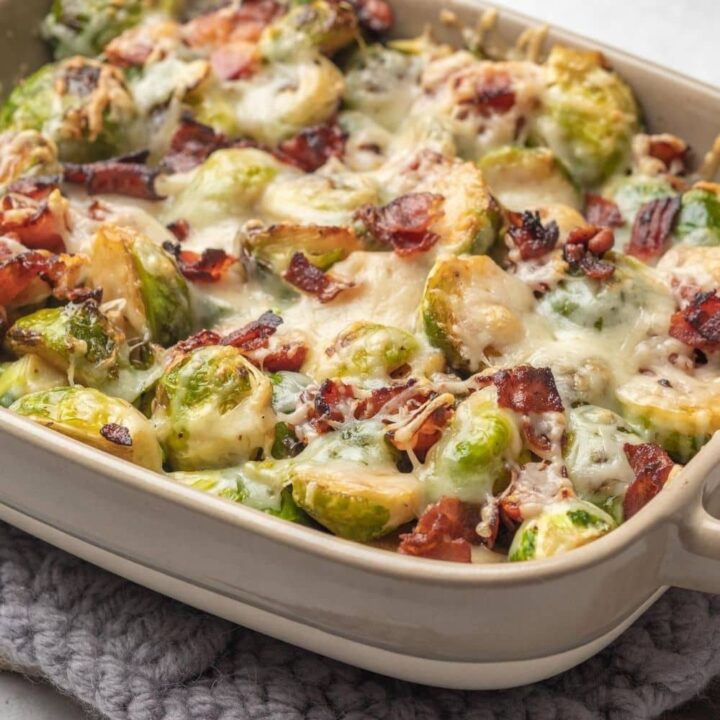 17 Insanely Easy Dinner Party Menu Ideas
Ingredients
2 tbsp panko bread crumbs
¼ cup crushed pistachios
1 tbsp grated parmesan
1 tbsp melted butter
4 (6 oz) salmon fillets with skin still on
2 tbsp olive oil
1 tbsp dijon mustard
4 lemon wedges
salt and pepper to taste
Instructions
Preheat your oven to 375°F

Mix the panko bread crumbs, pistachios, parmesan, and butter in a small bowl. Stir the mixture together with a fork until it's well combined.

Season your salmon fillets with salt and pepper to taste on both sides.

Heat an oven-proof skillet on medium heat and add olive oil. Sear the salmon fillets, flesh-side down, for 2 to 3 minutes.

Turn off the heat and turn salmon pieces over so the skin side is down. Brush the tops of the salmon evenly with the Dijon mustard. Spread the pistachio mixture onto the salmon, pressing the mixture down to coat it evenly.

Bake your salmon fillets in the oven for 10-12 minutes until salmon flakes easily with a fork. Serve each salmon fillet with a lemon wedge.