Pollo-pescetarians do not permit the use of red meat in their diet. So does this restriction lead to boring and difficult meals?
Absolutely not! A pollo-pescatarian diet benefits from all the plant-based goodness of vegetarianism with the inclusion of poultry and seafood. Varied and nutritious recipes are therefore suitable and just waiting to be tried.
Meals under this discipline are healthier and have a lower environmental impact than red meat diets.
So whether you want to reduce the risk of health issues or help limit greenhouse gas emissions this path might be the one for you. It also might be a great step if you want to eventually transition into a vegetarian or vegan way of life.
As a pollo-pescetarian, you may be sometimes be stuck for methods of how to make your culinary experience diverse and satisfying. These fun and delicious pollo-pescetarian recipes are just what you need to liven up your kitchen.
Let's get started!
What is a pollotarian diet?
A Pollotarian diet is an otherwise vegetarian diet that allows the consumption of poultry as its only source of meat. Poultry includes meat like chicken, turkey and duck, and goose.
Can you eat chicken as a pescetarian?
A Pescetarian is someone who follows a vegetarian diet but allows seafood as their only meat source.
Things like fish, crustaceans, and mollusks are permitted but not chicken. Chicken counts as poultry and would only be allowed in a pollotarian or pollo-pescatarian diet.
What can pollo-pescetarians eat?
A Pollo-Pescetarian (or Pesce-Pollatarian) diet only restricts the consumption of red meat like lamb, pork, beef, and venison.
Poultry and seafood are permitted. The diet is otherwise largely similar to that of a vegetarian. As for eggs and dairy, an individual is free to decide if, and to what extent, they incorporate these things into their meals.
They are not expressly forbidden.
Pollo-pescetarian chicken ideas are as versatile as the meat itself. In the mood for something sweet and spicy?
Great! The mix of honey and chipotle sauce in this recipe comes together to make a gorgeous finish for the beautifully tender chicken.
Make sure to get the crisp into these crispers too and give the chicken a panko breadcrumb coating before baking. A ranch dressing dipping sauce is optional and can be substituted for another yogurt or sour cream-based dip.
Fantastic incorporated into the main dish at dinner or as a solo appetizer, this is a simple and scrumptious addition to your recipe repertoire.
Meatball mania is not confined to beef lovers, so get your pollo-pescatarian lips around these turkey alternatives. Ready in 30 minutes, this recipe is both easy and cheesy!
The hero of this meal is the mouth-watering mozzarella center although the homemade marinara sauce comes in a close second. The trick is in controlling your cheese cravings and not attempting to wrap mozzarella pieces that are too large.
If you want to play with the flavor, try massaging different seasonings in the meatballs.
Once fried and baked and covered in sauce, the sky's the limit as far as serving goes. Salads, pasta, and bread are all crying out for this yummy culinary companion.
If you've got a crockpot and a hankering for a delightfully delicious chicken dish, look no further.
Simmering chicken in the sweet and sticky sauce of this recipe will result in a moreish meal you can't stop sampling.
Honey, soy sauce, and ketchup are some of the key ingredients for the flavors experienced here. Or do you prefer a spicier kick in your sauce? If so, try switching out the ketchup for a chili paste.
This recipe is great served with rice although will also perk up a boring salad. I see a sprinkle of sesame in your future!
Do you like the sound of double the crunch and double the taste? Then get stuck into this flavorsome recipe favorite. The wonderful combination of honey and garlic creates an awesomely appetizing sauce for the chicken breasts.
Before frying, the chicken is coated in a flour mix full of different spices to create that intense and irresistible taste.
The rice flour can be substituted for white flour in you want to make this meal gluten-free as well as pollo-pescetarian Want to try this but take away some of the fat connected with frying?
A baking version of this recipe is also available. Whether fried or baked, this is bound to become one of your most popular go-to meal ideas for family and friends.
Explore the pescetarian side of your pollo-pescetarianism. This recipe is a simple, spicy, and satisfying way to stimulate tacos and add some bang-bang to your shrimp.
Corn starch will provide the shrimp with a crispy coat before frying and the best way to ensure the starch sticks is with a beautiful buttermilk-based marinade.
As for that bang, only 3 ingredients are required for the sauce. Mix together mayo, sriracha, and sweet chili sauce and that's it. Done!
So easy and so tasty, this bang bang shrimp doesn't have to be restricted to a taco tortilla. It is just as inviting served with rice or pasta. Time to try the best of the bang!
Nachos are a great snack, whether you choose to share them or keep them all to yourself. This recipe idea will add a little extra bite to your tortilla chip extravaganza.
These nachos contain shredded chicken, peppers, black beans, herbs, and salsa, just to name a few of the ingredients.
It's a quick and easy baking process though, as it's just a case of layering the ingredients in a pan and adding a generous portion of toppings and cheese.
Experiment with flavors by trying out different cheeses or seasonings for the chicken.
Don't forget nachos are best eaten straight after baking to avoid the chips from getting soggy. So no need to restrain yourself, dive straight in!
This salmon recipe feels decadent and tastes delicious. Healthy and nutritious, it is also quick and easy to make. Want a fancy fish dish in under 30 minutes? Read on!
The lemon garlic butter sauce is what gives the seared salmon and asparagus their luscious flavors.
Adding white wine to the sauce is a great way to enhance it. If you want to spice up the dish you can also add sriracha to the sauce or sprinkle chili flakes on the salmon.
This is so good even the pan won't want to let it go so make sure you use a non-stick one.
Serve up this recipe to impress your dinner guests. You won't regret it
A lot of pasta recipes bring to mind beef as a defining ingredient but for the pollo-pescatarian ground turkey can pave the way to suitably-sourced pasta pleasures.
This pasta bake recipe involves a stress-free approach to a quick and satisfying meal.
The sauce in this recipe adds wonders to the meat and pasta but you can use jarred marinara sauce to make the process easier.
Kale can also be substituted for spinach or any other veggies you want to smuggle into the bake for extra sustenance.
Serve this along with a refreshing salad for a hearty pollo-pescatarian spread that ensures no one misses out on anything.
Creamy, cheesy comforting casseroles with crunchy toppings? Yes, please!
This recipe makes a fantastic family meal full of flavor. And to make this straightforward recipe even simpler use rotisserie chicken instead of cooking your own.
That creamy consistency comes from the perfect pairing of a Cream of Chicken Soup broth long grain rice and cheese.
Cream of mushroom or cream of broccoli substitutes can also be used here if preferred. But what about the crunch? Ritz crackers and butter are the star ingredients to the tasty topping.
This casserole is an appetizing alternative to a pasta dish and so satisfying you won't be able to stop serving it!
If you have a wish for some delish fish, embrace this light and luscious recipe. The quick baking time also makes it a convenient and hassle-free choice.
The succulent halibut fillets beautifully adopt the flavors of the seasoning. And don't skimp on those seasonings!
Lemon juice, garlic, and a bit of dijon mustard form the base but you can play around by adding your favored spices.
Remember to set aside some time for marination to get the desired taste and tang.
This healthy halibut recipe is a great way to get a bit of pollo-pescetarian protein. It's just waiting to be featured on your mouthwatering menu.
This one-pot wonder is a speedy and simple way to partake of some poultry.
If you want to add a bit of variety and change it up from chicken, this recipe gives you a nutritious turkey dish in under 30 minutes.
Only 5 ingredients are needed for this recipe. Though the ground turkey and sweet potato are the focus mains it's the addition of spices and a sprinkling of mozzarella that magnify the moreishness.
The chosen spices can be adjusted to suit your tastes but if you like a dish with a bit of a kick be generous with that chili and paprika powder.
Maximum enjoyment and minimum clean-up. Do you hear your skillet calling to you?
Fried rice dishes are always an enticingly indulgent idea for a meal. This recipe features shrimp as its pollo-pescetarian star.
You fry up said shrimp in butter and chili shallots for a spicy succulence.
The sauce is delicious but undemanding, just throw together some oyster sauce, fish sauce, and palm sugar together with some pepper. This and everything else then gets stirred together. Simple enough right?
The Thai basil flavors here complement the shrimp and are soaked up by the rice until it is bursting with riotous flavor! This meal will become a fast favorite, eat it up while it's hot from the wok!
Pasta is a filling staple of simple meals. It is as versatile as it is comforting. The trick to a great taste comes from creative combinations.
In this recipe, it is the creamy sun dried tomato pasta sauce that makes this chicken dish shine.
Mozzarella cheese and cream add a decadence to the tomatos, garlic and pepper flakes.
Feel free to drown the chicken and pasta in the sumptuous sauce and if you want a bit more heat double up on paprika and pepper flakes.
This is an easy and inviting dinner so grab that pasta and dish up some deliciousness. What's stopping you?
Sometimes you just want to soak up a generous helping of seafood stew. Is that you heading for a restaurant? Stop right there!
This recipe is a surprisingly straightforward Ina Garten Cioppino creation you can follow from the comfort of your own home. Fill it with any combination of seafood you like. Shrimp, clams, cod, scallops, mussels and, crab are all welcome.
The beautiful broth is fantastically flavorful. White wine, seafood stock, and crushed tomatos are all accessible ingredients.
If you can't find seafood stock, clam juice can be used instead.
Don't be afraid to attempt this delicious recipe and savor the sea. It will be worth it.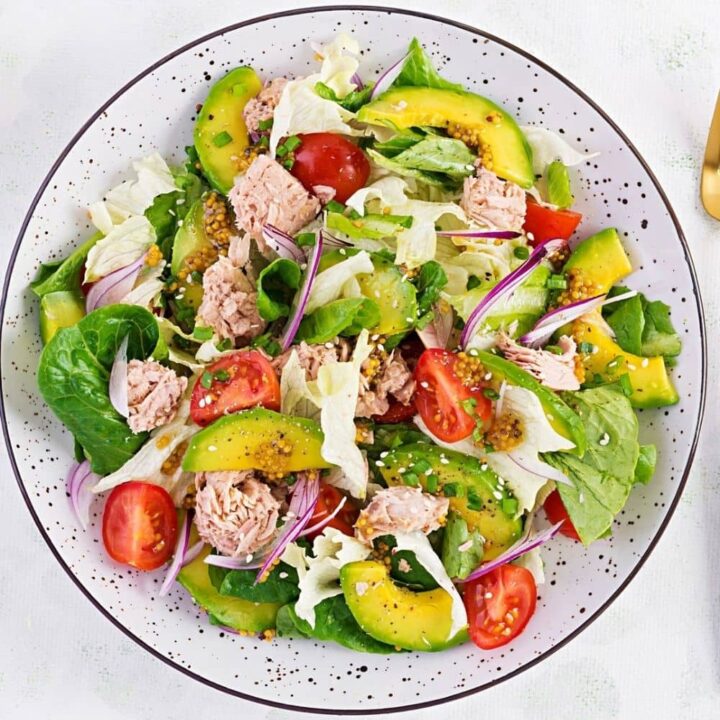 14 Best Pollo Pescetarian Recipe Ideas
Ingredients
1 1/2 lb chicken breasts
1/4 c soy sauce
2 tbsps dried onion
1/2 c honey
1 tbsp oil
2 tbsps ketchup
1/2 tsp garlic powder
2 tsp cornstarch dissolved in 3 tbsps water
Sesame seeds
Instructions
Stir the ketchup, soy sauce, honey, garlic, oil, and onion together to make a mixture.
Place the chicken breasts in the crockpot and pour the mixture over them. Ensure the chicken is well coated.
Heat the chicken until it is thoroughly cooked. This can be done on a high or low setting. Cook on low for approximately 3-4 hours or on high for 90-150 minutes.
After it is cooked through properly, remove the chicken from the crockpot while leaving the sauce inside.
Take 3 tablespoons of water and dissolve 3 teaspoons of corn starch into it. Once combined, pour this into the crockpot and stir into the sauce.
Place the lid onto the crockpot and cook it on high for approximately 10 minutes or until the sauce condenses.
When the sauce has slightly thickened, return the chicken to the crockpot after cutting it into bitesize pieces. Make sure these are again well-coated in the sauce.
The chicken can then be served or left a while to simmer on low. Once ready, sprinkle with sesame seeds. This dish is best served over rice.