What could possibly be better than Patti LaBelle's food?!
We all love Patti LeBelle recipes that pack a punch. From sweet potato pie to cornbread dressing, she truly has a lot of delicious recipe tricks up her sleeves.
Most notably are the Patti LeBelle side dishes, such as the potato salad and barbecue chicken. Honestly, Patti really knows how to spice up your evening meal!
Within this article, we will talk about the best 12 Patti LeBelle recipes, along with offering some top tips on how to make them even better. We will cover the following delicious dishes:
Get your apron ready!
This is easily one of the best mac and cheese recipes out there. Not only is it incredibly cheesy and flavorsome, but after half an hour in the oven, it really begins to pack a crunch.
To really make the dish pop, add in double the amount of mustard and paprika, and serve with a few pieces of super garlicky bread. Trust me, you'll be thanking me later for that one.
Plus, if there aren't going to be any children present for this cheese extravaganza, then you might consider adding half a teaspoon or so of cayenne.
I had never tried sweet potato pie before this, but now that I have, I'm pretty certain that there's nothing else I want more for dessert each night.
Basically, this bad boy is a classic of straightforward Southern cooking, with a filling made from boiled sweet potatoes, butter, and sugar. Now, if this isn't your favorite ingredient combination, then I don't know what's up with you.
Top tip: if you serve it with ice cream, it tastes even better.
My eyes are watering just thinking about this cobbler, it is so delicious. Presumably, there is nothing more likely to make a man fall in love with you than one of these bad boys.
Depending on the season, you might want to use this recipe as a base for other fruits. For example, you could make a killer cherry cobbler when the season's right, or even a wild blueberry cobbler when you're feeling especially adventurous.
Frankly, the options are endless!
If you're planning a girls' night in, have decided to host your kid's birthday party, or are entering some kind of killer cook-off where only one baker makes it out alive, then this is a pretty solid pudding to make.
Last year, everyone went wild for Patti LaBelle's sweet potato pie, and now the banana pudding is in the limelight. With good reason, too – it's sweet, it's creamy, and one could say that it's even healthy (right?!).
This recipe is pretty simple, but it produces a pudding that tastes absolutely divine. It's one of those Moorish dishes that you quickly find yourself hooked on. Especially if you add some banana slices to garnish it!
Have you ever wondered why this is called a berry buckle? Well, fun fact, apparently it's because whilst it bakes, the batter rises. This causes the surface of the cake to buckle! Who knew?!
Anyways, now that you know the origin of this delicious treat, you are probably ready to start baking it.
This recipe is pretty easy to follow, and you only need ingredients that you probably already have knocking about. The beauty of this recipe is that you can tweak it as you feel fit – personally, I add in a tad more berries to truly make my cheeks pop!
It's likely that there's never been a recipe that produces as creamy, flavorsome, and Moorish a potato salad as this. Frankly, once you've had a lick of it, you're going to be eating it for months.
This is a fab dish to bring to any party and is sure to become the favorite at the potluck. It already has a kick of spice, but if you're looking to really take it up a notch, then double the habanero chilies. You're welcome.
This is one of those classic Patti LeBelle side dishes which is sure to have everyone begging you to share the recipe.
The secret ingredient in this dressing? Chicken broth!
Have you ever heard of adding chicken broth to cornbread dressing before? Personally, it is something that was completely new to me, but I now plan on using it as my secret ingredient in every future dressing that I ever make.
If you want to make it vegetarian, then vegetable broth works just as well. Going for the dried sage rather than the poultry seasoning is another good call.
This is, without a doubt, the most beautiful tart I've ever seen. It's completely imperfect, and that's what makes it so pretty.
You can be a little creative when you make this free-form apple tart, folding up the edges of the dough in any way you desire, and laying out the apples in funky patterns.
You can even go a step further and add the walnuts on top of the apples for decoration (plus, they come with a nice crunch!).
These chicken wings are pretty dang delicious, with the perfect combination of sweet and salty. Plus, with the cayenne pepper and hot red pepper sauce, it packs the spice!
The best thing about this recipe is that at the end of it, you will have a whole load of barbecue sauce which you could then use in other things.
For example, the macaroni and cheese that we started the article with would go exceptionally well.
This is one of the easiest Patti LeBelle dishes out there, and once you've made it once, you're sure to make it a staple of mealtime.
Not only is this potato salad vegetarian, but it is also gluten-free!
Using celery stalks, red onion, green bell peppers, red potatoes, and six eggs, it's a great dish to work towards your 5-a-day.
As such, it goes especially well with sides of garlic bread, and is great when followed by a fruity dessert such as banana pudding or peach cobbler!
If you wanted to make this dish vegan, all you'd have to do is swap out the eggs for tofu and the mayo for a nice balsamic dressing.
Because there is no greater mac and cheese chef than Patti LeBelle!
The best bit of this mac and cheese is the fact that it incorporates four of the world's best cheeses: Muenster cheese, mild cheddar cheese, sharp cheddar cheese, and Monterey Jack cheese. As you can imagine, this truly is a cheese extravaganza!
Quick and easy to make, this is a golden go-to for whenever you're short on time.
Regardless of the time of year or the occasion, this is always a good recipe to fall back on.
Not only are these bar cookies super simple to make, but they also look really pretty on a plate! As such, they make a great party favor and are sure to make any afternoon tea sparkle.
If you've ever had a German plum cake, also known as a Zwetschgendatschi (go on, try saying it!) then this is pretty similar.
It's sweet enough to make your cheeks tingle but is still easy to snack on throughout the day.
This is another recipe that is relatively easy to turn vegan. All you have to do is switch out the butter for margarine, and you've done it.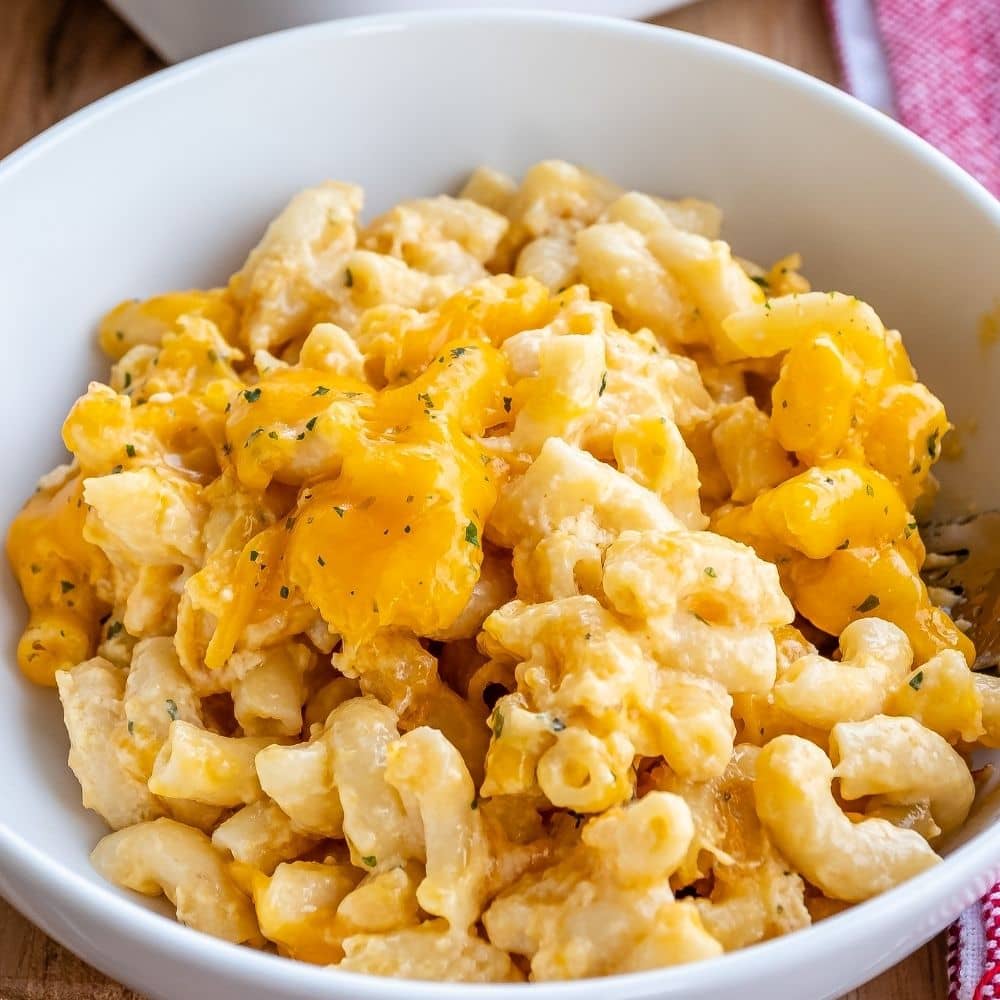 12 Easy Patti LeBelle Recipes
Total Time:
1 hour
5 minutes
This is an absolutely killer dish and is without a doubt going to become the best mac and cheese that you've ever had. It's pretty easy to make, too!
Ingredients
1- 16 oz macaroni pasta package
1 stick of butter, melted
½ cup gruyere cheese, shredded
½ cup mild cheddar cheese, shredded
½ cup sharp cheddar cheese, shredded
½ cup monterey jack cheese, shredded
2 ½ cups half and half
8 oz velveeta cheese, cubed
1 teaspoon salt
1 teaspoon ground mustard
1 teaspoon paprika
1 tablespoon dried parsley
¼ teaspoon freshly ground pepper
Instructions
Preheat the oven to 350 F and butter a 9 x 13-inch casserole dish. Cook macaroni until al dente. Just slightly undercooked. Drain and return to the pot. Add the melted butter, half and half, salt, mustard, paprika, parsley, pepper, cubed Velveeta, and half of the shredded cheeses. Mix everything until well blended.
Pour this mixture into the prepared baking dish and sprinkle what is left of the shredded cheeses on top. Bake for 30 minutes or until the cheese is melted.